Wired Magazine has created a superb visual guide on the history of the manga phenomenon in the US. The guide itself has been created in the style of a manga comic and chronicles the growth in popularity of "Japan's coolest export" to the US. Read how Japanese TV shows, movies and pop culture icons popularized the genre in America.
Snip from the site:
We decided that the best way to explain the increasing popularity of this exciting medium was to to tell the story in the form of a manga. Like many of the popular manga that have been translated into English, we are using the Japanese page and panel order. Japanese writing reads from right to left, so pages and panels are sequenced in what seems like reverse order to Western readers.
You can read the guide online or download it in a pdf format. I suggest you download it for easy reading and reference.
Link to the Wired Magazine article.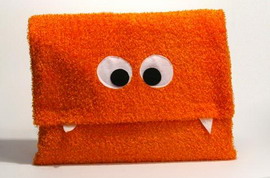 This cute and cuddly laptop sleeve is available for $50 from Barry's Farm.
It is foam padded underneath and is supposedly rugged enough to protect your precious laptop/notebook PC. The sleeve comes in various sizes to fit all popular models.
Link to Barry's Farm.
Overhaulin is one of my favorite reality shows on television. It is similar to MTV's "Pimp My Ride" show, only longer and has an interesting "candid camera" element to it. The owner of the car is oblivious to the fact that his "missing" car is being customized and worked on upon by design genius Chip Foose and his band of men. It is only at the end of the show, the now stunningly redesigned car is reunited with its surprised and grateful owner.
In this clip from the show, airbrush ace Dru Blair pranks Chip Foose with some nifty ultra-realistic paintwork.
If you are puzzled by the lack of a big reaction from Chip, don't be. Chip always looks like he is dreaming about something. 🙂
This Pull -Cord Generator from Potenco can not only supply enough juice to power your all your portable gadgets, but also give you a small workout.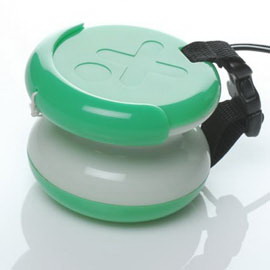 To get it running, you will have to pull on the cord, which instantly charges its internal batteries. A minute of pulling can power your mp3 player for 3 hours or provide energy for 20 minutes of talk time on your mobile phone.
The device is being used to power the XO Laptop for the ambitious One Laptop Per Child Project.
Watch a great compilation of retro crash test videos set to the music of "Maximize" by Rex The Dog.
You can call me a fetishist, but there is something beautiful in seeing them old cars crash.
I am back, folks. Refreshed, recharged and raring to go. Sorry to keep you all waiting. 😀
Dear readers, I am taking a short break to recharge my batteries. I was feeling completely drained, so I really felt the need to take some time off. I will be back in action after a week.
See you soon !!!
A lot of you might have heard of ultra-high resolution gigapixel photography and the Gigapxl Project. Gigapixel images are composed of a minimum of one billion pixels, and the amount of detail in each photograph can be mind-boggling.
So far, the technology has been out of bounds for the average consumer, as it was simply too expensive to buy such a camera system. Well, not anymore. The Gigapan site (in association with Charmed Labs) is offering a 'Gigapan Imager', which allows you to take high resolution photographs with a standard digital camera. The images can later be stitched together to create gigapixel panoramas.
Snip from the site:
The Gigapan imager (pictured) can capture incredibly high-resolution panoramic images with a standard consumer digital camera. It accomplishes this by precisely manipulating the camera's pan and tilt gaze with precision motors while taking many, possibly hundreds of pictures.

The pictures are then digitally "stitched" together with special software to create a seamless panoramic image. The results can be amazing–images with incredible detail, clarity and billions of pixels.
The introductory price for the system is an amazing $279. Don't get too excited though. You still have to apply for the public beta program by October 19, and then be willing to spend a lot of time shooting panoramic images.
You can apply here, for the beta program at Charmed Labs. Also, visit the Gigapan site to check out some brilliant gigapixel images, and a downloadable Google Earth layer..
This is the final version of 'The Machine is Us/ing Us' video. It was created by Michael Wesch, an Assistant Professor of Cultural Anthropology at the Kansas State University. He examines the phenomenon called Web 2.0, and comes to the conclusion that we are the cogs which run the machine. In effect, we are the machine, but we are not the Borg. We have managed to keep our humanity intact, for now.
The video has been released under a Creative Commons Attribution-Noncommercial-Share Alike 3.0 License. So feel free to download and remix it.
Maopost.com has a huge collection of retro Chinese propaganda posters. The people behind the site have painstakingly cataloged posters from five decades of communist rule in China.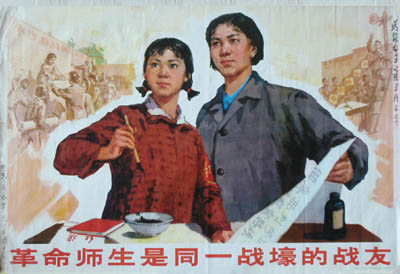 The Chinese propaganda juggernaut, enabled the communist dictator Mao Zedong to tighten his vice-like grip over the people of China. Images of bountiful harvests, pretty girls, good health and smiling faces must have beguiled the viewers into accepting Mao's (flawed) vision for his country.
The slogans exhort the people to always be ever-vigilant against intruders (Capitalism ? Democracy ?) and to always be a good communist. Mao makes the occasional appearance in the pictures, and as do other communist dictators like Stalin and Lenin of the erstwhile Soviet Union.
Thankfully, the slogans on the posters have been translated into English for the visitor's sake. You can not only buy some of these posters, but also have your photo added into an oil painted copy of the poster, for a fee ranging from $169 to $269.
Hate the doctrine, but love the art. This link is a must visit.