Following proper airline safety procedures can conceivably save lives, when disaster strikes. In-flight safety demonstrations are an important, if boring, part of air travel. Trust Virgin America to buck the trend. No inane, safety demonstrations from bored flight attendants on their flights. Virgin has a superb, animated in-flight safety demonstration video. They have creatively used animation and humor, to keep passengers engrossed though the whole demonstration.
The video was conceived by the Another Anomaly ad agency, and animated by W!ldbrain Studio.

Listen to two heart thumping tracks from the score of the Daniel Day Lewis starrer – 'There Will Be Blood'. The score, composed by Radiohead's Jonny Greenwood, is winning rave reviews from critics and moviegoers alike.
The music perfectly conveys the sense of foreboding in the film, with the rising crescendo almost suffocating us with a feeling of dread. Jonny Greenwood is on to something here. This is just bloody brilliant, folks.
Continue reading 'There Will Be Blood – Jonny Greenwood's Movie Score'
The Chemistry Land site sheds light on the common techniques used by the movie industry, magicians and other master manipulators to make unsuspecting people accept altered realities. Be it a simple card trick,  a sitcom laughter track, or a blatant product placement, these wizards of deception have honed their powers of suggestion and persuasion into an art.
Snip from the site:
From individuals to countries, we often want to persuade others to perceive things a certain way or to think a certain way. There are many standard techniques for doing this. Below are some of them. You can use these techniques to do your own persuading, and you can also use this knowledge to keep yourself from being fooled.
Will we ever wise up to the spin ? Probably not. The human mind loves to suspend its disbelief and be amazed by the impossible.
The Poop Tube allows you to, uh, dispatch your unwanted "cargo" while standing up. The device promises no more visits to unsanitary restrooms. Watch a demonstration of this incredible invention in this video clip from The Tim and Eric Awesome Show on the Adult Swim network.
Warning: Video has contents under pressure, can cause stomach churning, and is totally Nsfw. You have been warned. Don't blame me for spoiling your appetite.
The HYmini (don't laugh) ultra-portable charger harnesses the power of the wind to charge your electronic gadgets like mobile phones and mp3 players.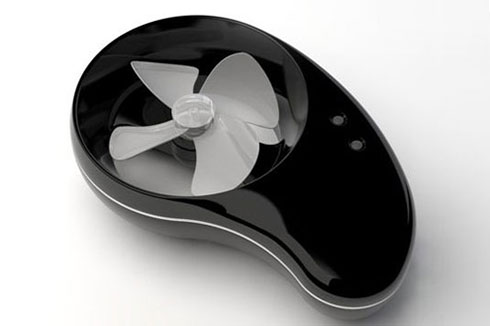 The device can be clipped on to your arm with a special armband or clamped to a bicycle handle with an adapter. The armband will make you look like a complete dweeb, but hey, you will be doing your bit for the environment. This nifty gizmo has a few more clever tricks. It can also be attached to a solar panel for some sun-assisted charging, and up to four solar panels can be daisy chained to provide increased power.
The basic package will get you one HYmini charger and a miniSOLAR panel with basic accessories for $59.99.
Jim Denevan, an artist and accomplished chef, creates immense pieces of installation art by making freehand drawings on sand. Armed with only a stick and no other measurement aids, Denevan can take up to seven hours to complete his transient masterpieces on wide, sandy beaches.
Snip from the site:
From the ground these environments are seen as places. Places to explore and be, and to see relation and distance. For a time these tangible specific places exist in the indeterminate environment of ocean shore. From high above the marks are seen as isolated phenomena, much like clouds, rivers or buildings. Soon after Jim's motions and marks are completed water moves over and through, leaving nothing.
His site has a gallery with many images of his impressive creations.
Greg Dunham holds the Guinness world record for building the world's largest motorcycle. The Monster Bike is 11 feet tall, 20 feet long and has a price tag of $300,000. Amazingly, Greg did it all by himself in his workshop at home.
On account of its huge dimensions, the bike can only be driven using a steering wheel. Unless I'm missing something here, that actually makes it a 'Monster Truck'. I guess Guinness knows better.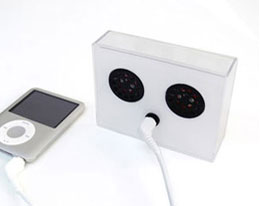 If you still have your ipod nano's plastic case lying around, here is a great way to recycle it.
You can attach this speaker kit from Bird Electron to convert it into a portable speaker. The kit comes with two stereo speakers and a stereo cable.
It's slightly overpriced at 2100 ¥en ($19.50). Something in the range of $10, would have made it a great buy.
Link (via Trends in Japan)