Having virtually grown up reading and watching standard DC and Marvel comic/cartoon fare, I was pleasantly surprised when I watched the first Hellboy movie, which was based on a Dark Horse comic book character of the same name. Here was a red, monkey tailed, lovable demon from hell, who battled hell hounds and massive, old monster gods, but funnily enough, was a complete softie at heart (he brakes for kittens!).
The first movie had many interesting characters like the sword-wielding, Nazi cyborg assassin and the evil Rasputin (lover of the Russian Czar's Queen). So, it was with great anticipation that I watched the official trailer for the sequel to the film. Director Guillermo Del Toro's fertile imagination is on overdrive here, with fantastic new creatures and monsters making their appearance in the movie. There is a slight sense of Déjà vu, which can be attributed to the fact that some of the creatures are suspiciously similar to the ones in Del Toro's Pan's Labyrinth.
I am slightly disappointed that Abe Sapien (played and voiced by Doug Jones) has not been given enough screen time in the trailer. I just hope he has a big role in the movie. 

This funky looking 'Cassette' tote bag from Fred & Friends is made of flexible plastic, with handles that mimic the look of unspooled tape.
Watch the final climatic moments of 'Korkusuz', a Turkish film directed by cult film legend Cetin Inanc.
The film's main lead has obviously been modeled on John Rambo, the defining action hero of the 80's, and soon to be resurrected and played by a man in his '80s (That was a joke, a poor one, but I couldn't resist).
The much anticipated official movie trailer for The Dark Knight is finally here. The movie is director Christopher Nolan's sequel to Batman Begins. In Batman Begins, Nolan completely mesmerized us with his technical prowess and storytelling abilities. Gone were the high camp of Tim Burton and the crappy, neon- overload of Joel Schumacher's Batman and Robin. Instead, we had muted colors, stunning imagery, incredible action, with superlative performances by some of the most talented actors in the movie industry. 
We can only expect more from the maker of one of the most thought-provoking thrillers to ever grace the silver screen.
You can also visit this site to watch the trailer in higher resolutions (Highly recommended).
This is an Italian print ad for Sauber Stockings. The copy reads: "Absolutely Invisible." Good stuff.
If your world revolves around books, the Bibliochaise chair is perfect for you.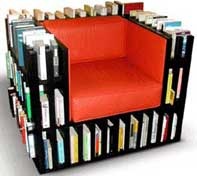 The chair has slots around it, which allow you to stack your favorite books for easy access.  The cushion comes with removable leather covers in  many different colors.
It's not one of the most practical of designs, but it works.

A lot of people love to embarrass dress their pets in bizarre costumes, but this is truly something weird. The Kitty Wigs! site sells the latest  in feline fashion – colorful wigs for cats. The site has pictures of wig-wearing cats at their most seductive best.
Checkout the description for the Bashful Blonde wig.
Blonde is a magical mix of bashful and brazen. Fern shows off the many moods of a natural blonde: sweet yet catty, smart yet batty – where life is alluring and coy. Now all she needs is a bikini and a Swedish accent.
Uh, "a bikini and a Swedish accent"? I really don't want to know why.
On a more serious note, the site promises to donate 20% of the sale proceeds to the ASPCA.
It's that time of the year again. Christmas is just barely two weeks away. Though the festival has been commercialized beyond recognition, it is still  a special time for most of us.
The guys at Fanpop have put together a great online compilation of 101 Christmas videos. The list features timeless classic movies, retro cartoons, special sitcom episodes, viral videos, and even parodies of the most celebrated festival in the world. It's a treasure trove for people who love to wax nostalgic about the good ol' times.
Somehow, the older movies and cartoons still manage to touch a chord with their innocence and charm.
Link (Thanks, Jeff)
The character 'Norton Fighter', is the face of Symantec's Japanese ad campaign for its Norton 360 program suite.
The creators of Norton Fighter have obviously modeled the character on famous Tokusatsu characters like Kamen Rider and Ultraman. This superhero  fights viruses and creepy bots, rescues cute maids in distress, and generally saves the day. Somehow, the Japanese always seem to make stuff more cooler than they really are.
Watch Norton Fighter take on the evil Botlas in this two part video.

Continue reading 'Norton Fighter – Japanese Superhero Fights Viruses, Wears Yellow Spandex'
Time Magazine has released its annual Top 10 Lists. Of these, the 2007 top 10 list for graphic novels is particularly interesting.
While there are titles from traditional and mainstream comic book publishers like Marvel and DC Comics on the list, it's heartening to see the recognition Time Magazine has granted to ones such as the Erfworld webcomic series and Rutu Modan's Exit Wounds.

You might have probably not even heard of the #1 graphic novel (another webcomic) on the list. The question we have to ask ourselves is; is this what the graphic novel is evolving into ? Though I enjoy reading  comics online, nothing beats the feeling of reading comics printed on crisp, glorious paper.