This is quite interesting. John Mueller, terrorism expert, author, and professor at the Ohio State University, has analysed how the character Rambo has changed over the years.  In the first movie (which is arguably the best of the series), Rambo kills only one character, even though his violent, almost psychotic spree was triggered by terrifying memories of torture in Vietnam. 
The latest film boasts of having one of the highest kill rates per minute (KPM), with people falling like flies at the altar built to satisfy the vanity of one man – Sylvester Stallone.
This simple chart explains it all.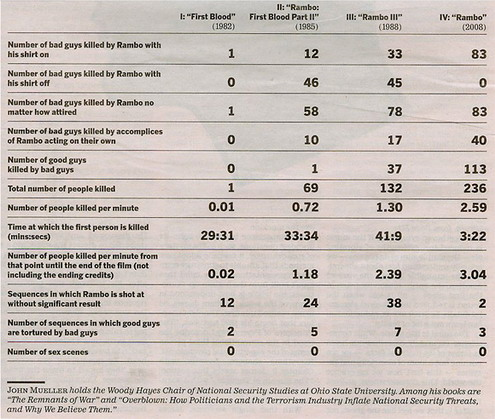 Not sure what to make of the lack of sex scenes, but it's something to think about.
The infamous "camera shake" has been the bane of most amateur photographers. Though new image stabilisation technology has minimized this problem to a large extent, there are still many people (like myself) stuck with slightly outdated digital cameras. This video demonstrates how you can take great blur-free photos using a simple DIY fix. All this for under $1.
This sorta-cool looking but totally pointless Skull Webcam is available on the geekstuff4u site.
The specs are nothing special, but are decent enough. 1.3 MP resolution, 30 fps/sec at 640×480 resolution and Vista compatible. No face tracking or other advanced features. It would have been really great, if the snake's head actually housed the camera and could move to move to track your face. I would have really dug that.
It's a bit pricey at $61.50, considering the fact that it's just a basic webcam installed in a plastic/fiber mould. Still, I am sure a lot of people would be interested in buying stuff like this.
Link (Thanks, Jeff!)
Another funny video from the Collegehumor guys. Their production values are getting better with each new video. This time we get to take a peep inside the emergency room for victims of stupid urban legends. The video has enough fake blood and gore, so it's not exactly SFW.
The TENORI-ON is an electronic interactive device featuring a touch-screen interface consisting of 256 led buttons which can be manipulated to create music. Billed as the musical instrument for the 21st century, the Yamaha TENORI-ON was the result of a collaboration between interactive media and installation artist Toshio Iwai and the Yamaha Corporation.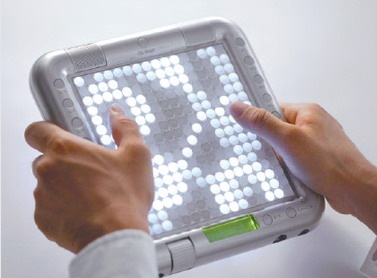 The  interface is intuitive and visual, all thanks to the interaction between light and sound.
Snip from the site:
The TENORI-ON 16 x 16 LED button matrix is simultaneously a performance input controller and display. By operating and interacting with the LED buttons and the light they produce you gain access to the TENORI-ON's numerous performance capabilities.

The TENORI-ON provides six different performance and sound/light modes for broad performance versatility, and these modes can be combined and used simultaneously for rich, complex musical expression.
There are two high quality speakers built into the device, and a LCD display on the bottom provides additional information. The device has a SD memory slot, midi port and a headphone connector as standard options.
You can visit the product micro site to watch some stunning videos of the gadget in action. There are also videos and downloadable music samples of performances by musicians on the musical instrument.
Fark's latest photoshop theme challenge for its readers was quite simple – 'Photoshop superheroes misusing their powers'.  Predictably, Superman was an easy target for submitters, courtesy of his x-ray vision, brute strength and immense popularity among comic book nerds. But there were also some subtle and hilarious images of superheroes doing all the wrong things for profit, lust and just plain evil.
This particular image of Daredevil participating in the Fear Factor TV show made me smile.

If you still don't get it, Daredevil is referred to as "The Man Without Fear." So there.
There is also a reference to the Phantom. See if you can find it.
Link to the Fark contest.
Star Crash, a 1979 science fiction film, was originally released in Italy as Scontri stellari oltre la terza dimensione and later in the US as Star Crash. The movie was one of the many 'space operas' that followed in the wake of the incredible success of Star Wars.
The film combined the sci-fi elements of Star Wars with the fantasy theme of Barbarella, packaging it into a teen-friendly, PG rated science fiction film. The director/writer Luigi Cozzi was told by the producers to make his movie's storyline as close to that of Star Wars as possible.
Hampered by a low budget, tight schedule and a greenhorn technician, the director was forced to include some of the cheesiest special effects to ever hit the screen. He compensated for this by dressing up (ha, ha) his female characters in some the skimpiest clothing in this side of the galaxy.
The movie featured former Bond girl Caroline Munroe as the sexy heroine, who is sent on a rescue mission by the Emperor (Sound of Music's Christopher Plummer) to save his son – Prince Simon. The prince was played by a young, androgynous looking David Hasselhoff. If that isn't a reason to watch and enjoy this camp classic, then I don't know what is.
Now, through the power of the Internet and web 2.0, here is the trailer of Star Crash a.k.a. The Adventures of Stella Star.

This awesome gizmo from Royal Company can turn your average hard candy into light and heavenly cotton candy.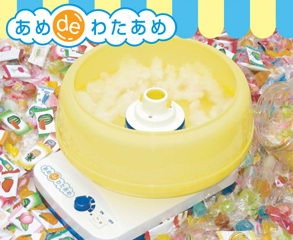 The device can melt candies and then spin them into cotton candy; all this in just three minutes. The choice of flavors is restricted only by your imagination.
Ah, Japan. How you surprise me again and again.
 Link (via CScout Japan)
The Fez says,
This cover of 'Sweet Child O' Mine' by the Guns N' Roses, was created as a promotional video for an Indian music channel. I would love it if they released a complete version of this track.