Star Crash, a 1979 science fiction film, was originally released in Italy as Scontri stellari oltre la terza dimensione and later in the US as Star Crash. The movie was one of the many 'space operas' that followed in the wake of the incredible success of Star Wars.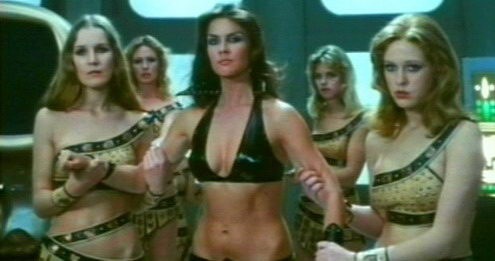 The film combined the sci-fi elements of Star Wars with the fantasy theme of Barbarella, packaging it into a teen-friendly, PG rated science fiction film. The director/writer Luigi Cozzi was told by the producers to make his movie's storyline as close to that of Star Wars as possible.
Hampered by a low budget, tight schedule and a greenhorn technician, the director was forced to include some of the cheesiest special effects to ever hit the screen. He compensated for this by dressing up (ha, ha) his female characters in some the skimpiest clothing in this side of the galaxy.
The movie featured former Bond girl Caroline Munroe as the sexy heroine, who is sent on a rescue mission by the Emperor (Sound of Music's Christopher Plummer) to save his son – Prince Simon. The prince was played by a young, androgynous looking David Hasselhoff. If that isn't a reason to watch and enjoy this camp classic, then I don't know what is.
Now, through the power of the Internet and web 2.0, here is the trailer of Star Crash a.k.a. The Adventures of Stella Star.