This vintage ad for Shell X-100 motor Oil was the super-trippy creation of famed Russian illustrator Boris Artzybasheff.
 via (Thanks, Jeff )
Back in July 2007, I had posted a viral video of 1500 prison inmates in the Philippines, practicing the dance moves to Michael Jackson's Thriller.
Well, the boys are at it again. And this time, they are dancing to a remix of Soulja Boy's 'Crank That' and MC Hammer's 'You Can't Touch This'.
Sheesh ! The things you have to do to survive in prison.
The first teaser trailer for the upcoming X-Files 2 movie was shown at Wondercon. Judging by the reaction of the crowd in this low-quality, bootleg clip, it's obvious that Dana Scully (the gorgeous Gillian Andersen) & Fox Mulder (David Duchovny) will always have a special place in popular culture.
Unfortunately, I'm not sure if any X-Files movie will ever be as successful as the original television series. The 1998 movie did not exactly set movie screens on fire. Forget about finding Aliens, I have two questions for you people. Will the two leads kiss in this movie ? And even if they do, do we really care ?
Continue reading 'X-Files 2 Teaser Trailer'
This mean-looking, 'prehistoric' mouse is from Secret Design, a computer modding and design firm based in Germany.
It does not look very comfortable, but it would make a great conversation piece. Sadly, there is no word on pricing.
This ad for Axe Pulse deodorant, titled 'Quake', is from Argentina. The ad-makers have eschewed the typical raunchiness, that is the trademark of most Axe commercials, opting instead for more subtle, classier advertising.
Continue reading 'Axe Pulse Ad From Argentina'
The 'iband' is the world's first iphone band. They used apps for the iphone such as  iano, iphonesynth and BeatPhone. The music that they have created won't exactly set the world on fire, but they have promised more in the days to come.
Enjoy the music.
More great stuff from Sillof's workshop. This time it's a wicked steampunk version of Marvel Comics superhero Iron Man.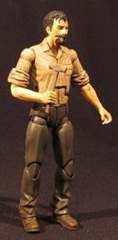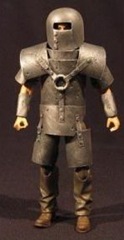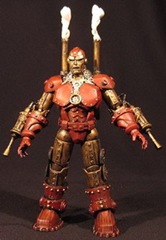 In this re-imagining of the superhero, Tony Stark is a 19th century inventor and capitalist. Kidnapped for ransom, he escapes captivity using the first version of the suit. He later improves upon the idea, and builds a steam powered version.
This guy sure has some talent.
Image Credit: Chaval Brazil
As some of you may know already, I am a fan of high speed photography. High speed cameras can capture fast moving phenomena at a minimum rate of 128 frames per second, with some incredible results.
The following video clip showcases the capabilities of a high speed camera that can shoot frames 80x slower than other cameras.
Continue reading 'View the World 80x Slower'
Another crazy video mashup. This time it's classic cinema scenes voiced by the cast of Nickelodeon's Spongebob Squarepants .
They did not spare anyone, not ever poor Marlon Brando's Vito Corleone in The Godfather.
Continue reading 'Spongebob Squarepants vs Classic Cinema Mashup'
JazJaz Reader Frank says,
I found free designs for 100 free paper models and toys at Creativecloseup.com. You can print the designs using a color printer and then assemble them. My favorite is the 'Maria' model from Metropolis, and I would "love" to make a life-sized one.  Just thought other readers of JazJaz might enjoy this.