Watch a fabulous, unofficial video for Radiohead's  "Nude" track by Stefan Ringelschwandtner, a visual artist based in Germany.
Continue reading 'Beautiful Fan Made Video For Radiohead's Nude Track'
This is a yummy slice of tech history. Back in 2006, Twitter CEO Jack Dorsey sketched this conceptual, um, sketch of Twitter's original UI on a notepad. 
Snip from the description on Flickr:
The 6th year; the idea has finally solidified (thanks to the massively creative environment my employer Odeo provides) and taken a novel form. We're calling it twttr (though this original rendering calls it stat.us; I love the word.ed domains, e.g. gu.st). It's evolved a lot in the past few months. From an excited discussion and persuasion on the South Park playground to a recently approved application for a SMS shortcode. I'm happy this idea has taken root; I hope it thrives.
Twitter has grown and  thrived beyond its creator's original estimates, which, paradoxically, is proving not to be such a great thing for the service.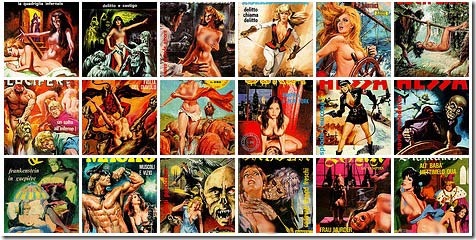 I found this amazing collection of vintage Italian adult comic book covers on Flickr. The gallery includes covers of the infamous "Isabella" comic, illustrated by the great Sandro Angiolini.
The artsy covers feature some buxom Italian beauties in various states of undress, so it's completely fun, but NSFW.
Ah, Flickr! You just keep on giving.
Link (NSFW)
This slightly macabre print ad by TBWA, Paris,  for Hansaplast earplugs brought a wry smile to my face. The copy in the ad reads "You have never slept so deep."
As always, click on the picture to view see it in a higher resolution.
The animated, Direct-to-DVD  Batman: Gotham Knight is a series of six animated tales set between the events of Batman Begins and The Dark Knight.
Completely dark and somber in tone, the films in the series were written by some talented, award winning writers like Alan Burnett and Josh Olson (of A History of Violence fame). And as with the very brilliant Animatrix,  the films were all created by top Japanese Anime artists and directors.
The animated anthology is a rare specimen in the DC universe, as it's to be released under a PG-13 rating in the U.S. and a 15 rating certificate in the United Kingdom on July 8.
Continue reading 'Batman: Gotham Knight – 5 Minute Preview'
This is spreading like an epidemic. Many more obsolete machines are playing music now. This time, it's a floppy drive playing The Imperial March,  more popularly known as Darth Vader's theme from Star Wars.
This incredible catch taken by a minor league ball girl, will probably be the most stunning thing you will see all day.

If it looks too good to be true, you are not the only one to think so. People have claimed that this is a viral commercial for Gatorade.
With over 2 million views (and counting) on various video sharing sites, "Where in the Hell is Matt ?" is the most popular viral video of the moment.
Matt, a self-confessed "deadbeat from Connecticut", shot the feel-good video in over 42 countries, with a cast running into the thousands. The sense of joie de vivre exuded by ordinary folk in the video is quite palpable and infectious.
The lyrics of the song "Praan" accompanying the video, were adapted from the poem "Stream of Life" by Rabindranath Tagore, Asia's first Nobel Laureate.
If you have the bandwidth to spare, do watch the video in HD.
To know why he decided to make this video, visit Matt's website to know more.
Canadian artist Arounna Khounnoraj created this robotic drawing bug using some easy to find materials.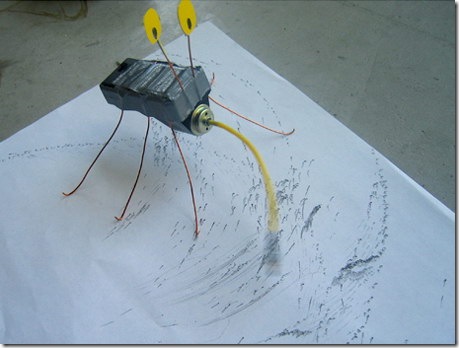 You can find the simple DIY instructions at the Blosemkids blog.
(Thanks, Sujay)
This photograph of an abandoned, stuck-in-a-time-warp  NASA Jet Propulsion Laboratory was taken near Bishop, California.
Visit this link to see more cool photographs of the laboratory and some of its internal machinery.