Art Spiegelman is, as some of you may know, the Pulitzer Prize winning author of Maus, and one of the most important and influential artists of the graphic novel medium.
Spiegelman's latest, "Be a Nose!', is a collection of books based on his private sketchbooks from 1979, 1983 and 2007.
Animator Lars Edwards was recently asked by the books' publishers to put together a short video to promote their release. Lars was able to create this impressive piece of animation using select sketches from the books.
Way before iPods, CDs, and cassettes tapes, the unwieldy reel-to-reel tape was one of the preferred ways of storing and listening to music.
The beasts that played these tapes were equally cumbersome to use, but had a lot more character than today's soulless gizmos.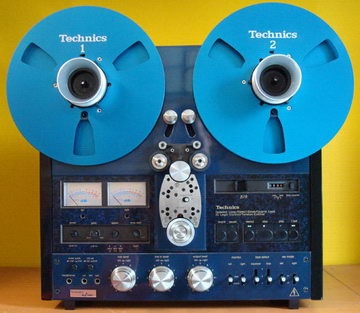 Here is a small gallery of gorgeous custom reel to reel tape decks for your viewing pleasure.
Anna Magnowska and Laura Quick, two talented, upcoming London based artists, also work as waitresses to support themselves financially.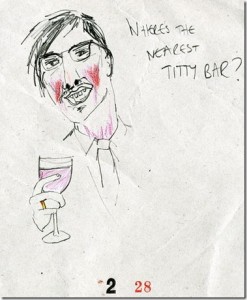 They regularly collaborate with each other by sharing sketches of patrons they have served over the years. Most of the people featured in the sketches are quite obnoxious (and sometimes very creepy too.) It's all quite sad, yet so damn brilliant.
Laura Quick's waitress illustrations.
[via Artistic Type]
Some New Kind of Slaughter, a graphic novel mini-series by David Lewis and Marvin Perry Mann, has been receiving rave reviews from critics and readers alike.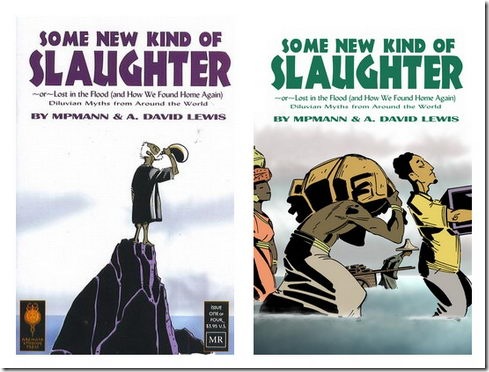 The series, described as an eco-epic by its creators, masterfully blends ancient tales from Sumerian myth, Biblical legends, and the very real ecological dangers facing us right now.
The first two issues are now being offered for free viewing by David Lewis, as he wants to drum up support for a "Best New Series" or "Best Limited Series" nomination for the 2009 Harvey Awards.
You can get the free comics here.
"The Amazing Adventures of Kid Cole & Klay" is the title of an unproduced, '50s B-Movie inspired animated TV series created by Pete Candeland and Stu Connolly for Cartoon Network.
The storyline of the show involves a unlikely pair of heroes (two pizza delivery boys), who, thanks to a mistakenly dialed phone number, are called to rescue the planet from aliens, monsters, and other assorted villains.
The director of the series, Stephane Coedel, posted the lush opening title sequence of the cartoon online, and it looks and sounds truly spectacular. It's a pity that this series was cancelled. I wish someone would pick this up soon.
You can watch the title sequence after the jump. I do recommend watching it in HD on Vimeo.
Continue reading 'The Amazing Adventures of Kid Cole & Klay – Opening Title Sequence'
All I see is a frog splayed in a suggestive pose. What about you?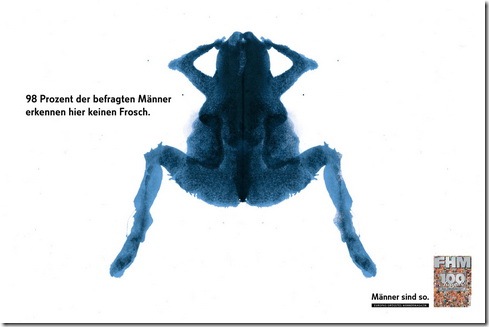 The copy on this German print ad for men's magazine FHM reads, "98 percent of all men don't see a frog here. FHM. Men are like that."
[via Ads of the World]
David Packer, an animator and film maker, makes refreshingly-crisp, humorous short films.
His films are typically less than two minutes in duration, and are devoid of any dialogues, music, or background narration.
Watch his latest creation titled 'Tree Power' after the jump.
Continue reading 'The Humorous Short Films Of Dave Packer'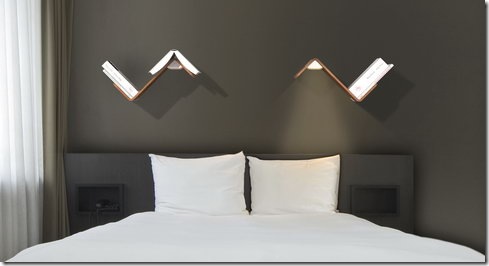 The stylish Lilli Lite does triple duty as a bookshelf, reading light, and a bookmark. The bookmark is not very practical for paperbacks, but hardcovers, with their flexible spines, will do just fine. 
An automatic sensor turns off the light when an open book is placed on the shelf, and switches it back on when the book is picked up again.
The Lilli Lite costs 99.00 € (approx. $ 125) and comes in two color variations.
Link.
According to an article on Ohio.com, the Ohio Bureau of Motor Vehicles rejected 1,574 requests for vanity plates during the past two years.
Though the vanity plates don't come cheap (an extra $35 for every year they are used), tens of thousands of eager Ohio car owners religiously apply for them each year.
Snip from the article:
Some of the rejections are no-brainers. The F-word, in all its glorious combinations, variations, permutations and amalgamations, could fill a couple of phone-book pages all by itself.

Similarly, a horde of people wanted to tell us who or what "sucks" — everything from Michigan to SUVs to work to the Florida Gators to the cold. Forget it. The BMV has decreed that nothing shall suck.

Other drivers would sentence people or entire groups to a permanent home in what the Greeks referred to as Hades. Can we all agree that's probably not the best sentiment to express within easy view of youthful eyes?

But some of the rejected combinations seem awfully mild — TUSH, for instance, or DEEPDO or IGOTGAS.
The complete list of rejected plates is right here in a PDF format (NSFW, if you are a prude).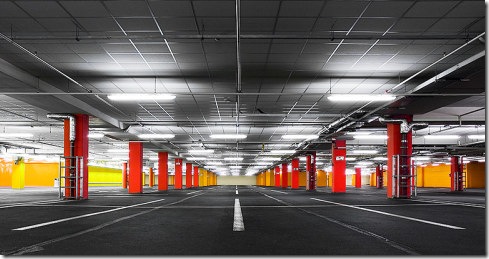 Branislav Kropilak's beautiful photographs of industrial installations, lobbies, airplane landings, factories, and parking lots, are awe-inspiring, yet eerily terrifying due to the absence of people in them.
However, Bransilav's intentions are quite different. He wants to show us how these temples and altars of Mammon would look if society eschewed materialism and wanton consumerism.