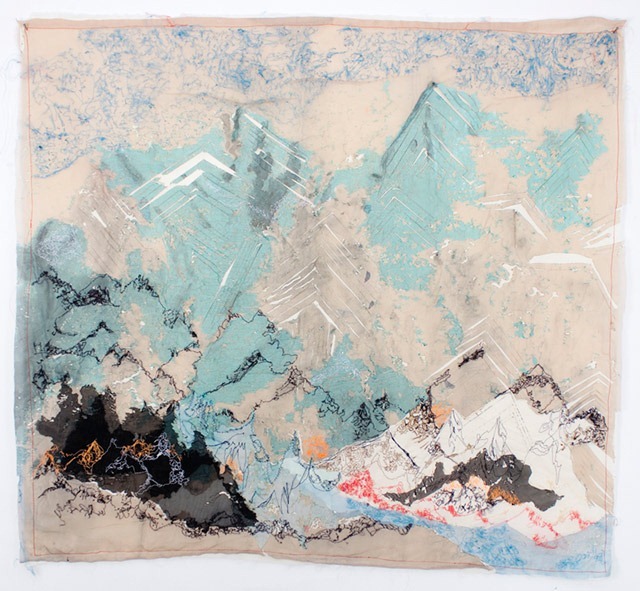 Acrylic and embroidery on bonding tissue 113 x 103 cm
An abstract mixed media piece from the Neblina eo Barulho do Vento (noise of the fog and wind) series, by the always extraordinary André Azevedo (previously), an artist from Curitaba, Brazil.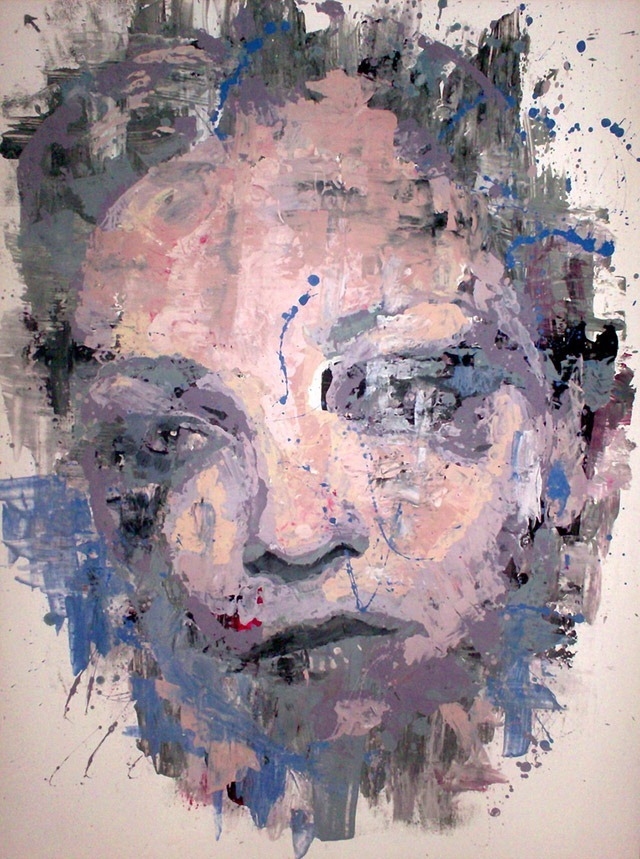 "Toomuch," a six layer stencil on cardboard, contributed to the JazJaz Flickr Pool by street artist Anopsy (website).
Visual artist Leslie Ann O'Dell, who is based in Denver, Colorado, creates mixed media pieces which are a stunning amalgamation of photography and painting.This work, titled "Enigma," is one of the most breathtakingly haunting pieces from her terrific portfolio.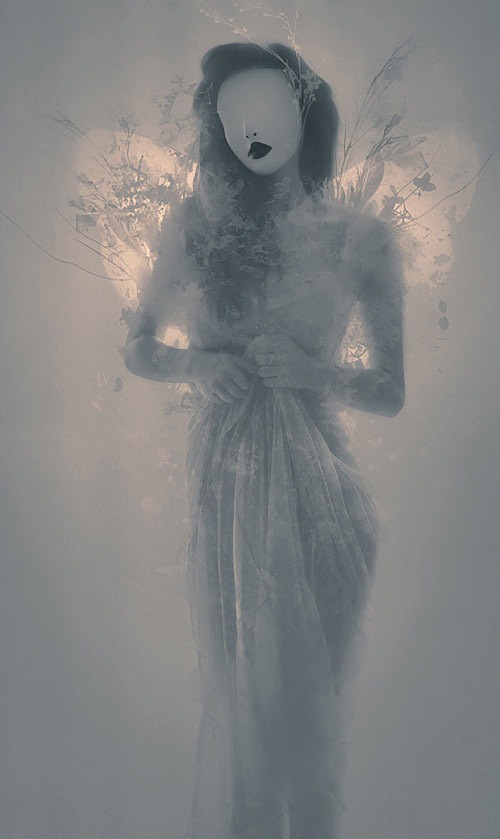 Limited in an edition of 10, 20" x 30" Giclee prints of the work are available at the artist's Etsy Store.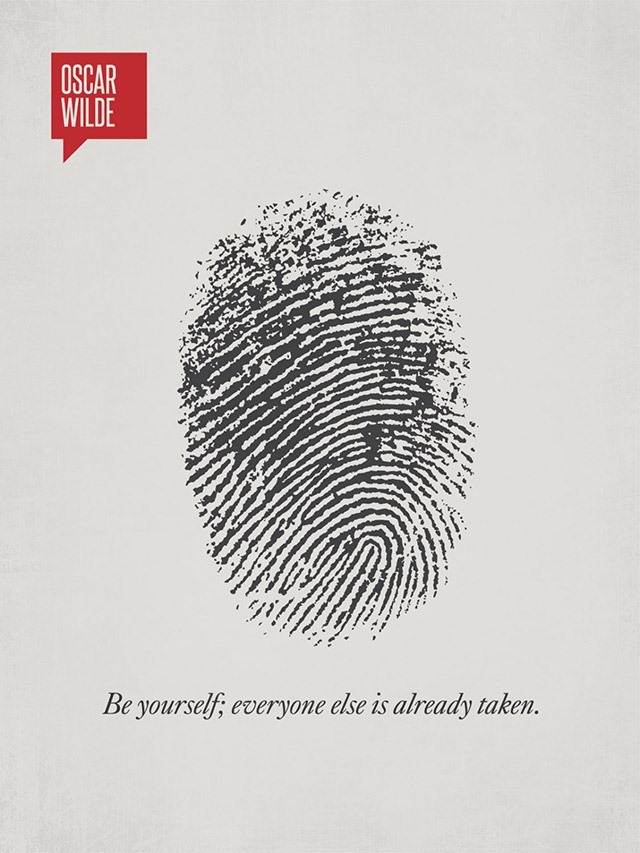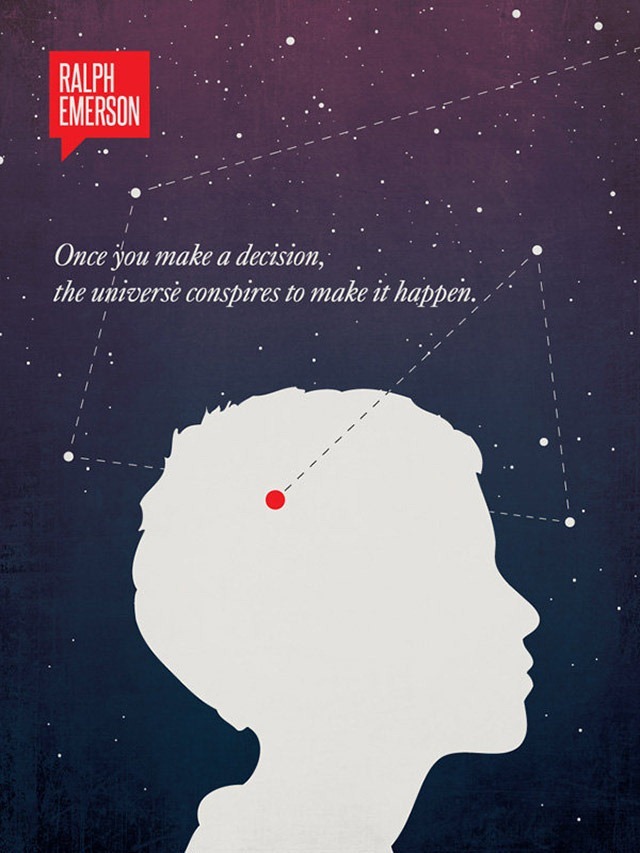 Ryan McArthur, an artist based in Toronto, Canada, makes these beautifully-minimalist illustrations based on the pithiest quotations of some of history's most original and famous thinkers.
Prints of his quotes are available at his Etsy store.
Hit the jump to see more illustrations.
Continue reading 'Ryan McArthur's Minimalist Illustrations of Famous Quotes'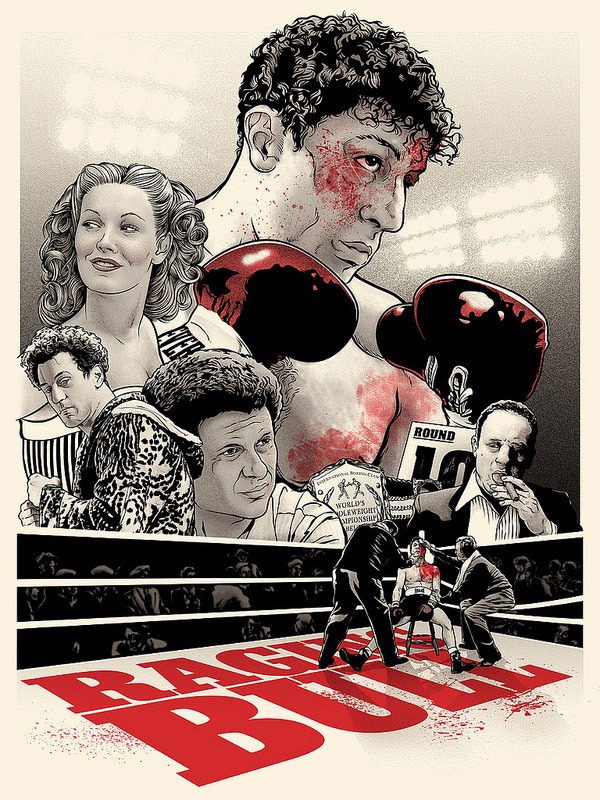 Screen print by Joshua Budich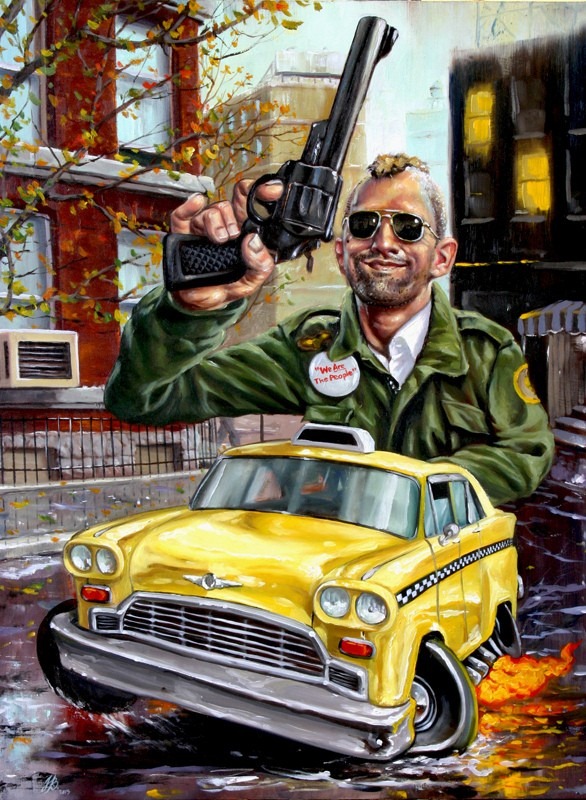 Painting by Jonathan Bergeron
The Spoke Art gallery held a successful multi-artist art show tribute in NYC to the films of Martin Scorsese, one of the greatest film directors of our times. Acknowledging Scorsese's decades-old, deep connection with the Big Apple, the San Francisco-based gallery had opted to bring the show to NYC, this past weekend.
To help those of us who were unable to attend the show, the gallery will be putting up paintings, prints and sculptures from the show on sale at 5 P.M. (PST), April 26th, via their online store.
You can checkout some select illustrations and paintings from the show, after the jump.
Continue reading 'Scorsese: An Art Show Tribute to the Cinema of the Legendary Filmmaker'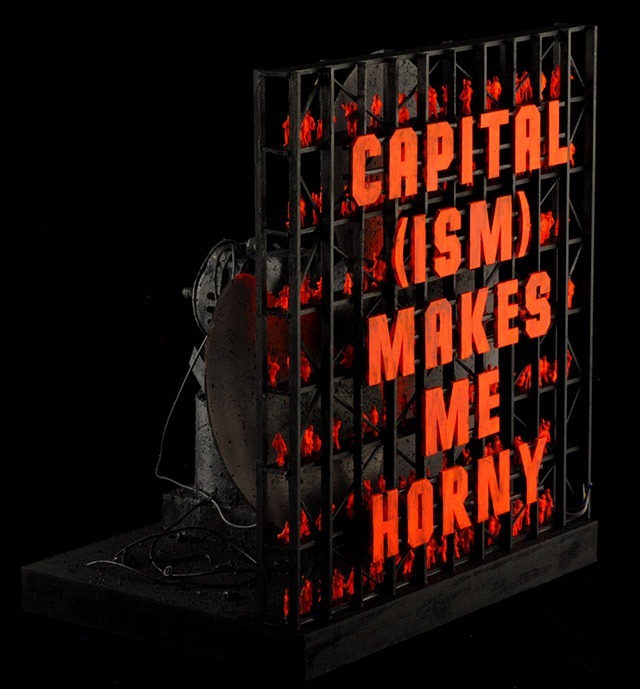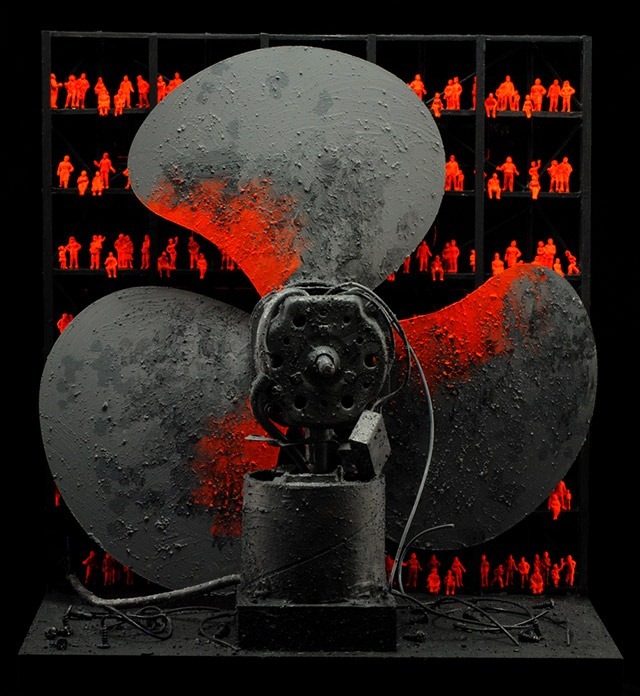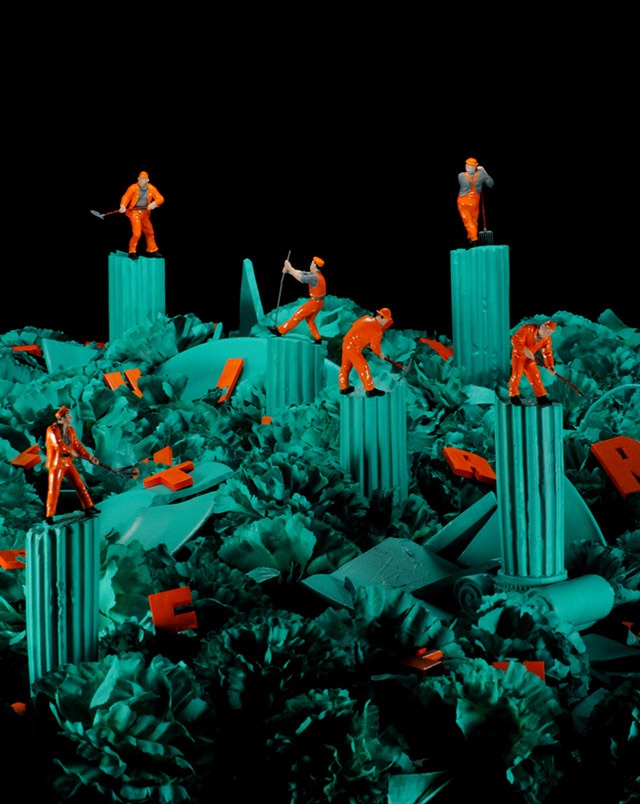 Dimitris Polychroniadis (previously here and here) is a stage designer, architect, and artist who lives and works in Athens, Greece. His works are an anguished, yet darkly humorous comment on the harsh realities faced by his country, and much of the world at the moment.
"Repent," his latest series of surreal, mixed media diorama sculptures, both takes a look back on the mistaken choices of the recent past, and towards a present and future where lessons have been learned.
Can the deconstructive forces of a crisis, become the motivation for self awareness, both individually and collectively? Humor, romance and dark surrealism are the vehicle via which we attempt to explore the meaning of Repentance. Dimitris Polychroniadis reveals a series of mixed media, diorama sculptures. A colorful miniature world that acts as the setting for the unraveling of (somewhat unsettling) human stories. The cultures of the lowest common denominator, advertisement and slogan art are presented in conjunction with social and political utopias of the early 20th century.
"Repent" will be on exhibit till May 11, 2013, at the Metamorfosis Gallery in Thessaloniki, Greece.You can visit the artist's site to see more,
Here are some images from the series for your viewing pleasure.
Continue reading 'A Series of Pop-Humorous Dioramas by Dimitris Polychroniadis'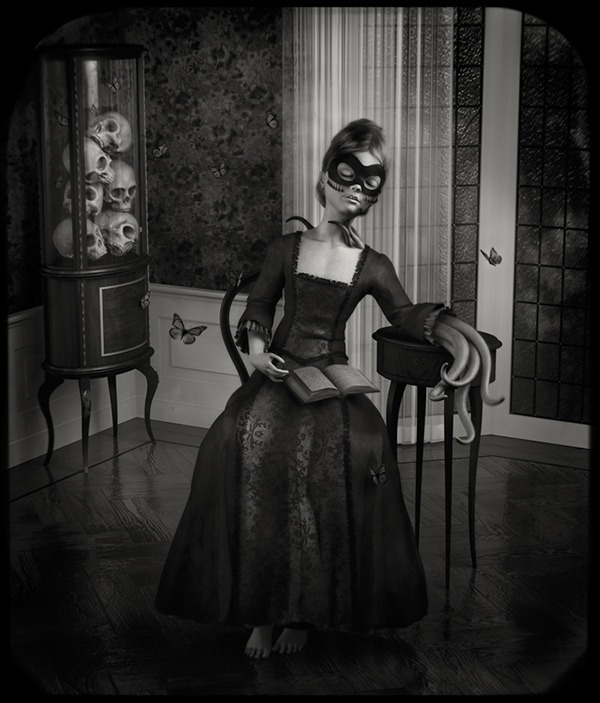 Danny van Ryswyk (NSFW) is an Amsterdam-based digital painter, who creates dark and surreal art using 3D software. Drawing upon the photography of the 19th century as a stylistic inspiration, Ryswyk's paintings are a fusion of the absurd, the melancholic, and Victorian portraiture. Peering into the looking glass that are his works opens up a Lovecraftian dimension to us, or in his own words, "the idea of a reality that exists outside the range of science's ability to explain or measure."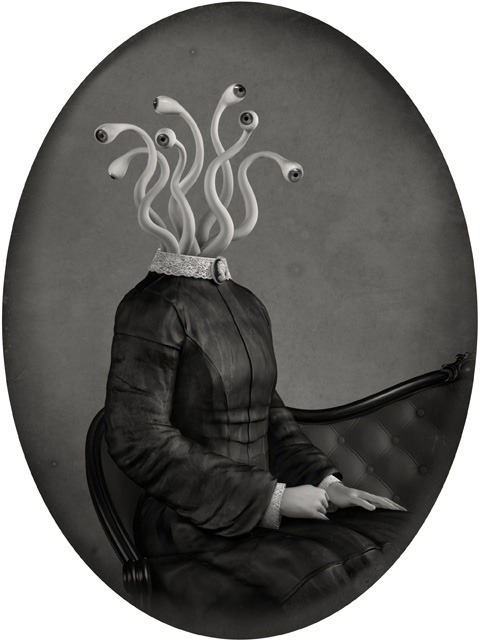 Ryswyk creates his works inside a digital environment, in a painstaking process which can take weeks, if not months to finish.
He starts building each piece using complex 3D-modeling software for use in movies, games and the animation industry. In this stage all subjects are meticulously sculpted from the ground up as if they where made of clay. These sculptures will then be imported in rendering software where he creates organic textures like flesh and fabrics which he applies to his models, bringing them to life. Decors are created, environmental lighting and elaborate illusions are set-up, just as it would be done in a theatre to create the dark dreamy atmosphere Danny van Ryswyk is aiming for. The staged scene will then be rendered to a 2D image and finally painted and further refined until the work is finished.
Ryswyk has an upcoming group exhibition on the 20th and 21st of April, 2013, at the Hoekkunst gallery in the Netherlands. Visit his site to check out more of his digital art (NSFW).
Hit the jump to see more images.
Continue reading 'The Surreal 3-Dimensional Art of Danny van Ryswyk'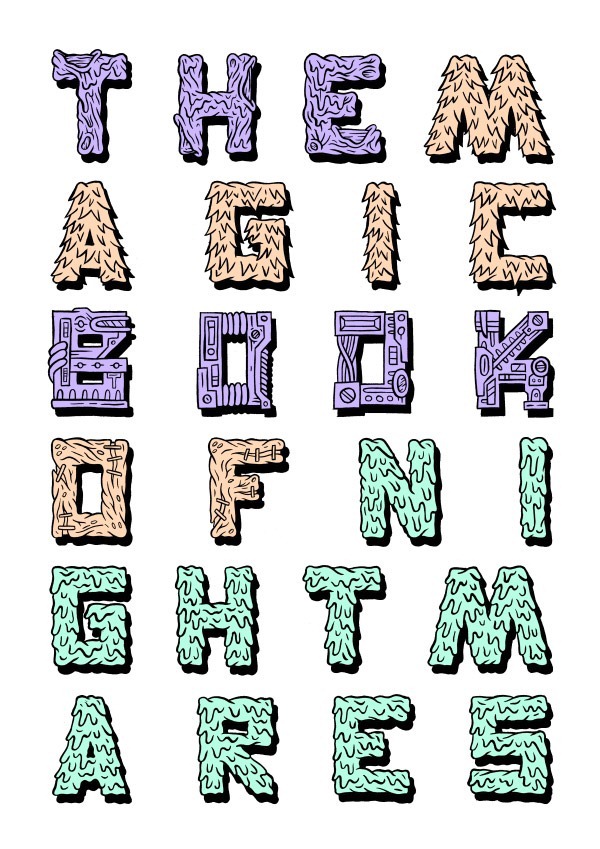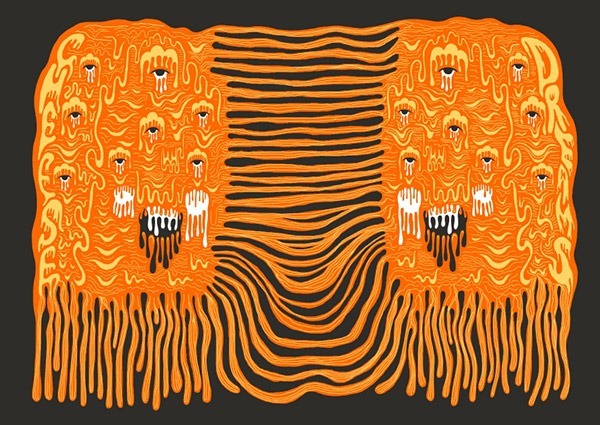 After taking on Bill Murray and Kurt Cobain, publisher Belly Kids are back with a new book, and this time it's all about nightmares; those grotesque monstrosities which make us toss and turn in our sleep .
It's an exploration of the creepiest of dreams, a diary of bad nights, all collected in a pull out A4 book of illustration.
The book will contain illustrations by 16 artists, who will explore their worst dreams for your pleasure.
Visit the Belly Kids site for more details.
Hit the jump to see more images.
Continue reading 'An Illustrated Guide to Nightmares'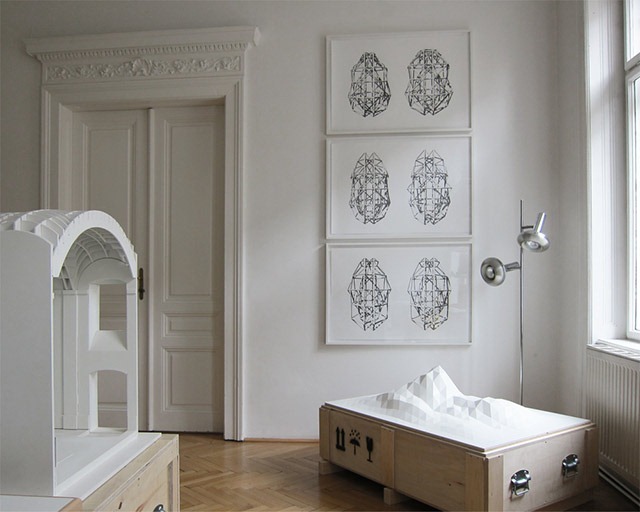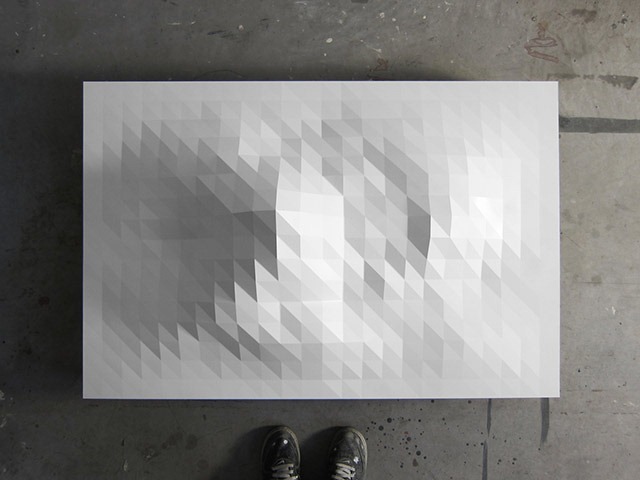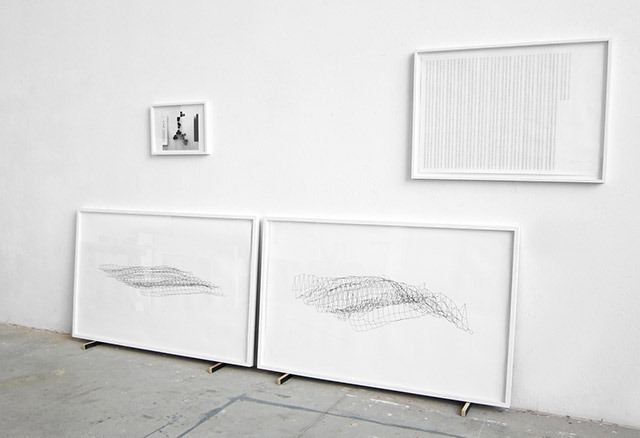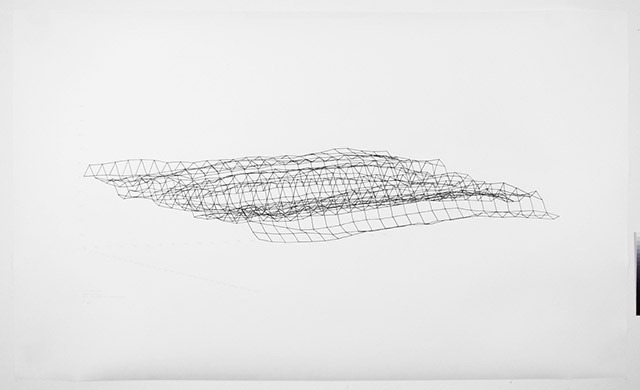 Austrian artist Peter Jellitsch (previously) has updated his site with images of his fantastic science-inspired artworks. Jellitsch hand draws his beautiful interpretations of scientific data using just a pen and pencil onto paper. 
The updates include works from his Long Island City Documents, a project in which he used data provided by the SP Weather Station in Long Island City, Queens, New York. Also on the site are pieces from Bleecker Street Documents, an attempt by the artist to make visible the "invisible coating of a physical real-space" by the signals of a Wi-Fi network. The project involved recording WLAN signals in a Manhattan apartment over a period of 45 days, using a radio wave measuring instrument.
Link to the site.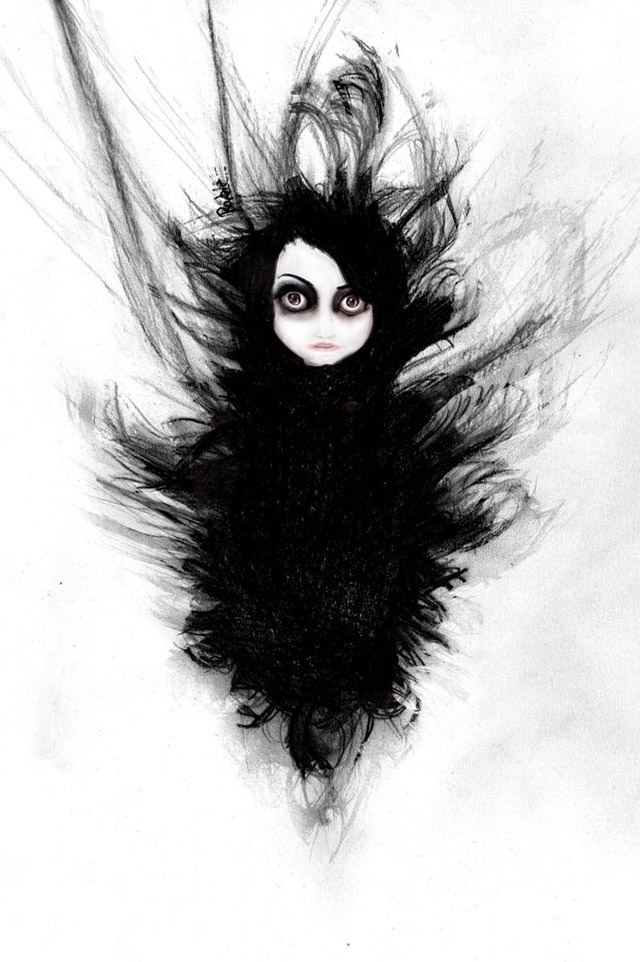 Marvel at these phantasmagorical paintings by Rouble Rust, a self taught artist with a passion for painting. For inspiration, Rust dips her paintbrush into her experiences, emotions and dreams, and conjures up works that are a hypnotizing blend of fantastical imagery and dark imagination. She says that she loves creating "fantasy fictional characters and storytelling images," but all of which are still steeped in reality.
Rust adds that she is comfortable painting in both traditional (acrylics, gouache, watercolors, oils and more) as well as digital mediums. She has also been trained in graphic design.
You can visit her site to see more of her art.
Hit the jump to see select artwork from her portfolio.
Continue reading 'The Dark And Surreally Beautiful Art of Rouble Rust'