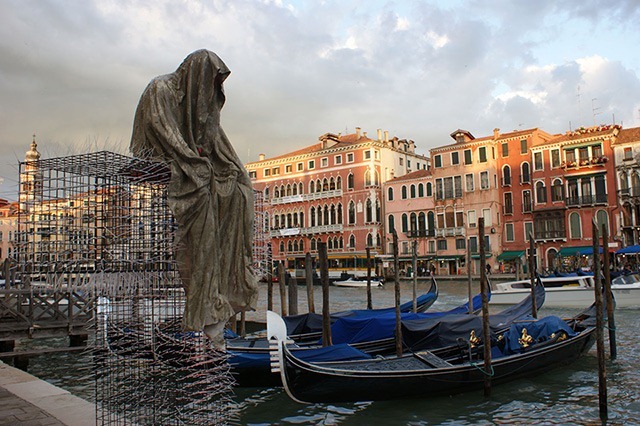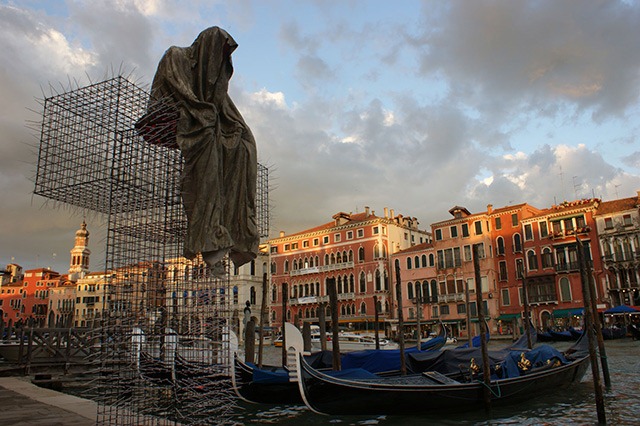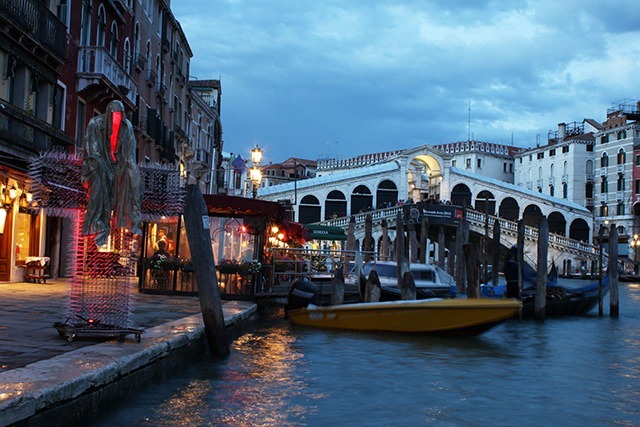 The T-Guardians are a series of sculptures by Austrian artists Christoph Luckeneder and Manfred Kielnhofer (NSFW) (previously featured here and here), that spend their time travelling through museums and art exhibitions around the world. Some of the sculptures have also been turning up at a different spot in Berlin, each day and night.
Here are a few select images from their appearance at the La Biennale Venezia festival in Venice, Italy.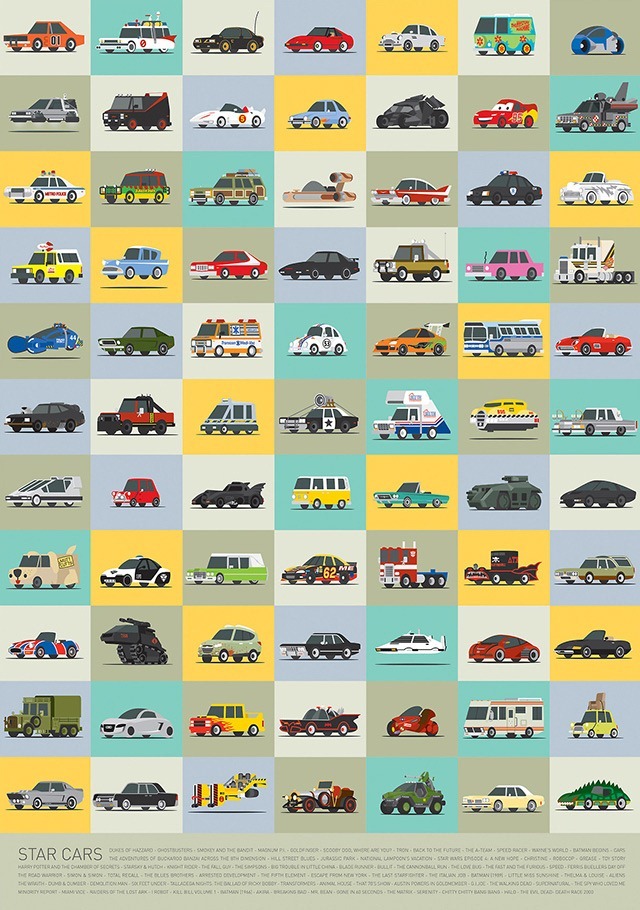 Scott Park, an art director based in Toronto, Ontario, made this poster which features cartoony, retro-chic illustrations of famous automobiles featured in movies and TV shows. 
[via Laughing Squid]
Click here to see a larger version of the poster.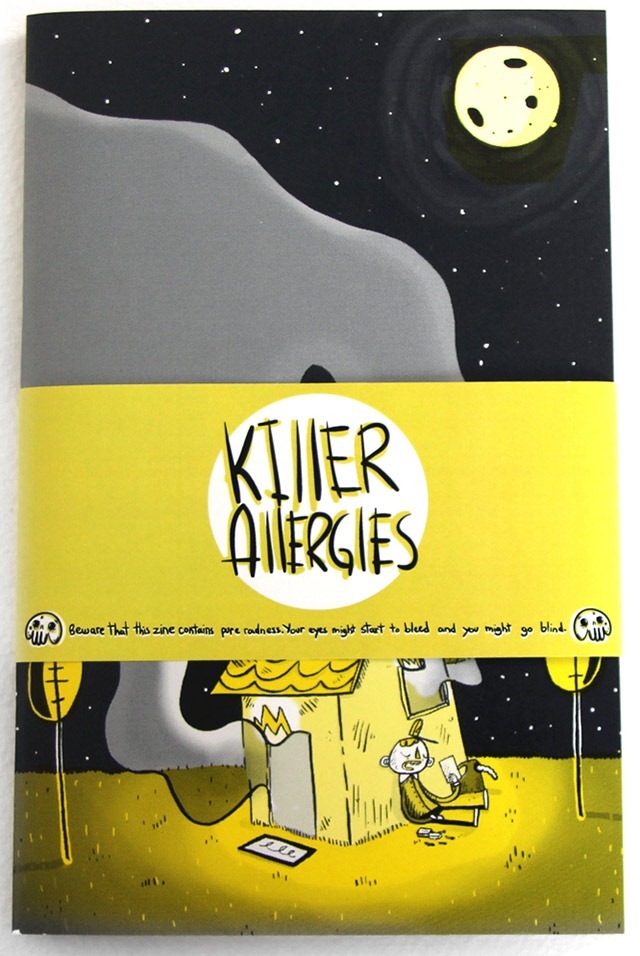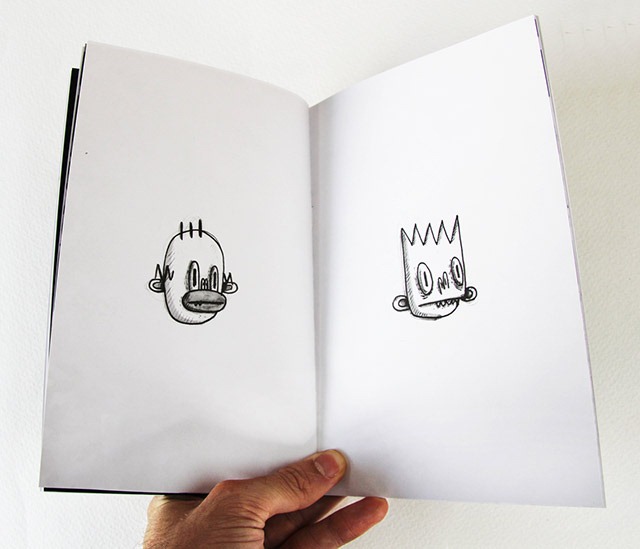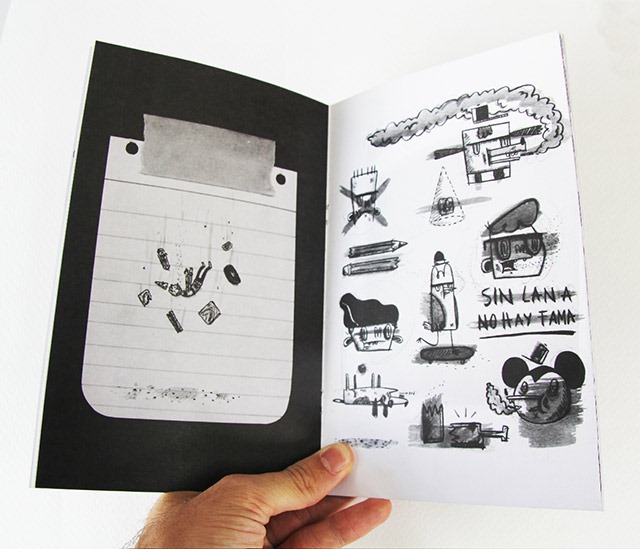 Alfonso de Anda, an interdisciplinary artist from Guadalajara, Mexico, sent in some art and a promotional video for his new art zine.
Limited to a run of only 300 signed and numbered copies, the zine will have 32 pages of awesome grayscale illustrations inside its 2 ink offset-printed covers.
Link to Alfonso de Anda's site.
Hit the jump to see more images and the video.
Continue reading 'Killer Allergies: An Art Zine by Mexican Artist Alfonso de Anda'
The current piece in progress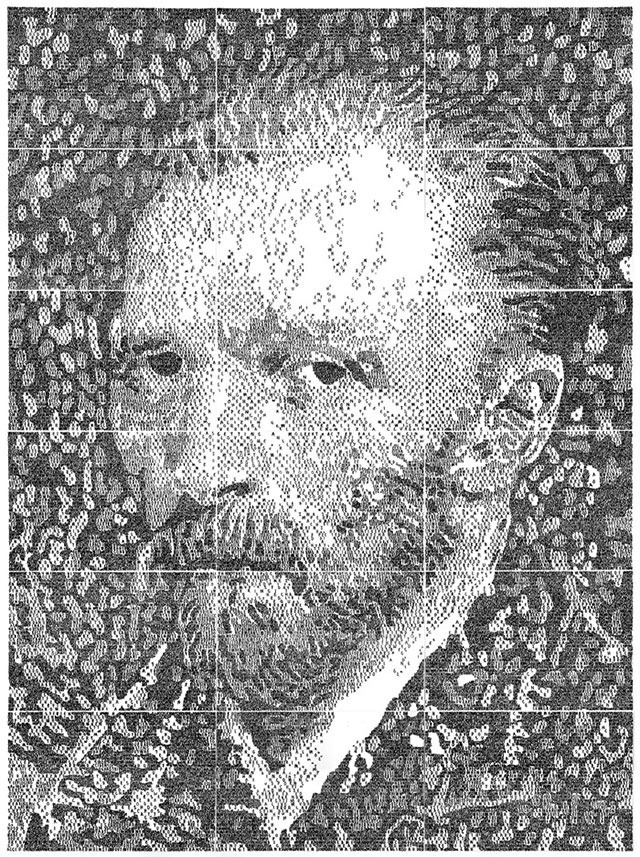 A previously created text piece
Many of us have limitations, both self-made as well as ones that we were born with, that sometimes hold us back. And then there are those of us, who despite the greatest difficulties, try to reach our full potential.
Multimedia artist Phil Hansen (previously here, here and here) wants to know about your past limitations. Hansen is looking for people to call him on 651-321-4996, and share their stories.  He will then write the collective stories onto a 9ft. x 13 ft. canvas, and create a pointillist piece that is made entirely of text. You can can watch and read as each story is being written onto the canvas via the live feed on his site.
Hansen was able to start a successful Kickstarter project to fund the capture of this shared experience and to make it into a short documentary. He recently gave an inspiring TED talk in which he talks about facing a career threatening personal limitation, which he was able to embrace and overcome.
Share your story by calling or submitting it online at Phil Hansen's site.
Hit the jump to see more images. Continue reading 'Artist Phil Hansen Will Turn Your Inspiring Stories into Art'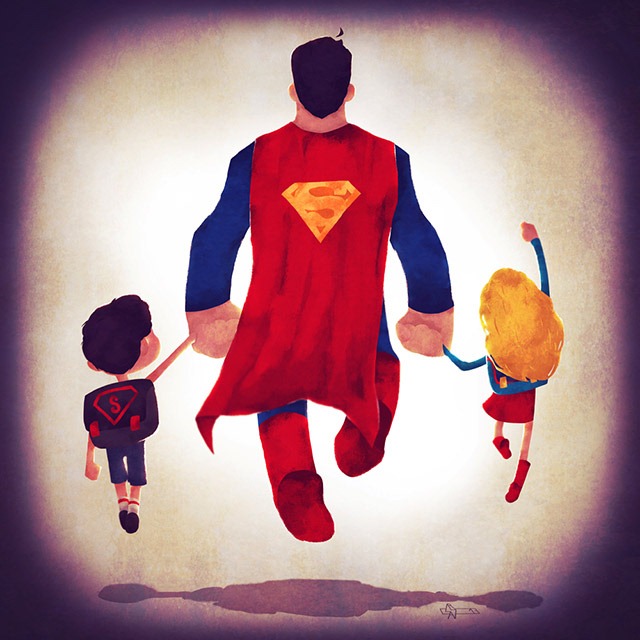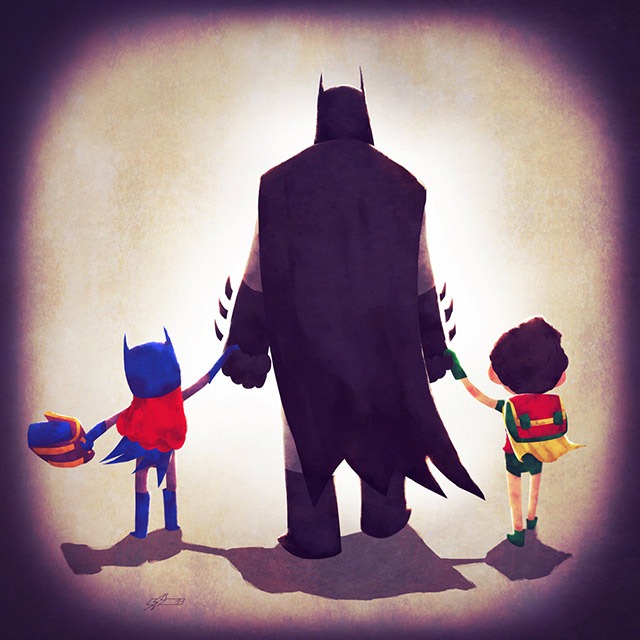 In this series of heartwarming illustrations, Paris-based designer and visual development artist, Andry "Shango" Rajoelina, reveals the softer side of the battle-hardened members of the Justice League by portraying them as doting parental figures to their sidekicks (both real and imaginary).
Check out the rest of the illustrations, after the jump.
Continue reading 'Justice League Families'
Tatiana Suarez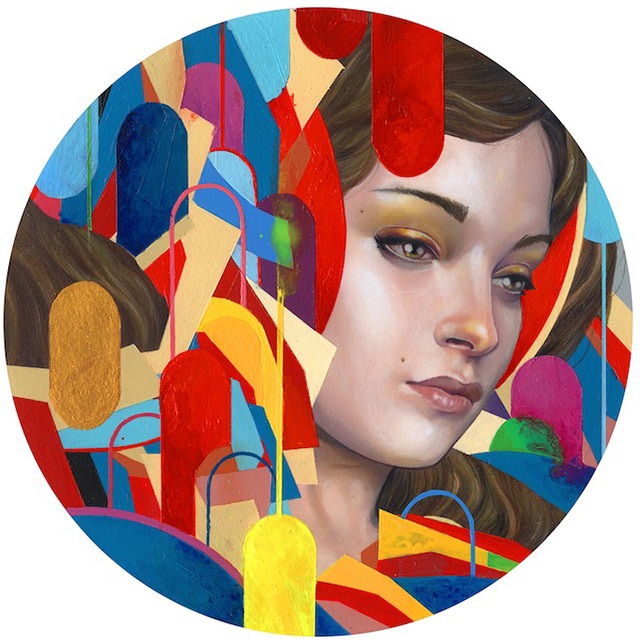 Erik Jones
Casey Wheldon
This weekend, the Spoke Art gallery will be participating and exhibiting artworks at two fine art fairs in San Francisco – ArtPad SF and ArtMrkt San Francisco.
The exhibits will include new and recent works by the following  artists: Alessandra Maria, Casey Weldon, Dan Speight, Derek Weisberg, Crystal Wagner, Erik Jones, Jessica Hess, Joel Daniel Phillips, Scott Hove, Soey Milk, Tatiana Suarez.
Spoke Art will also have two new exclusive limited edition prints by Scott Scheidly and Erik Jones, at the shows.
Hit the jump to see some more images.
Continue reading 'Preview Original Artwork From Spoke Art's Upcoming Weekend Exhibits'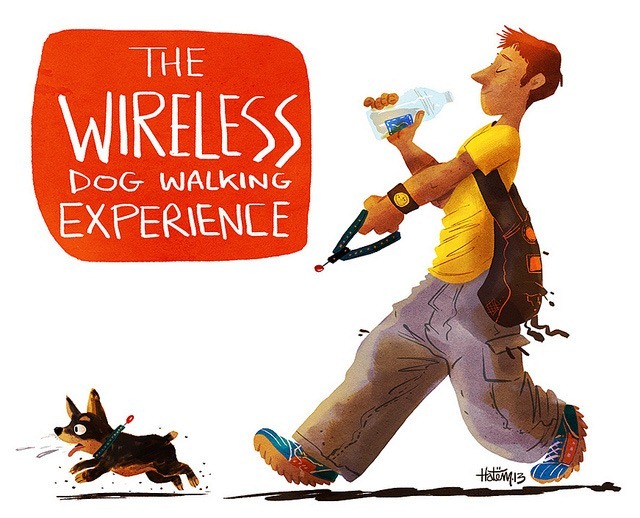 "Wireless Dog Walking," an illustration contributed to the JazJaz Flickr Pool by Hatem Aly, a superb Egyptian-born illustrator who is currently based in Bathurst, Canada.
You can visit his website to see more of his illustrations and other artwork.
Marco Mahler (previously), an artist and musician based in Portland, Oregon, has released a new collection of kinetic sculptures on his site, which were created in a collaborative effort with Henry Segerman, a research fellow in the Department of Mathematics and Statistics at the University of Melbourne. Mahler claims that these are the first fully 3D printed mobile sculptures in the world.
Made out of laser sintered nylon plastic – one of the most popular materials used for 3D printing – the intricately designed mobiles come out of the printers in a completely assembled state, and are heatproof up to 80 °C / 176 °F.
More about the making process:
The balance points for these mobiles were calculated to 1/1000th of a millimeter (1/25360th of an inch). The models for some of these mobiles were drawn up "by hand", others were created utilizing scripts that we wrote. Some of the mobiles, like Mobile 4.2, are designed with a very small increase or decrease in thickness from one part to the next, something that is not possible to do with conventional handmade mobiles. Utilizing scripts also allows for designs that would be very time consuming to make by hand, such as the Quaternary Tree (Level 6), which has 1365 pieces.
You can buy these kinetic sculptures at their Shapeways online store, for prices ranging from $10 to $600.
Here are a few more images of the sculptures.
Continue reading 'Marco Mahler's 3D Printed Kinetic Sculptures'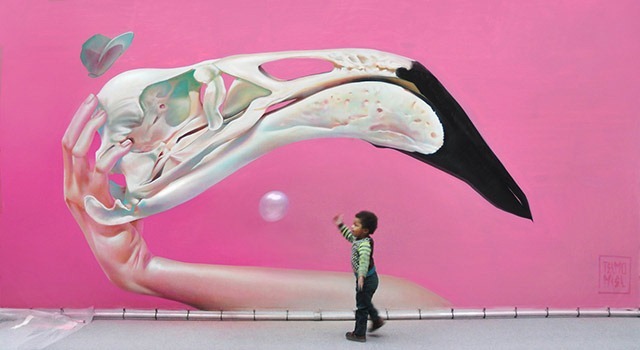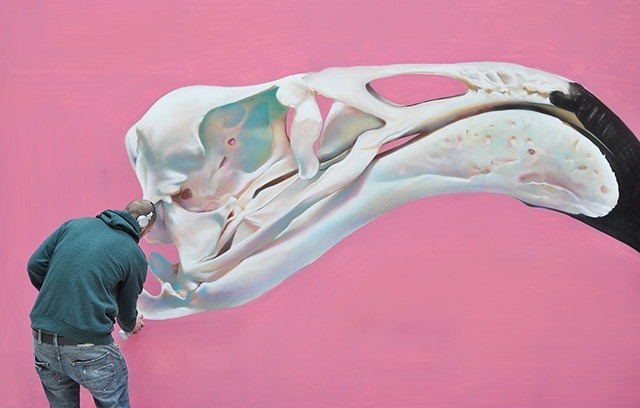 A stunningly-surreal street mural by Telmo & Miel (NSFW), an artistic duo based in the Netherlands.
[via Lustik]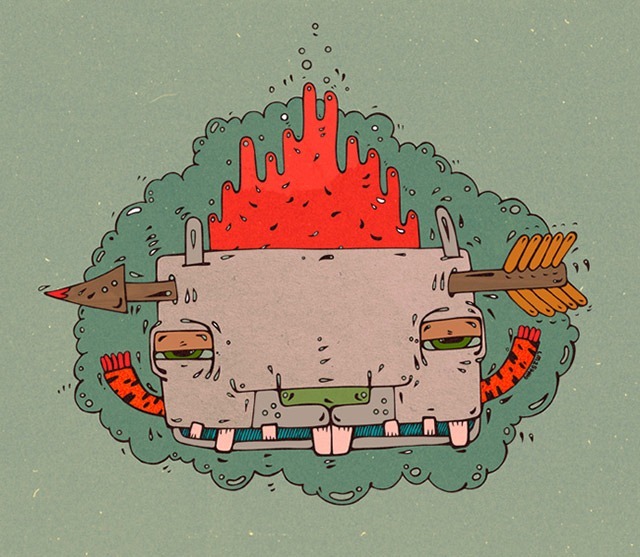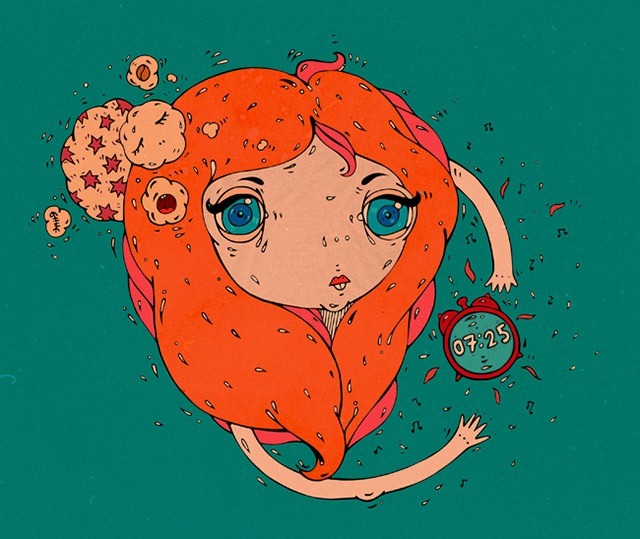 Lena Matveichuk is a Saint Petersburg, Russia-based illustrator, painter, and designer. She says that she likes to draw and create different characters, and adds that she makes them more complete by using her thoughts and feelings which arise in her mind during the process.
Check out a few select illustrations from her portfolio, after the jump.
Continue reading 'Quirky Character Designs by Lena Matveichuk'