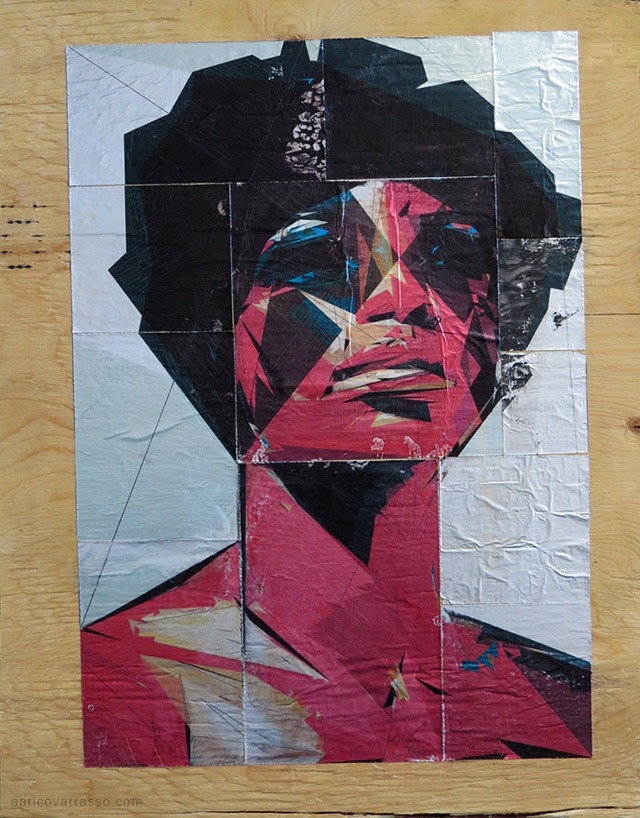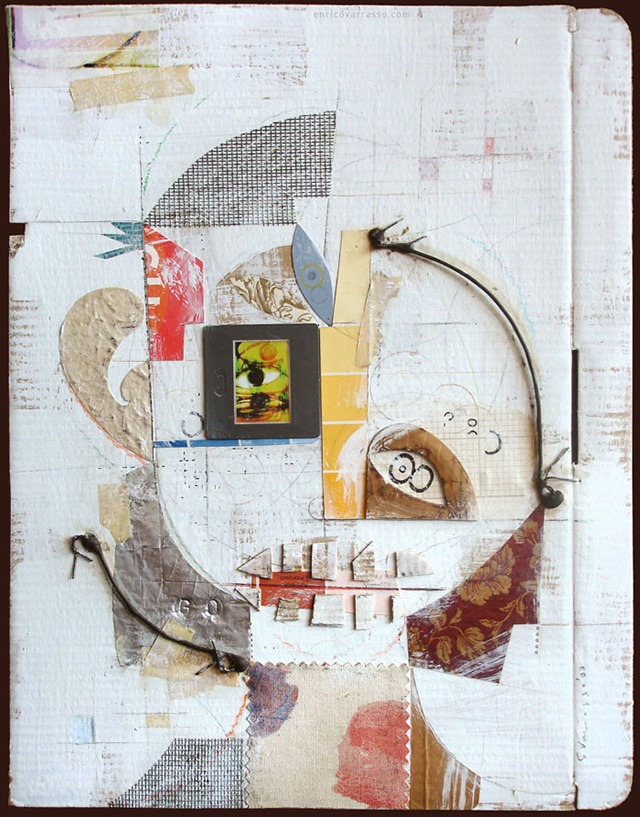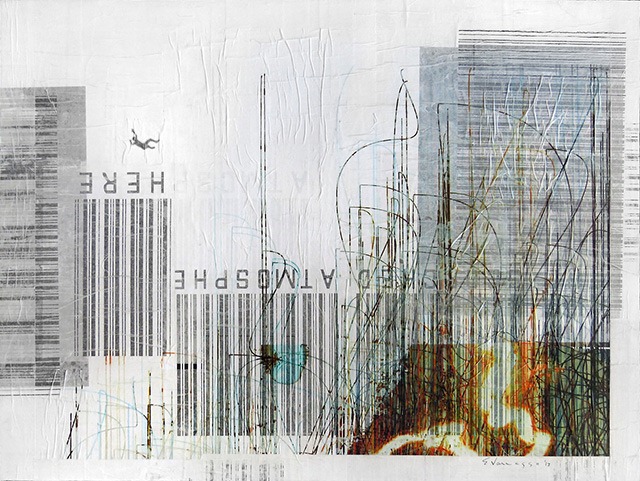 These lovely and surreal mixed media artworks were created by Enrico Varrasso, a freelance illustrator and artist based in a small town near Toronto, Canada. After having graduated from the Ontario College of Art in 1989 with diploma in Editorial Illustration, Varrasso started creating illustrations for a wide variety of reputed magazines and design studios.
While I found the illustrations in his portfolio to be colorful and eye-catching, his mixed media artwork completely fascinated me with their abstract shapes and patterns which are masterfully blended with his digital art.
I asked him to tell me more about his creative process, and he replied, saying:
My mixed media art usually involves some of my digital art, vellum paper, acrylic paint, old car manuals oil stick, pencil, matte medium…sometimes there's some silver foil and found book/magazine imagery that I tear out or make copies of with my copier/printer. All of this is placed on either illustration board or plywood.

I usually work in layers of imagery using the digital artwork I've printed out onto vellum or grab the torn pages from the old books and magazines. after placing a layer of images down with the matte medium I like to push the artwork aside to dry and start the process again on another piece…I usually work on a few at a time. the following day (usually) I like to come back to the art with fresh eyes and assess where it's at. I continue the same process again with whatever material I feel is needed for the piece. Once again I set it aside for a day so that it can be viewed with fresh eyes. at this point I usually add some final touches with my oil stick, pencils and paint.
Varrasso counts artists like Marcel Duchamp, Paul Klee, Gerhard Richter, Pablo Picasso, Andy Warhol, amongst his many influences. He confesses that things are never easy when one is a freelancer, but he just wouldn't have it any other way as he loves what he does for a living.
He sells select illustrations and mixed media works from his extensive portfolio (both original as well as prints) at his online store on Saatchi Online. He also undertakes commissions, and those of you who are interested can get a custom piece done in his signature style.
Link to Enrico Varrasso's site | Tumblr.
You can check out more of his mixed media pieces after the jump. I've also included a few of his digital collages for your viewing pleasure.
Continue reading 'Enrico Varrasso's Beautiful Mixed Media Assemblages'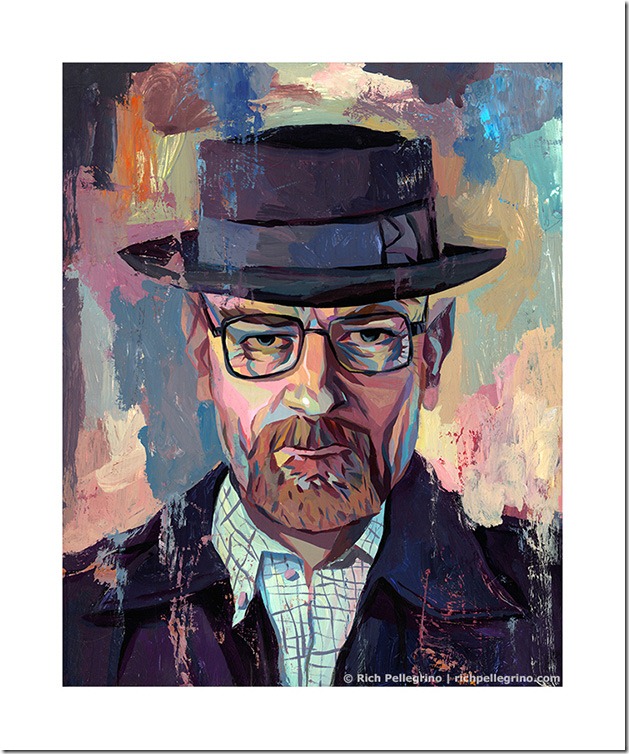 Prints of "Heisenberg," artist Rich Pellegrino's evocative homage to our favorite chemistry teacher turned drug lord from Breaking Bad, are now available at his online store. The 14" x 18" prints (Paper Size: 16" x 20") are limited to a run of only 60, and are priced at $40 apiece.
The artist has also allocated some of these prints for sale at his upcoming Comic Con appearances.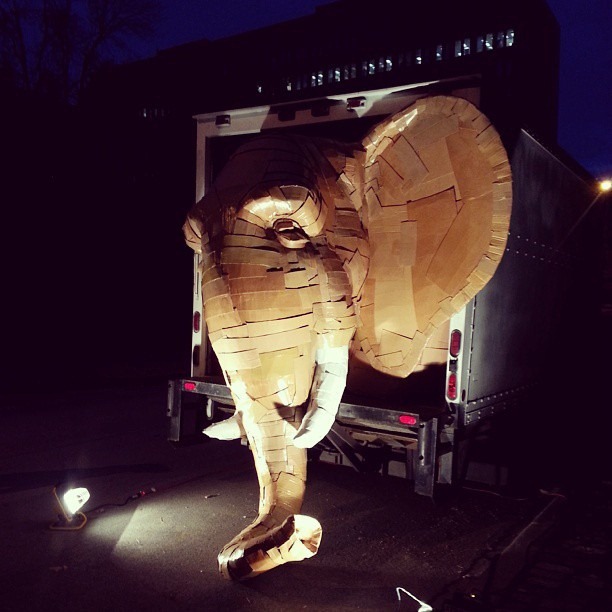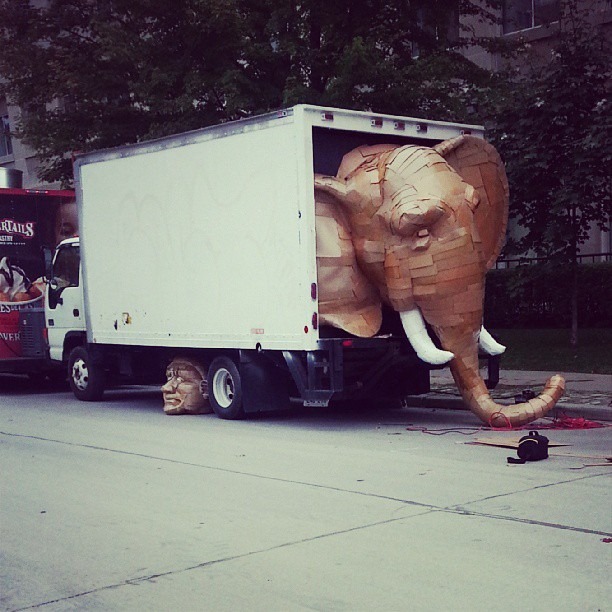 Artist and sculptor Laurence Vallières managed to fit a huge elephant inside a truck — a cardboard elephant, that is. She created the sculpture for the Scotiabank Nuit Blanche art event in Toronto.
Visit her site to see more of her fantastic sculptures and other artworks.
[via Lustik]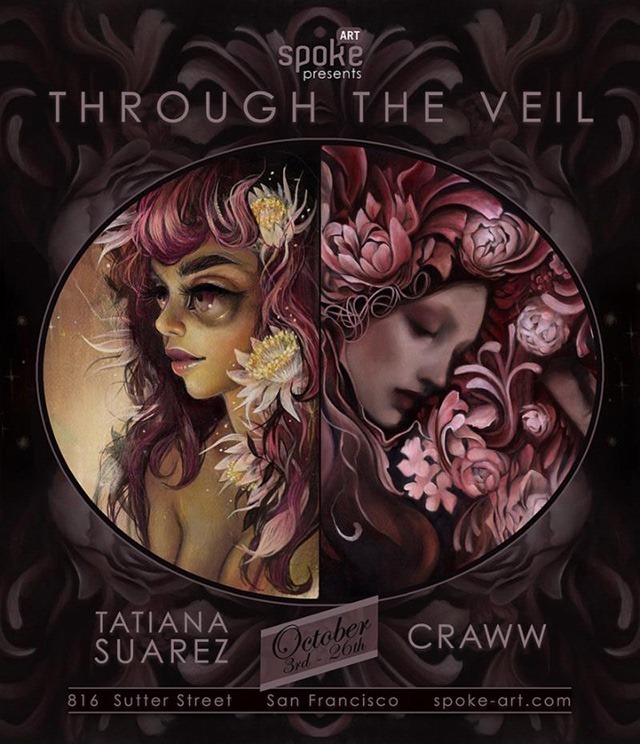 San Francisco-based art gallery, Spoke Art are debuting "Through the Veil," a two person art show featuring a collection of new paintings by Tatiana Suarez and Craww, tonight at their Sutter St. gallery location.
While the artistic styles and inspirations of the two artists are quite different (Tatiana is from Miami, and Craww is from across the pond in the UK), the duo are united by their haunting, yet sensual treatment of the female form in all its fragile vulnerability in their works.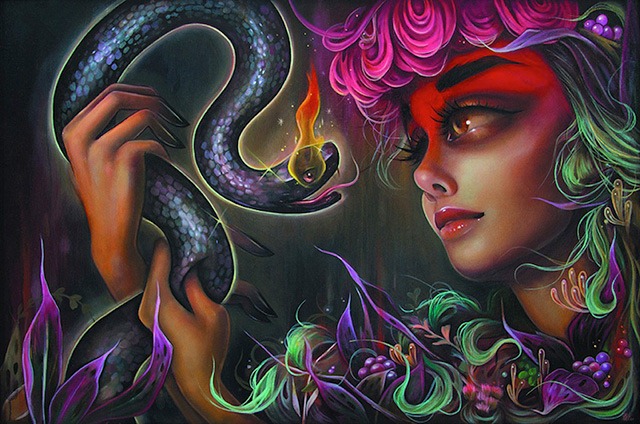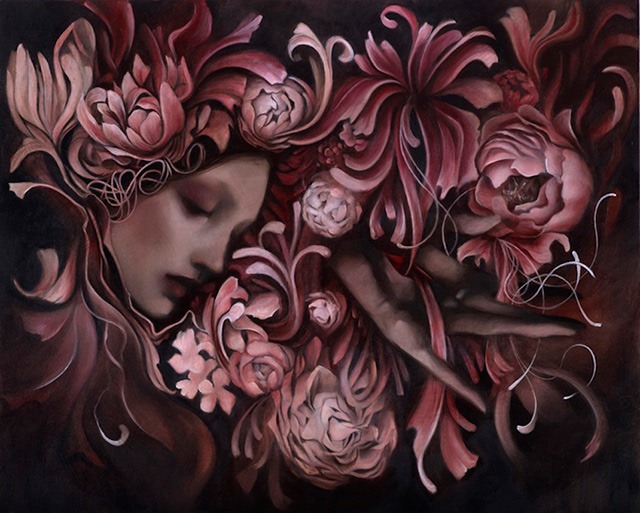 Tatiana's subjects, doe-eyed vixens depicted through a traditional pop-surrealism lens, expand on the artist's Cuban heritage with a tropical palate of greens and yellows, interacting with the flora and fauna of the rainforest. The artist's history as muralist, painter and illustrator come together much like an "ajiaco", a traditional Cuban stew comprised of diverse ingredients, to inform her new body of oil and acrylic paintings on paper and canvas.

Craww, who was born and raised in the United Kingdom, creates haunting and beautiful works. His subjects have a delicate fragility, depicted with extended matchstick limbs, entwined in a bed of ravens and roses, both recurring elements found throughout his paintings. His women are shown primarily with their eyes closed (a stark contrast to Tatiana's), resting in what can be interpreted as either a peaceful slumber or a welcome death.
The exhibition will be on view through October 26, 2013. Visit Spoke Art for more details.
Check out more images (slightly NSFW) after the jump.
Continue reading '"Through The Veil" – New Paintings by Tatiana Suarez and Craww'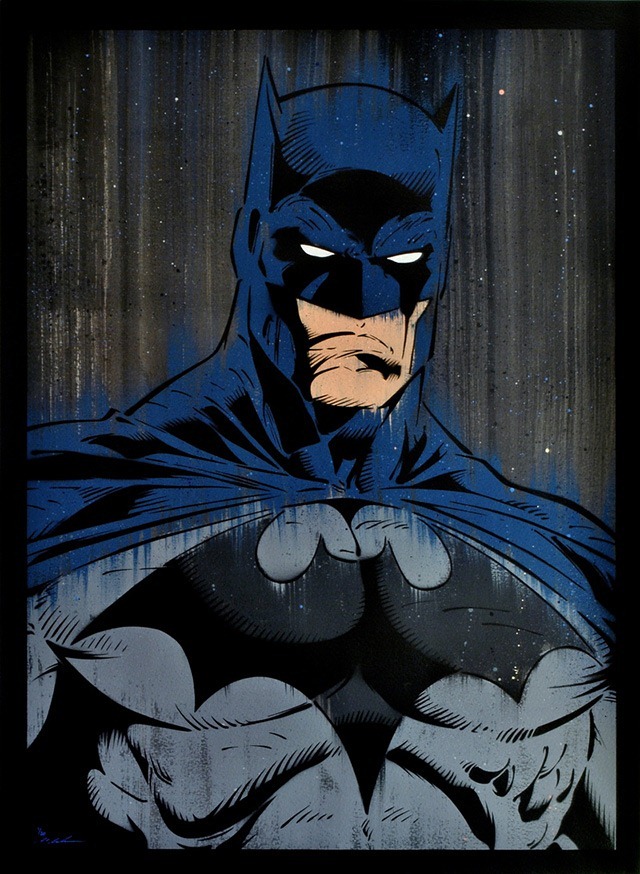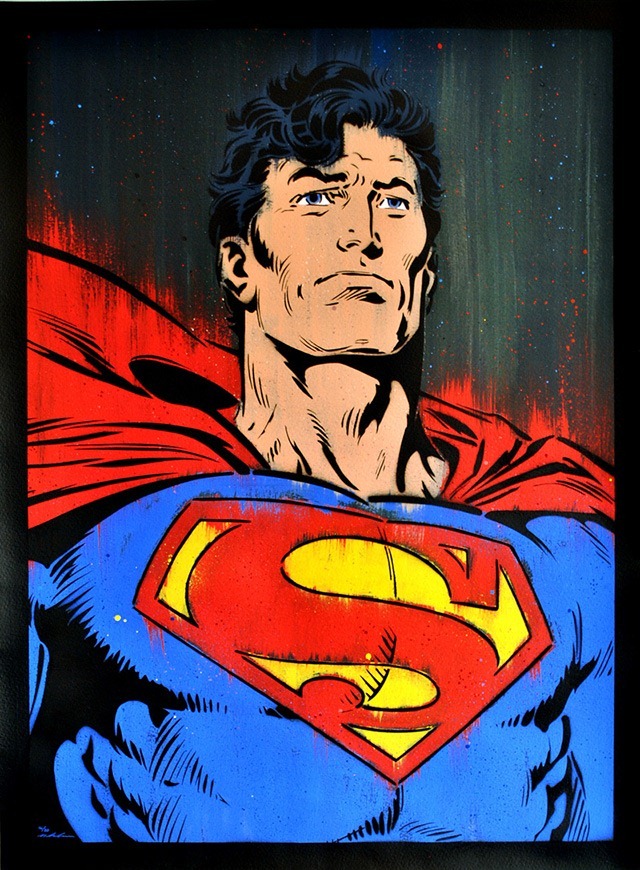 Michael Latimer's 22" x 30" paintings of Batman and Superman are on sale here for £80 (around $59) apiece. Released in runs of 20 each, the paintings are hand painted/sprayed with acrylics and spray paints on heavyweight luxury watercolor paper. Since they are all made by hand, each piece is an unique one. All the works in the series will come signed and numbered by the artist.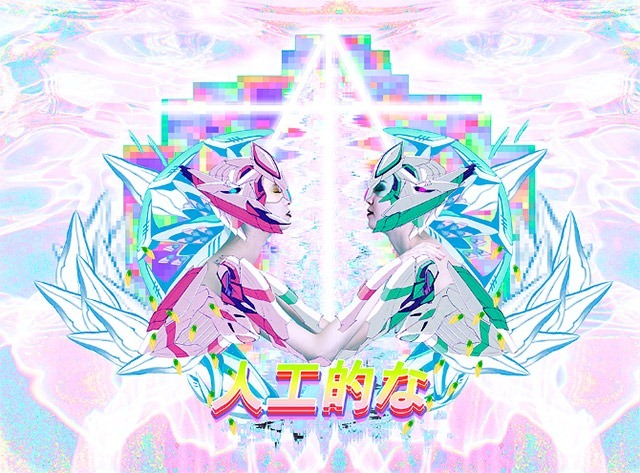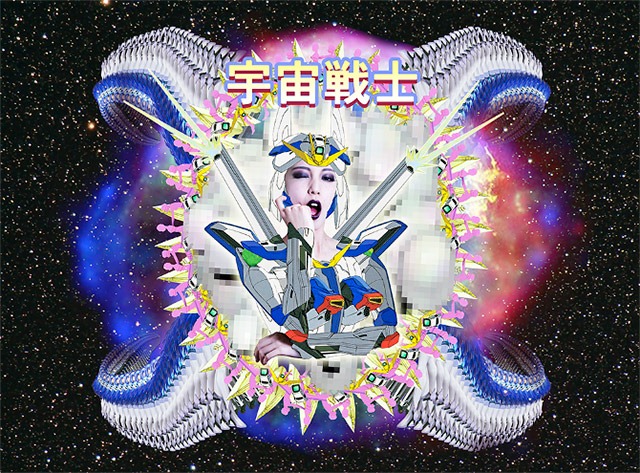 These awesome digital collages are the creations of Hong Meow (aka Estefania de Armero), a Tokyo-based digital photographer, collage artist, and "wannabe" musician. Meow's surreal works are heavily influenced by the garish, animated GIF excesses of the internet of the '90s, and also Japan's anime culture.
Born in Caracas, Venezuela, the artist is an alumni of the Savannah College of Art and Design. Her works have been exhibited at the Desotorow Gallery, Savannah, Georgia.
You can visit her site (NSFW) to see more of her artwork. Don't forget to check out her ongoing Faceshirts portraiture project, where you can submit a photo and have it turned into a custom made shirt design.
More images after the jump.
Continue reading 'Angel Galactica: Digital Collages Inspired by Mecha Culture'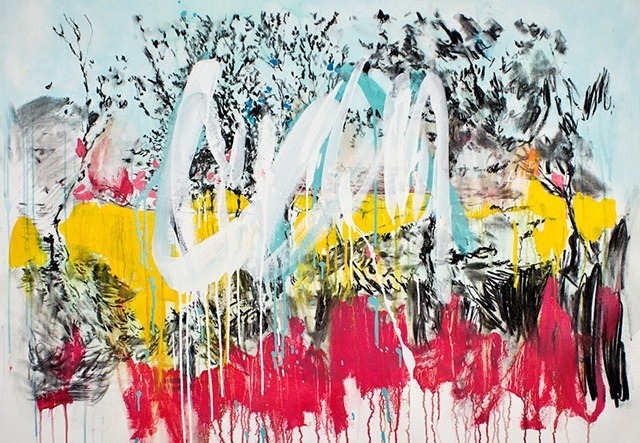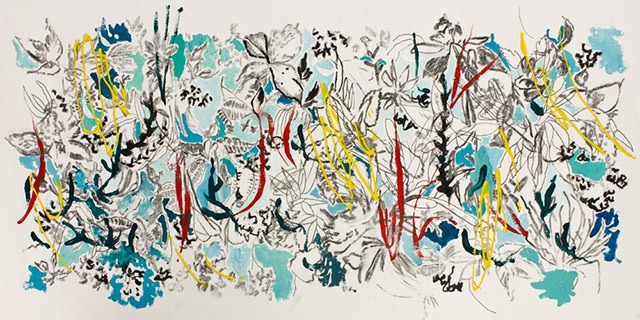 One of my favorite artists, André Azevedo, is back with some new mixed media artworks. Based in Curitaba, Brazil, Azevedo is a self-taught artist who experiments with a lot of techniques to create his layered pieces. He created his latest works by using color pencils, crayons and acrylic paints on canvas.
Hit the jump to check out some select paintings from his 2013 portfolio.
Continue reading 'New Mixed Media Paintings by André Azevedo'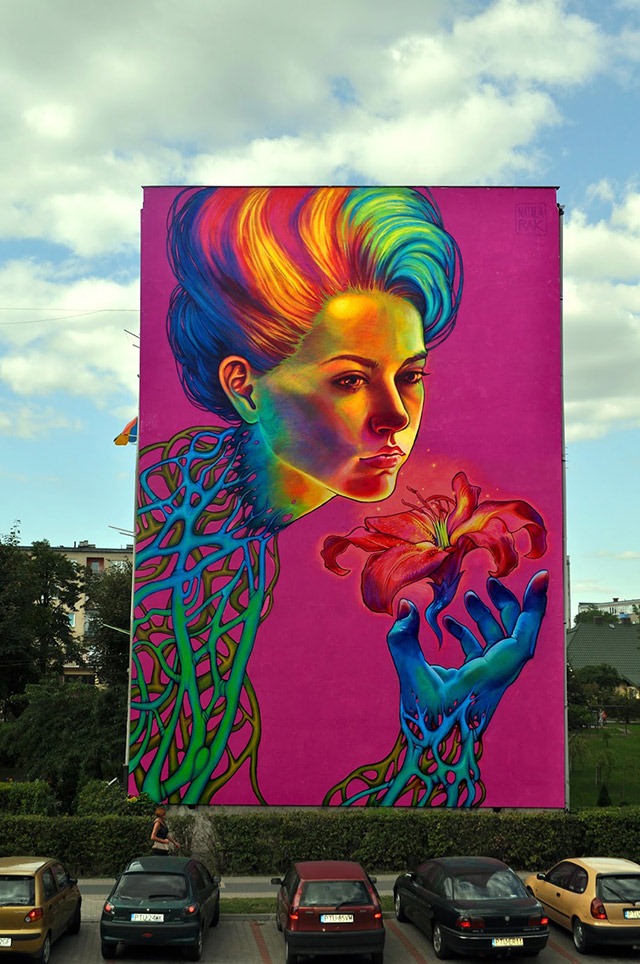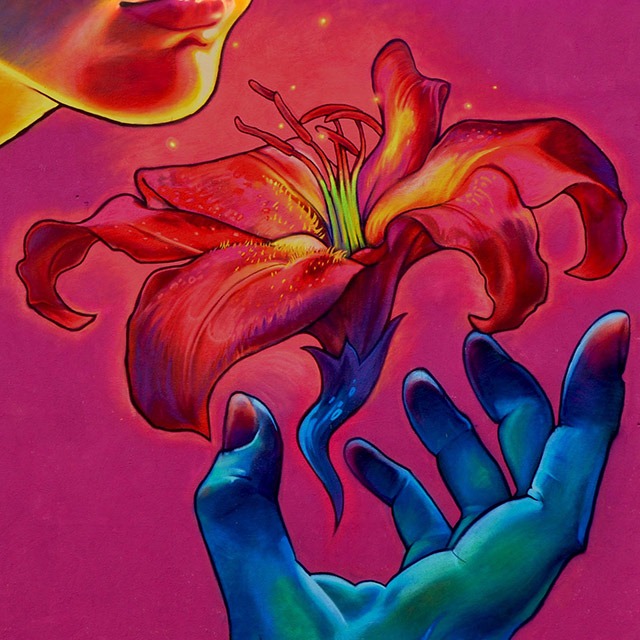 Polish artist Natalia Rak is well known for her colorful and emotive paintings of women. The images you see here are of "Spellbound," her psychedelically beautiful new piece, which she painted over a period of six days on the side of a 4 story building in the town of Turek, Poland.
Born in 1986, Rak has been quite passionate about painting for a decade. She holds a degree in fine arts, and also a diploma in spatial and poster design. Her works have been displayed in numerous group exhibitions in Europe and the US.
You can visit her website to see more of her art.
More images after the jump.
Continue reading 'A 4 Story High Street Art Mural by Natalia Rak'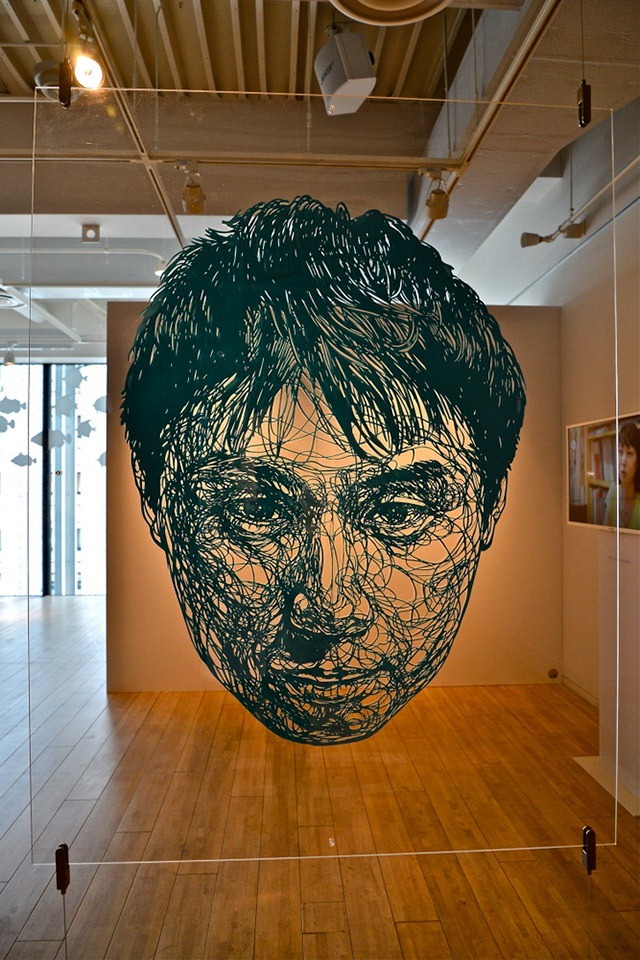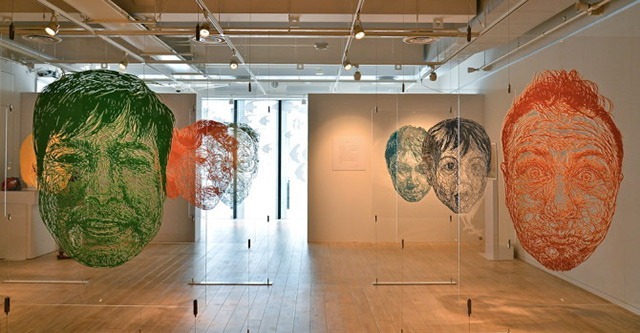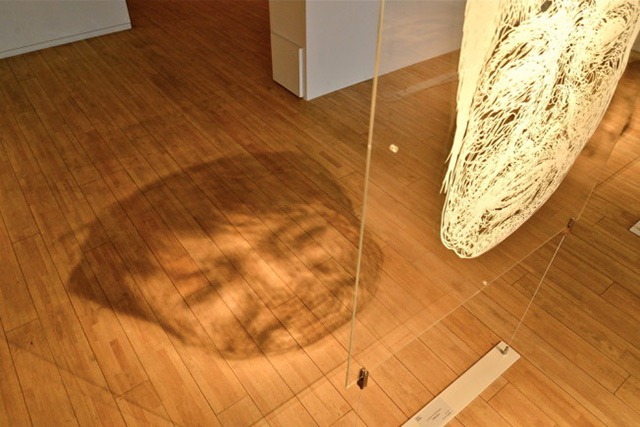 Japanese artist Risa Fukui's series of large-scale paper cutouts (known as Kirie) is currently on display at the Pola Museum Annex in Tokyo. Fukui created these pieces by mounting her intricately cut paper figures on hanging translucent panels, which allow the double-sided works to be viewed both from the front as well as the back. The cutouts cast shadows on the floor, which give them an additional dimensionality.
The exhibit titled "LIFE-SIZED," will be on display at the gallery until September 8, 2013.
You can visit the artist's website and check out more works in the gallery.
[via Lustik and Spoon & Tamago]
Check out more images after the jump.
Continue reading 'Large Paper Cutout Installations by Risa Fukui'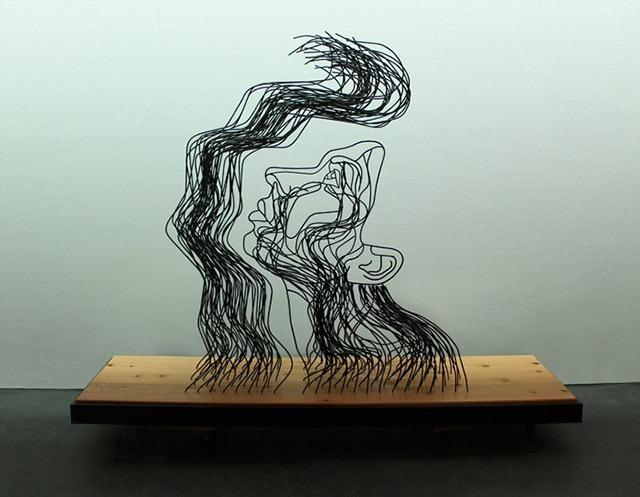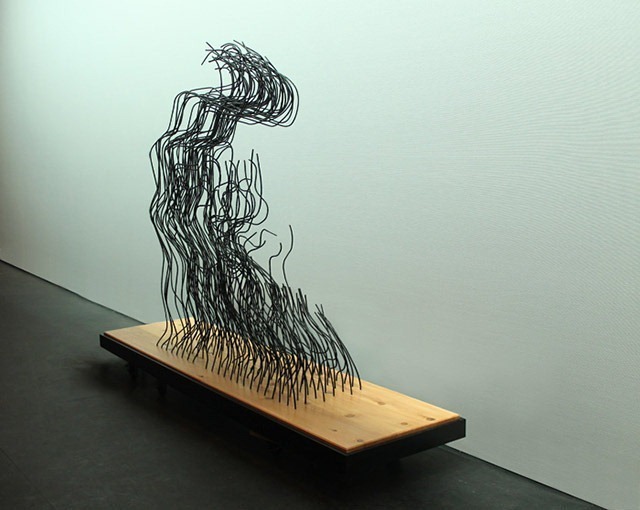 Cairo-based artist and sculptor, Gavin Worth's (previously) anamorphic wire sculpture is all about hope, or rather, hope in the midst of chaos. Titled "And Light Fell On Her Face Through Heavy Darkness," the piece was created during the artist's visit to Las Cruces, New Mexico. Worth had to bend 125 steel bars by hand to make the 6 foot tall sculpture.
Worth, on the piece:
With this sculpture, I tried to create a very fluid, shifting sense of form. From the side, a mass of curved steel looms over the viewer like a black wave. As the viewer walks around the sculpture, the changing shapes of light between the steel bars create the sense that the sculpture is moving, until the main image of the piece suddenly emerges: a face. The face, somehow lit through the mass of darkness surrounding it, seems to effortlessly keep that same darkness at bay.
You can watch this short video of the sculpture, to check out the anamorphic illusion.
Link to the artist's site.