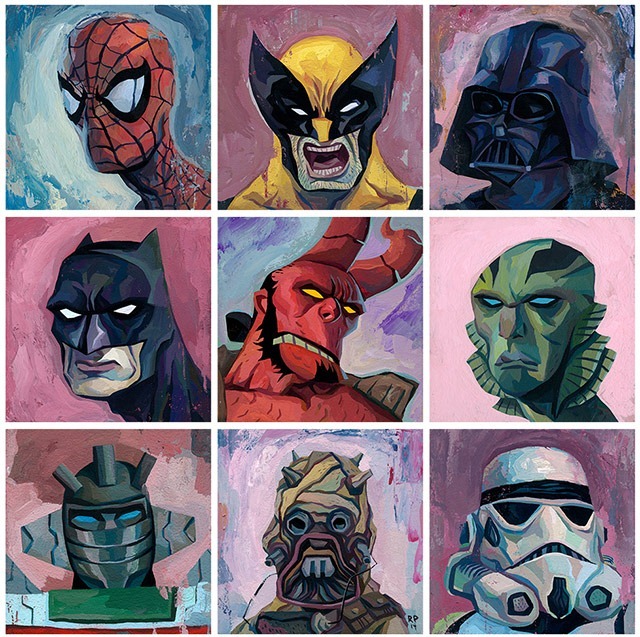 For a few days now, artist Rich Pellegrino has been posting updates about his superhero-inspired portrait paintings on his very interesting Tumblr. You can now buy these original 4" x 4" beauties at his online store.
Oh, and you can get 15% off until July 6th when you spend $50 at the store!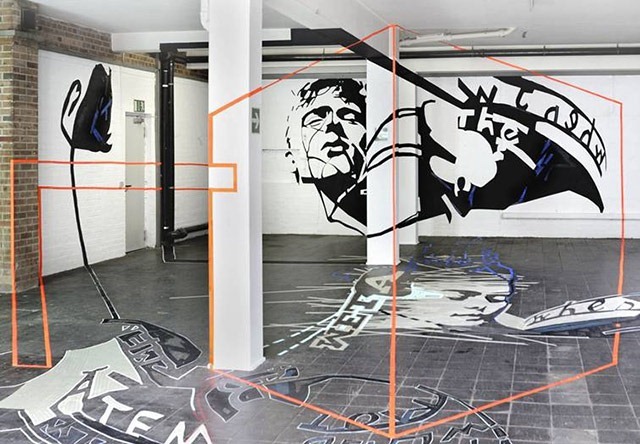 Joerg Mandernach's (previously here and here) latest anamorphic tape art sculpture is his brilliant contribution to the "Donaugalerie 2014" sculpture project exhibit. The installation will be on display in the old baggage room in the railway station of the town of Tuttlingen, Germany.
The show will have its opening night on July 6 and run till October 19, 2014.
You can watch a short video of the optical illusion through which the sculpture comes into being.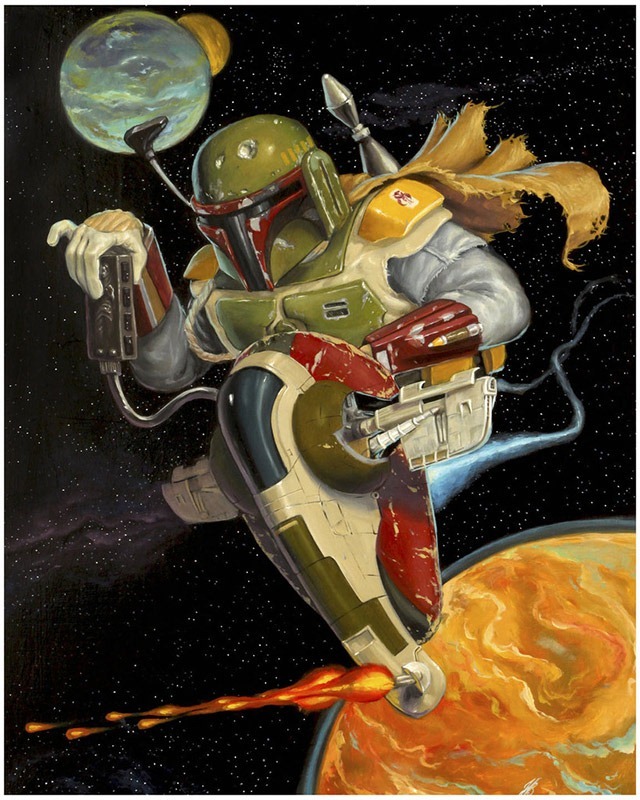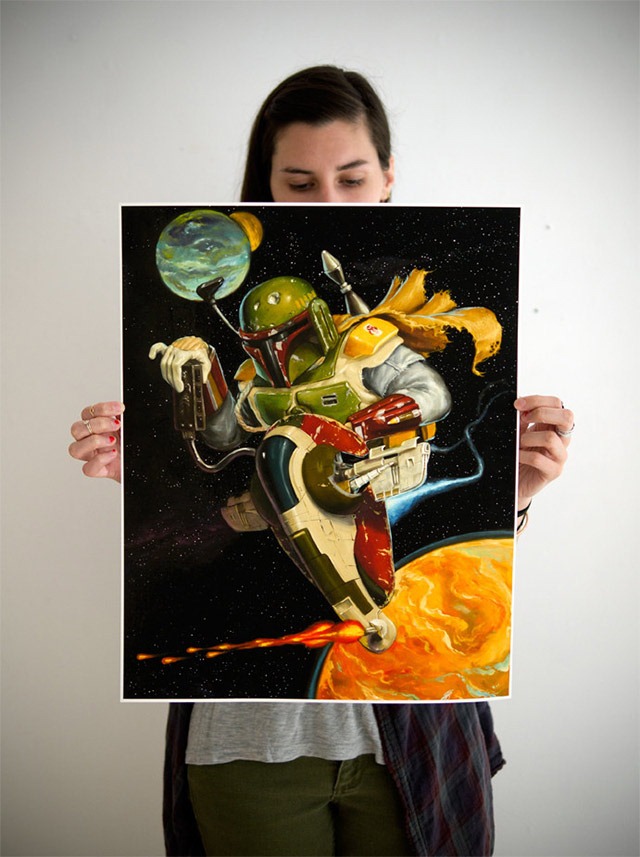 Montreal-based artist, Jonathan Bergeron's surreal Boba Fett themed piece is a great coming together of the artist's three main influences; graffiti, punk rock  and skateboarding.
Only a few more 16" x 20" fine art giclee prints of the awesome painting are available at The People's Print Shop.  Go get them before they are completely sold out.
Adam Lister, an artist based in Beacon, NY, makes geometric 8-bit inspired versions based off classic paintings and iconic images from pop culture.
Lister recently released limited edition prints of 40 new paintings. The giclee prints, priced at $40 each, are made with archival inks and will come signed, numbered and dated by the artist.
Link.
Hit the jump to see more images.
Continue reading 'Adam Lister's 8-Bit Inspired Paintings of Iconic Images'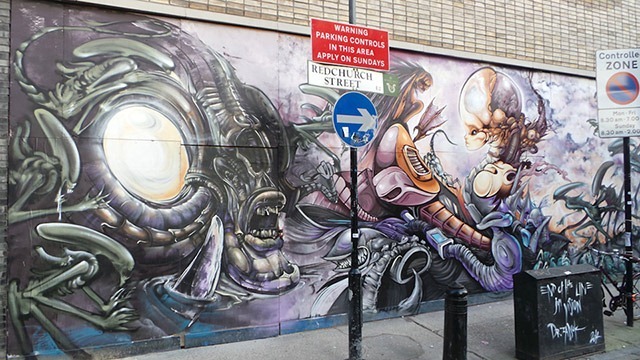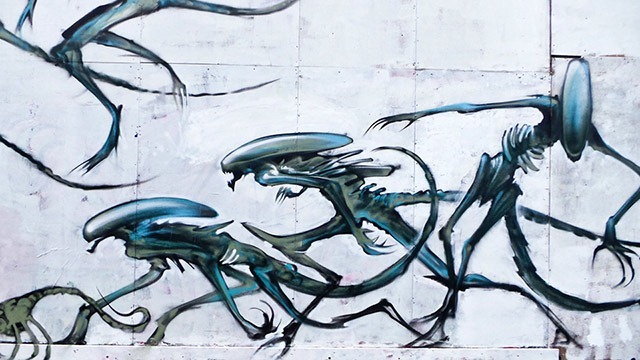 Click here to see larger images.
Inspired by the original artworks of H.R. Giger, art collective EndoftheLine's Jim Vision & Dr Zadok created this huge mural on Redchurch Street in Shoreditch, London. The dystopian/fantasy piece is a great coming together of the signature styles of the two artists.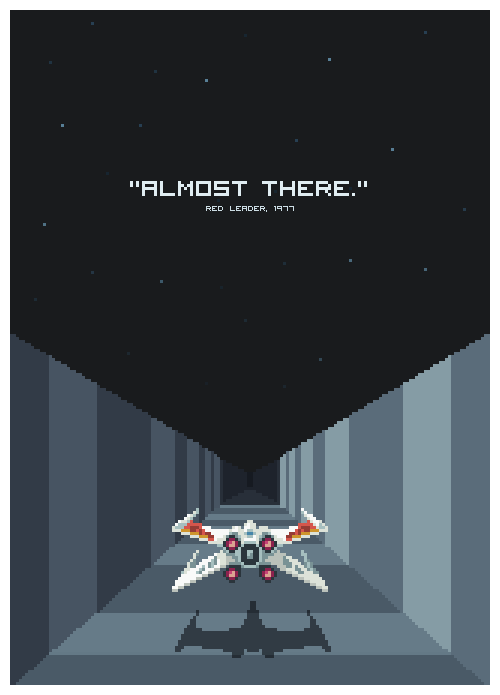 Red Leader, 1977, created by mazeon, a freelance graphic designer based in Hamburg, Germany.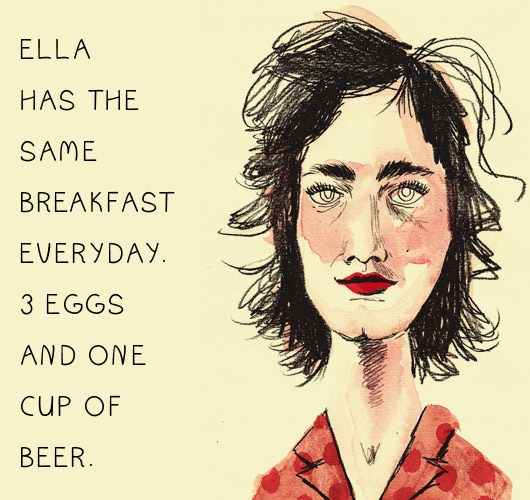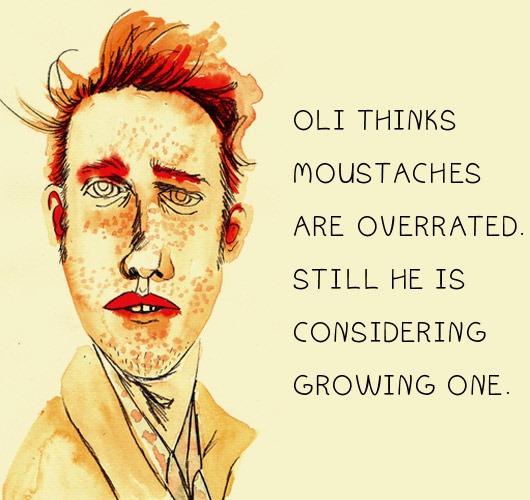 Over on her blog, Sandra Reichl, an Austrian art director/ illustrator, posts an endearing portrait of one of her many fellow Viennese inhabitants every day (or at least she tries to anyway).
Reichl draws these faces with a sense of fondness and warmth that one would normally reserve for close friends or loved ones. The illustrations are accompanied by a humorous fact about the person behind the face, which makes them even more endearing. Living in a city of 1.7 million beautiful people, would, in all probability mean that she will never run out of interesting faces to chose from for her art project.
Visit her A-Face-A-Day project to see more illustrations.
Check out few select illustrations for your viewing pleasure, after the jump.
Continue reading 'A-Face-A-Day Project by Sandra Reichl'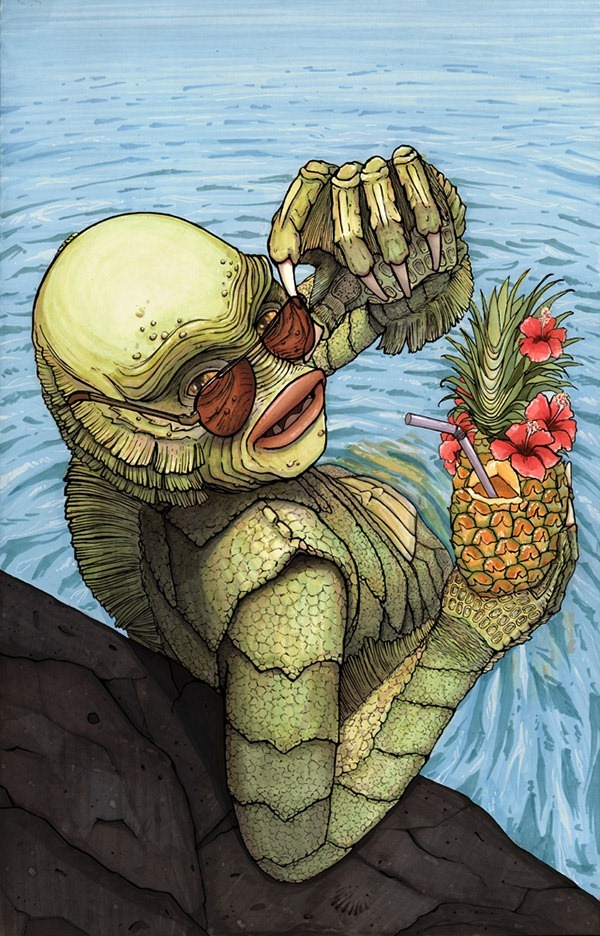 BLACK LAJUNE = the Gill-man from The Creature from the Black Lagoon + June]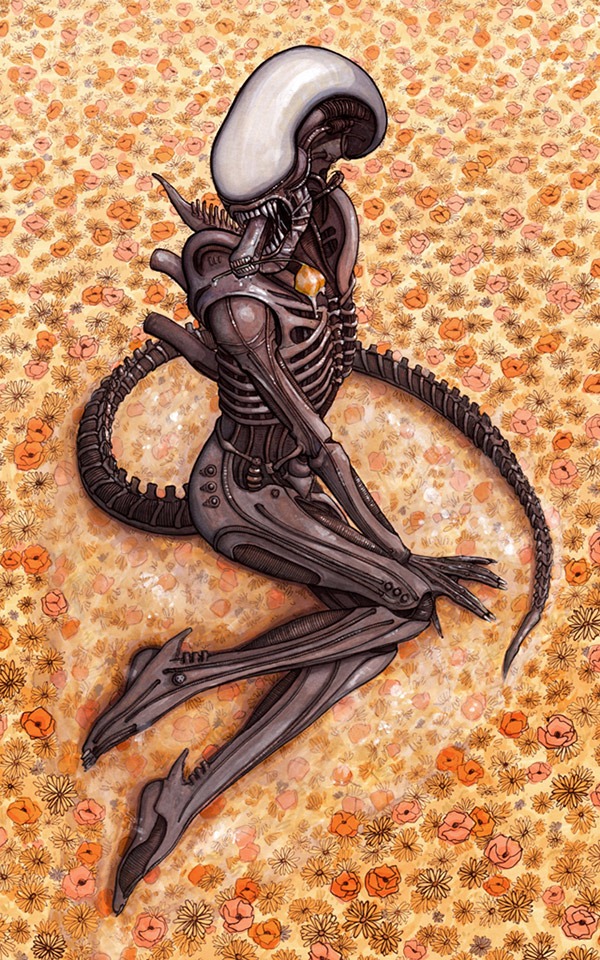 [ MAYLIEN = the xenomorph from Alien + May ]
Artist, illustrator and designer, Erika Deoudes's "The Calendar of Sexy Monsters" is a tongue-in-cheek, pinup style tribute to classic monsters of yore from pop culture.
The collection of 12 giclée prints features some of my favorite fiends like Gill-man from Creature from the Black Lagoon, Klaus Kinski's Dracula from Nosferatu the Vampyre, and Zuul from Ghostbusters.
There are six options for the sets (which include both collectible calendars and "calendarless" calendars, which are just prints) ranging from $30 to $160, and individual prints range from $5 to $21.
The artist promises that if you order the calendar and prints at her Etsy store before 3rd December, she will make sure that your stuff will be shipped to you by the 13th.
Visit her website to see more of her weird and wonderful illustrations.
Hit the jump to see more illustrations.
Continue reading 'The Calendar of Sexy Monsters'