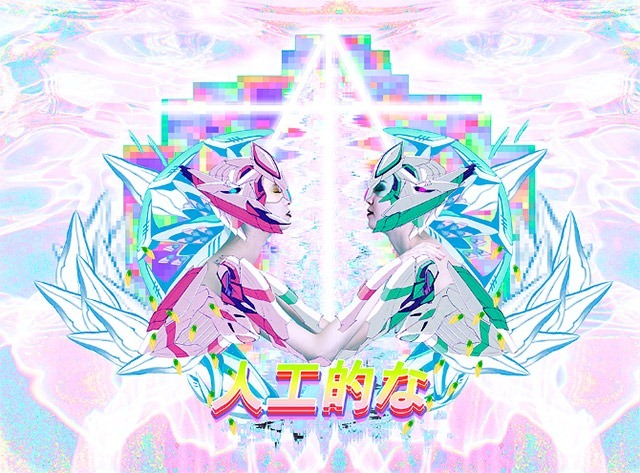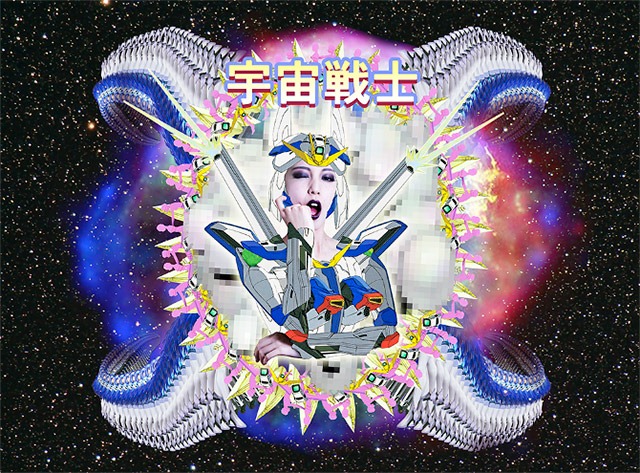 These awesome digital collages are the creations of Hong Meow (aka Estefania de Armero), a Tokyo-based digital photographer, collage artist, and "wannabe" musician. Meow's surreal works are heavily influenced by the garish, animated GIF excesses of the internet of the '90s, and also Japan's anime culture.
Born in Caracas, Venezuela, the artist is an alumni of the Savannah College of Art and Design. Her works have been exhibited at the Desotorow Gallery, Savannah, Georgia.
You can visit her site (NSFW) to see more of her artwork. Don't forget to check out her ongoing Faceshirts portraiture project, where you can submit a photo and have it turned into a custom made shirt design.
More images after the jump.
Continue reading 'Angel Galactica: Digital Collages Inspired by Mecha Culture'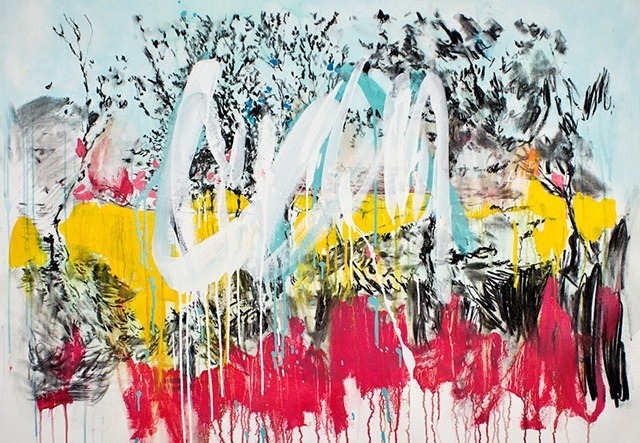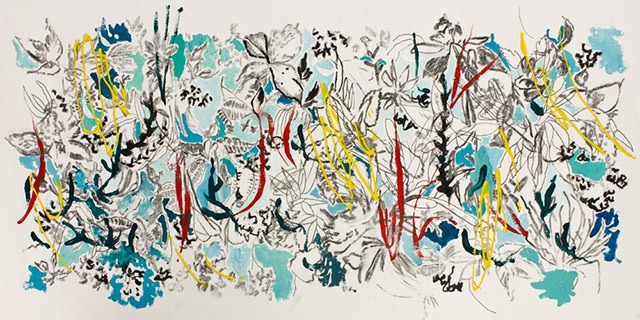 One of my favorite artists, André Azevedo, is back with some new mixed media artworks. Based in Curitaba, Brazil, Azevedo is a self-taught artist who experiments with a lot of techniques to create his layered pieces. He created his latest works by using color pencils, crayons and acrylic paints on canvas.
Hit the jump to check out some select paintings from his 2013 portfolio.
Continue reading 'New Mixed Media Paintings by André Azevedo'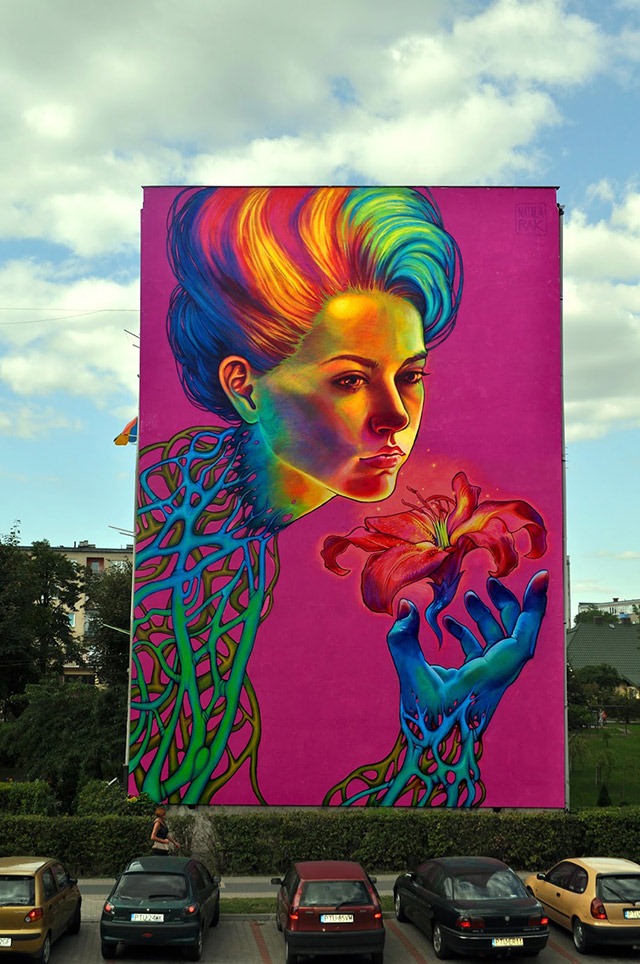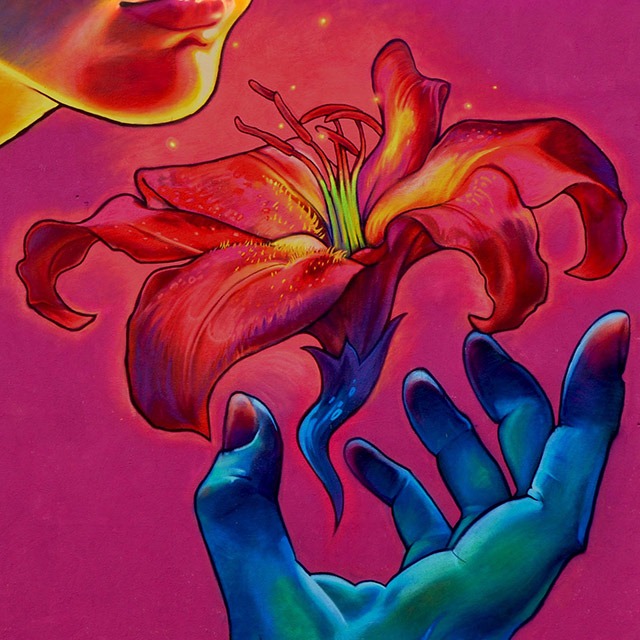 Polish artist Natalia Rak is well known for her colorful and emotive paintings of women. The images you see here are of "Spellbound," her psychedelically beautiful new piece, which she painted over a period of six days on the side of a 4 story building in the town of Turek, Poland.
Born in 1986, Rak has been quite passionate about painting for a decade. She holds a degree in fine arts, and also a diploma in spatial and poster design. Her works have been displayed in numerous group exhibitions in Europe and the US.
You can visit her website to see more of her art.
More images after the jump.
Continue reading 'A 4 Story High Street Art Mural by Natalia Rak'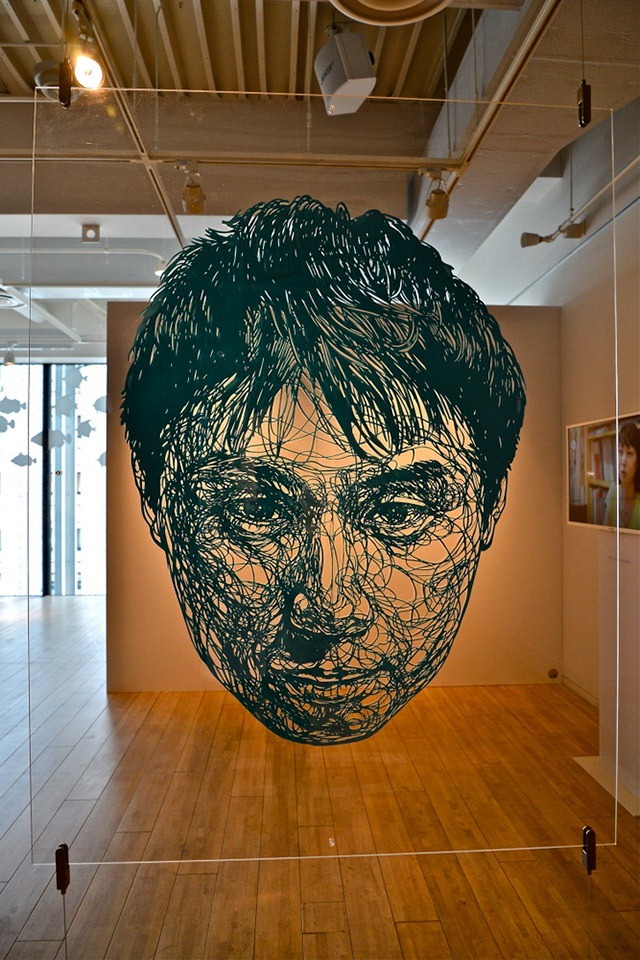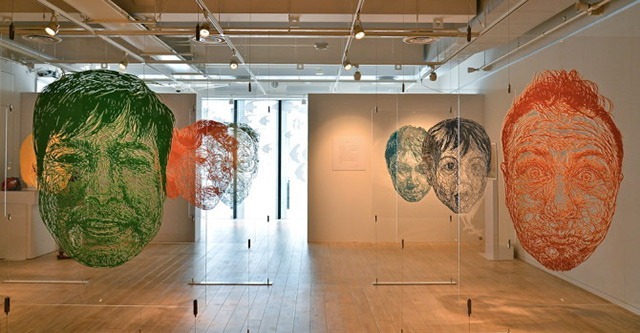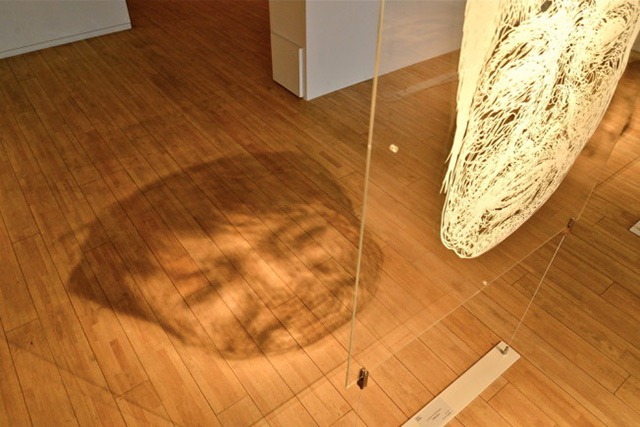 Japanese artist Risa Fukui's series of large-scale paper cutouts (known as Kirie) is currently on display at the Pola Museum Annex in Tokyo. Fukui created these pieces by mounting her intricately cut paper figures on hanging translucent panels, which allow the double-sided works to be viewed both from the front as well as the back. The cutouts cast shadows on the floor, which give them an additional dimensionality.
The exhibit titled "LIFE-SIZED," will be on display at the gallery until September 8, 2013.
You can visit the artist's website and check out more works in the gallery.
[via Lustik and Spoon & Tamago]
Check out more images after the jump.
Continue reading 'Large Paper Cutout Installations by Risa Fukui'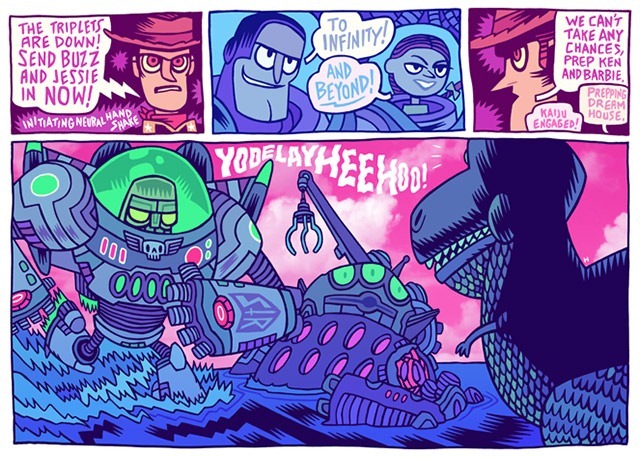 Cartoonist Dan Hipp (previously here, here and here) is one artist who has never ceased to amaze me with his terrific illustrations. Using his wonderful, child-like imagination, Hipp recreates, in this epic illustration, the "Double Event" scene in Pacific Rim using our favorite characters from the Toy Story films.
Check out his blog to see more of his terrific artworks.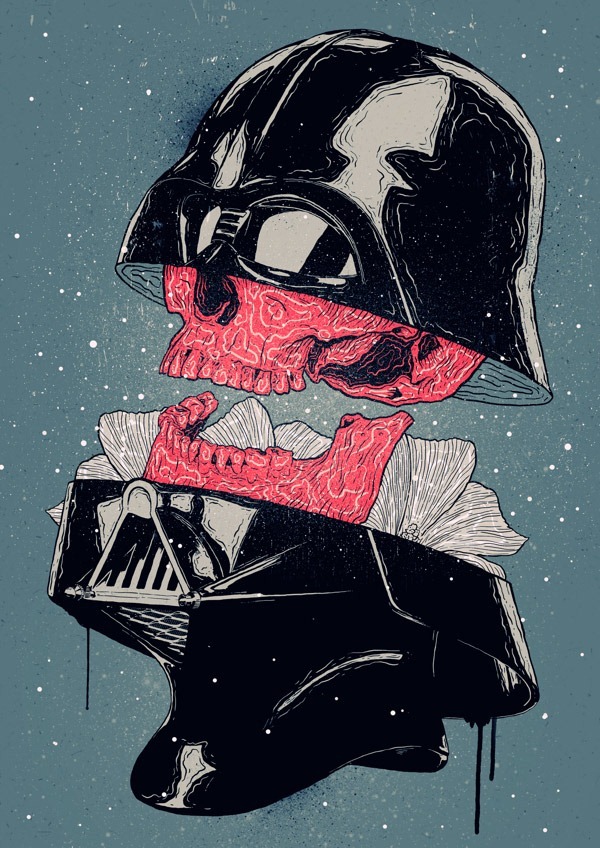 Sao Paul, Brazil-based artist and graphic design artist, Bruno Miranda's latest series of illustrations are a testament to his talent and creativity. Full of surreal imagery and rich symbolism, I found his digital drawings to be utterly captivating.
Miranda is currently an art director at One Digital, but also works as a freelance illustrator.
You can check out his site and Tumblr to see more of his artworks.
Hit the jump to check out the rest of the illustrations.
Continue reading 'Bruno Miranda's Stunning Digital Illustrations'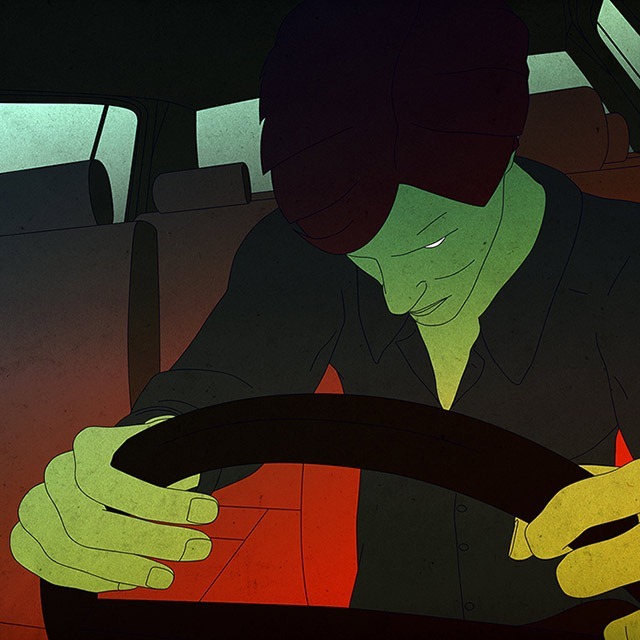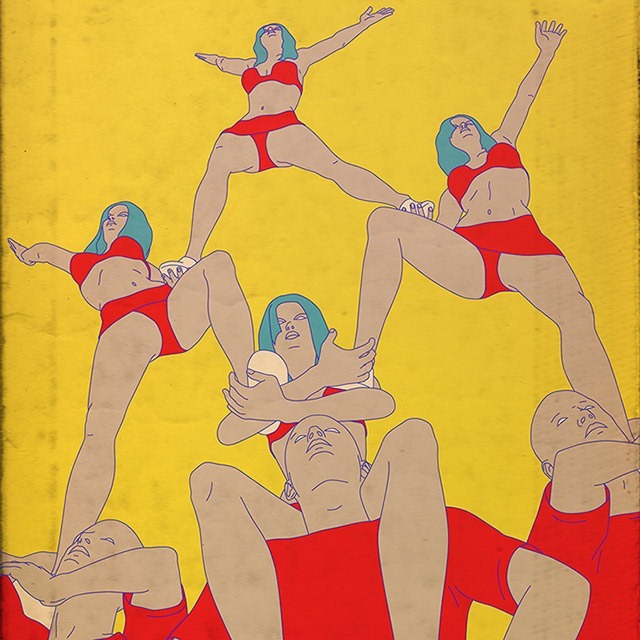 These brilliant, but somewhat disturbing pieces are from the portfolio of Eric Petersen, an illustrator based in Olympia, Washington, U.S.A. Petersen says that his artistic style has been influenced by instructional graphics and also the look of vintage comics of the 1940s. His works mainly feature people, who are placed in stark and foreboding environments. The artist has intentionally left his works ambiguous, so as to allow the viewer to provide his or her own narrative to what their eyes and minds perceive.
On his creative process:
"I draw uniform lines on a computer to strip away some of the human element and expressive quality seen in non-digital work. I use perspective and unnatural colors to set up a voyeuristic feeling and create an unsettling mood. I am interested in the combination of a purely functional illustration style with an emotional scene."
Link to Eric Petersen's site.
Hit the jump to check out more images.
Continue reading 'The Unsettling Illustrations of Eric Petersen'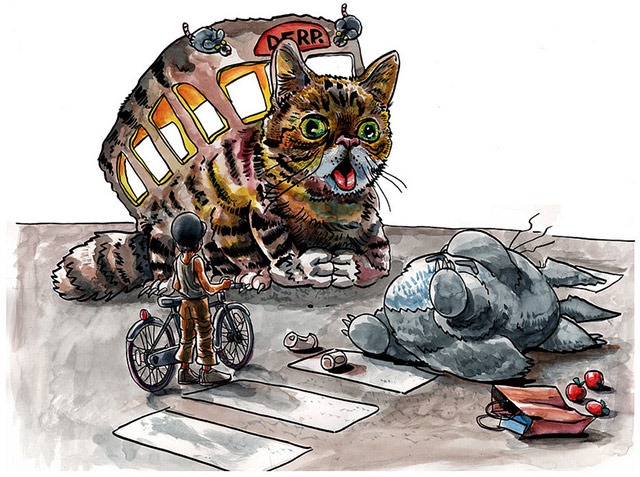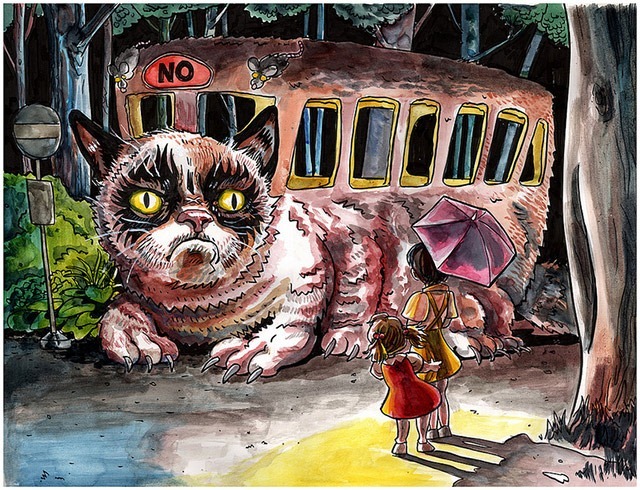 Artist Tim Doyle adorable new art prints mashup two Internet feline superstars — Grumpy Cat and Lil Bub –- with Catbus from the Studio Ghibli classic, My Neighbor Totoro.
Titled "Out of Service" and "Bad Job Bub!," the prints were created by the artist for the Spoke Art Gallery's upcoming Lil Bub-themed art show. The 16" x 20" prints are limited to a edition of only 150 each, and are priced at $40 apiece. Oh, and they will all come signed and numbered by the artist himself. The gallery is also offering both the prints as a set for $70.
Link to the Spoke Art online store.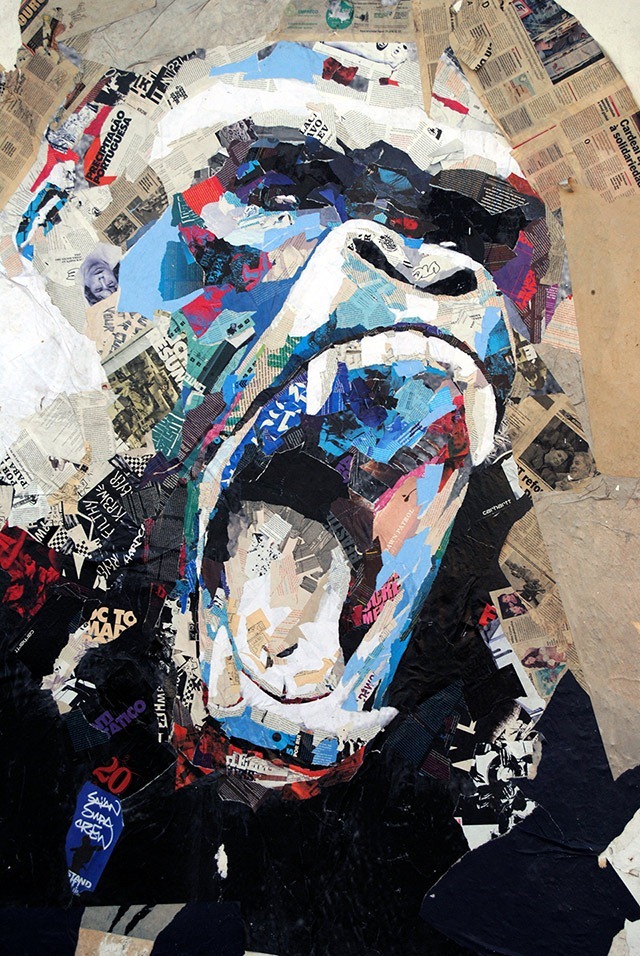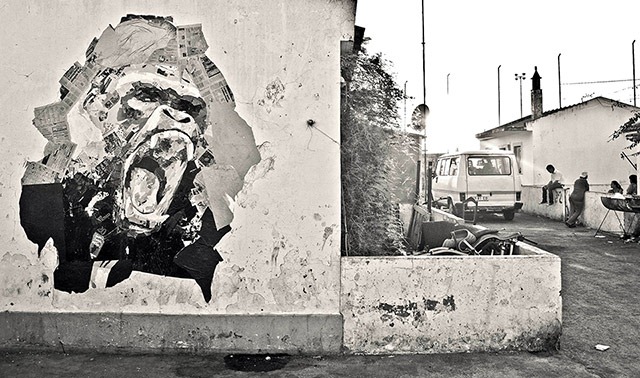 The anonymous Portuguese street artist, who only signs his works as Pëdro, mailed in some of his elaborate graffiti collage pieces. His layered works are characterized by their raw intensity, helped in no small measure by the artist's fantastic understanding of color and shading techniques.
You can visit his Tumblr to check out more of his works.
Hit the jump to see more images.
Continue reading 'Dynamic Graffiti Art by Street Artist Pëdro'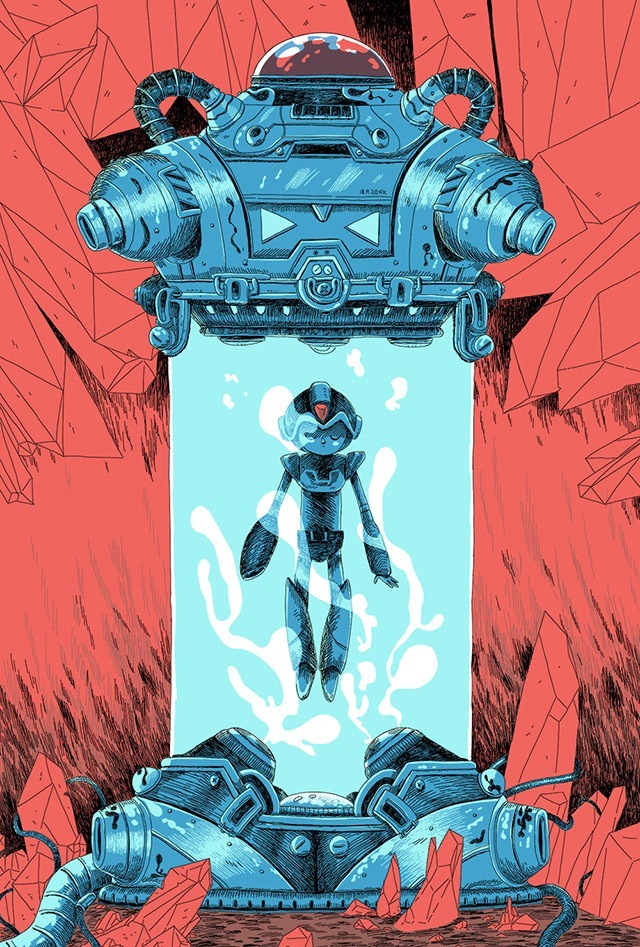 Cartoonist Zac Gorman created this ridiculously awesome Mega Man X illustration for the upcoming "Fangamer X Attract Mode" show during this year's PAX, in Seattle . 24" x 36", 4 color screen prints of the piece will also be available at the show.