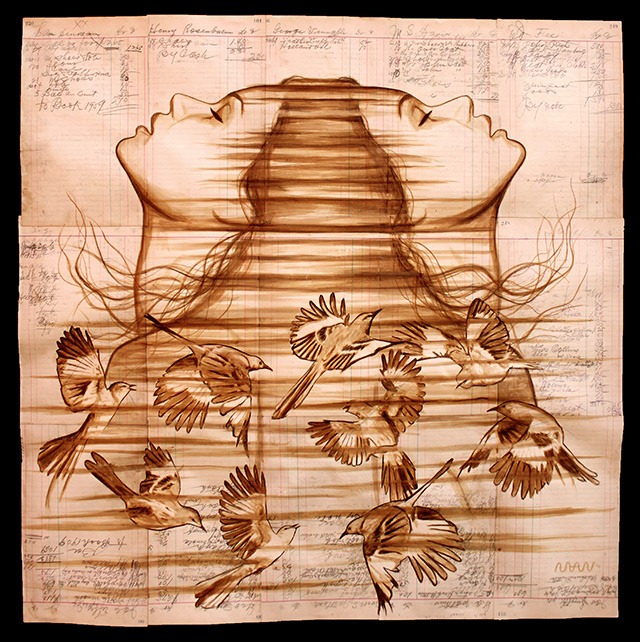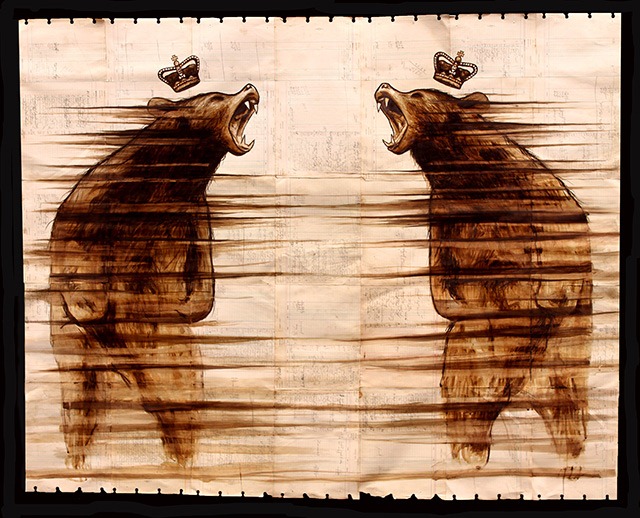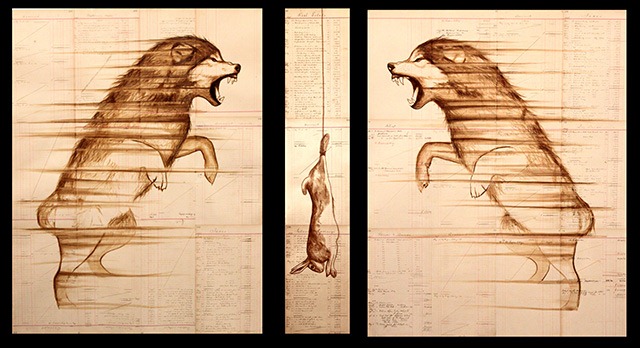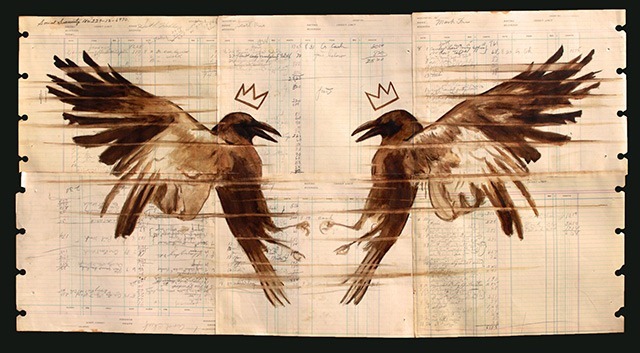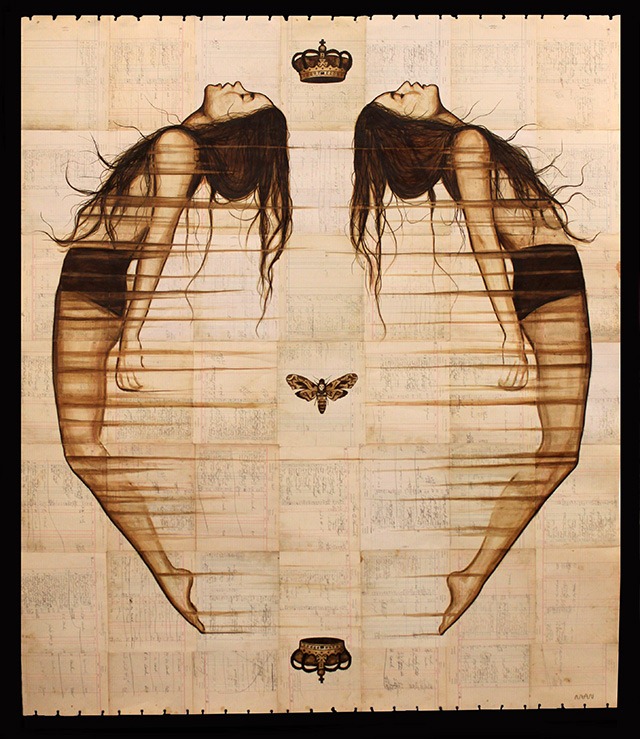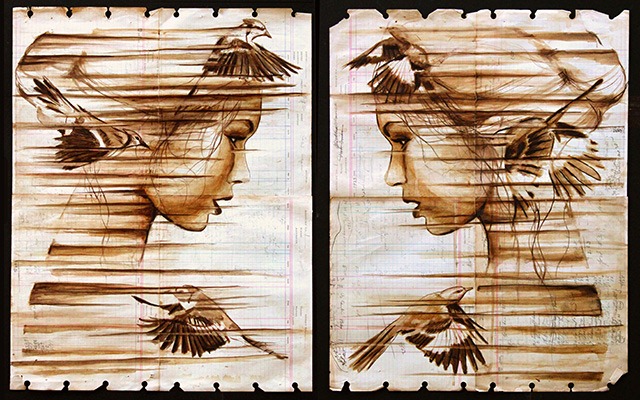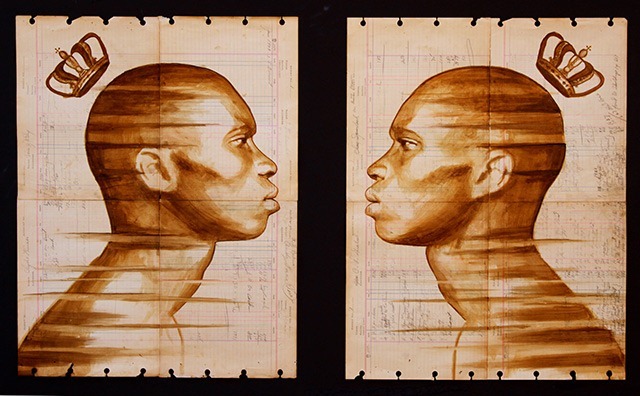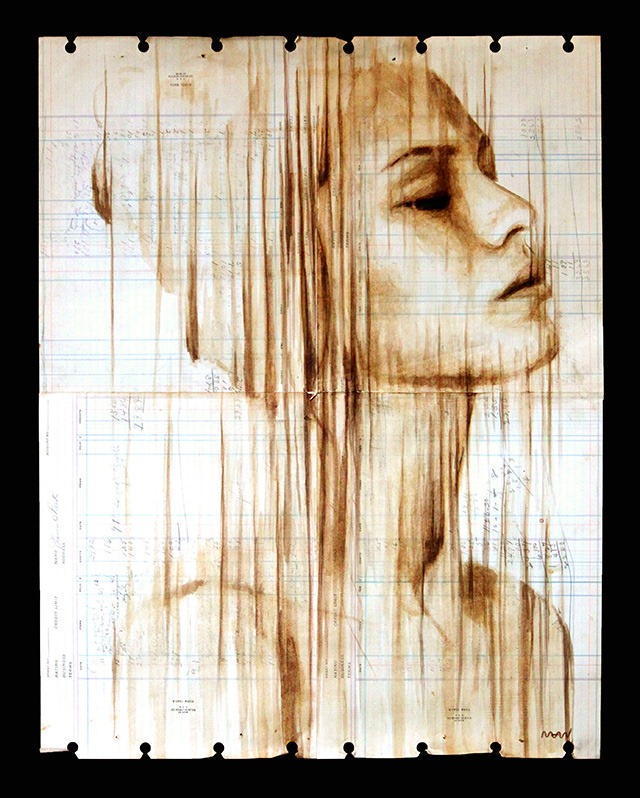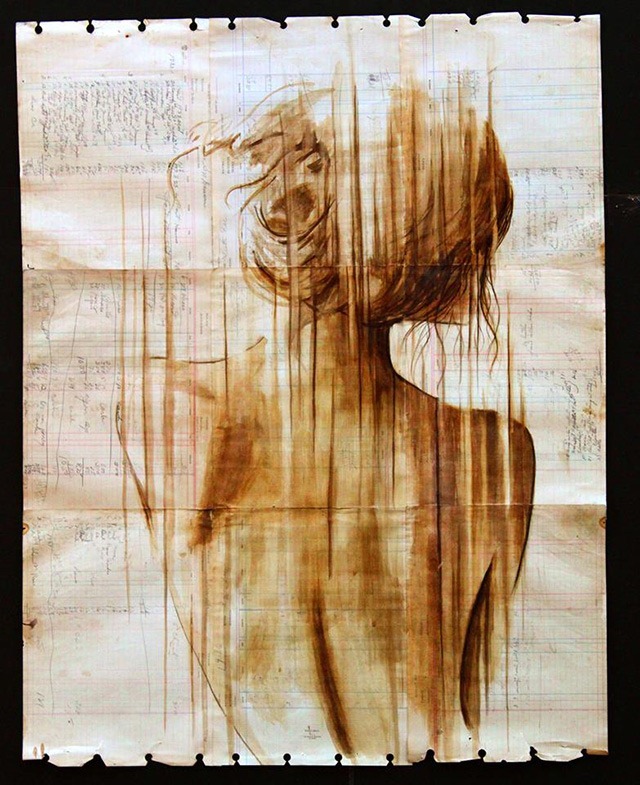 Michael Aaron Williams explores the ephemeral nature of humanity as well as its authority structures in these sublime paintings. The Knoxville, Tennessee-based painter and street artist creates his artworks by painting coffee and a bit on ink (for the darkest shades) on century-old ledger paper, which he found in an old, rural Appalachian store that was closed for decades.
Talking about his paintings, Williams states, "the paper has an immense amount of character that can only come from the wears of time, and the coffee just melts into the history of the paper." The motifs and fauna that inhabit the works also reveal his deep connection to his Appalachian heritage.
You can visit his site to see more of his paintings and also his street art pieces from around the world.
[via JazJaz Submissions]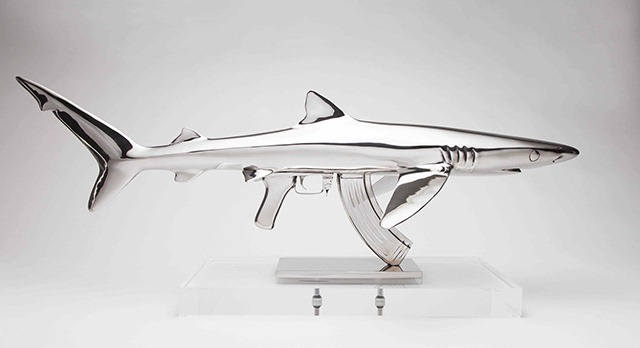 Christopher Schulz, Blue AK, 2013, marine grade stainless steel, 17 x 44 x 18 inches, $28,600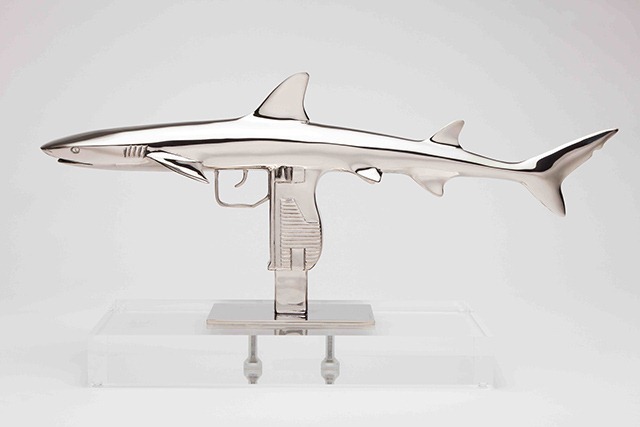 Christopher Schulz, White Tip Uzi, stainless steel, 24 x 13 x 7 inches, $8,800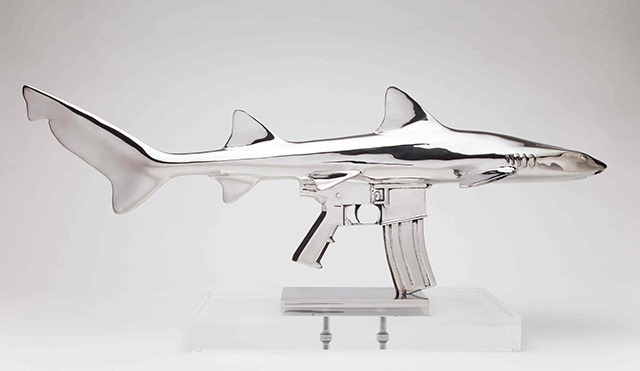 Christopher Schulz, Leopard AR, 2014, marine grade stainless steel, 16 x 36 x 11 inches, $13,600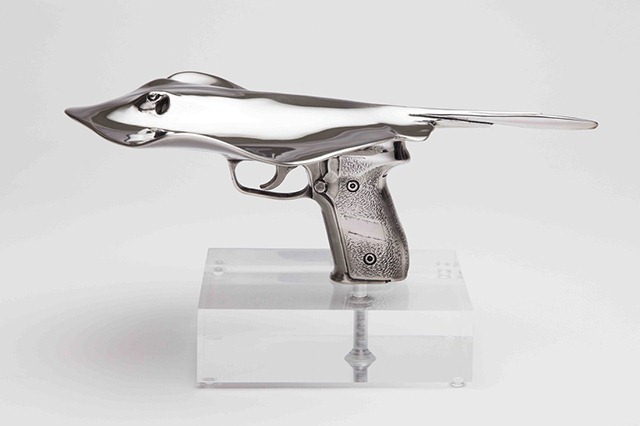 Christopher Schulz, Raygun, 2014, edition no: 1/27, marine grade stainless steel, 14 x 8 x 8 inches, $4,250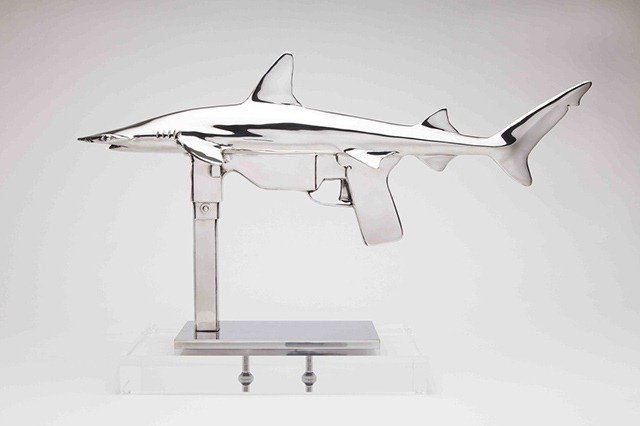 Christopher Schulz, Grease Gun, 2014, marine grade stainless steel, 24 x 16 x 8 inches, $8,400
With his surreal 'Sharkgun' sculptures, Los Angeles-based sculptor and painter Christopher Schulz draws parallels between the huge backlash against firearms and the irrational dread humans feel about sharks. The sleek sculptures, made using marine grade stainless steel, will be on exhibit at the George Billis Gallery, NYC, until February 21, 2015. Continue reading 'Amazing Shark Gun Sculptures by Christopher Schulz'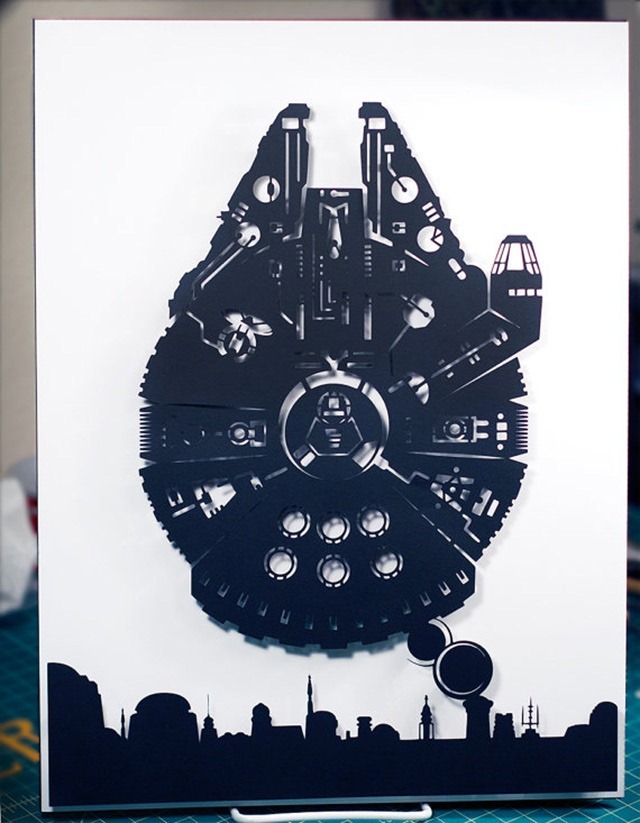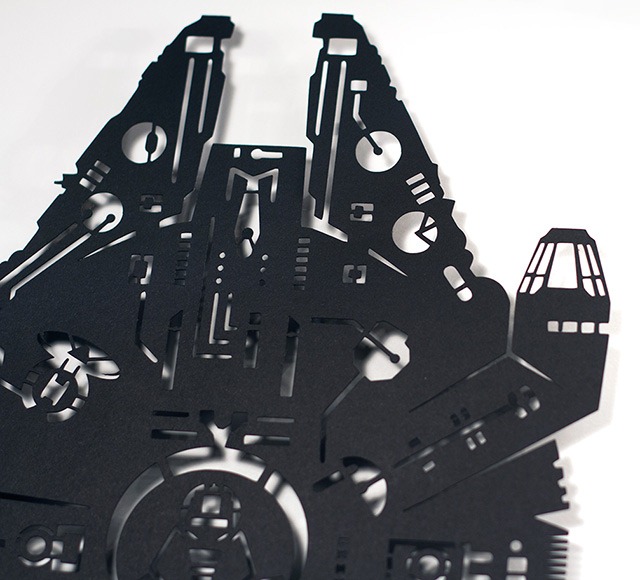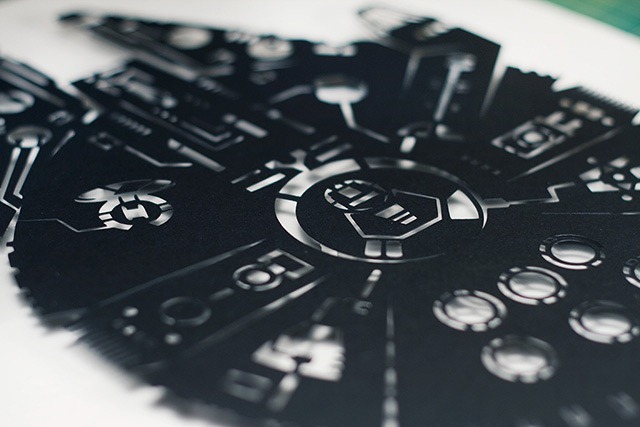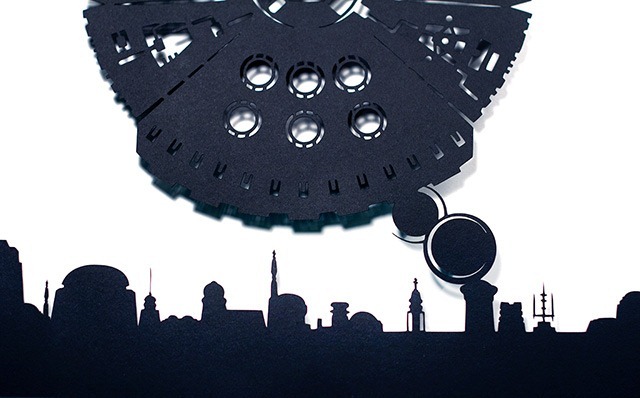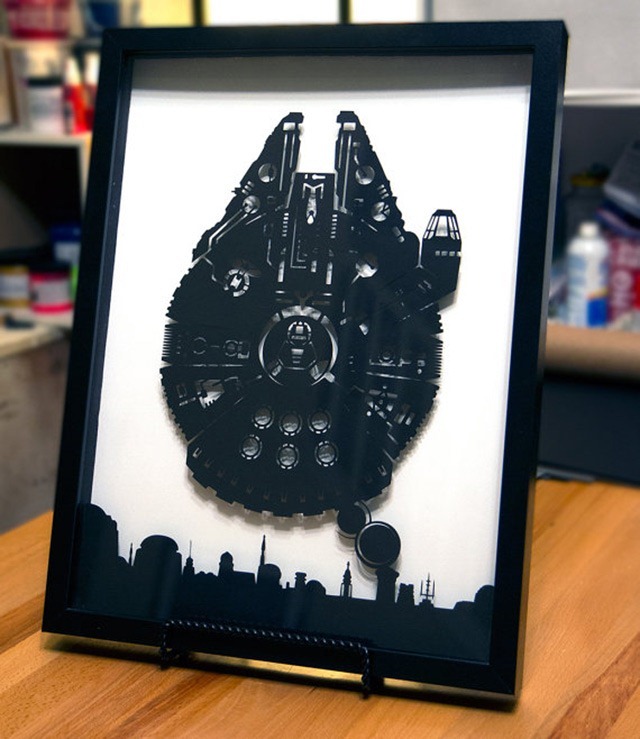 Over at his Etsy store, freelance illustrator Will Pigg is selling his hand-cut papercraft silhouettes of the Millennium Falcon rising over the spaceport town of Mos Eisley. Each gorgeously-framed piece is made from a single sheet of 12" x 16" black paper, and is priced at $70.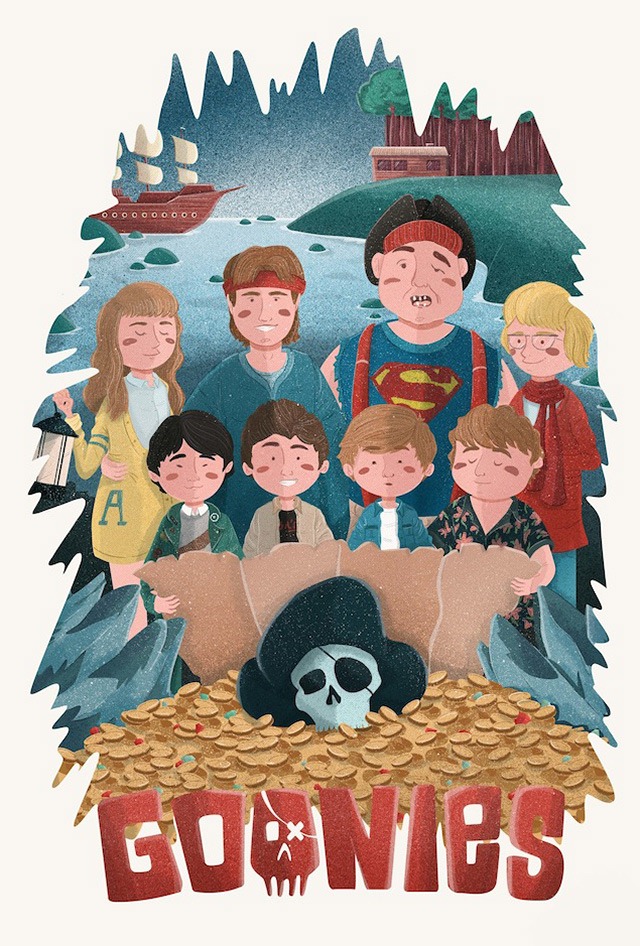 The Goonies for the show Crazy for Cult in gallery 1988 (LA)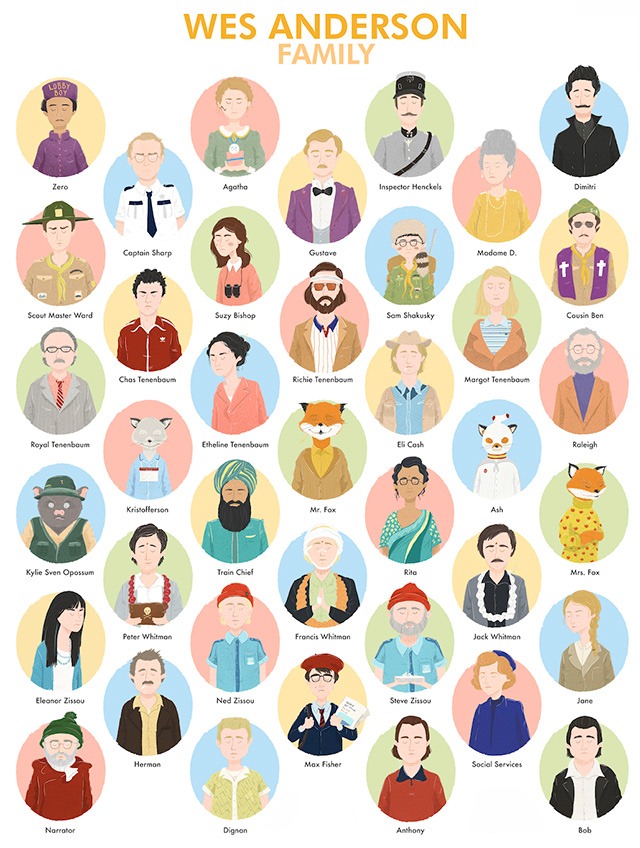 "Wes Anderson family" for "Bad Dads V" in Spoke Art gallery (San Francisco)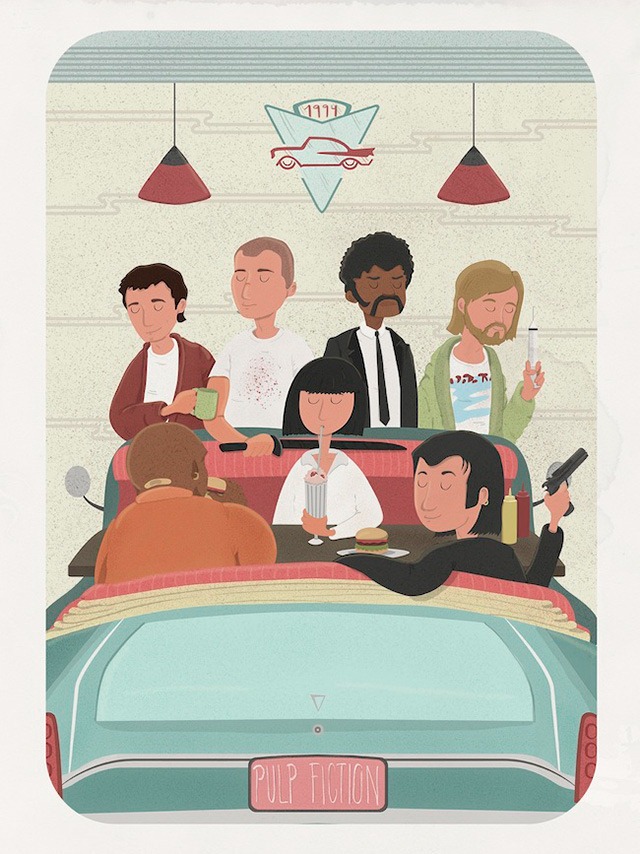 Pulp fiction "Coffee break" for the show "Quentin vs Coen" in  Spoke art gallery (San Francisco)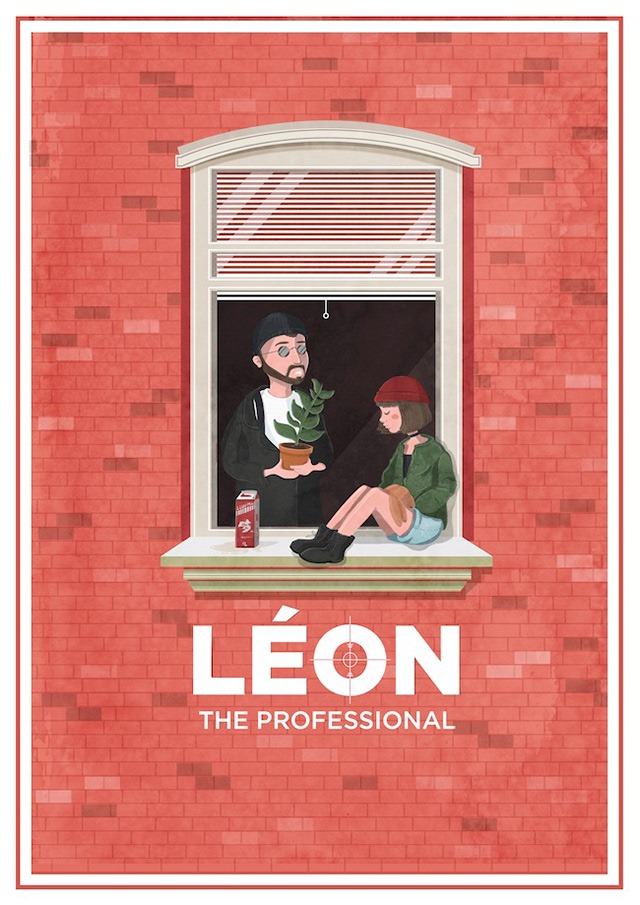 Leon the professional for the show "I am the law" – Hero Complex gallery (LA)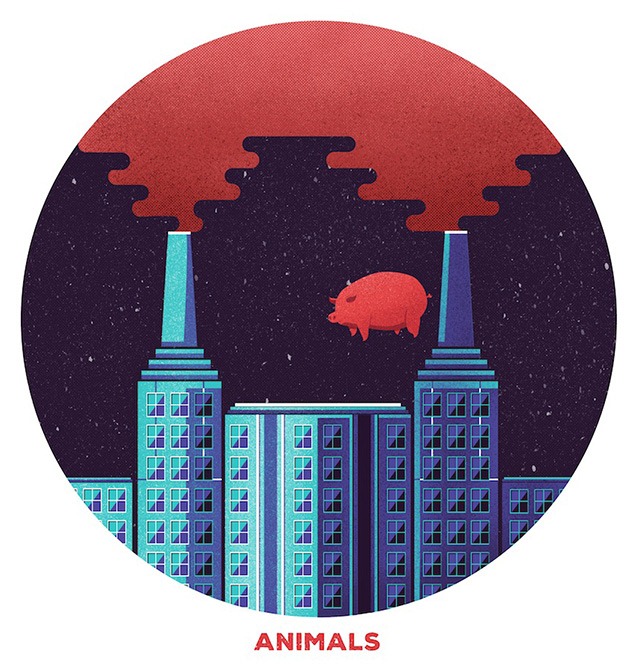 Pink Floyd "Animals" for gallery 1988 (LA)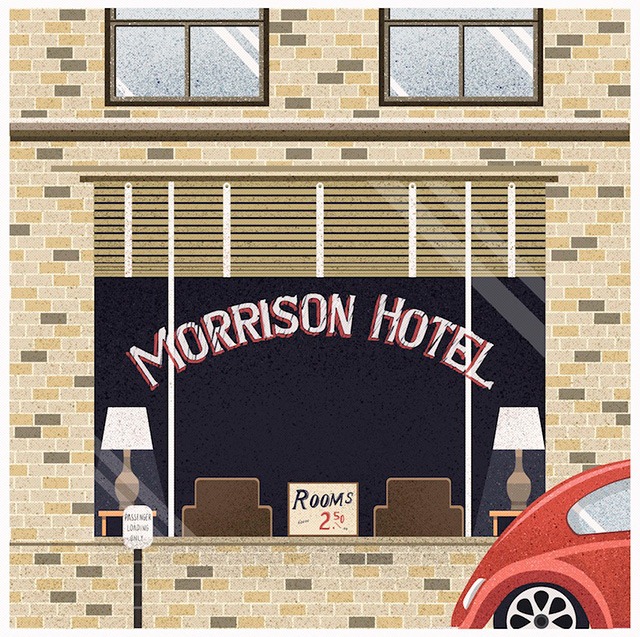 Morrison Hotel inspired by The Doors album for gallery 1988 (LA)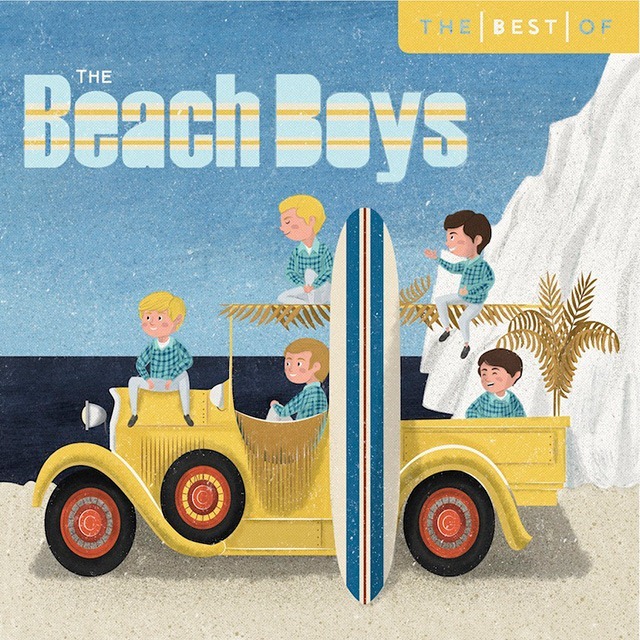 Beach boys for the gallery 1988 (LA)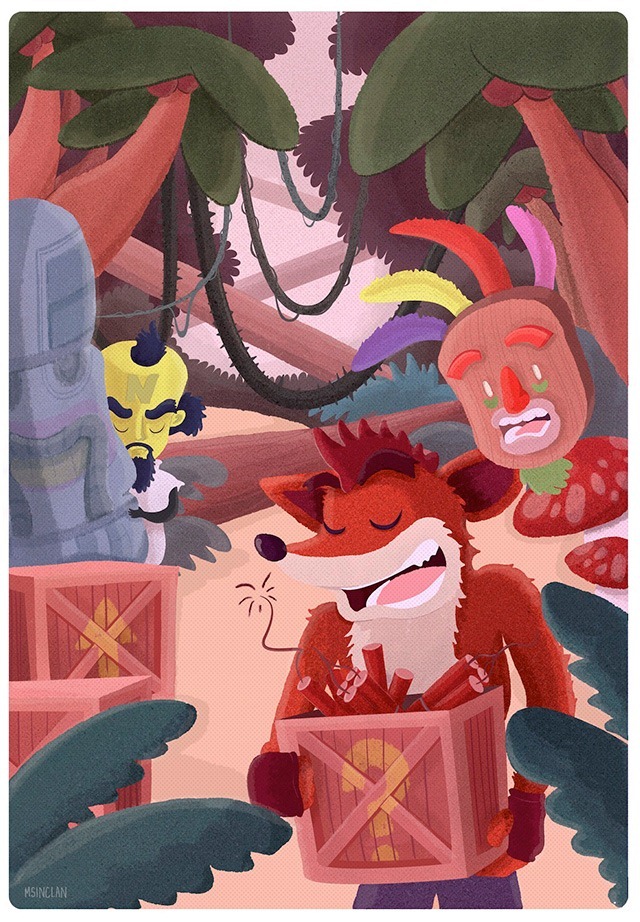 Crash Bandicoot for the show "8 bit and beyond" for Bottleneck gallery in Brooklyn, NY
Maria Suarez Inclan, an illustrator and graphic designer based in Madrid, Spain, shared some of her wonderful new posters based on cult cinema, music albums and video games. Maria, who is studying Graphic Design at Universidad Complutense of Madrid, says that she derives inspiration from "films, 60's music, social psychology,  50's publicity and Franco-Belgian comic books."
You can check out more of her illustrations and graphic design on her website, Tumblr and Behance.
[via JazJaz Submissions]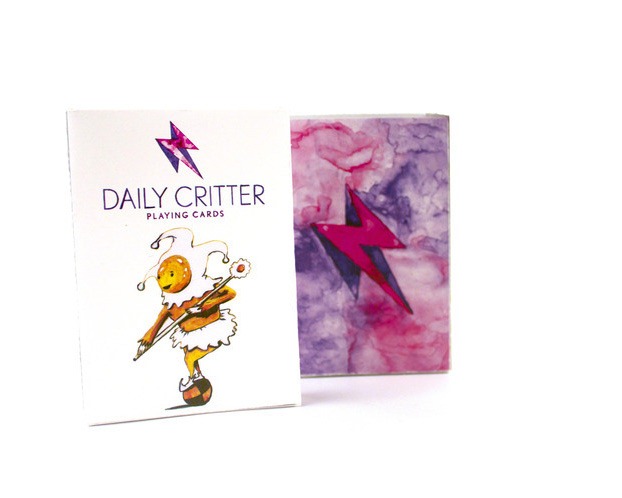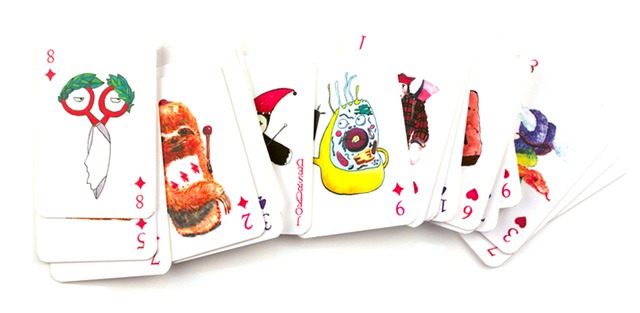 Seoul-based illustrators Alberto Rodriguez and his childhood buddy Moo Hyun Chung launched a website called the "Daily Critter" five years ago. The Dominican-born creative duo wanted to illustrate a pun in the form of a fictional creature every day and post it on their site (for the rest of their lives!). Though it proved to be a tough task, they managed to draw over 500 "critter" puns over the years.
The two artists have now put together a deck of 54 playing cards which features their watercolor creature illustrations, and have created a Kickstarter project to print them in larger quantities. Depending on the amount being pledged, backers of the project can get their hands on the playing cards and even get visual pun illustrations made out of their names and photographs. There are also options to buy the 9" x 12" original watercolor pieces along with larger 16" x 20" acrylic on canvas paintings of select illustrations.
Link to the Kickstarter project.
[via JazJaz Submissions]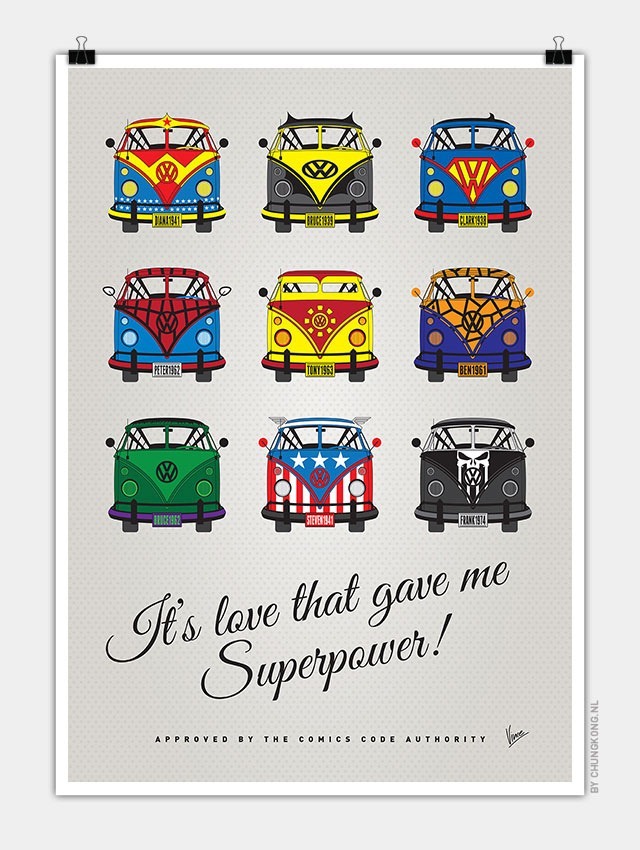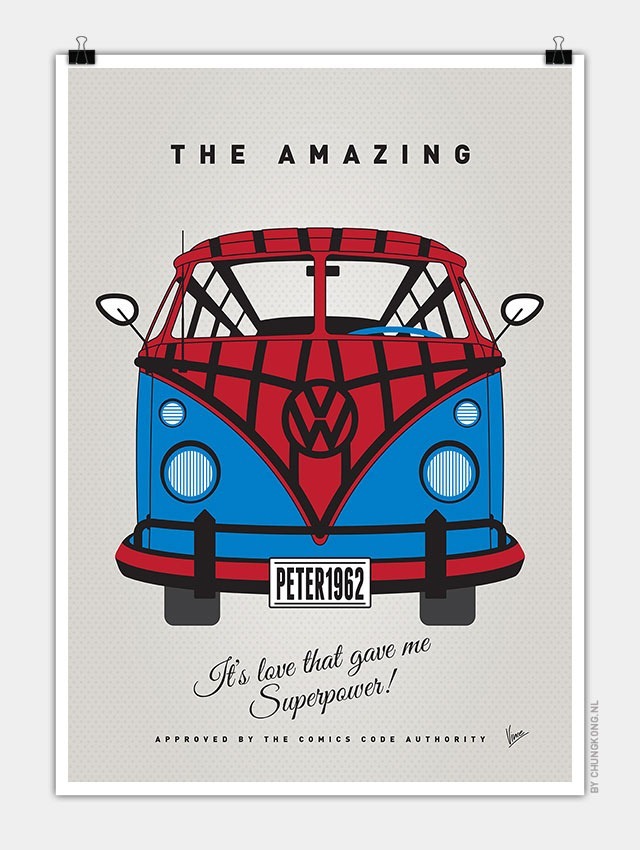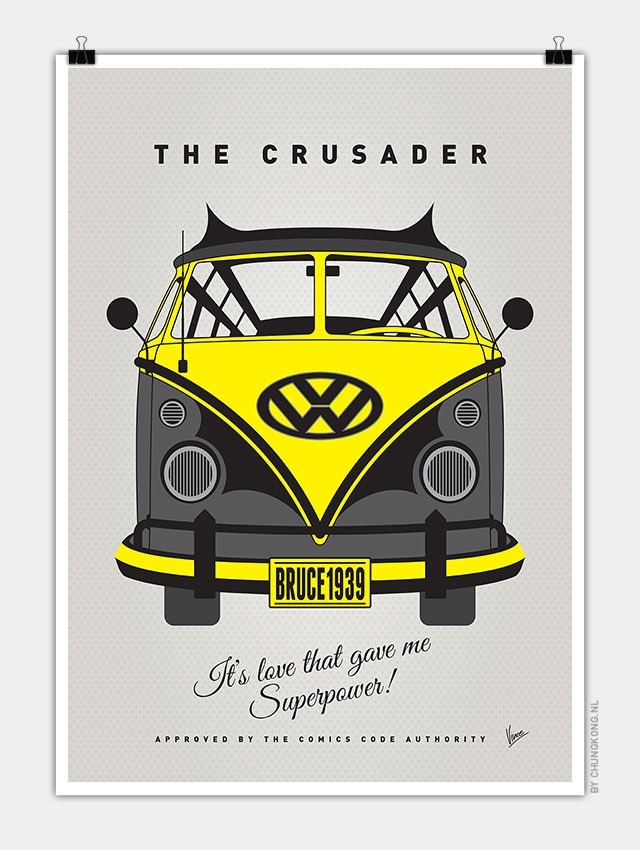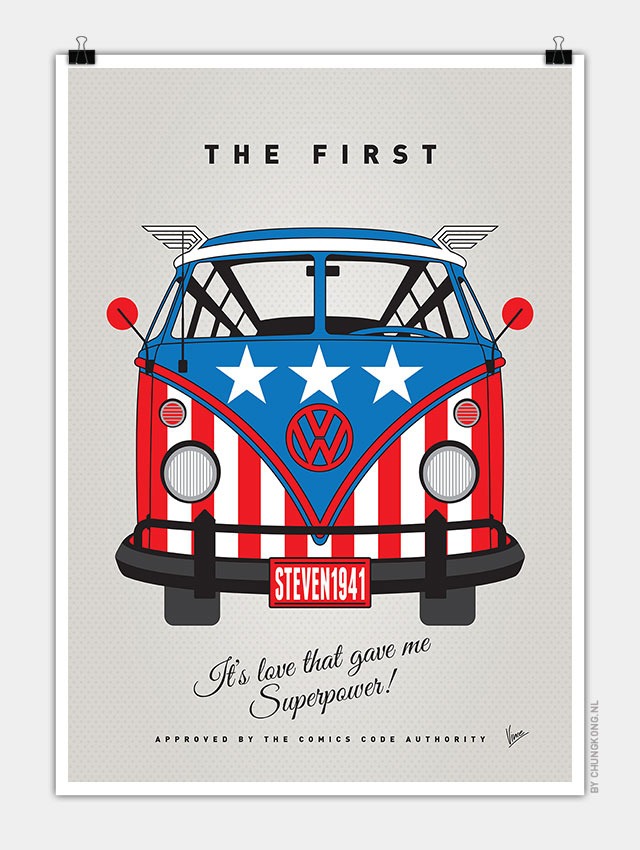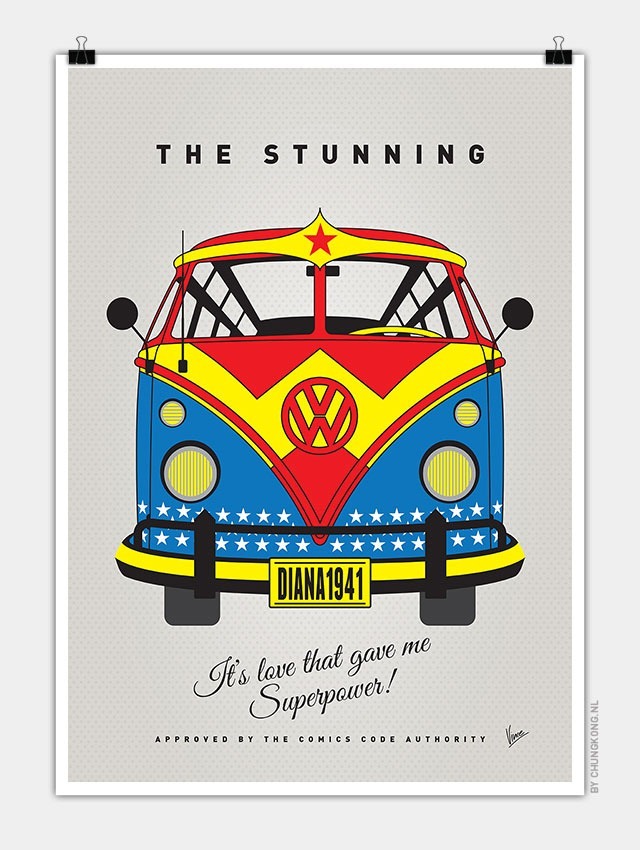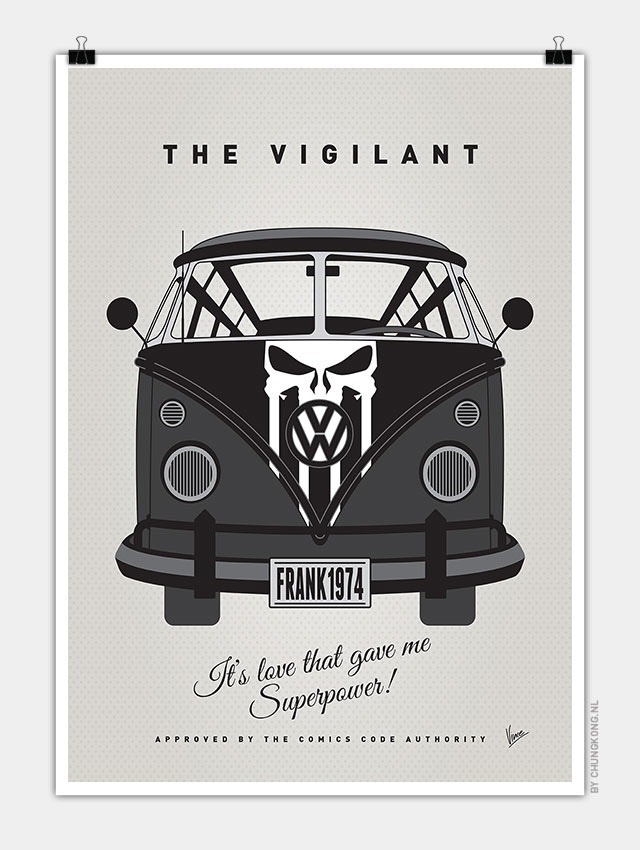 Chungkong, a Netherlands-based designer, has been creating some terrific pop-culture-themed artworks for quite some time now. His awesome new art project is a mash-up of the iconic Volkswagen T1 camper van with popular comic book superheroes. Chungkong has brilliantly incorporated several signature design elements from the costumes of the superheroes on the exteriors of the vans. Even the license plates of the vans have been cleverly given personalized numbers, which just so happen to be the year in which the particular superhero character was created by its maker(s).
The artist, on his project:
Superman is fortunate. He can fly without the need of any kind of vehicle. Other superheroes aren't quite as lucky, having spent their childhoods as mere mortals before getting a spider bite or having their parents murdered. Most of them required something a little extra to transport them around the world.

And let's be honest, there are some awesome rides around in the superhero universe. But what if their rides weren't as cool like the Christian Bale Batmobile or the kickass Mark 3 Iron Man Suit, what if their rides were ragged T1 Volkswagen Vans…
You can check out more fun illustrations on the artist's website. Select prints of his works are available at his online store.
[via JazJaz Submissions]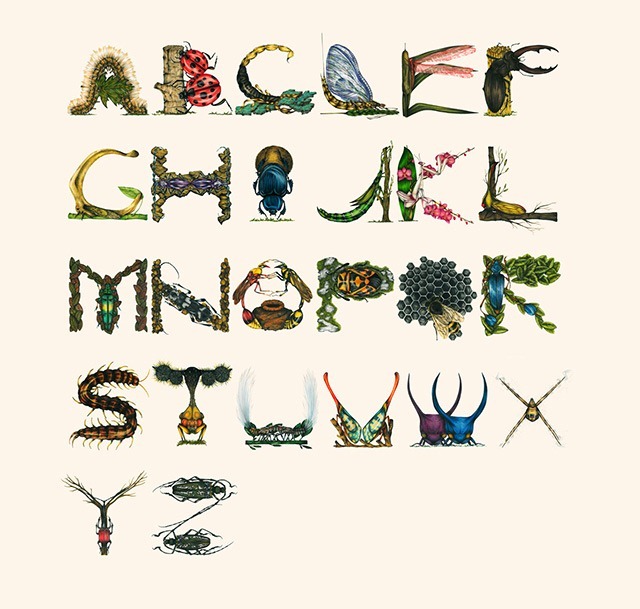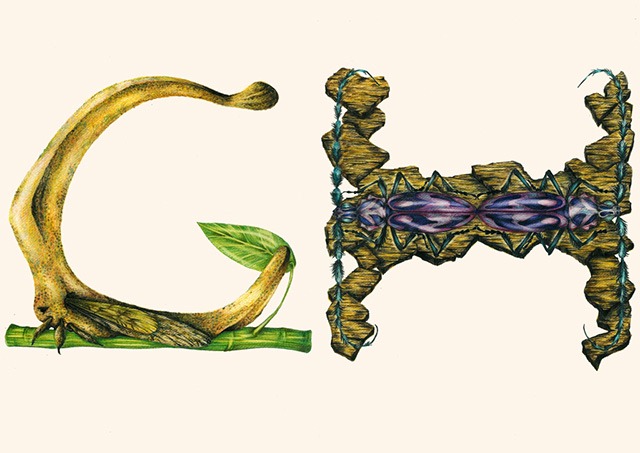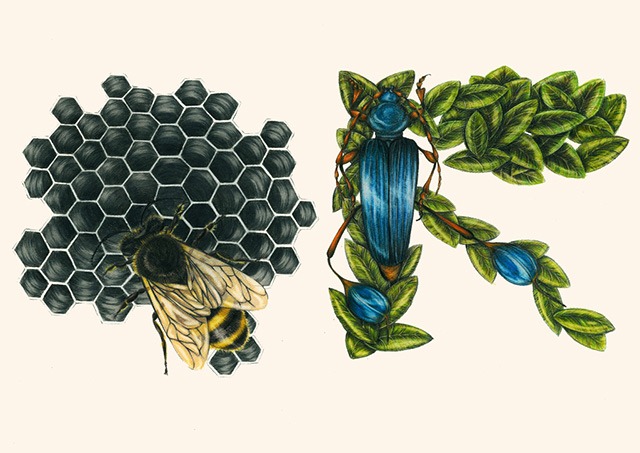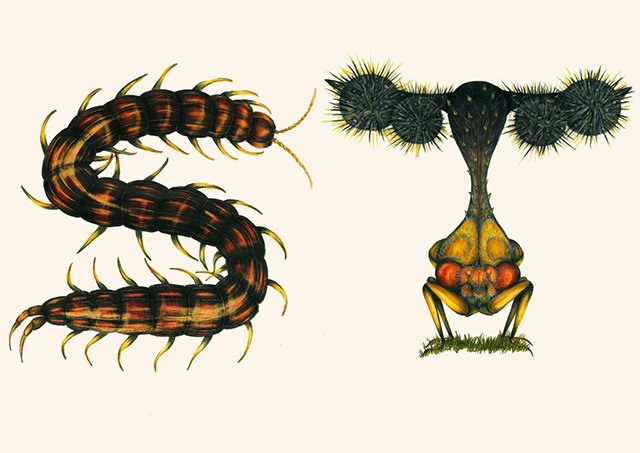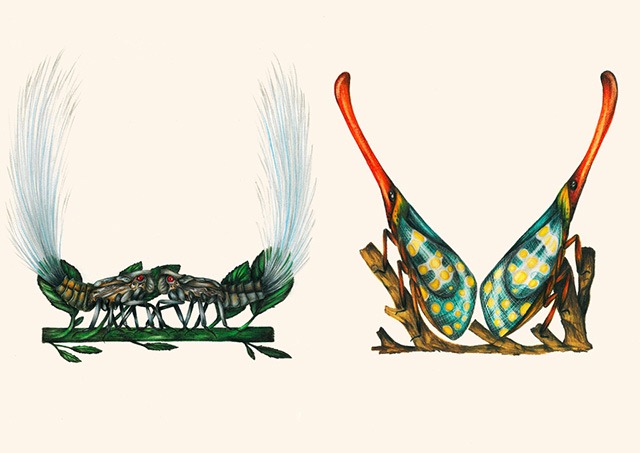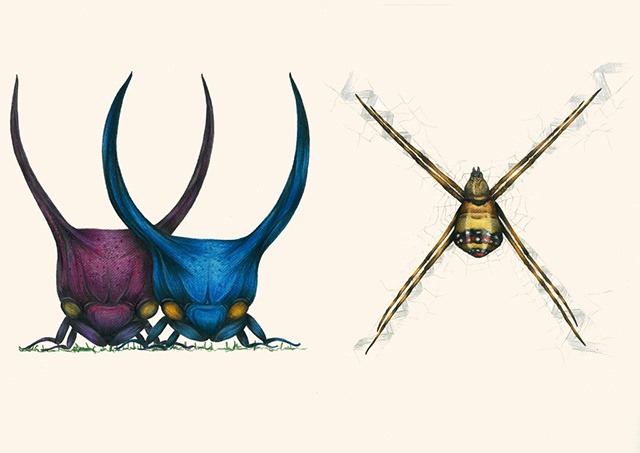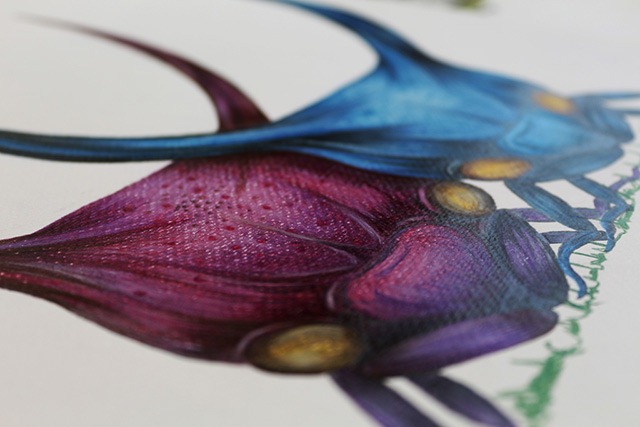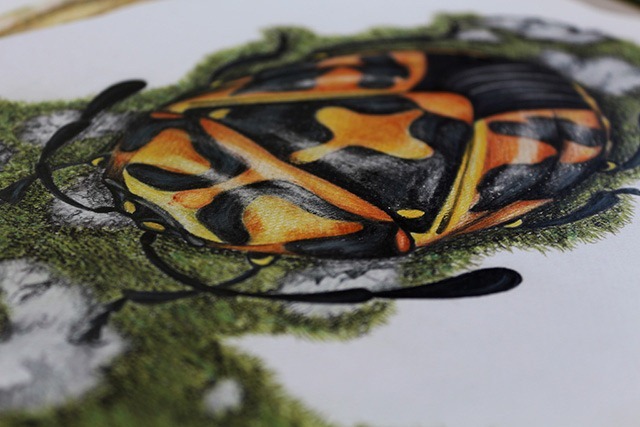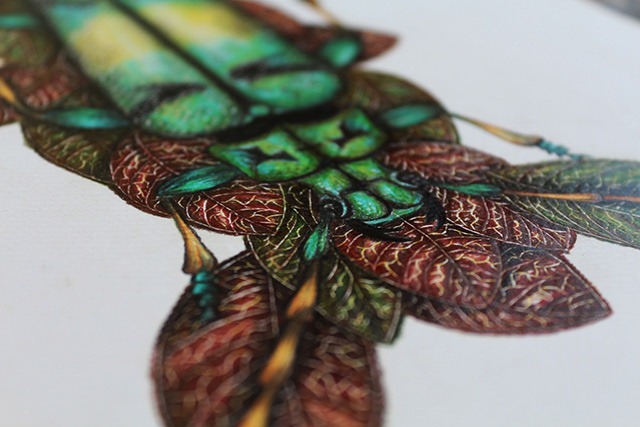 Romanian freelance illustrator and designer Paula Duta (previously) continues her fantastic obsession with creepy-crawlies with her latest series of 'Insect Alphabet' illustrations. The alphabets in the series are made up of exquisitely-intricate colored pencil drawings of a variety of insects and even a couple of arachnids thrown in for good measure.
Check out the artist's Behance page | Tumblr | Facebook page to see more of her works.
[via JazJaz Submissions]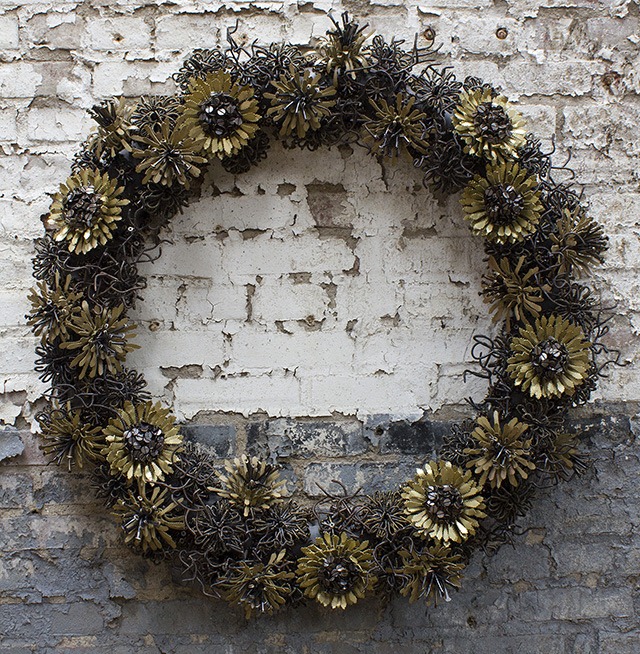 Standard of Living: Wreath, 38" diameter x 6" height from wall, brass screws, aluminum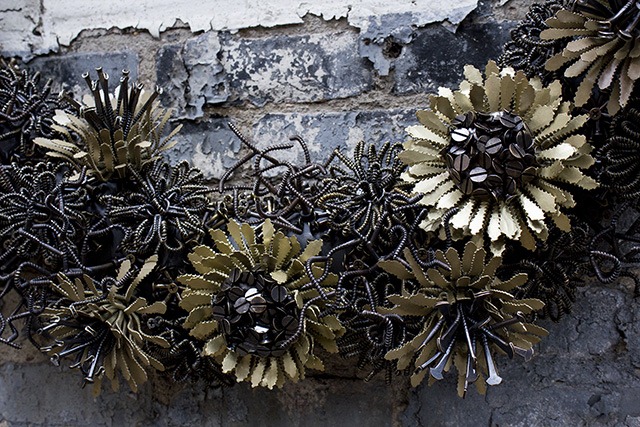 Standard of Living: Wreath, 38" diameter x 6" height from wall, brass screws, aluminum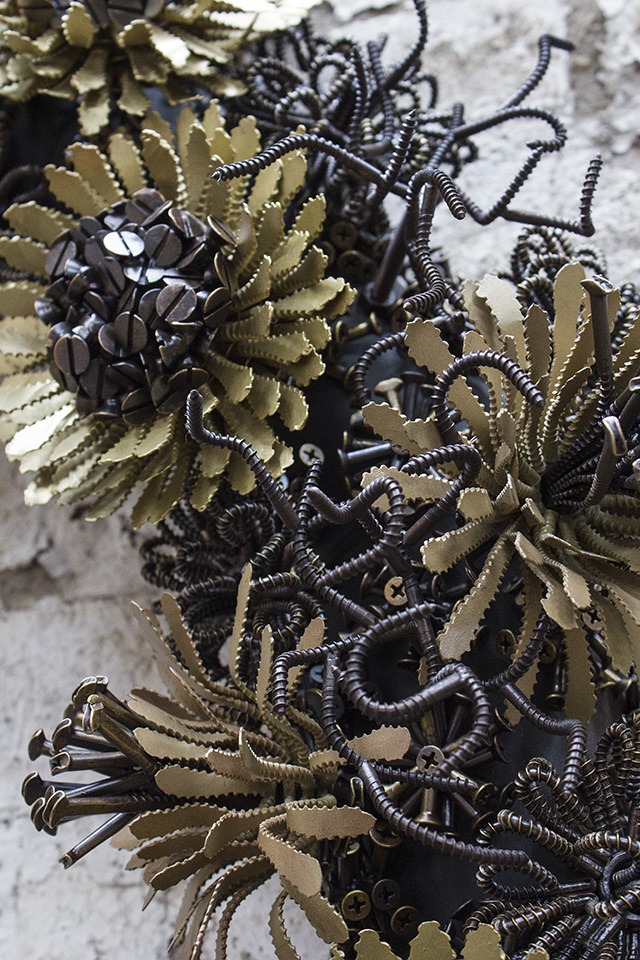 Standard of Living: Wreath, 38" diameter x 6" height from wall, brass screws, aluminum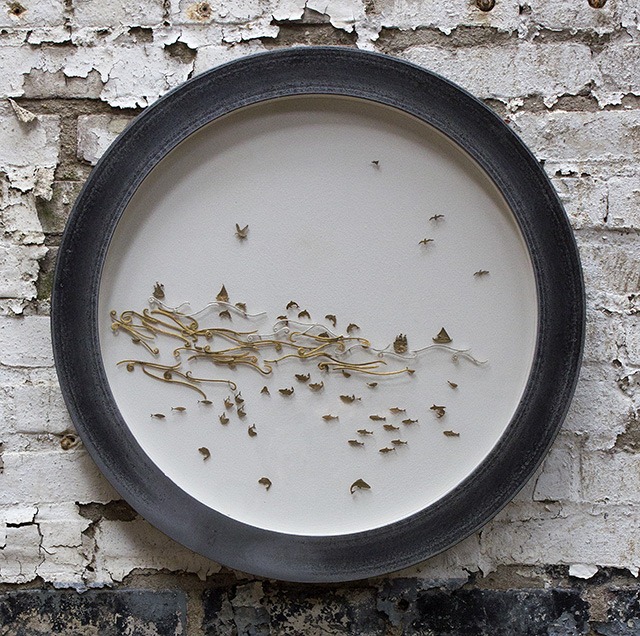 Imagine: Seascape, handcut foreign coins, mdf, acrylic, steel, 23"x 23" x 2"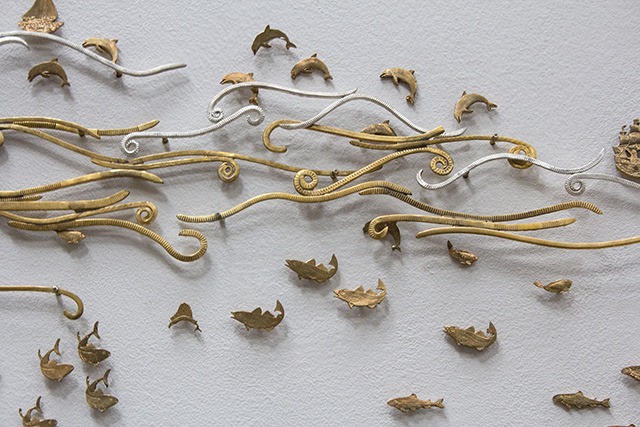 Imagine: Seascape, handcut foreign coins, mdf, acrylic, steel, 23"x 23" x 2"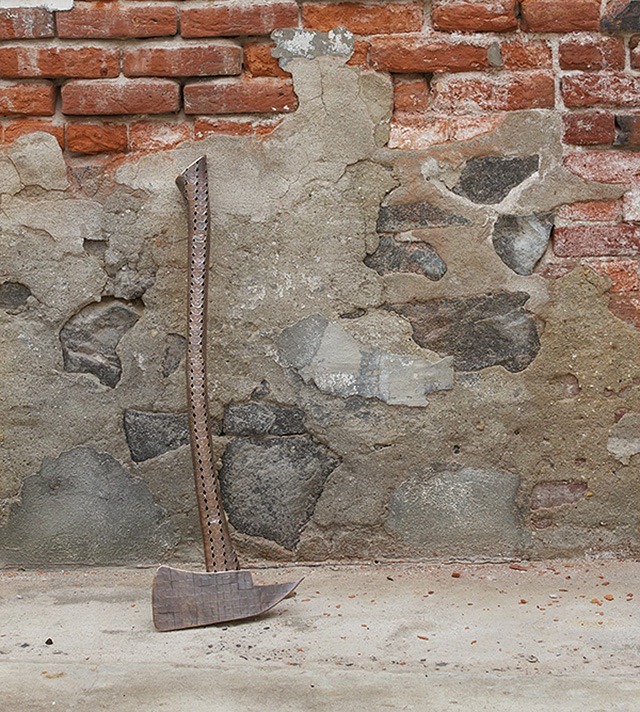 The Craftsmen Series: Axe, 34" x 10" x 3", pennies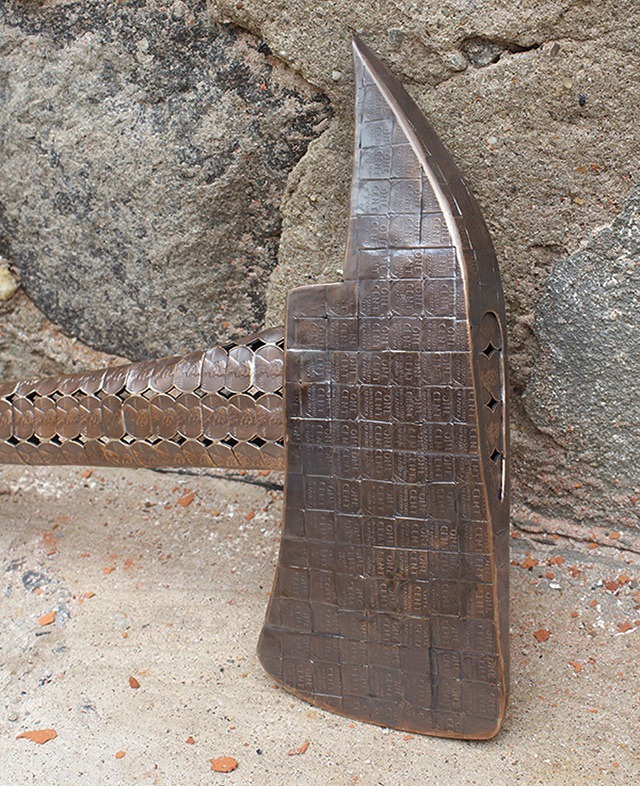 The Craftsmen Series: Axe, 34" x 10" x 3", pennies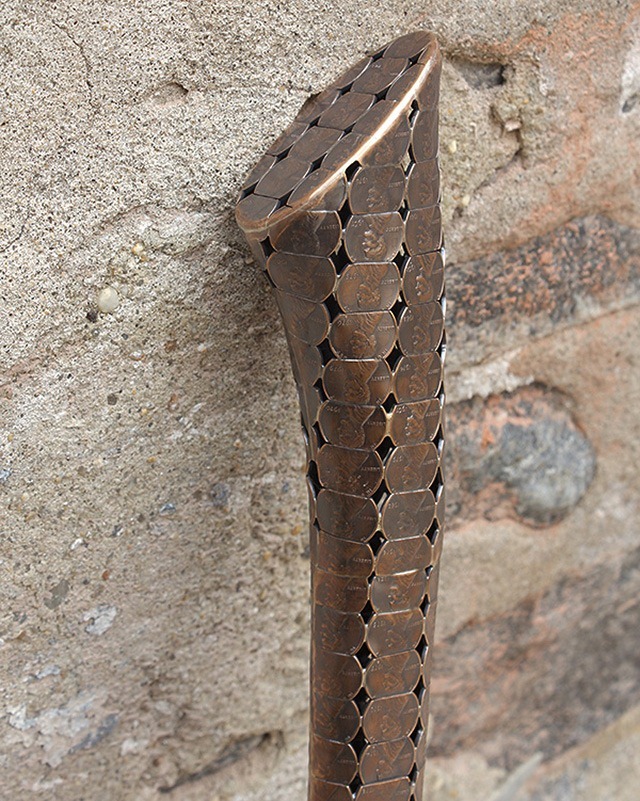 The Craftsmen Series: Axe, 34" x 10" x 3", pennies
Philadelphia-based sculptor Stacey Lee Webber shared some images of her latest sculptures made with found materials and old coins.
Born in Indianapolis, Indiana, Webber's works are a joyous, hands-on tribute to her blue-collar lineage. She hand-cuts, bends and melds coins, screws and other found materials into beautiful objects worthy of admiration. As a matter of fact, I was quite astonished to find that some of the tools in her "The Craftsmen Series" were made only with pennies.
From her site:
I cherish working with found materials whose history is physically evident.  Imagine a copper penny lying on a sewer grate.  On that stamped coin there are dents, scratches, a dull patina, and a worn down Abraham Lincoln.  Each of these inconsistencies is evidence that it has been passed through the hands of countless people. When that penny is picked up and used in a sculpture the new object is layered with rich stories of struggle and triumph.
Webber's sculptures will be on show at the 2015 American Craft Council Show in Baltimore from February 18-22, 2015. You can visit her site to check out more of her sculptures, jewelry and vessels. You can also buy her jewelry or order a custom piece at her online store
More images after the jump.
[via JazJaz Submissions]
Continue reading 'Elaborate Metal Sculptures Made with Coins and Found Materials by Stacey Lee Webber'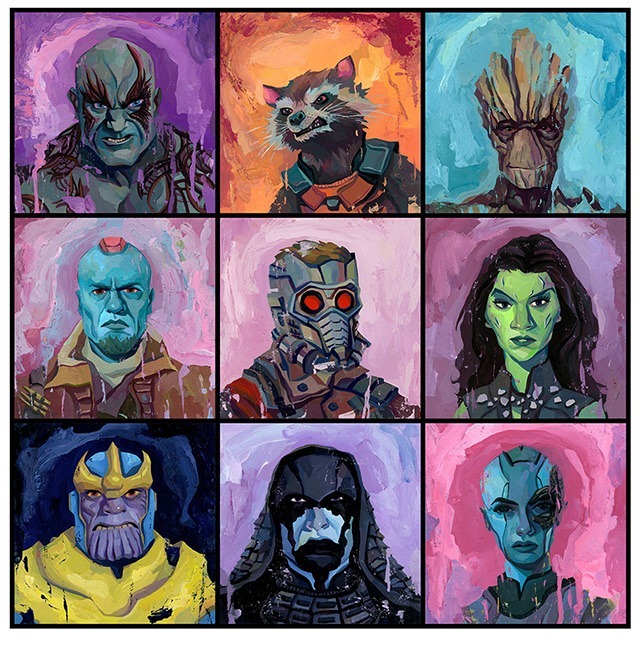 Starting out 2015 with a bang, artist Rich Pellegrino is back with giclee prints of an artwork inspired by one of my favorite movies of last year – the Guardians of the Galaxy.
"Awesome Mix Up" comes in a signed and numbered edition of 200, and is printed on 17" x 18" archival paper.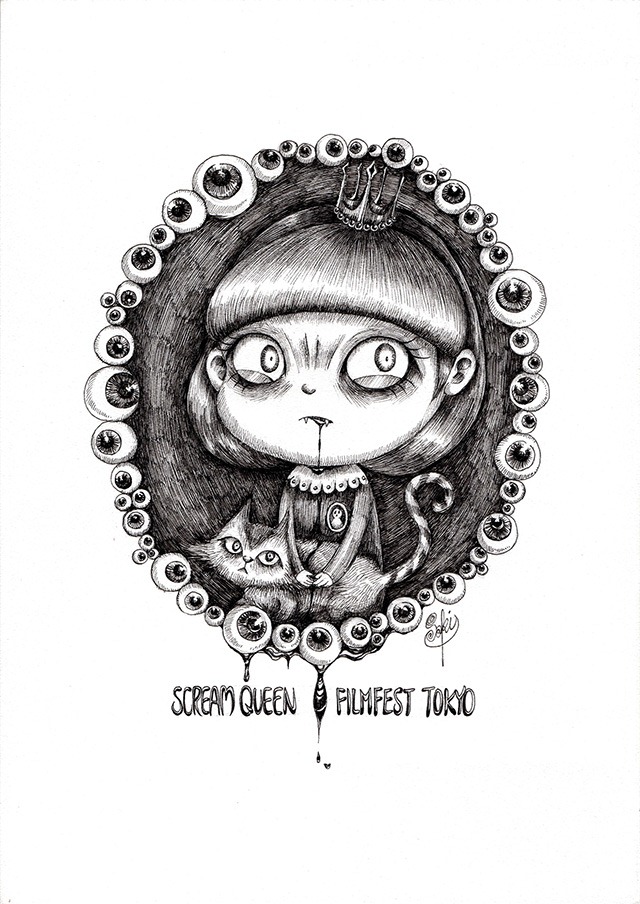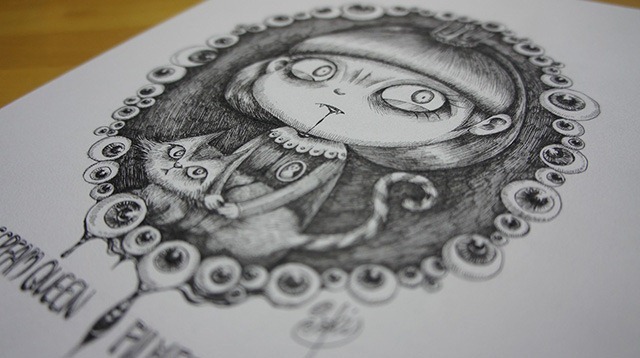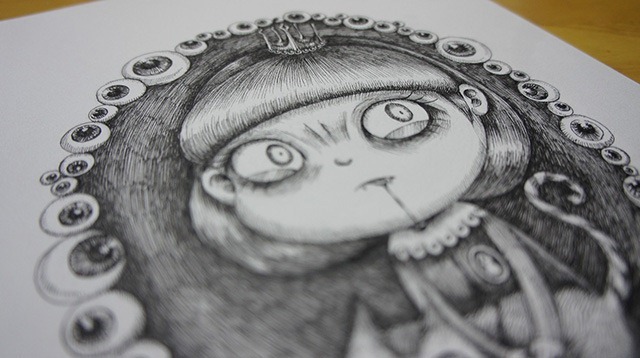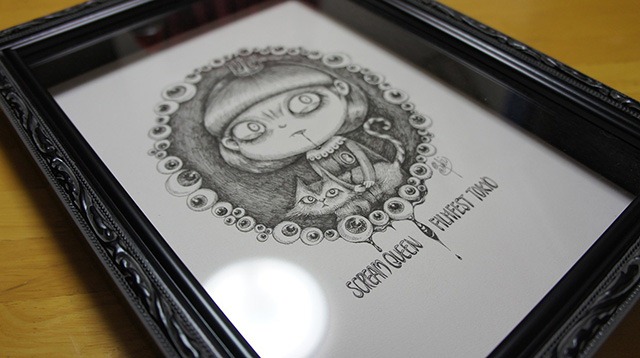 Apart from being an UIUX designer at Electronics Arts Square KK, the Tokyo-based Saki Murakami also happens to be a terrific artist who creates wonderfully quirky and surreal illustrations.
The above illustration titled "Kitten Queen" was one her artworks exhibited at the 'Scream Queen Filmfest Tokyo'. Murakami used the bob haired silhouette-mascot of the festival as the inspiration to create the creepy-cute character. The 11.69"  x 8.26" piece was drawn using a 0.05mm oil-based ink pen, and is now on sale at $300.
You can check out more of her illustrations on her blog, as well as her galleries on Behance.
[via JazJaz Submissions]