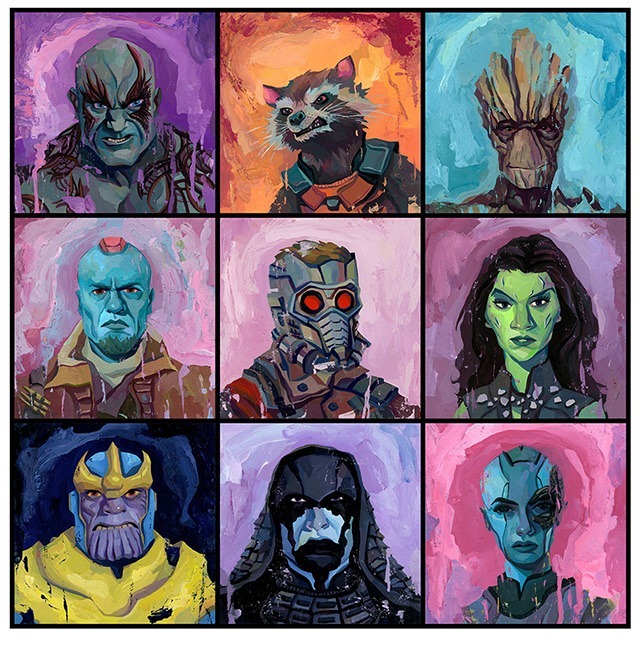 Starting out 2015 with a bang, artist Rich Pellegrino is back with giclee prints of an artwork inspired by one of my favorite movies of last year – the Guardians of the Galaxy.
"Awesome Mix Up" comes in a signed and numbered edition of 200, and is printed on 17" x 18" archival paper.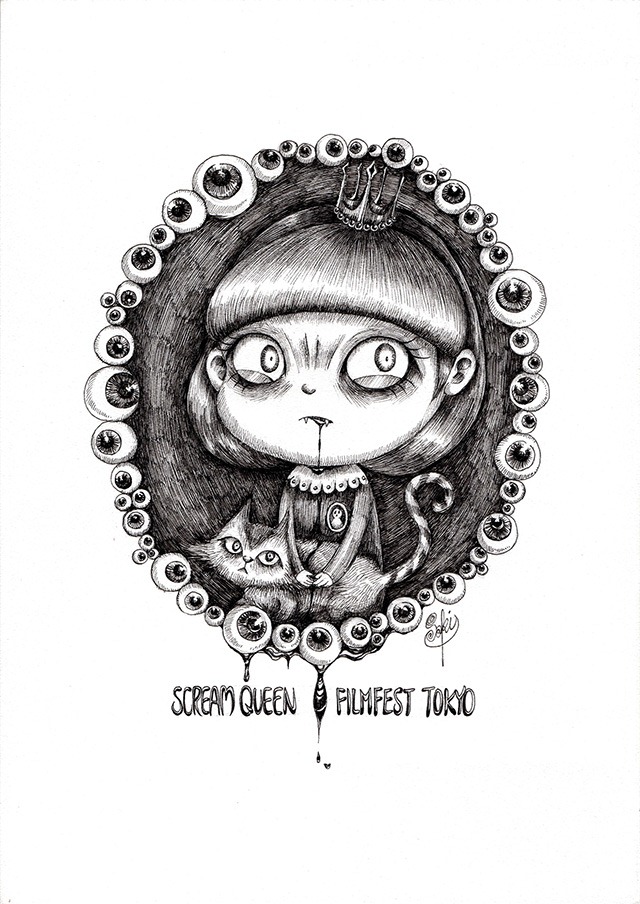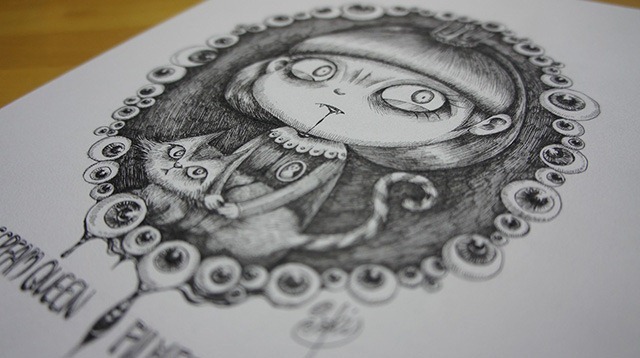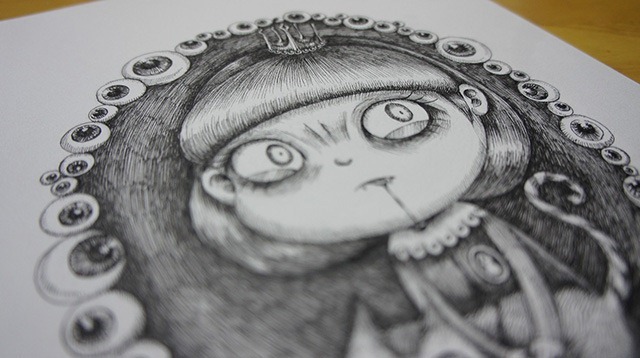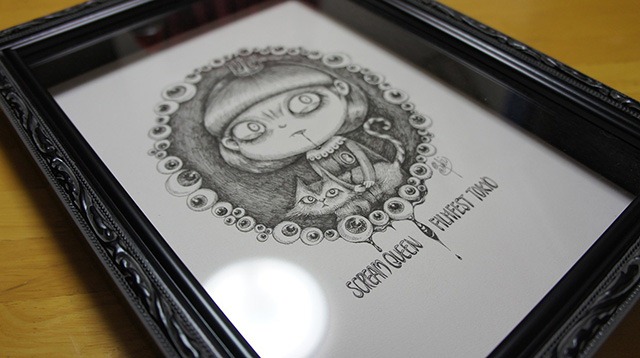 Apart from being an UIUX designer at Electronics Arts Square KK, the Tokyo-based Saki Murakami also happens to be a terrific artist who creates wonderfully quirky and surreal illustrations.
The above illustration titled "Kitten Queen" was one her artworks exhibited at the 'Scream Queen Filmfest Tokyo'. Murakami used the bob haired silhouette-mascot of the festival as the inspiration to create the creepy-cute character. The 11.69"  x 8.26" piece was drawn using a 0.05mm oil-based ink pen, and is now on sale at $300.
You can check out more of her illustrations on her blog, as well as her galleries on Behance.
[via JazJaz Submissions]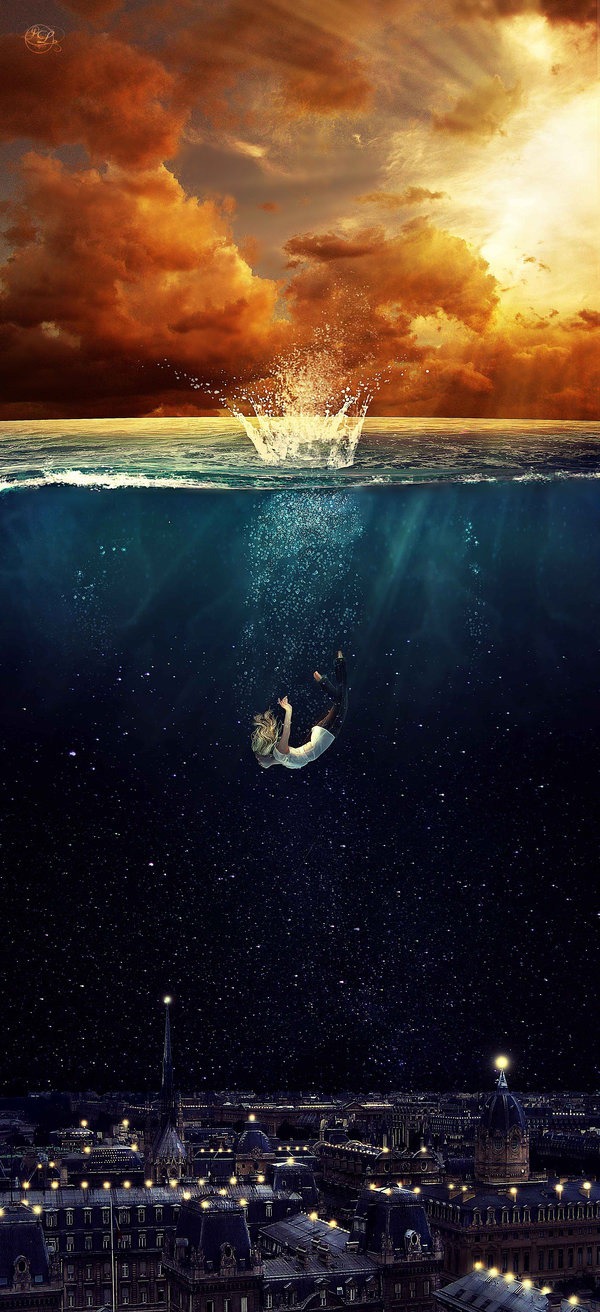 This is completely awe-inspiring. A photo-manipulated digital art piece by Deviantart user ParadisiacPicture. Limited edition canvas prints are available on Society6 until 01.01.2015.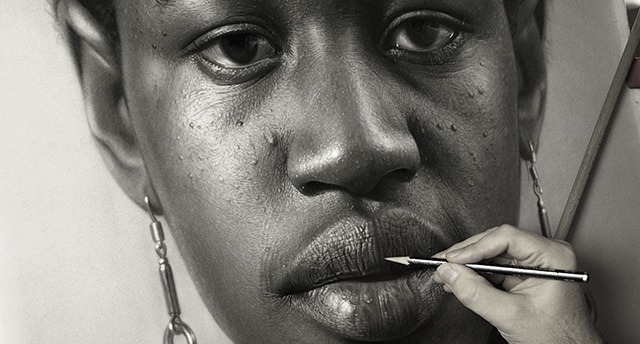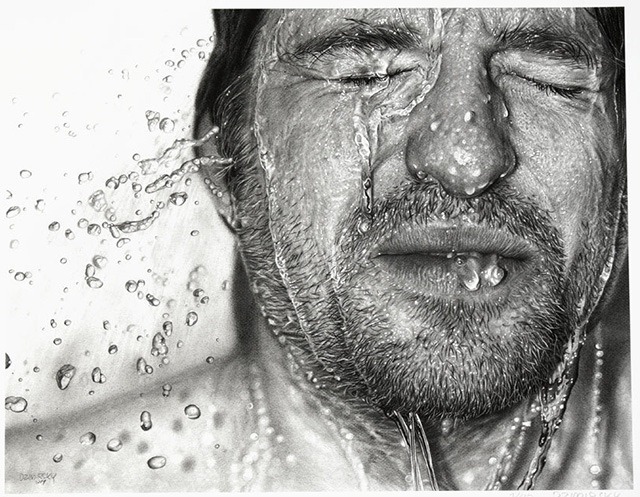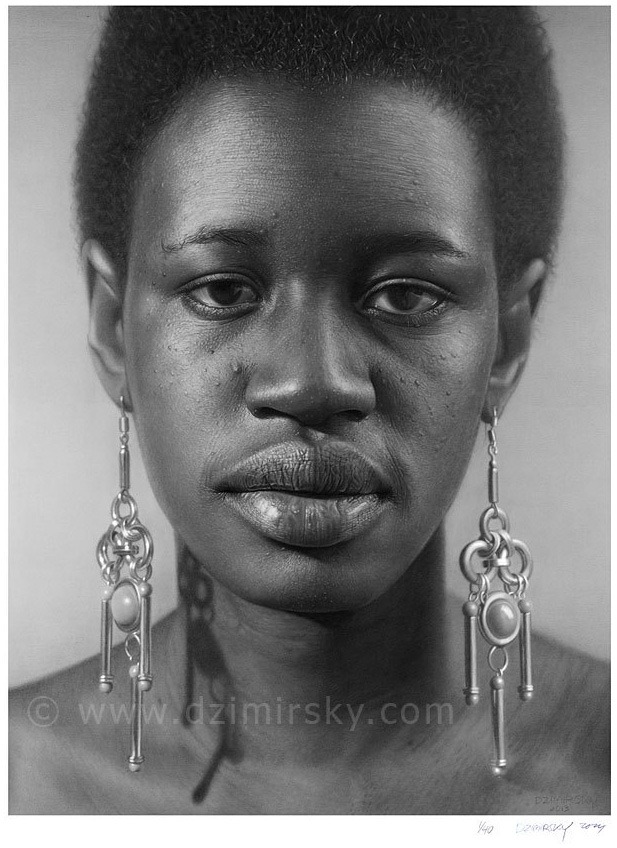 Dirk Dzimirsky (NSFW link) is a hyperrealist German artist par excellence.  His incredibly lifelike drawings and paintings explore the vulnerability of the human condition in stark and somber detail. Depending on the choice of medium (graphite pencils, acrylic paints or oil paints), Dzimirsky spends 100 to 150 hours to create his masterpieces.
The artist has now released limited edition fine art prints of two of his works. Titled "Mary" and "Drawn Face VI", the original drawings were created on paper using graphite pencils and white charcoal.
More about the prints:
The award winning pencil drawing "Mary" is now available as a fine art print. The format is ca. 17" x 23" (43 x 59 cm) with an edition of 40 and will cost $470.

"Drawn Face VI" from 2009, now one of his best known drawings is also available as a fine art print now. The format is ca. 19" x 15" (49 x 38cm) and it is limited to 40 and will cost $470.
Visit the artist's site (NSFW) to check out more of his art works.
[via JazJaz Submissions]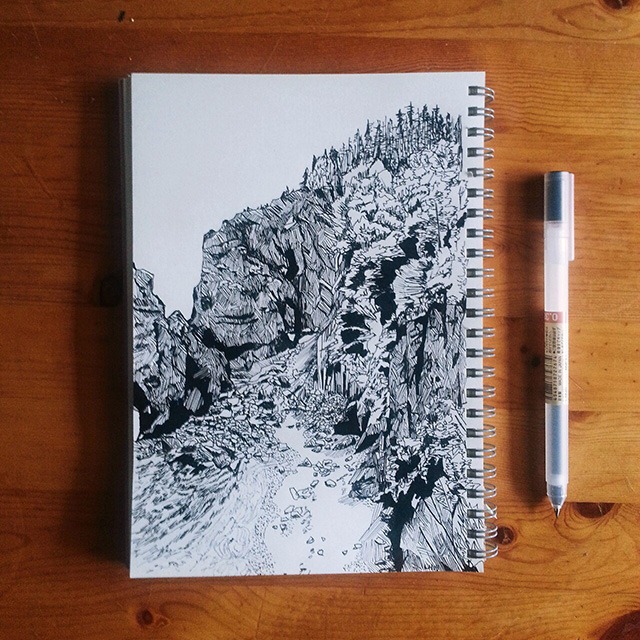 A pen and ink illustration of a Newfoundland landscape by Toronto-based illustrator laurelmyck. You can check out more of her lovely ink drawing landscapes on her site.
If you are an artist/photographer with a tumblr, please feel free to submit your works to the JazJaz tumblr.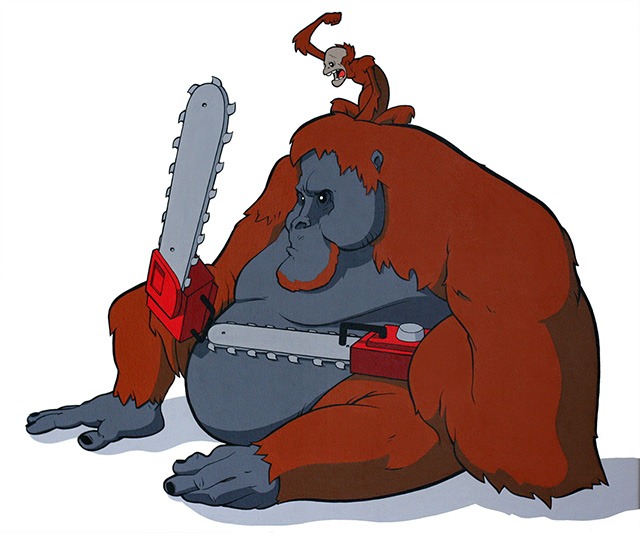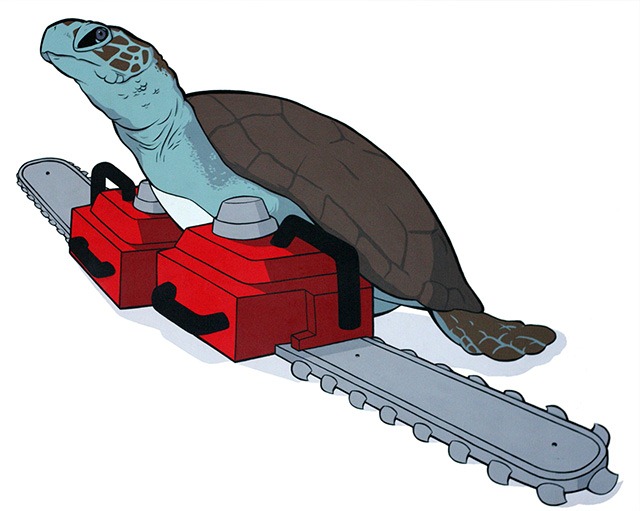 Eric Pause, a Canadian artist, created these cute, but somewhat bewildered-looking chainsaw animals for his new pop-art series "Can't Lose / Can't gain". All the paintings in the series were created using vinyl acrylic on canvas.
You can visit his site to check out more of his crazy paintings,  vinyl toys and illustrations.
[via JazJaz Submissions]
Hit the jump to see more images from the series.
Continue reading 'Eric Pause's Paintings of Animal-Chainsaw Hybrids'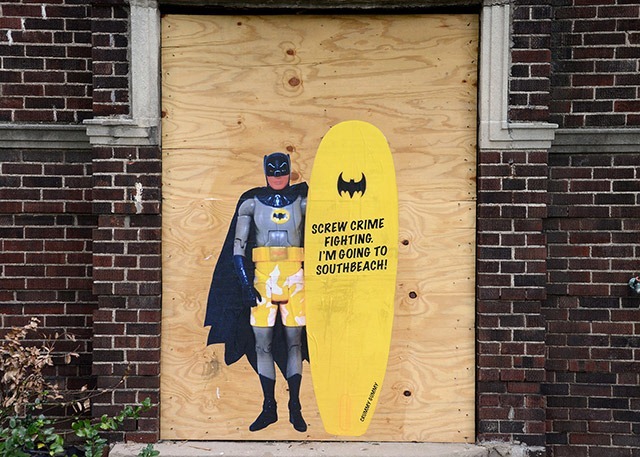 "Batman has retired" (Detroit)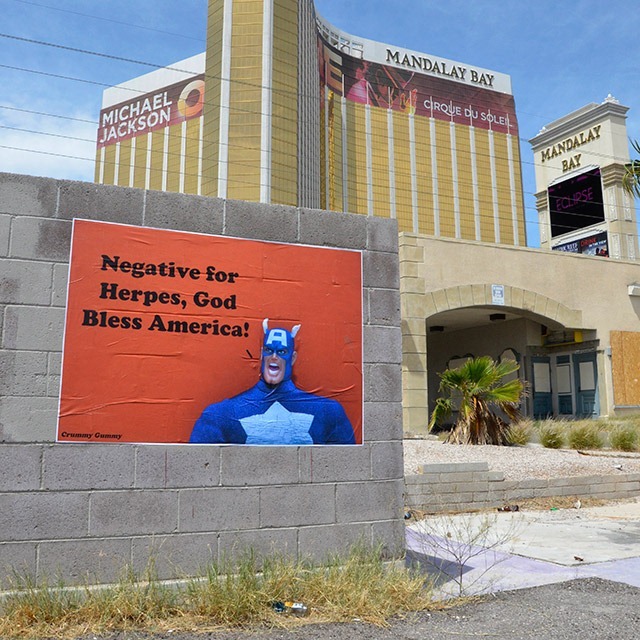 "Negative For Herpes" (Las Vegas)
These deliciously-satirical pieces of street art were created by Crummy Gummy, a photographer and street artist based in Orlando, Florida. The artist photographed some of his favorite toys and characters from his childhood, and blew them up into large posters which he then strategically placed in the streets of various cities in America.
You can visit his blog and/or follow him on instagram to see more of his works.
Click here to see more images from the series.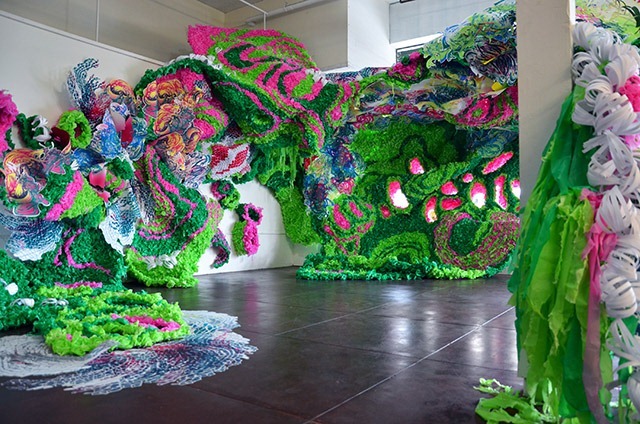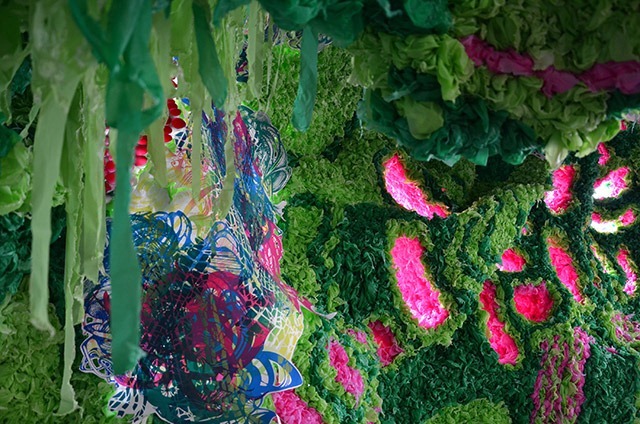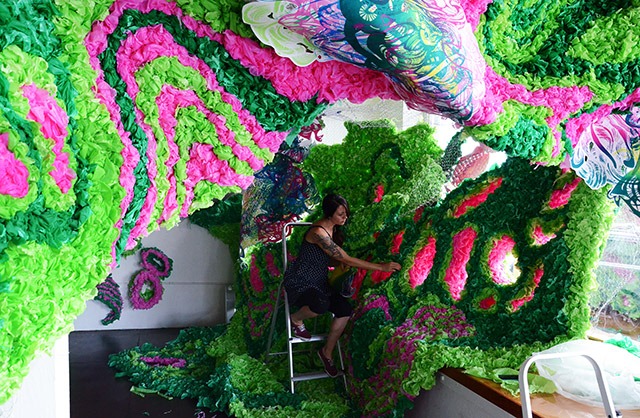 Artist Crystal Wagner's describes her latest art installation as a conduit or space between the artificial environment created by our everyday experiences with man-made materials and technology, and the exotic landscapes on the surface of planet earth.Wagner's gorgeous piece, currently on display at the Makery Gallery, Hilo Hawaii, has a lush organic quality, which makes it seem like a life form has taken root and is growing over the walls of the place.
The artist is well known for her use of paper and other office supplies to create her artworks, and this work is no different. Here, ordinary colored paper and birthday party table cloth are used to great effect to create this inter-dimensional wonderland.
You can check out more images after the jump.
Continue reading 'Pseudoscape: A Large Scale Art Installation by Crystal Wagner'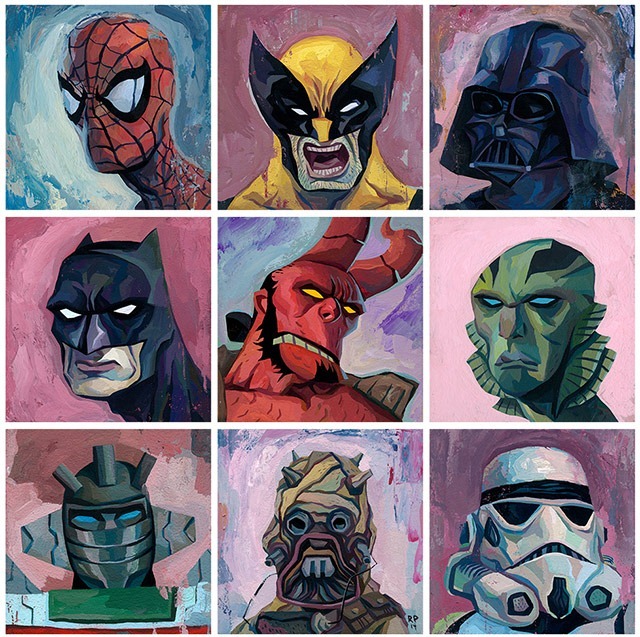 For a few days now, artist Rich Pellegrino has been posting updates about his superhero-inspired portrait paintings on his very interesting Tumblr. You can now buy these original 4" x 4" beauties at his online store.
Oh, and you can get 15% off until July 6th when you spend $50 at the store!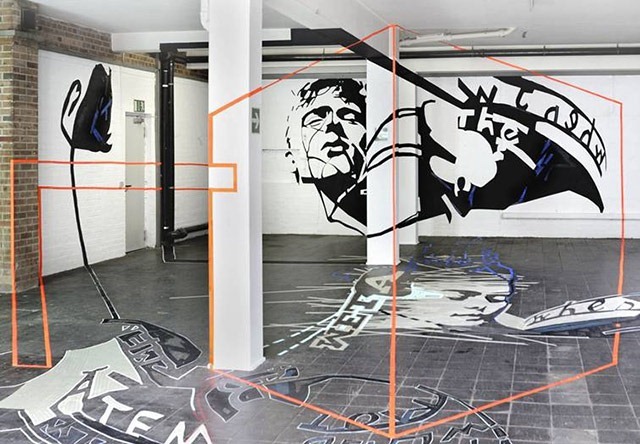 Joerg Mandernach's (previously here and here) latest anamorphic tape art sculpture is his brilliant contribution to the "Donaugalerie 2014" sculpture project exhibit. The installation will be on display in the old baggage room in the railway station of the town of Tuttlingen, Germany.
The show will have its opening night on July 6 and run till October 19, 2014.
You can watch a short video of the optical illusion through which the sculpture comes into being.