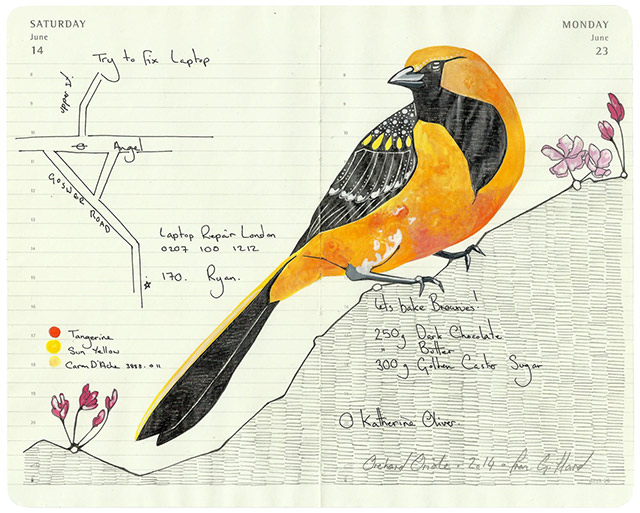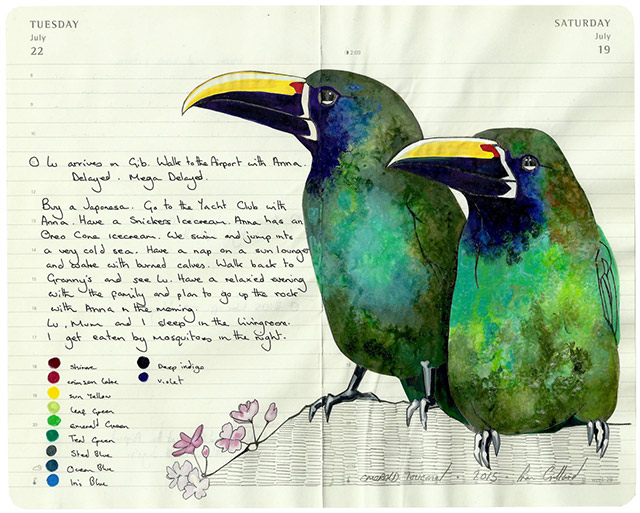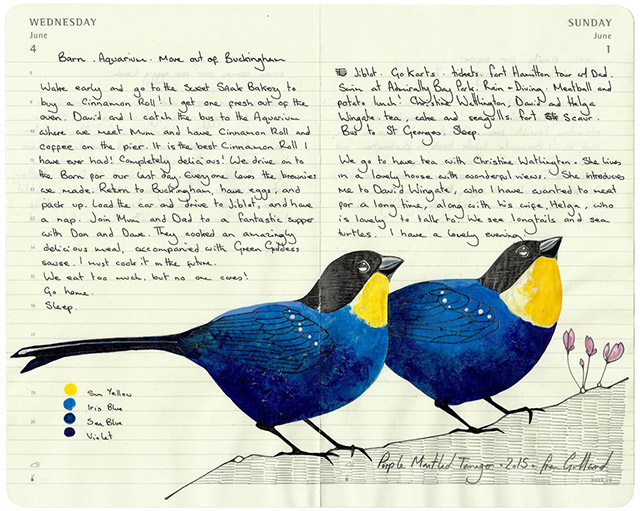 The pages in the Moleskine diaries of London/Hong Kong-based illustrator Fran Giffard are unlike those owned by most people. Sure, they may contain the occasional jottings, recipes and even travel plans to lush, tropical locations – but these are something quite special. Giffard fills the blank spaces around her entries with bright and vivid illustrations of birds – both common as well as exotic. She uses aquarelle, gouache, and graphite pencil to recreate the brilliant plumages and sleek shapes of these winged beauties onto paper. As viewers, we are treated to a wonderful blend of great art with intimate peeks into the artist's (unarguably charmed) life.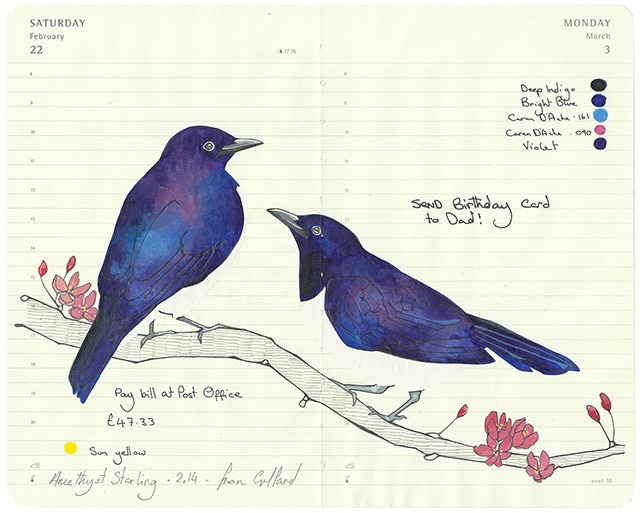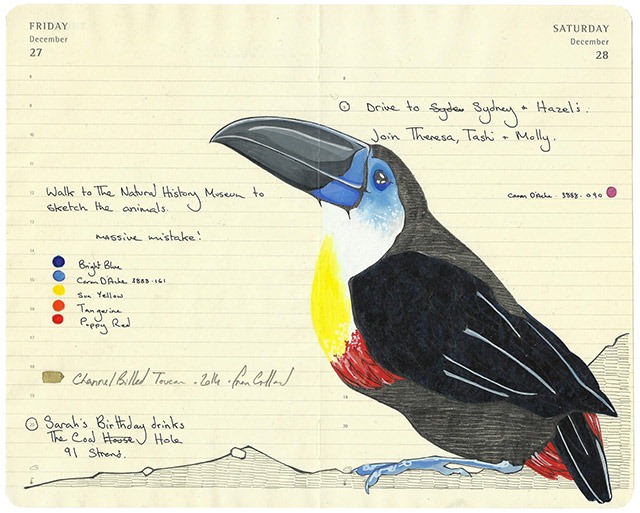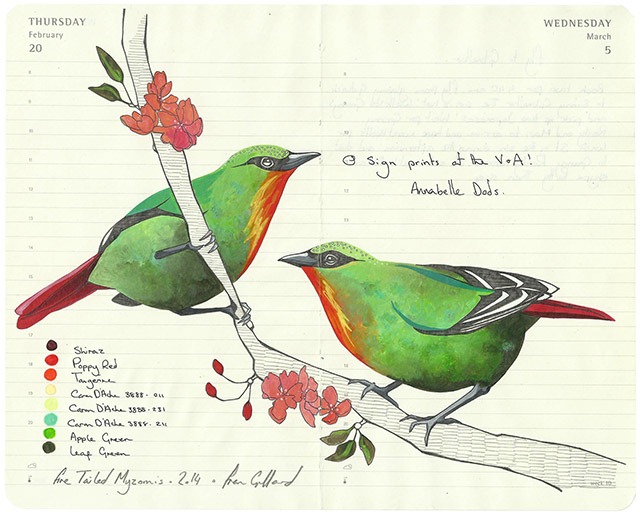 Giffard says that she has been captivated for a long time by the intricate beauty of natural illustrations. Over the past four years, this 2010 alumni of the Camberwell College of Art has been busy producing a huge body of ornithological-inspired artwork. Her drawings have been exhibited internationally, as well as in many locations in the UK.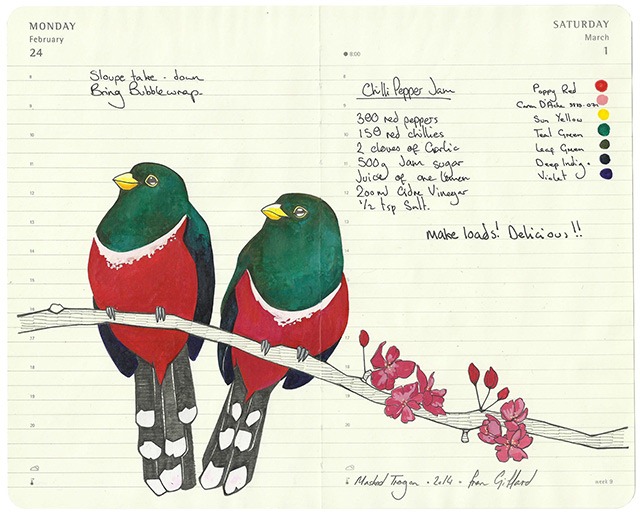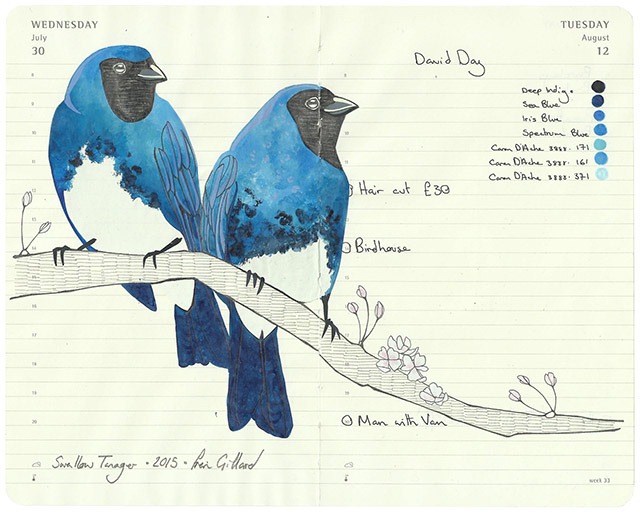 From 10th March until 26th March, 2015, her upcoming show 'All My Beautiful Boys' at Northcote Gallery, London, will feature select drawings from her various unbound diaries. Moleskine will also be exhibiting one of her drawings at their Covent Garden shop, King Street, London.
You can check out more of the artist's work at her site, Tumblr and Facebook page.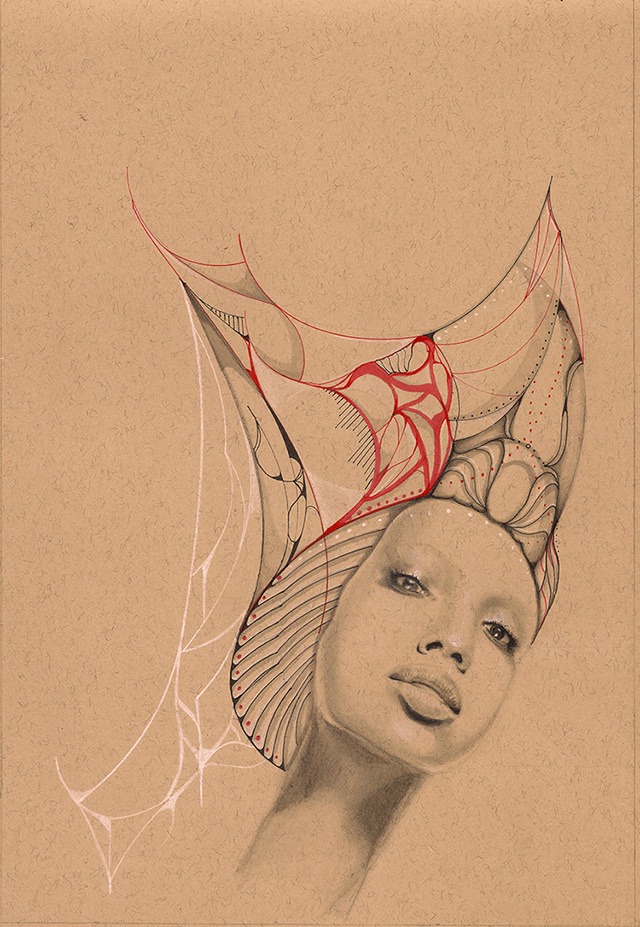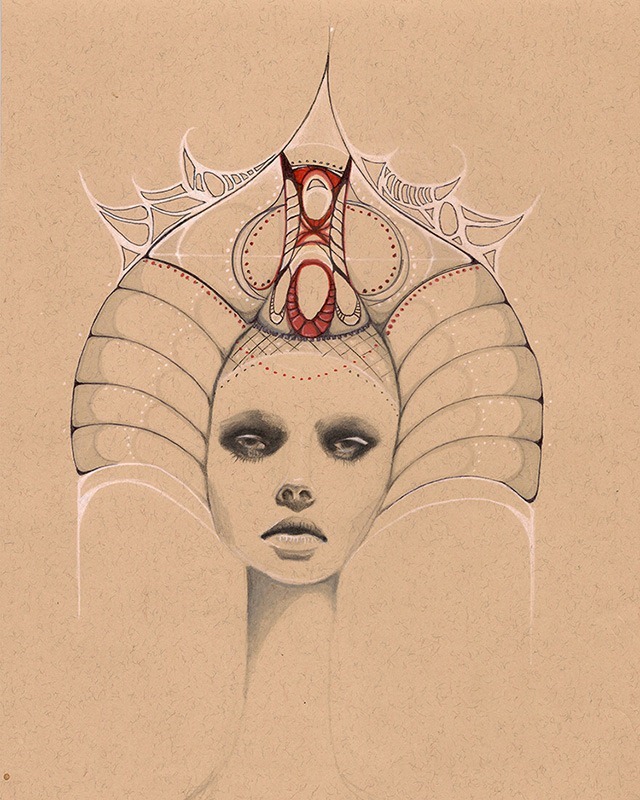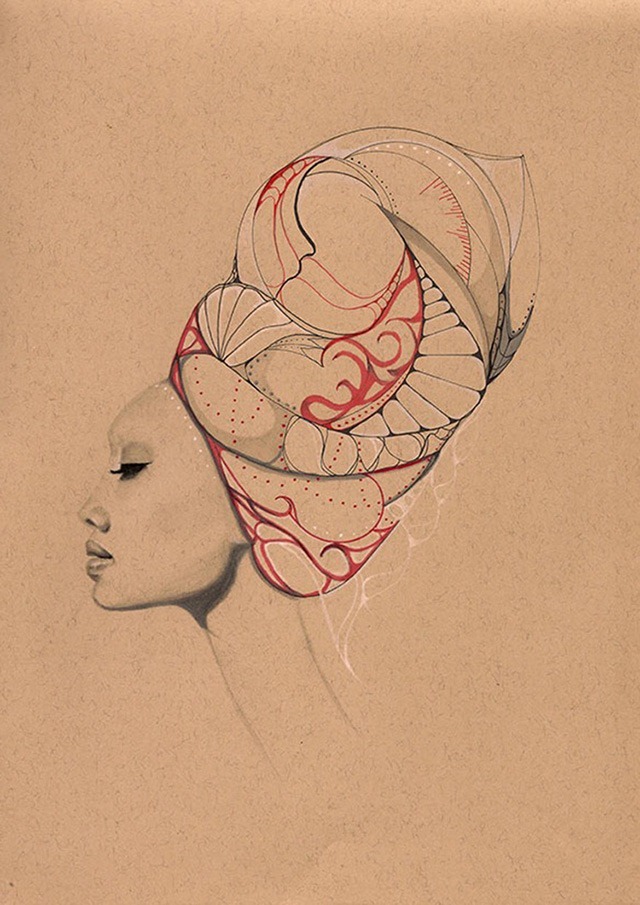 Miami-based artist Ivette Cabrera addresses issues of identity and female empowerment with her stunning illustrations.
Talking about her works, the artist expounds that in many cultures, the only way a woman can have power and importance is when she is born into a family which wields both. She adds that with the trappings of this power comes a symbolic headdress that signifies and emphasizes the status of that woman. Her aim is to show women that they all have that power on the inside, and make them aware that each "wears a crown or headdress of importance if she were only to be aware of herself."
Continue reading 'Illustrations of Regally-Beautiful Women in Elaborate Headdresses by Ivette Cabrera'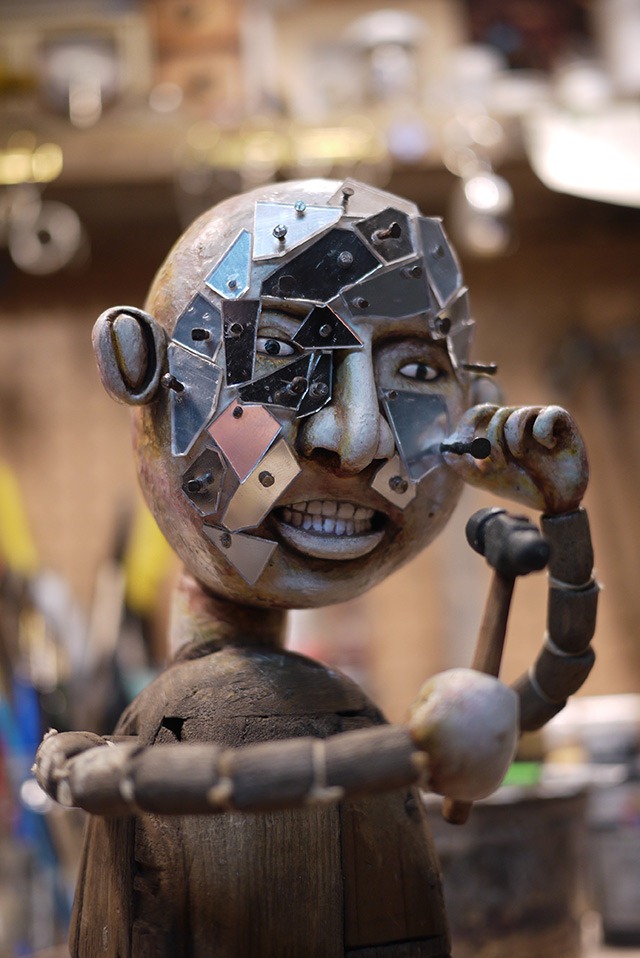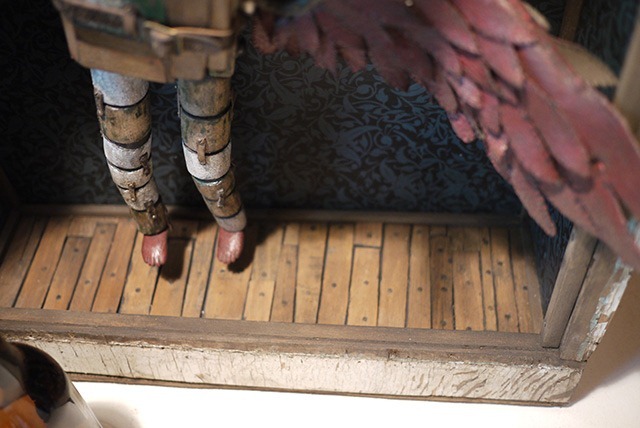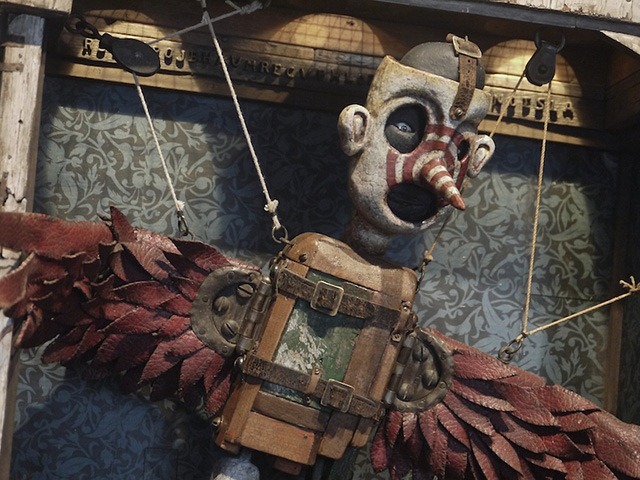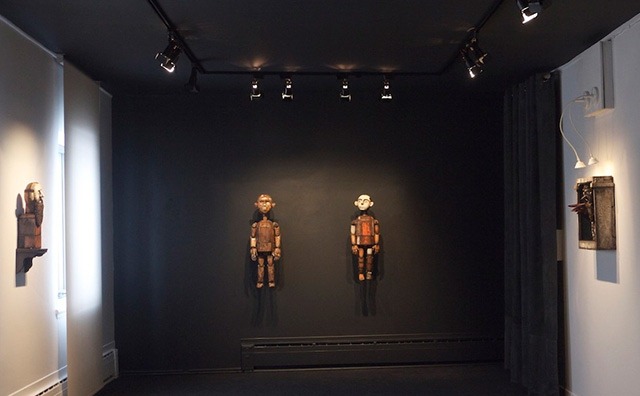 Sculptor Kevin Titzer (previously featured here and here) was born and raised in Evansville, Indiana, but moved to Quebec, Canada a few years ago. Though his works have been exhibited numerous times in the United States and Canada, 'Hinterland' – his ongoing show at the Galerie d'Art la Corniche – is his Quebec debut.
The theme of the show is about his experiences and adjustments moving from one country and it's culture to another. Titzer says that there is a puppetry aesthetic that runs throughout the exhibit, and visitors were encouraged to play and interact with two functional ventriloquist dummies during the opening. Like most of his other sculptures, Titzer used carved wood, found objects and recycled materials to create them.
Continue reading 'New Art Show Features The Striking Sculptures of Artist Kevin Titzer'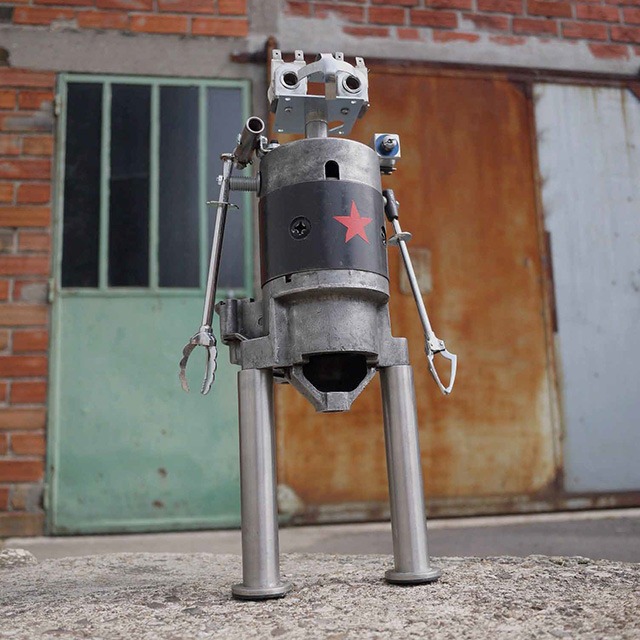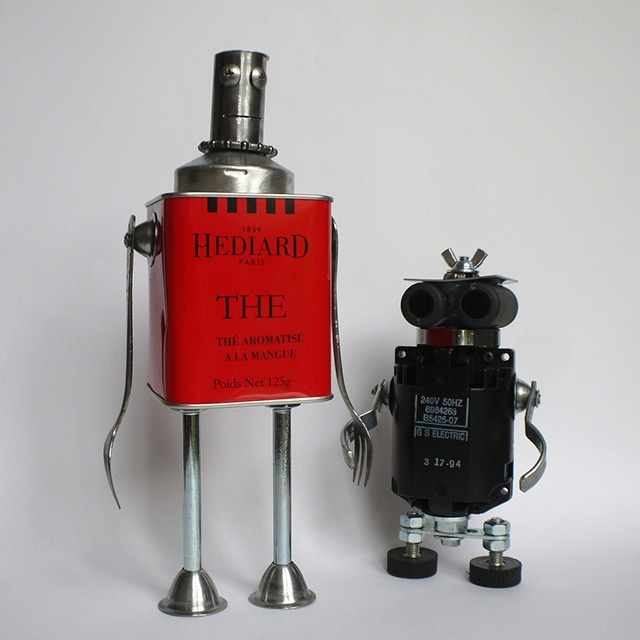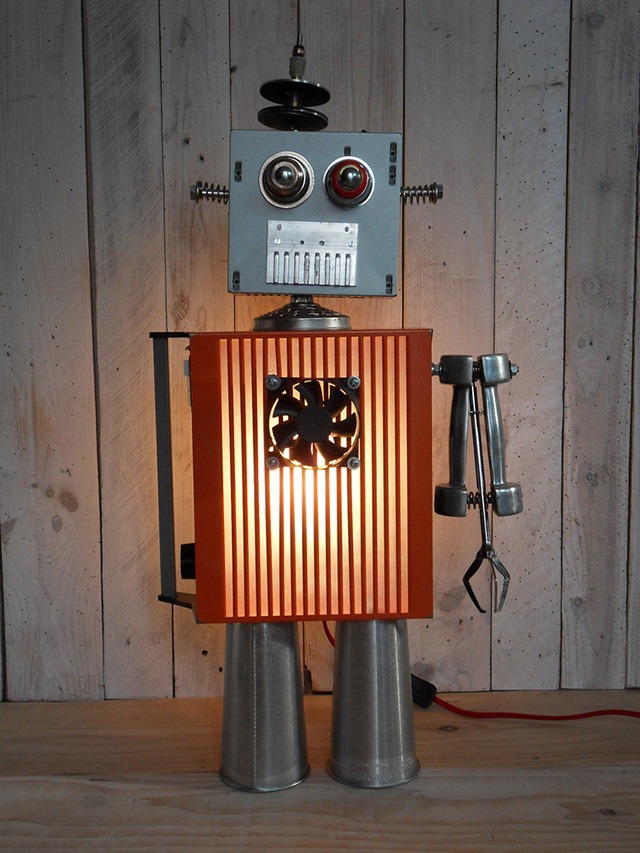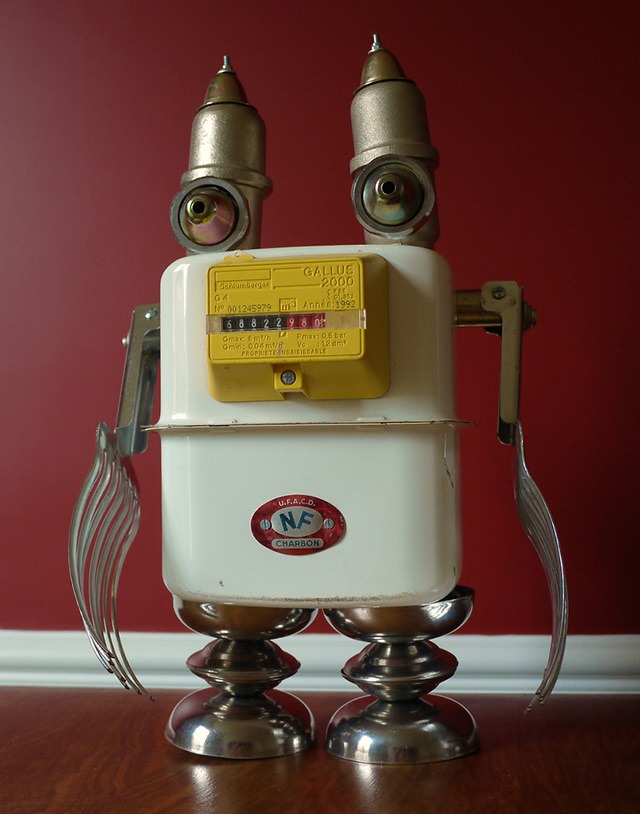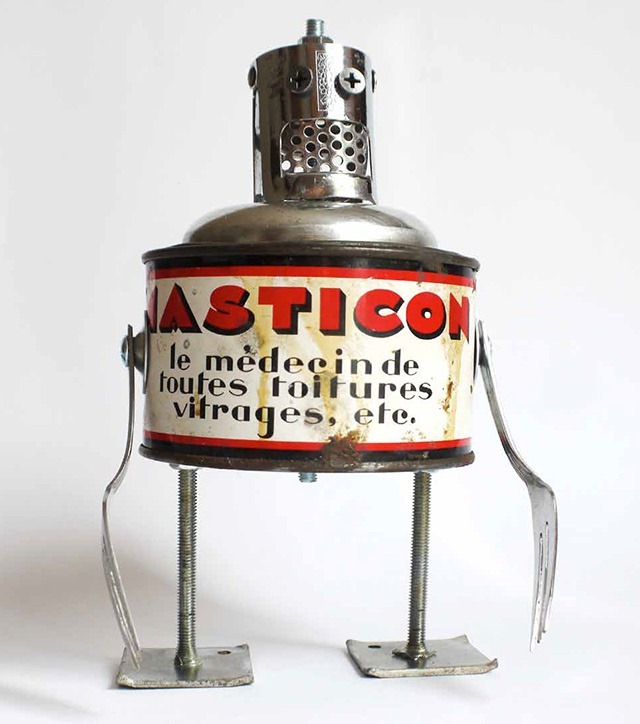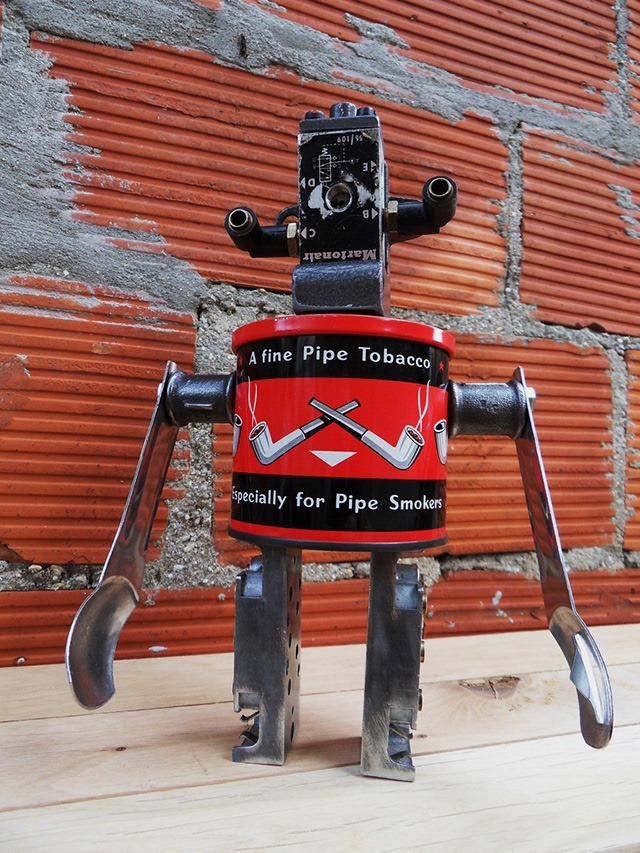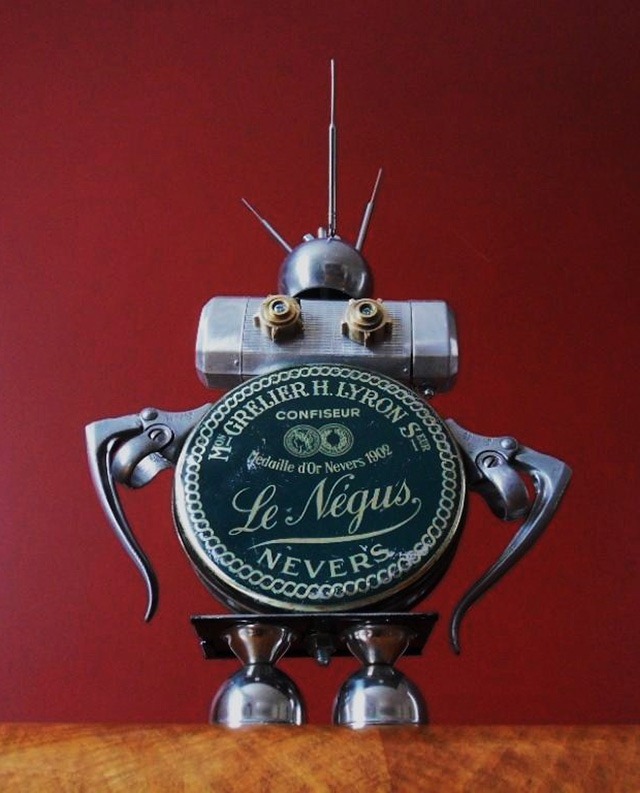 French-sculptor Gille Monte Ruici makes his adorably-quaint robot sculptures using only metal parts salvaged from junk. He collects old tin cans, fire extinguishers, mechanical tools, toasters, kitchen utensils and many other objects, and later gives them a new lease of life by using them as body parts for his creations. The artist says that he gives each one of his unique robots a highly improbable backstory, which often happens to be a disreputable one!
The sculptor, on his creative process:
All the assemblies are done by screw or bolts. Metal and the sheet are ideal for this kind of fixings. I like the matter, easy to work, with particular reflections, patinated, and which, pickled well, is harmonized easily. In general, I don't have any preconceived idea, I work only with "my visual instinct". The shape of found equipment will be born, a trunk, a wild glance, a pair of arms… either the final vision is immediate, or the idea of the potential must matured and will emerge later on.
Ruici's robots have been exhibited at the +Brauer Gallery and later at Intel's "Geek So In #9" event, in Paris last year. You can visit his blog and Flickr galleries to see many more images of his robots (including ones showing them indulging in bad behavior). 
[via JazJaz Submissions]
Check out more images after the jump.
Continue reading 'Cute Robot Sculptures Made From Recycled Materials'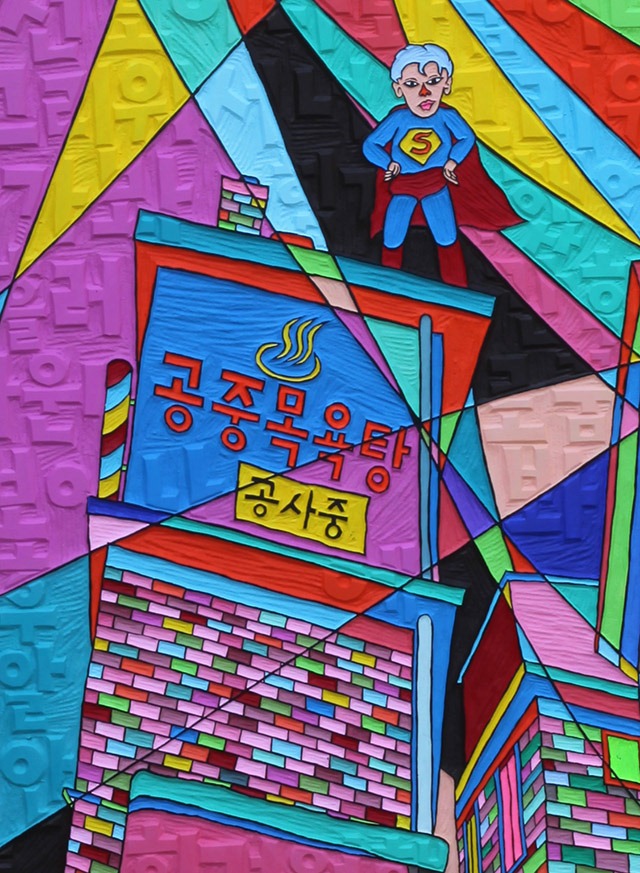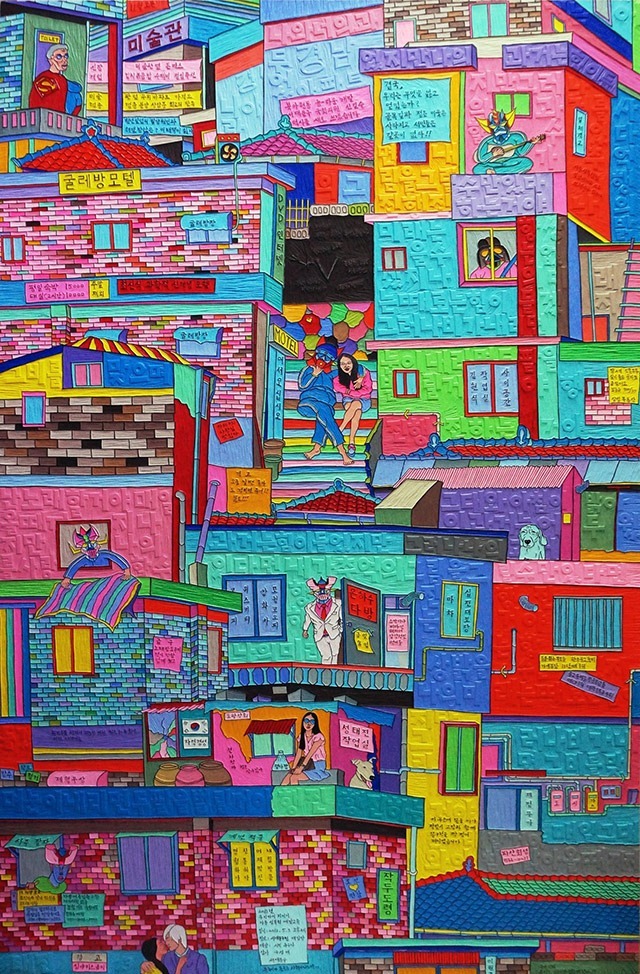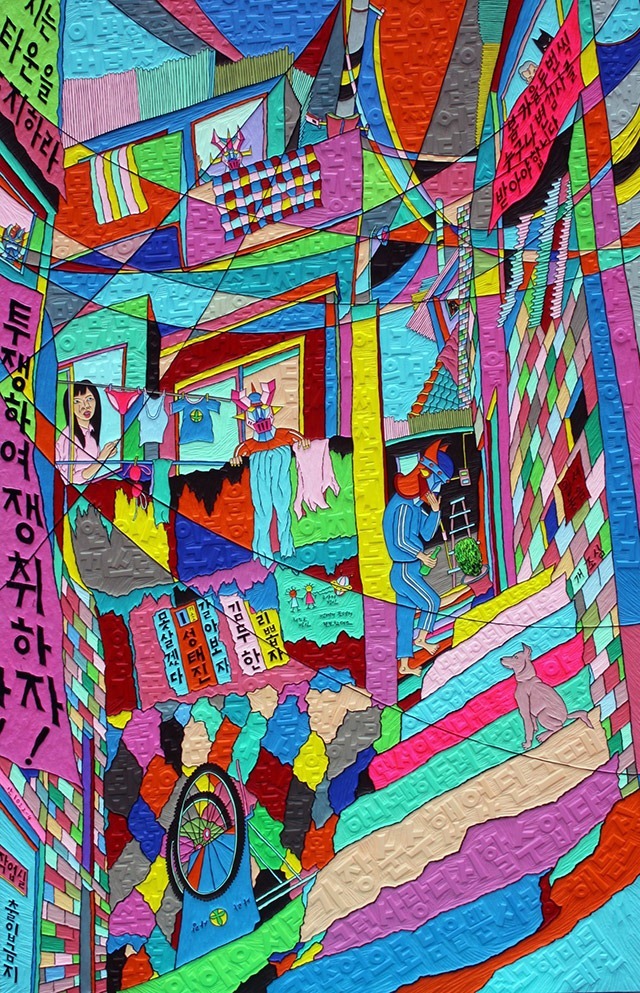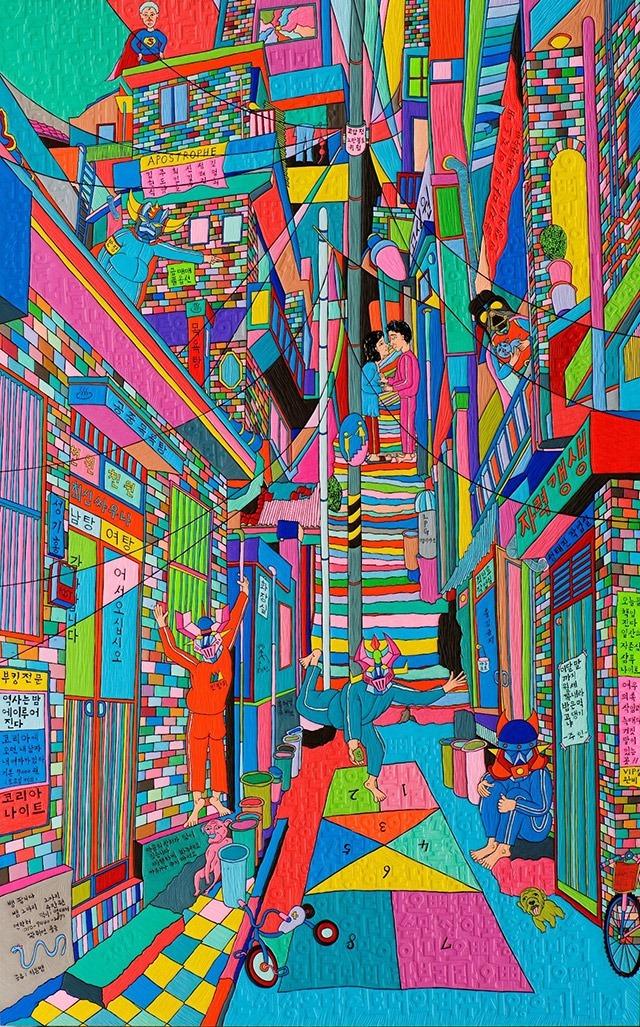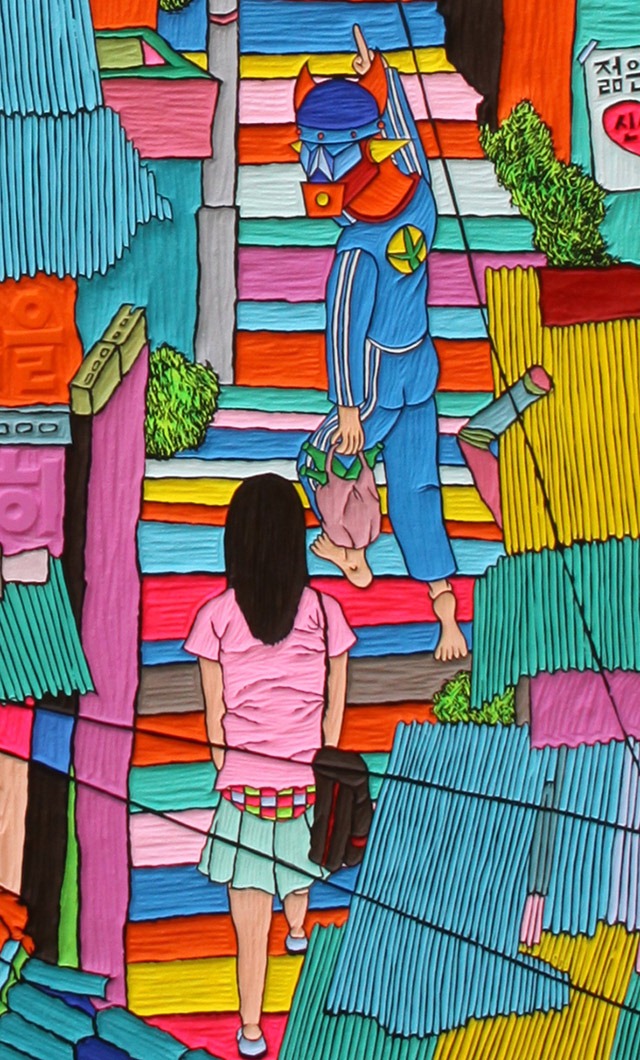 As colorfully-vibrant as Saekdong (traditional Korean attire), South Korean artist Tae-Jin Seong's carved wood painted panels depict satirical scenes of urban utopia.
Using the character of Robot Taekwon V, the eponymous robot in the hit 1970s South Korean TV show, Seong creates an escapist world full of stories and dreams which combine together elements of patriotism, violence and debauchery in a surreal, explosive mix. They also reveal the artist's mourning of a lost childhood and a deep disillusionment with society. The carving of alphabets and words in the background of the paintings are "associated with the dissemination of the written word and the origins of printmaking."
Seong's works have been collected and put on display in many national museums in South Korea. His panels will be showcased by Gallery LVS at the upcoming New York Edition of PULSE Contemporary Art Fair from March 5th to 8th, 2015. The fair, which will be celebrating it's 10th founding anniversary next month, will be exhibiting works from scores of artists and exhibitors from around the world.
Note: All images are courtesy of Gallery LVS.
[via JazJaz Submissions]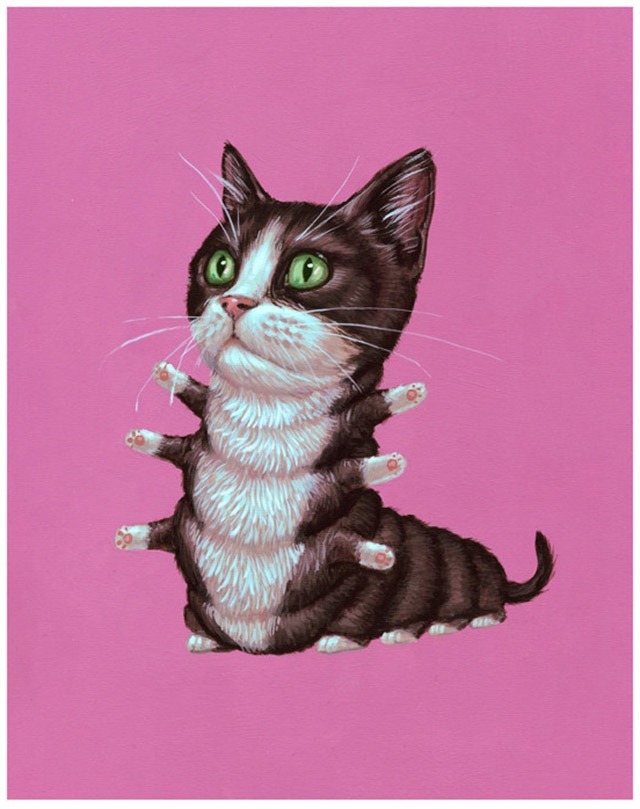 Artist Casey Weldon's "Tuxedo Cat" is the second in his ongoing "cat-erpillar" series. The 8" x 10" fine art giclee prints are limited to a run of only 100, and are priced at $20 each. All the prints will come signed and numbered by the artist.
Link.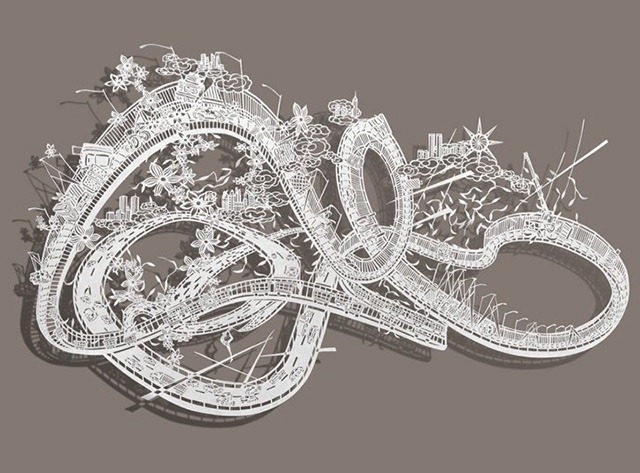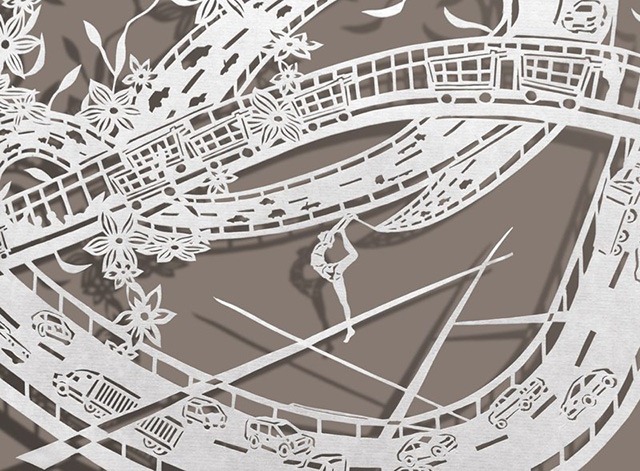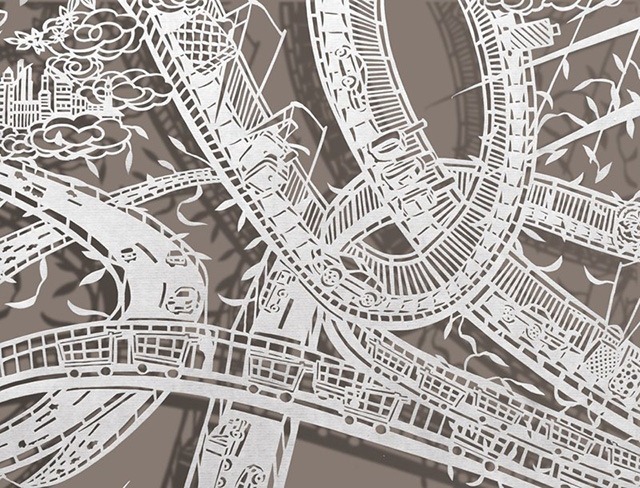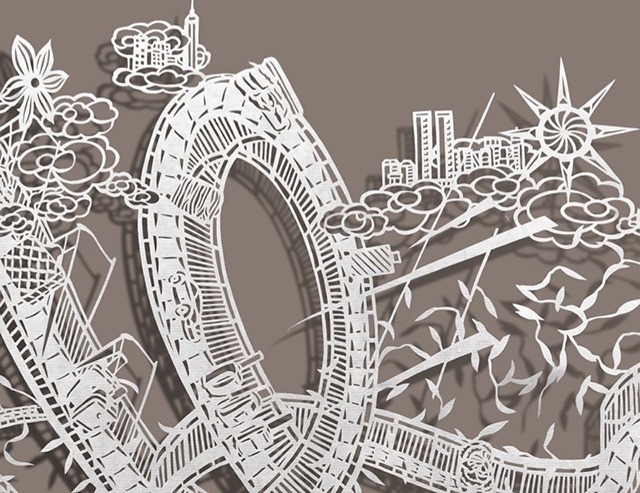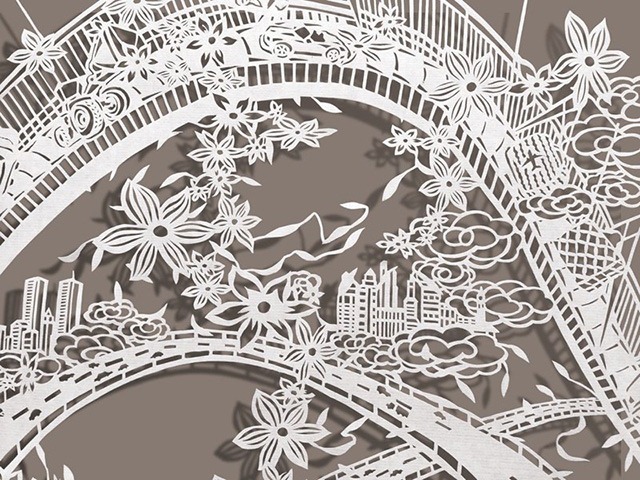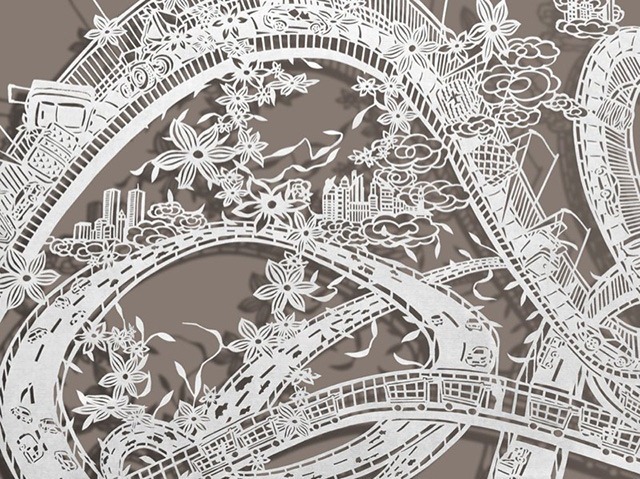 Mounted on a frame with a silk background, Los Angeles-based artist Bovey Lee's latest  paper artwork depicts a dancer whose ribbon transforms into a buzzing cityscape complete with busy highways and tall skyscrapers. I was quite astonished when I came to realize that the piece was hand-cut from a single sheet of Chinese xuan (rice) paper using simple implements like X-acto knifes and ordinary blades.
Lee, who was born in Hong Kong, practiced Chinese calligraphy and pencil drawing from a very early age. She moved to the United States in 1993 to pursue a Master of Fine Arts degree at Berkley. Her works have been displayed at numerous art shows around the world. You can check out more cut paper artworks over at her site.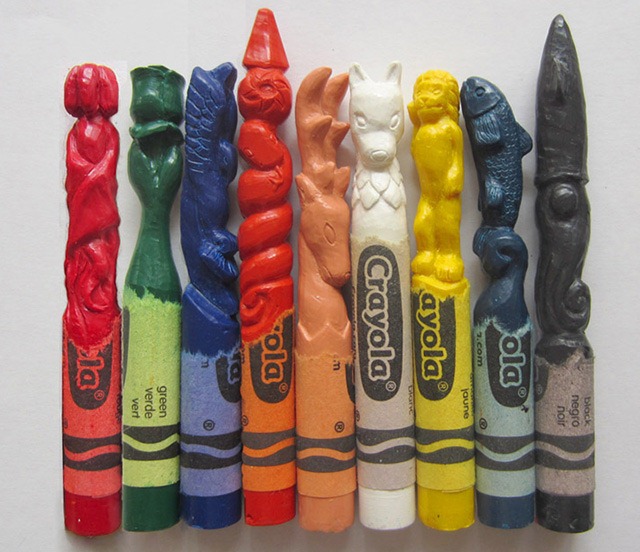 Sigils of The Great Houses of Westeros from The Game of Thrones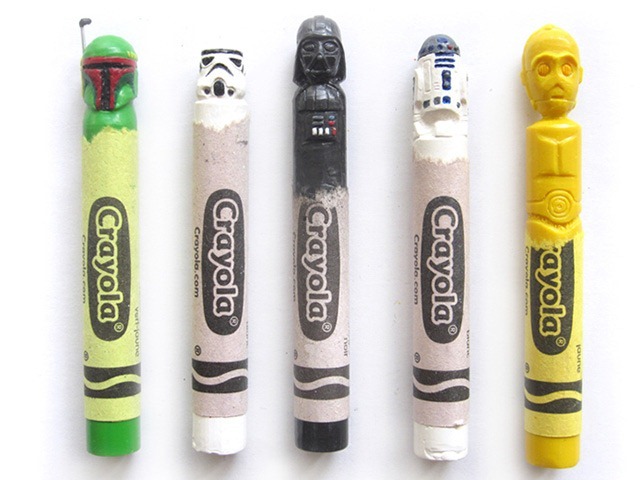 Star Wars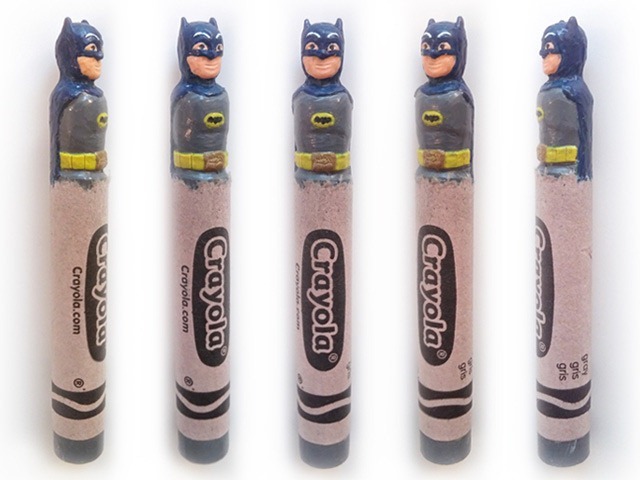 Adam West Batman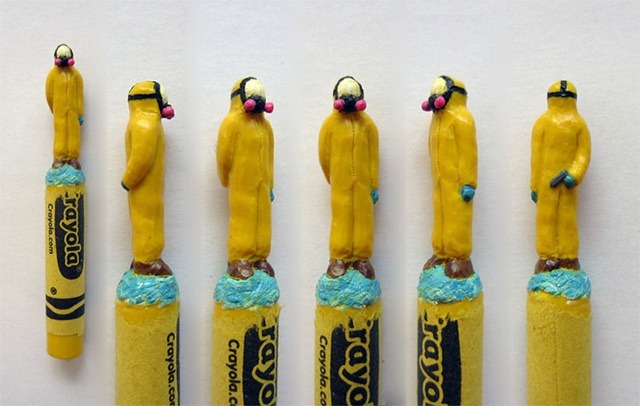 Walter White from Breaking Bad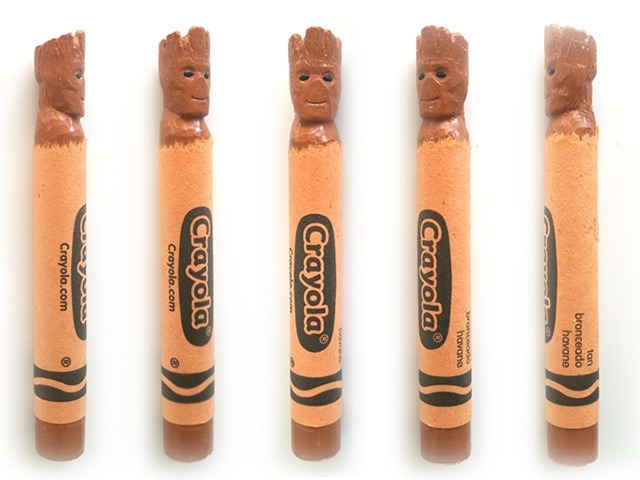 Groot from Guardians of The Galaxy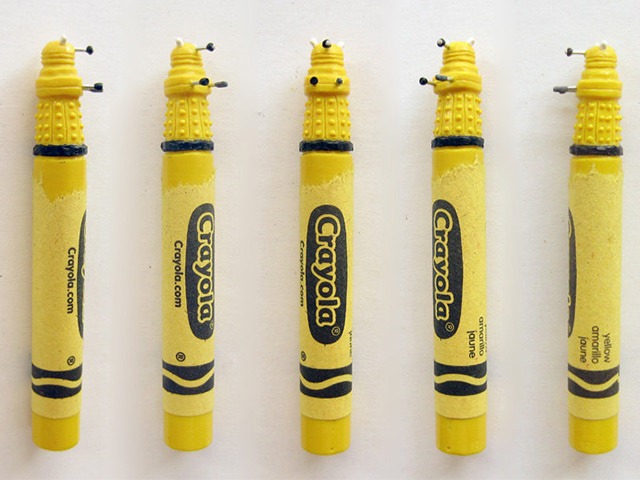 Dalek from Doctor Who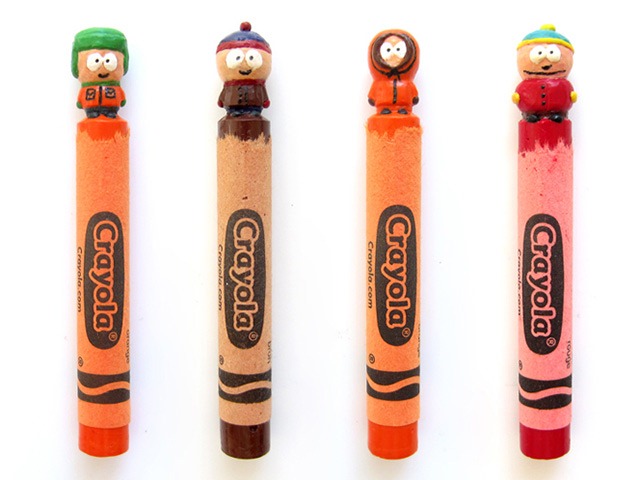 South Park
Over on his blog, Californian artist Hoang Tran regularly posts images of his incredible crayon sculptures of famous figures from pop culture. You can find characters ranging from the classic like Star Wars' Darth Vader and the Daleks (Doctor Who) to more recent ones like Walter White (Breaking Bad) and Groot (from The Guardians of the the Galaxy). 
In an interview with Lost at E Minor, Tran says that depending on the complexity of the subject, he can spend hours painstakingly carving each piece. He creates the multicolored sculptures by carefully dripping melted wax from a crayon onto another one of a different color.
If you are interested in buying the sculptures or even having a custom one made, you can visit Tran's Etsy store for more details.
Hit the jump to see more crayon sculptures.
Continue reading 'Hand-Carved Crayon Sculptures of Famous Pop Culture Characters'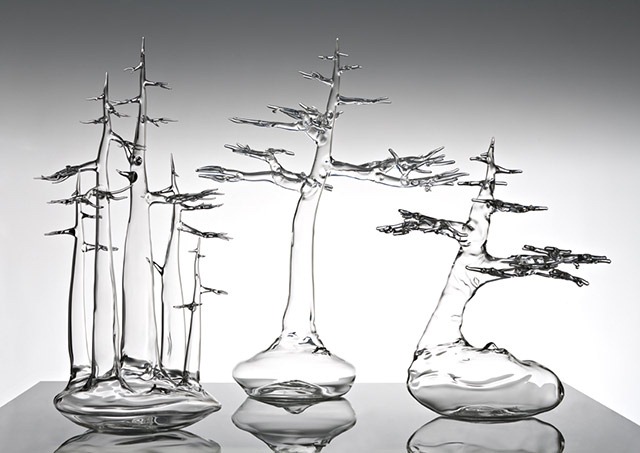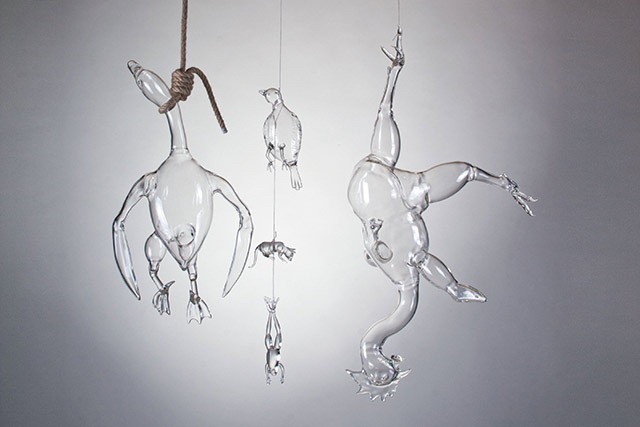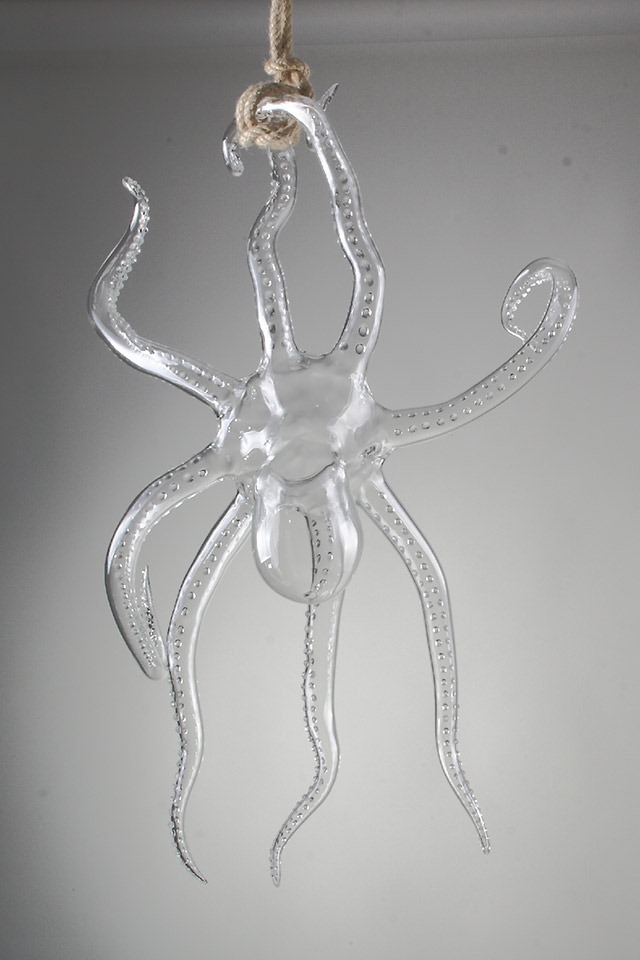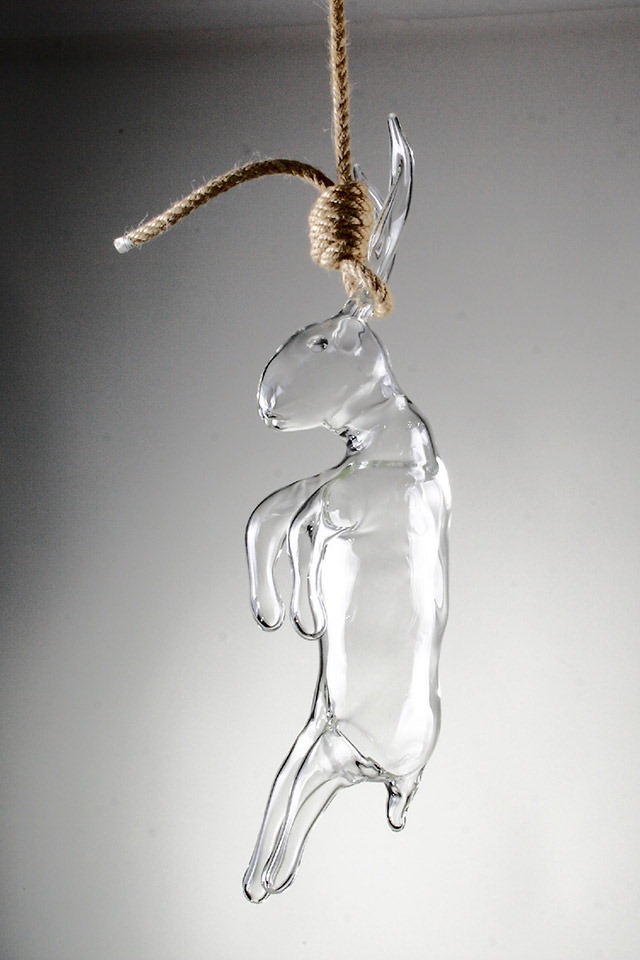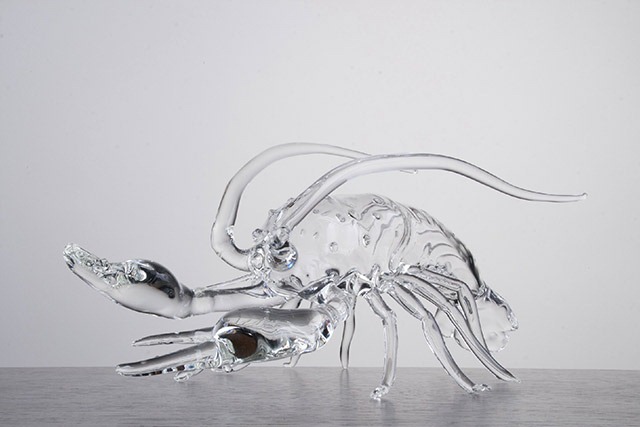 Based in Vicenza, Italy, genius glassblower Simone Crestani conjures up his fragile sculptures using organic shapes found in nature as his inspiration. Crestani uses a technique called flameworking to melt and manipulate glass into impossibly-detailed forms of trees, animals and other creatures.
Crestani credits a childhood spent growing up near Venice, "the capital of the glass world" for igniting his love for glassmaking. He was able to turn his passion into his profession after learning and practicing the art for 10 years under master glassblower Massimo Lunardon.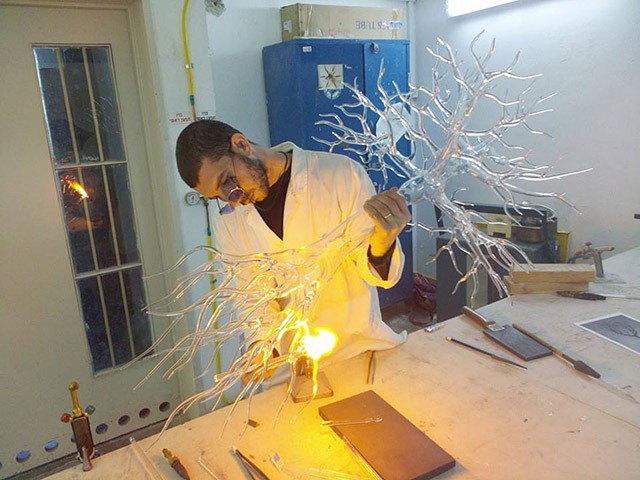 The artist's select works have been exhibited at various art shows in Italy and the USA. Besides making decorative and conceptual sculptures, he also makes beautiful light fixtures and other household objects with his favorite medium. You can visit his site to see more of his unique sculptures.
[via Asylum Art]
More images after the jump.
Continue reading 'Wonderful Nature-Inspired Glass Sculptures by Simone Crestani'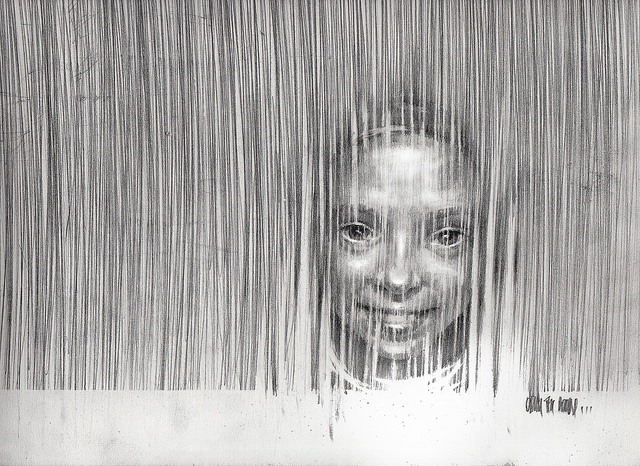 'Гелла', an illustration submitted to the JazJaz Flickr pool by artist Georgi Tandashvili.