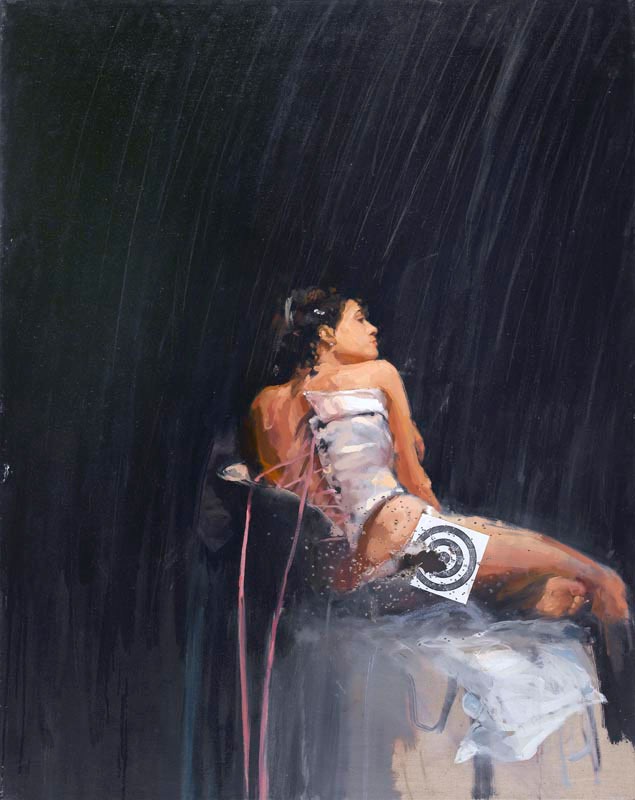 Charming Baker is one of the UK's fastest rising artists, and his paintings are being sold for tens of thousands of pounds to some of the world's biggest collectors. Some of the bulk buyers of the works include Damien Hirst, the super-controversial English artist, and Frank Cohen, one of the most famous art collectors in the world.
This former road digger's rise to fame can only be described as meteoric, and he has been proclaimed as the next big thing by the BBC, the Daily Telegraph and GQ (UK) magazine. He was discovered only five years ago, selling his work from the bedroom of his south-east London council flat. Persuaded by art collector Tim Fennell, Baker agreed to put on a pop up show at the Truman Brewery in East London. The show was a huge success, and was sold out on the opening night.
Baker, since then, has had successful shows in London, Los Angeles and New York. He will be showing his latest work in London, this July, and will come back Stateside next year.
Baker doesn't work with a gallery, and is little known in the art world circles. He self-funds his shows, and promotes himself on social networking sites, internet forums, and sites like YouTube, where a video of Charming shooting his paintings with a shotgun has become cult viewing.
Link to his official site.
You can see more stunning images of his work after the jump.
Continue reading 'Charming Baker – A Phenomenal New Artist From The UK'
Poor Shaggy!  He was killed and eaten by a mutant zombie, while on a desperate quest to find the last Scooby Snack®.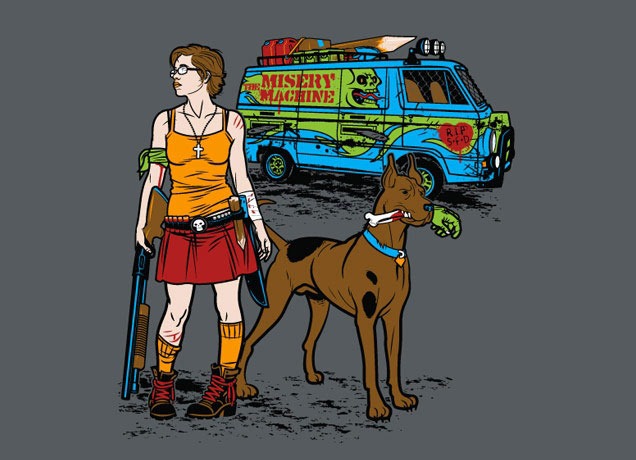 A Threadless t-shirt designed by Travis Pitts.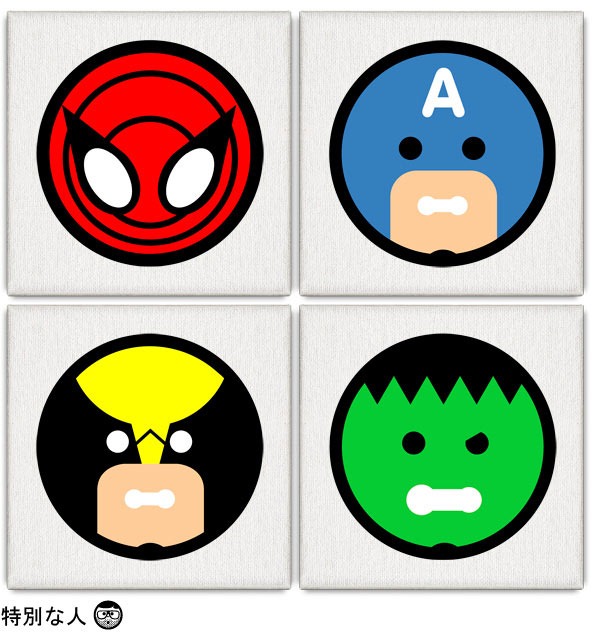 Check out some of the minimalist, pop culture themed artworks sent in by Andy Awesome, an artist (or most probably, a creative group) based in Munich, Germany. The acrylic paintings are part of his/their Series 2, uh, series.
Andy says:
In Dec. 2010, I was one, out of 50 artists, who has been invited to paint a picture for Sanrio´s / Hello Kitty art show in Miami Beach during Art Basel for their 50th anniversary.
You can also visit MoAA, their online, virtual walkthrough gallery (requires Flash).
Hit the jump to see more images from Series 2.
Continue reading 'Andy Awesome's Minimalist Pop Culture Paintings'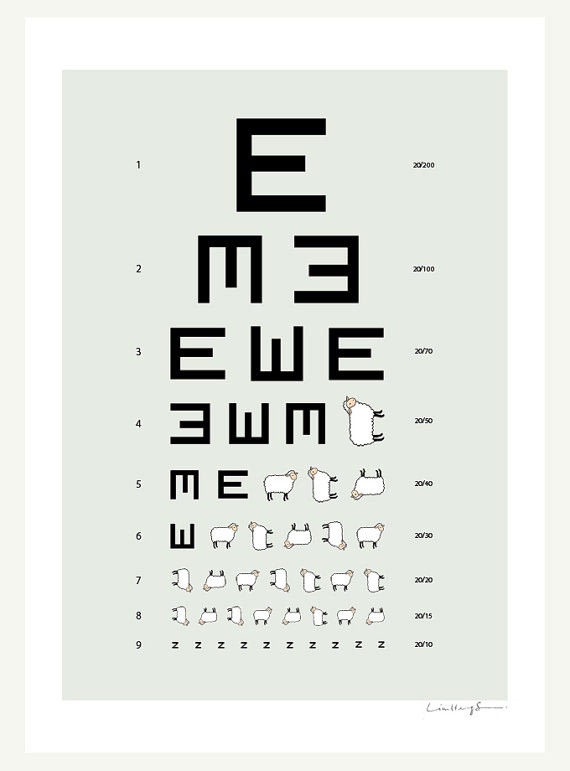 An illustration by Lim Heng Swee, an illustrator and visual artist based in Kuala Lumpur, Malaysia.
Prints are available on Etsy.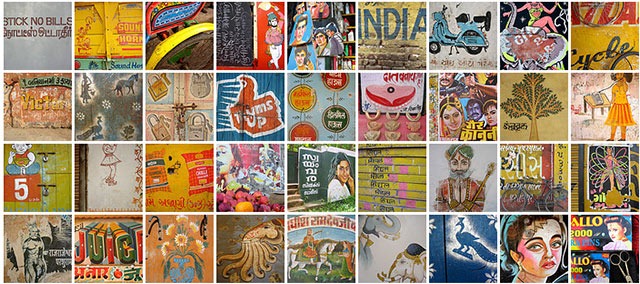 Meena Kadri's excellent set of colorful photographs, shot on the streets of India.
Local graphic styles from various Indian locations. A taste of typography, illustration & decoration found on temples and trucks, walls and doorways….
Previously on JazJaz: Coca Cola Graphics in India – A Project by Meena Kadri
Melting ice never looked so interesting. Created by LAMAR + NIK for the "Reds" song by the Houses, this music video was made in a car garage for a little over $200 dollars – all without resorting to the use of CGI. The Ice sculptures were made using clay molds, and soldering irons were used to detail them. 
Visit their Flickr gallery to see some great images taken during the production process.
Watch HOUSES "REDS" (DIR. LAMAR+NIK) from LAMAR+NIK on Vimeo.
I'll hazard a guess that it's not red wine in the bottle.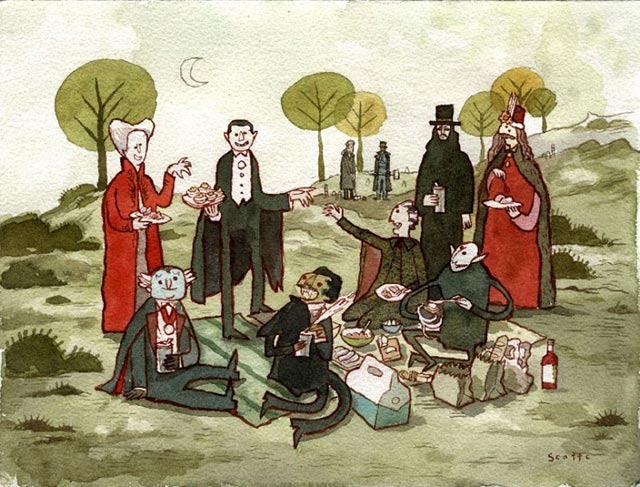 An illustration by the ever so awesome Scottie C.
Prints are available here (a steal at $30, if you'd ask me).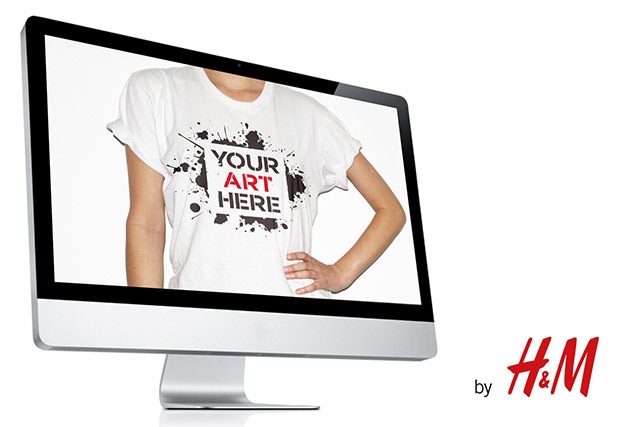 As many of you may know already, I was one of the jury members of H&M's "Your Art Here" online contest, which was held in October, last year. The hugely successful contest saw over 850 participants, and over 33 million people being reached. Artist Emily Ryan's incredible 'HMNYC' project, which can best described as an interactive art sculpture, was adjudged to be the winning entry of the contest. Her work was showcased in the H&M stores on 5th avenue and 42nd street in NYC. 
If you missed out on last year's contest, here is some great news for you. H&M has recently launched the second round of contest, and is asking for submissions of artwork from aspiring artists and designers. The top 25 submissions (as voted by the site's visitors) will be reviewed by an all-star fashion and arts savvy jury, who will then select the best five from the lot.
The winning designs/artwork will be printed on H&M T-shirts—which will be sold all over the US. The winning art pieces will also be exhibited in the window of H&M's 42nd Street and 5th Avenue stores in New York. In addition, the five winners will each receive a $500 H&M gift card and a $2,000 stipend to support their art/design careers.
I don't have to stress the fact that having your art exhibited in the stores will result in some major exposure and career traction. This could be the chance of a lifetime, folks.
All entries must be made by 12:01 AM EDT on May 25, 2011. To know more about the rules and other details, please visit the "Your Art Here" site.
Check out some of the diverse and brilliant submissions, after the jump.
Continue reading 'H&M's 2011 'Your Art Here' Contest'