This funky looking chair was designed by award winning artist Oki Sato of Nendo Inc.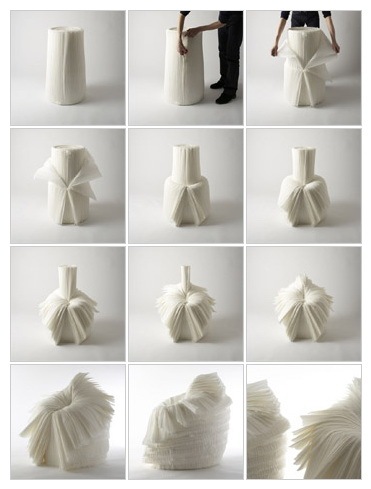 Influential fashion designer Issey Miyake, the curator of the XXIst Century Man exhibition in Tokyo, asked Nendo to produce a chair out of pleated paper, and so, the design firm came up with the unique looking chair.
Continue reading 'The Cabbage Chair by Nendo'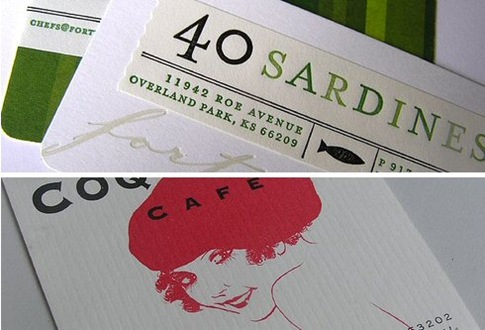 A well designed business card is a great way to make a good first impression on people.
Here is an entire gallery filled with pictures of hundreds of exquisitely designed business cards to inspire and bedazzle you.

These uber-cool 'Knife Hooks' were designed by TC Studio, a design firm based in the United Kingdom.
The coat hooks are made of polyurethane and steel, and are available only in matte black. There is an option to buy them online at Bouf for a pricey $ 50 apiece, but they are currently out of stock.
I found this innovatively designed wine bottle holder on the ever-interesting Trends in Japan blog.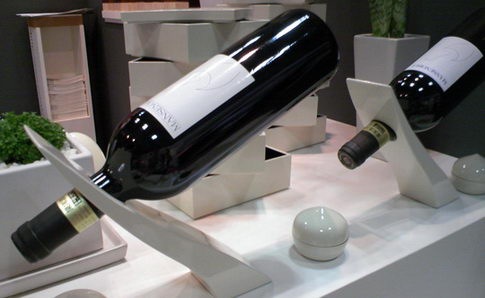 Snip from the site:
For wine lovers who like nice design, but especially Japanese lacquer ware, we found this amazing bottle holder from Yamakyu Urushi's Kasane line. Made of wood and lacquer, it balances the bottle perfectly on the table (when full of course).
I have fallen  in love with this stunningly beautiful 'pixel' couch designed by Spanish designer Cristian Zuzunaga.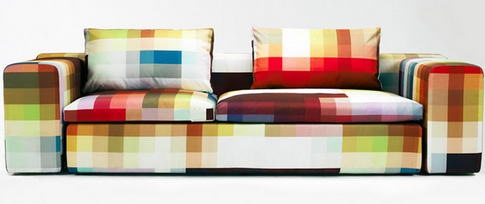 He used a couch from Italian design studio, Moroso and fabric from Kvadrat,  to realise his vision.
One more pic after the jump.
Continue reading 'Pixel Art – Beautiful Couch'
This salt and pepper shaker set showing some good old fashioned, hot interracial lovin, is available at Emmo Home for $28.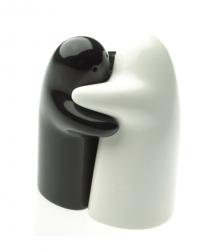 Jokes apart, it's a clever piece and interesting piece of design.
Airbrushing and extreme photo-manipulation,  the mainstay of adult men's magazines like Playboy and Penthouse, sadly, has now invaded the design departments of most magazines and publications around the world.
We are now completely conditioned to seeing plastic women with expressionless faces and impossibly curvaceous bodies.
The 'Photoshop Disasters' blog has some great user-submitted examples of sloppy and amateurish works, regularly churned out by by highly paid designers and graphic artists in the publication industry.
Link (Thanks, Sujay)
This rather unique, porcine, porcelain piggy bank is named Theosaurus, or Theo for short.  Theo is no ordinary piggy bank. He is available on the Theosaurus.de site for prices ranging from $70 to a shocking $150 for the gold plated edition. 
Snip from the site:
His design originated from Morphorm/Martin Schatz, a product designer from Berlin in cooperation with Lee Kmji, a product designer from Busan/South Korea. Theo is produced in Thuringia by Wallendorfer Porzellanmanufaktur, a German porcellan manufacturer founded in 1764 and steeped in tradition. The shoes of the standing Theo are made from actual cork, a premium natural product, and are produced by the oldest cork specialist in Germany: the firm of Eugen Hackenschuh.
There is only one question in my mind. Would you really have the heart to break open a piggy bank like this ?
This beautiful Dharma lounge chair was designed by Palette Industries, a firm based in Calgary, Alberta Canada.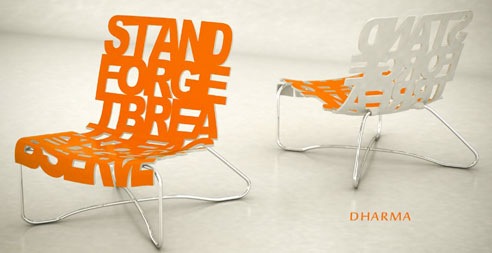 Even though the letters are jumbled up, the message behind the design concept becomes quite clear when we examine it in closer detail. The actual words are : Stand. Forget. Breathe. Knowledge. Observe.
It's an original, if somewhat uncomfortable-looking piece of designer furniture.
The TENORI-ON is an electronic interactive device featuring a touch-screen interface consisting of 256 led buttons which can be manipulated to create music. Billed as the musical instrument for the 21st century, the Yamaha TENORI-ON was the result of a collaboration between interactive media and installation artist Toshio Iwai and the Yamaha Corporation.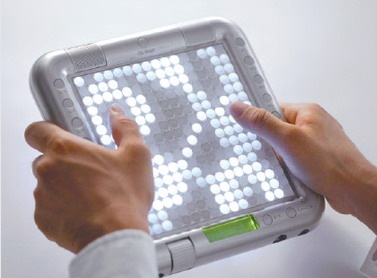 The  interface is intuitive and visual, all thanks to the interaction between light and sound.
Snip from the site:
The TENORI-ON 16 x 16 LED button matrix is simultaneously a performance input controller and display. By operating and interacting with the LED buttons and the light they produce you gain access to the TENORI-ON's numerous performance capabilities.

The TENORI-ON provides six different performance and sound/light modes for broad performance versatility, and these modes can be combined and used simultaneously for rich, complex musical expression.
There are two high quality speakers built into the device, and a LCD display on the bottom provides additional information. The device has a SD memory slot, midi port and a headphone connector as standard options.
You can visit the product micro site to watch some stunning videos of the gadget in action. There are also videos and downloadable music samples of performances by musicians on the musical instrument.