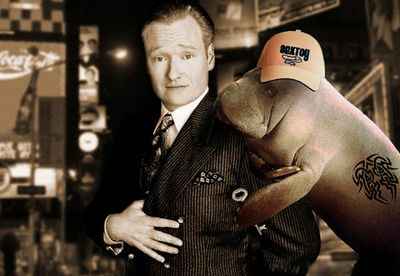 The Hornymanatee site is based on a mascot character from Late Night with Conan O' Brien. There is an interesting story behind the creation of the site. Conan, during one of his many (in)famous comedy sketches on the show, ad-libbed about a fictitious site called 'hornymanatee.com'. Later, the standards department for the show told Conan, that they were concerned that someone may register the domain name and post objectionable content or that people trying to visit the site may get upset and sue NBC for creating a fictional site. So, NBC bought the domain name in 2006 and then let the show develop the site. As of now, the site has registered over 20 million hits and Conan regularly updates the viewers on the status of the website.
Fan's regularly submit artworks, poems, videos and even flash games to the site. Most of the fan submissions disturbingly show Conan doing the nasty with the manatee. The site also features a porno-ish tour of manatees getting it on with humans and other manatees. Link.
Trivia: This isn't the first time that Conan has had a fan-art site. Check out ConanvsBear.