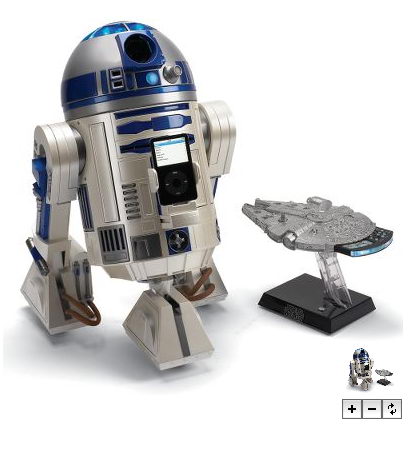 This Hammacher Schlemmer home theater's design is based upon the ever-popular R2D2 of Star Wars fame. The head houses a DLP projector which can project images and video from its "radar eye" onto screens up to a distance of 16.5 feet, at a maximum resolution of 102x x 768 (XGA). This translates into a 80″ viewing area. The projector comes with a high contrast ratio of 1500:1, but the site does not mention the Lumens value. The system houses a DVD/CD player in its arm and a ipod docking station, memory card slot and USB port in a hidden panel in the anterior part of the system. It also comes with measly 40 watt speakers to justify its home theater tag. Unfortunately it is not THX certified, which is disappointing since Star Wars Director George Lucas is also the founder of the THX sound system.
What sets this R2D2 projector apart is the gyro sensors which keeps it from losing balance, while the system is being moved or adjusted. The R2's remote is a replica of the Millennium Falcon. It can be booked for $2,799.95, as the expected shipping date is at the end of September 2007.
I know you nerdy fanboys don't really care about the price tag and the incomplete details, so go ahead and book it.
Link.