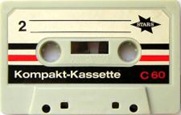 Tapedeck is a nostalgia site for audio cassette tape buffs. The site has photo collection of 138 tapes, which will only grow over time. The photographs can be viewed by brand, quality and playing time. The photos of the older European ones, certainly show more character. I personally owned a few of the German makes, myself.
Snip from the site:
Tapedeck.org is a project of neckcns.com, built to showcase the amazing beauty and (sometimes) weirdness found in the designs of the common audio tape cassette. There's an amazing range of designs, starting from the early 60's functional cassette designs, moving through the colourful playfulness of the 70's audio tapes to amazing shape variations during the 80's and 90's.
You can also send pictures of your own cassette tapes to the site. Cassette tapes will probably disappear in the next decade, so it's a good idea to send photos of your prized cassettes to this site. This is serious retro porn for audio tape lovers.
Link.