JazJaz brings you the most interesting posts of August 2007.
Cardboard Boombox for Ipod
Suck UK wants to sell you this cardboard boombox for your Ipods and MP3 players.
Jihad The Musical at the Edinburgh Fringe Festival
Featuring a song from the musical – I wanna be like Osama.
Late Night With Conan O' Brien Presents Hornymanatee.com
Horny Manatee is a character on Late Night with it's own popular website.
Golden Age Comic Book
Ben Samuel has many scans of golden-age comic book covers on his site.
Chocolate Rain By Tay Zonday
Watch the most irritating tune at the moment on the internet – 'Chocolate Rain', performed by Tay Zonday.
Kottke on Polymorphic Spam
Jason Kottke writes on the challenges brought about by polymorphic spam. There is also a link to his hilarious 'penile enlargement' spam gallery.
First Ever Cell Phone Commercial
Watch the first ever cell phone commercial on television. The Ad was for Centel Corporation's sleekest and most sophisticated flagship gadget in 1989.
Fan-Created Batman Animation Short
This post was an entry on the Binary Moon contest. JazJaz won the top prize.
R2D2 Home Theater Projection System
This home theater's design is based upon the ever-popular R2D2 of Star Wars fame. The head houses a DLP projector which can project images and video from its "radar eye" onto screens.
The Complete Calvin And Hobbes Strips Collection
Read the complete Calvin and Hobbes comic strips in chronological order from Nov 18th, 1985 to Dec 31st, 1995.
Creative Wedding Proposal With An Art Installation
George created a faux art installation at the 40000 art gallery, to propose to his girlfriend Sara.
Interactive Map of Springfield
This great interactive map of Springfield is a must-visit for all fans of the Simpsons.
JazJaz is The Winner
Jazjaz was the top prize winner in the Binary Moon contest.
Finnish Band Gregorius Covers The Village People Hit – YMCA
Watch Finnish band Gregorius innocently do their own special cover version of the Y.M.C.A. song – the Village People gay anthem of 1978.
Lamponi Vespa Azzura Lamp
Maurizio Lamponi Leopardi is an Italian designer who creates some stunningly beautiful lamps based on Italian style icons like Lambretta and Piaggio.
Miss Teen South Carolina Answers A Difficult Question – Video
Miss Teen South Carolina tries to answer a question on the contest and becomes an internet sensation.
Stupidly Named Mp3 Players From TrekStor
TrekStor, a German company, releases two awfully named Mp3 Players. They don't stand a chance in hell of ever selling these products in America.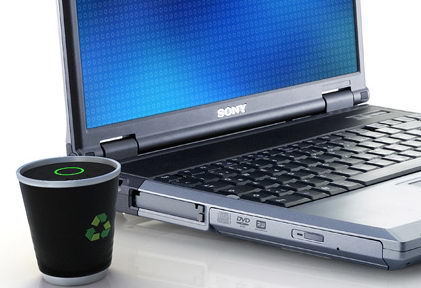 Tempo Wireless Trash Can from Cagnina Design
The Tempo Wireless Trash Can is an external wireless hard drive, designed to resemble the ubiquitous 'Recycle Bin' on your desktop.
Ten Recording Bloopers That Made It To The Album
Des McKinney of Hometracked, has compiled an interesting list of recording bloopers which made it into the final cut of music albums.
Tim Ferriss Shows Off 5 Pen Tricks From Japan
Tim Ferriss, the author of the #1 NYT Bestseller 'Four Hour Workweek', shows off his pen tricks with an ordinary Bic Pen. Really addictive.
Bike Dispensing Machine From Amsterdam
Bikedispenser.com is an Amsterdam firm which rents out cycles by the way of an automated machine to dispense them.
Planet Terror Fake Trailer Contest
Robert Rodriguez's 'Planet Terror' site in Holland held a fake trailer contest recently, where the submissions had to be similar in style and tone to the faux trailers in Grindhouse. Watch all the videos.