The Gollum and Smeagol bookends are based on the schizophrenic character Sméagol, in the movie adaptation of The Lord of the Rings books. Gollum was poor Sméagol's evil alter-ego in the series. The role of the troubled hobbit was brilliantly portrayed by Andy Serkis. His incredible take on Gollum was ranked #10 on Premiere Magazine's 100 Greatest Movie Characters of All Time.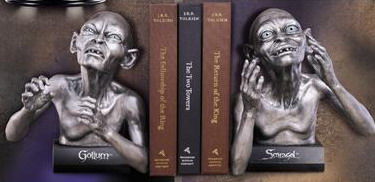 Snip from the site:
Depicting the dual personalities of one of the most complex characters from The Lord of the Rings(TM), each piece made of heavy cast metal and mounted on a wood base. Measures 8 inches in height. (Only available as a pair)
The bookends can be bought online for $195.