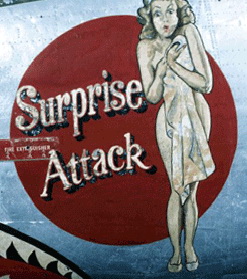 Save the Girls is a project to preserve and restore the largest ever collection of World War II aircraft nose art. Nose art was a design or painting done on the fuselage close to the nose of a wartime aircraft. The artwork was usually done by untrained servicemen who managed to create great art using scanty supplies.
Snip from the site:
Beginning with the earliest pilots, the practice of painting some sort of "mascot" to go along with a plane's name became popular. Most were painted by artistically untrained American servicemen with limited supplies. Frequently, the images were taken from wives or girlfriends, but many were copies of the famed Esquire artist, Alberto Vargas. Other images were taken from cartoon strip characters and horoscope images.be This personalization gave strength and personality to an inanimate object and to the crew it guarded. It became a symbol of the dedicated atmosphere that existed among crew members. Aviation nose art preserves the memories of a generation of great patriotism and courage, juxtaposed to personal loss and nation victory.
The pinup art they created was truly something special, and the art project aims to preserve these racy-for-their-time girls for posterity's sake. The site also has a gallery with many images of these classy beauties.
Link. (Nfsw, if you are really fussy about it)
Previously on JazJaz: