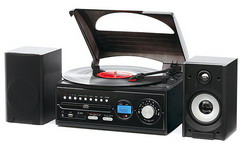 The FALTIMA 010 allows you to "rip" your fragile LPs and save them on a CD, USB memory stick or an SD card. This device can also play your standard audio CDs, plus receive FM and AM radio broadcasts.
The recording is done on the fly with minimal user intervention. All you have to do is to press 'play' and then select the recording format. The makers also helpfully mention that these recordings will be DRM free.
Hilarious Google translated snip from the site:
Analog record playback corresponds possibility, as for 33 revolutions and 45 revolutions of course, SP board 78 revolution. Digital (MP3) sound recording is possible with system not only playback, bosom forces and being digital retains the collection of the analog record, FALTIMA itself and can enjoy with the personal computer and the digital audio player etc.

Music CD playback, digital (MP3) sound recording

Playback correspondence of music CD, MP3 and WMA data CD. Of course, digital (MP3) USB memory, the SD card, also you can record to the digital audio player with system.

USB and SD card slot loading

Also playback and the mutual copy of digital music of USB memory and MP3 and the WMA type which are retained in the SD card are possible.

In addition, from the analog record and music CD you can record digitally with MP3 type.

FM/AM tuner loading

It is possible to enjoy FM, AM tuner loading FM broadcast and AM broadcast with ease.

Disk stabilizer attachment

Attachment FALTIMA010 original disk stabilizer. You have considered even in the needle flying and the sound shaking.
The product will be available on sale at the end of October.
Original Product page in Japanese. Translated page in English.
(via Akihabara News)