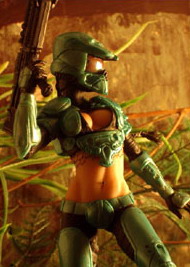 This female version of Halo's Master Chief was created by artist David Johnson. It is presently up for bidding on ebay. The present bid ? A shocking $1,925 and rising. Just like the…uh, temperature of Halo fanboys, on seeing this model.
The artist has promised to donate 10% of the proceeds to the American Breast Cancer Foundation.
Description of the item:
Figure is 8 inch scale 11.5 inches tall to the tip of the sniper rifle, Created in polymer clay. ONE OF A KIND!! This is the only one, no molds were used in creation none taken from her. She has a strong armature underneith. Bid with confidence, i lifetime insure my artwork, reguardless of how she was broken I will fix her for life.
Regardless how she was broken ? These fanboys must be perverts.
via The Raw Feed