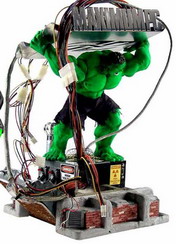 This 'Incredible Hulk' PC Casemod, took its creator 14 months to build. The creator was inspired by the art of Dale Keown in 'The New Incredible Hulk #377' comic book issue. 
It took the parts of 4 Hulk action figures and an old Intel Micro ATX motherboard to create this mod.
You will have to endure a lengthy flash intro and interface to know more about the case mod.