This is the greatest thing I saw all day. A massive (30 feet wide and high) sculpture of a spider has been installed outside the Tate Modern Art Gallery in London.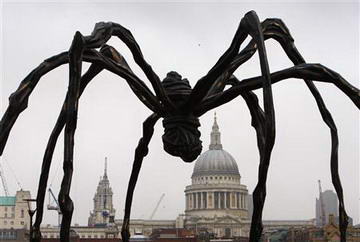 This art installation was the brainchild of 95 year old artist Louise Bourgeois, and was created in 1999 as a tribute to her mother. Her mother, an artist herself, must have been a huge influence on Bourgeois. The sculpture, named Maman (a term of endearment for a   Mother in French), is made of bronze, stainless steel and marble. It will be on display outside the gallery on the banks of the River Thames, as a teaser for a major exhibition of work by Bourgeois.
Snip from the article:
"The Spider is an ode to my mother. She was my best friend. Like a spider, my mother was a weaver," the 95-year-old Bourgeois said in a statement.