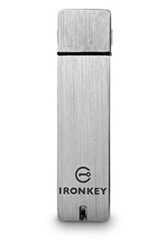 The Ironkey USB drive from Thinkgeek was built to exceed US military security standards. Holding up to 4GB of data, the thumb drive is designed to self-destruct incase of a hacking attempt.
The innards of the drive are filled with epoxy, negating any chances of  data recovery with physical tampering of the device. The drive has 256-bit AES encryption, which is once again encrypted with a 128 bit AES hardware encryption.
The drive also has a Tor-enabled copy of Firefox, allowing for some truly anonymous browsing. Or so, the makers claim. I am not completely sold on to this gizmo, for the simple fact that the device has been commissioned by the US Military. In all probability, the device could have a back door built in.
You could always use a properly configured combination of PortableTor and Portable Firefox on your flash drive, and keep your browsing sessions relatively anonymous.
The IronKey is available for prices ranging from $78.99 to $149.99.