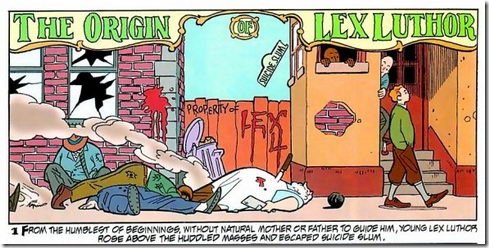 Calamity Jon's blog has scans from a 1998 "Secret Files" comic, which sheds some light on the origins of the various villains in Superman's universe.
The origins stories, created by artist and writer Stuart Immonen, features some of Superman's greatest foes like Lex Luthor and the unstoppable (almost !) Doomsday.
Snip from the blog:
What makes it more than just a flashback or recap is that Immonen told them by way of Lex Luthor telling fairy tales to his infant daughter Lena, and illustrated the origins in one- or two-page comics fashioned after Winsor McCay's Little Nemo in Slumberland.