Why didn't anyone think of this before ?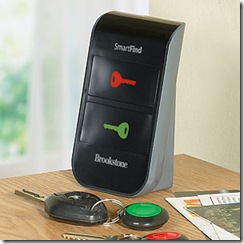 The Wireless Key Finder helps you find your lost keys at the press of a button.
The gadget comes with two color-coded key fobs, that can be attached to your keys. Simply pressing on the pager buttons on the key finder will make the matching key fob respond with a loud alarm.
The makers claim that the device can locate keys up to 60 feet away.
The Wireless Key Finder is priced at a reasonable $49.95.
[via
Cee Bee
on Friendfeed] You can follow me on
Friendfeed
here.