The good folks at Curbed, the real estate and architecture blog based in New York, visited Moscow recently.  Russia! Magazine invited them to critique mock the numerous examples of hideous architecture that had suddenly cropped up in the grand-old Russian capital.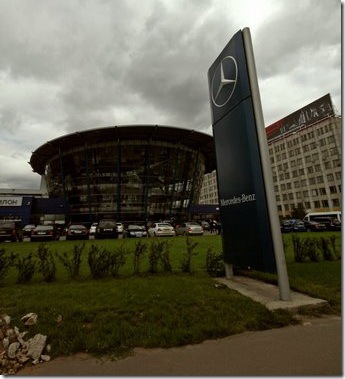 This is what they had to say about the Mercedes car showroom in Moscow:
Joey: And I thought building war machines for the Nazis was Mercedes' biggest crime against humanity.

Lockhart: The powers that be couldn't build this as a transit hub in downtown Manhattan, so they built it as a Mercedes dealership in Moscow. Makes sense.
It's just hilarious stuff.
Link to the entire article in Russia! Magazine.