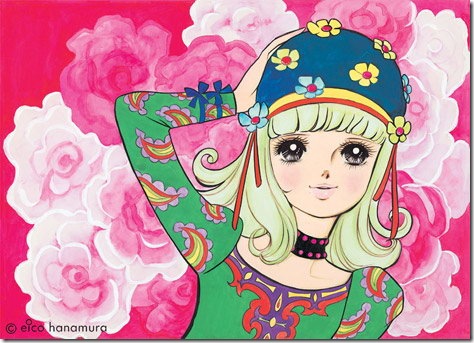 The PingMag blog has a fascinating interview with Eico Hanamura, one of the earliest artists to draw girls manga comics.
A classically trained painter, Eico had a completely original and distinctive style of drawing her characters. Her quintessentially feminine illustrations were especially well-detailed in contrast to the ones created in the sparse and economical style preferred by her contemporaries in Japan.
She began drawing for the famed Nakayoshi magazine in the 1960s, adapting famous children's books and films into manga for elementary school girls.
Some people complained about my manga, saying things like "too many eyelashes" and "the way she draws is not manga style!" Most girls manga had a simple line drawing style at that time, and I was the first manga artist who drew so many eyelashes. Fortunately, the publishing company liked my new style and so I found myself regularly assigned to draw manga for them.
Her works have been exhibited in the SNBA art gallery and the Musée du Louvre in Paris.
Link to Pingmag's interview of Eico Hanamura.