Lexus' latest "Cards" TV commercial for its ES vehicle features the work of Bryan Berg, a Guinness World Record holder for card stacking.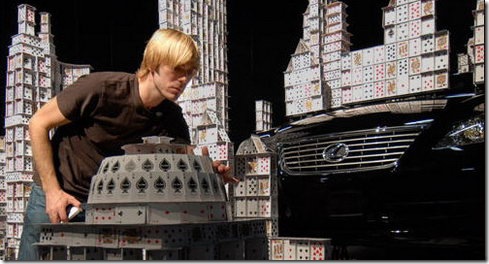 The spot uses Berg's incredible card stacking abilities to show how the active engine mount on the ES eliminates even the most minute of vibrations.
Berg's earlier feats have included building scale model replicas of the Beijing Olympic Athlete Village during the 2008 Olympics, and the skyline of the fictional Gotham City to commemorate the DVD release of "The Dark Knight".
You can watch the commercial by visiting this link on Youtube. You can also watch a behind the scenes video taken during the card stacking process.