Visualizer Magazine is calling for artists and photographers to contribute artworks and photographs for their upcoming issue. The ezine will be released in both English as well as Turkish, at the end of the month of March, 2010.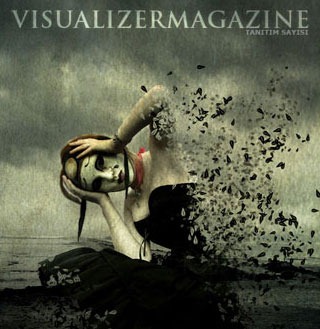 Visualizer Magazine which has a fresh new beginning with a promo issue on Jan 1, 2010 has already had great audience from all over the world.

You will be able to find amazing artworks from very talented designers in our promo issue that has a theme "Beginning of the End".

Now we are offering you an opportunity to be a part of our first issue. Our magazine will be both in English and Turkish, we are still working on our first issue with a great excitement.

How will you be a part of Visualizer Magazine' first issue?

– Photography, Graphic Design, Illustrations, Traditional Art and all other art related projects of yours can be shown in Visualizer Magazine.

– Deadline is March 10, 2010

– All following details should be taken care of;

* SIZES: 483×672 px (Portrait), 966×672 px (Landscape)

* FORMAT: Jpg

* CV: Name/Surname, Email address, Web page

* SUBMIT TO: [email protected]

* DEADLINE: March 10, 2010
You can download the promo issue here.
Folks, this is a great opportunity for you to share your artworks/photographs with the entire world.  Don't be shy. Give it a shot.