Artist Annie Vought creates her mindboggling and intricate artworks by painstakingly hand cutting letters from paper.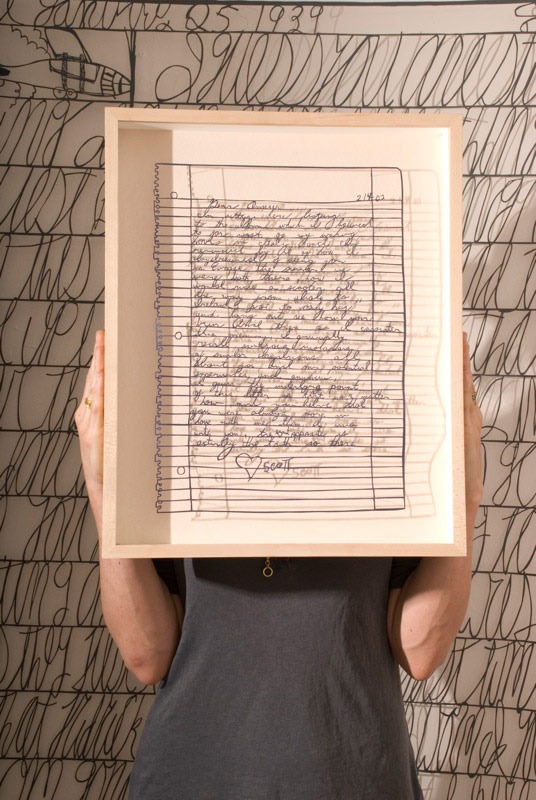 She states:
Email, text messages, instant messaging and Twitter are all examples of fun and immediate means of "written" communication. Through the computer I am in touch with people I may never have seen before and I can respond in real time to a loved one. But with the ubiquity of this access and convenience, we are losing the tangible handwritten letter. Handwritten records are fragments of individual histories. In the penmanship, word choice, and spelling the author is often revealed in spite of him/herself. A letter is physical confirmation of who we were at the moment it was written, or all we have left of a person or a time.

I have been working with cut out correspondence for the past four years. I meticulously recreate notes and letters that I have found, written, or received by enlarging the documents onto a new piece of paper and intricately dissecting the negative spaces with an Exact-o knife.  The handwriting and the lines support the structure of the cut paper, keeping it strong and sculptural, despite its apparent fragility. In these paper cutouts, I focus on the text, structure, and emotion of the letter in an elaborate investigation into the properties of writing and expression. Penmanship, word choice, and spelling all contribute to possible narratives about who that person is and what they are like. My recreating the letters is an extended concentration on peoples' inner lives and the ways they express their thoughts through writing.
She also has a fantastic little 'letter project' going on. Just send her your address, and she just might mail you one of her handmade letters, in return.
Annie was born and raised in Santa Fe, New Mexico, but is currently based in Oakland, California. Besides having had her art exhibited in numerous galleries in California, she will be featured in a show in Milan, this December.
More images after the jump.
Please click on the pictures to view them in higher resolutions.