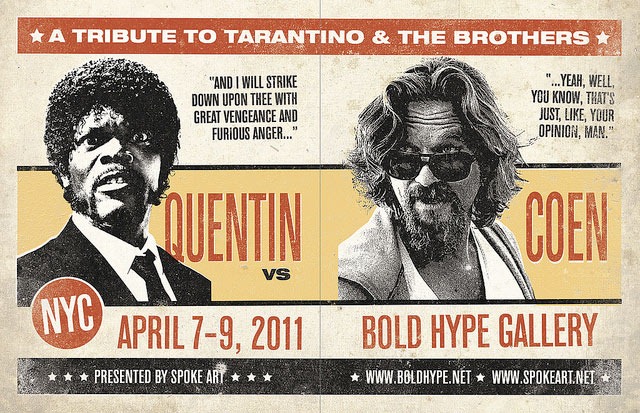 After tasting huge success with their Wes Anderson-themed 'Bad Dads' art tribute, Spoke Art will open their latest art show 'Quentin vs. Coen', on April 7 at the Bold Hype Gallery in NYC. The battle-royal style exhibit, a tribute to the films of Tarantino and the Coen brothers, will feature the artworks of over 100 artists from the new contemporary art scene.
The first installment of our "versus" series, "Quentin vs Coen" looks to expand on the concept of a pop-culture themed art show by pitting together two directors who share overlapping or similar stylistic themes, and allowing the viewer to decide their favorites. Though there are many distinct differences between the bodies of work created by both Quentin Tarantino and the Coen Brothers, their crafting of generation-defining soundtracks, the penchant for ubiquitous violence, their casting of the same actors (notably Steve Buscemi), and their ability to constantly create spectacular works of varying genres (everything from Kung-Fu to crime dramas to westerns), have cemented both Quentin and the Coens as some of the most important directors of our generation.
The show will also offer visitors a chance to buy a broad range of affordable prints, as well as original pieces of art.
Details of the show:
When: April 7th, 8th and 9th

Where: Bold Hype Gallery – 547 W 27th Street, fifth floor. New York, NY 10001
There are some must-see images of the artworks after the jump. Do check them out.