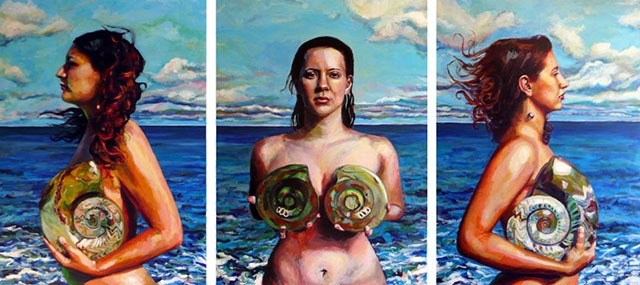 Artist Catalina Viejo is a bona fide talent, the realization of which became quite clear to me when I took a look at the prodigious amount of terrific art on her site. Her paintings are a riotous explosion of color and joyousness, infused with an effortless sensuality.
Catalina was born in Marbella, Spain, and lived there for the first nine years of her life, before her family moved to the Canary Islands.  She is a trained artist, with a B.F.A. in Painting from the Montserrat College of Art, Massachusetts.
I asked her a few quick questions which came to my mind, and she was kind enough to promptly answer them:
You have lived in various countries from the time you were a child. How did it influence your paintings/artworks?
I grew up in Spain and I went to boarding school in Dublin for 7 years. I then came to the U.S. for my undergrad and have been here since. In between all this, I have traveled quite a bit. I have been to Morocco several times (my parents live on the Canary Islands, so it's very accessible). Due to my parents job, I also was able to travel to various parts of Asia. The islands definitely have a huge influence in my paintings, especially the light and the brightness and clear colors too. My parents have a large collection of African and Asian objects as well as fossils, which often make their way into my paintings. I love their symbolism, I'm inspired by their patterns and colors.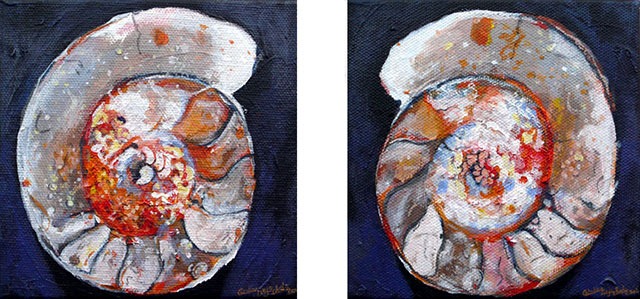 Click here to continue reading the interview, and to see more images.
Your obviously-close ties to your family are highly visible in your works. Can you tell us more about the significance of it?
Most of the figures I portray in my paintings are family and friends. They are the most important people in my life and I am constantly seeking new ways to represent them. I like to play a lot between realism and abstraction and also in various media. For example, a letter collage of my mother shows a very different viewpoint of her, than a realistic portrait of her, or a photograph.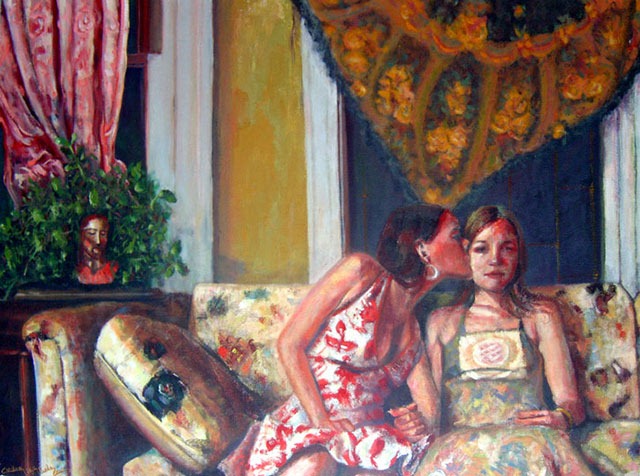 Are the images in your photography section digitally manipulated, or do you paint directly on the photographs?
The first few photos I did part of the "breast" series I painted different breasts on glass and then the girls would hold them up. Soon after though I started to get them to do a specific pose and then paint the breasts directly on the photograph. I do the same process in my most recent series of animals. I stage a pose with an animal already in mind. Print the photograph, paint the animal in and then re-shoot/scan the photo and print it again so there is no evidence of physical paint left on the surface. I think this way it makes it seem as if the animal was really there at the time!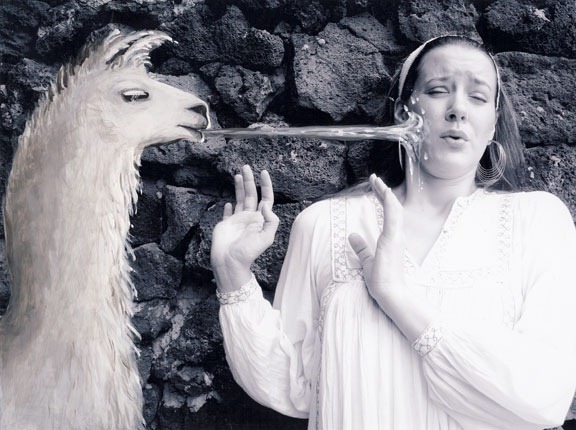 Your plans for the immediate future?
I am currently preparing for a two person show in October at the Gallery at the Piano Factory in Boston which I´m very excited about. After Christmas I'm going to take several months off though and travel! It has been a while since I've moved around, and I just really crave immersing myself somewhere. My older sister is moving to the Middle East so I'm going to go over there for a couple of months. I´m really looking forward to seeing the art there, especially all those patterns! I then intend to travel around Europe for another couple of months. I can't wait to see how I will apply these new experiences to my work.
Visit Catalina's site to see more of her art. She also has an Esty store where you can buy prints and original pieces. Both links are NSFW.
Check out some more images from her site: