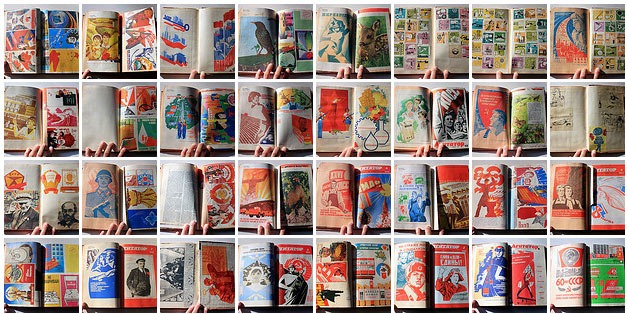 Londoner Paul Prudence serendipitously came across a wonderful scrapbook filled with Soviet-era illustrations and graphics, in a junk shop in the city of Dushanbe, the capital of Tajikistan. Paul has scanned and uploaded the images to Flickr, for our collective viewing pleasure.
Within it were pages with collaged panels containing imagery ranging from depictions of cosmonauts, political figures, musical iconography and political illustrations in Constructivist and Supremacist styles.

In some cases panels were glued on top of other images and sometimes with interesting juxtapositions – images of birds coupled with communist slogans and geometric forms.
Link to the gallery.
[Hat tip to  Quipsologies]