Photo: Chris Machian | minorwhite studio
'The Rainbow: Certain Principles of Light and Shapes Between Forms' is an art installation by renown artist Michael Jones McKean, which will be launched at the Bemis Center for Contemporary Arts in Omaha, Nebraska.
For 20 minutes, twice a day, a huge rainbow will be artificially created over the roof of the Bemis Center. A decade in the making, this wonderful art installation is a labor of love for McKean, a professor at the Virginia Commonwealth University, who has collaborated with numerous experts and scientists for the project.
The installation will use nothing but sunlight, renewable energy and 100% captured rainwater.  The harvested rain water will be stored in six 10,500 gallon tanks around the building, and will be pumped through nine nozzles mounted on the 20,000 square foot roof of the center. At timed intervals, a dense waterfall will be projected over the building, allowing the rays of the sun to create one of the most beautiful optical phenomena found in nature. The atmospheric conditions and the changing angle of the sun will make each rainbow to have a singular and unique quality to it.
Click here to continue reading the post, and to see more images.



Photo: Michael Jones McKean
Snip from the description of the project:
Whether a majestic arch in the sky that appears after a short spring shower or a small, homespun rainbow created with a garden hose on a sunny day, a rainbow operates as an egalitarian visual experience. It is by nature temporary, undetermined, and wonderful. The Rainbow exists somewhere between real and representation, actual and artifice. McKean is deeply interested in the rainbow as a complex form — ephemeral and steeped in mythology — that possesses an out-of-time existence as pure optical phenomena. The image of a rainbow extends through time, surpassing our known and archived histories, and operates as a constant unchanged form. Although the symbol of a rainbow has been co-opted, politicized, branded and commodified, an actual prismatic rainbow still has an ability to jolt us from the everyday. It feels hopeful, yearning, optimistic, ghost-like and meaningful. Whether perceived immediately as an artwork or not, the experience holds the power to connect diverse publics through an intangible, shared encounter.
Depending on rainfall levels, the exhibit will begin in early June and run till September 15. An inaugural series of events is planned for Thursday, June 21 through Saturday, June 23, and will  feature public discussions, presentations by the artist and tours led by the project team.
Link to the Bemis Center or Contemporary Arts site.

 Photo: Hesse McGraw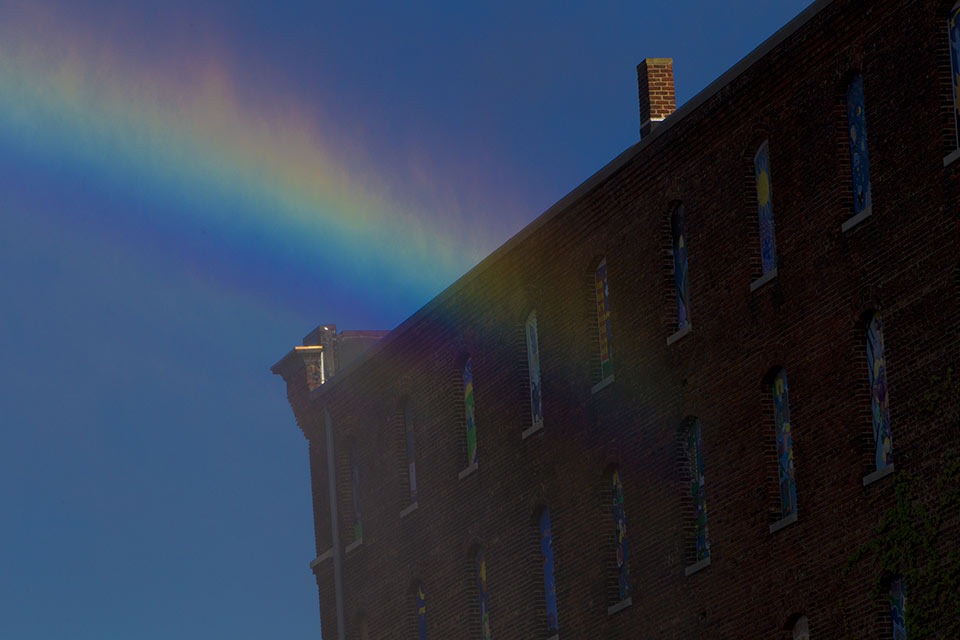 Photo: Chris Machian | minorwhite studio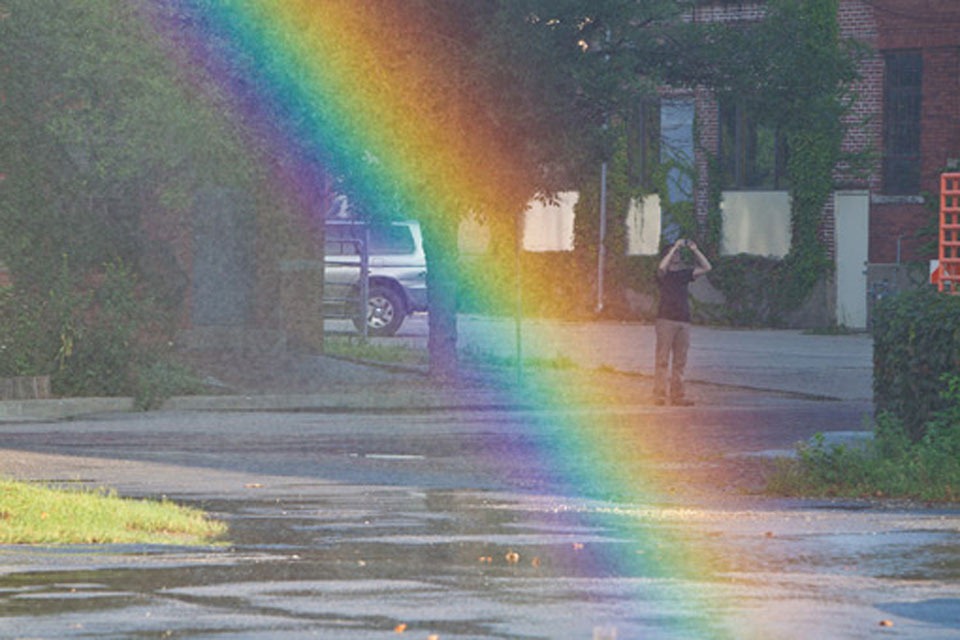 Photo: Chris Machian | minorwhite studio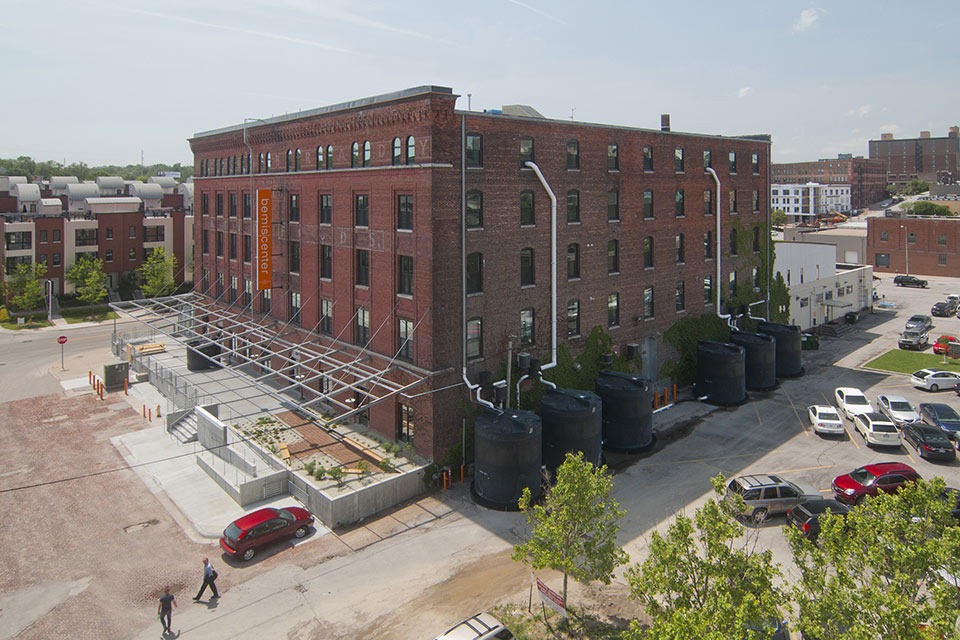 Photo: Larry Gawel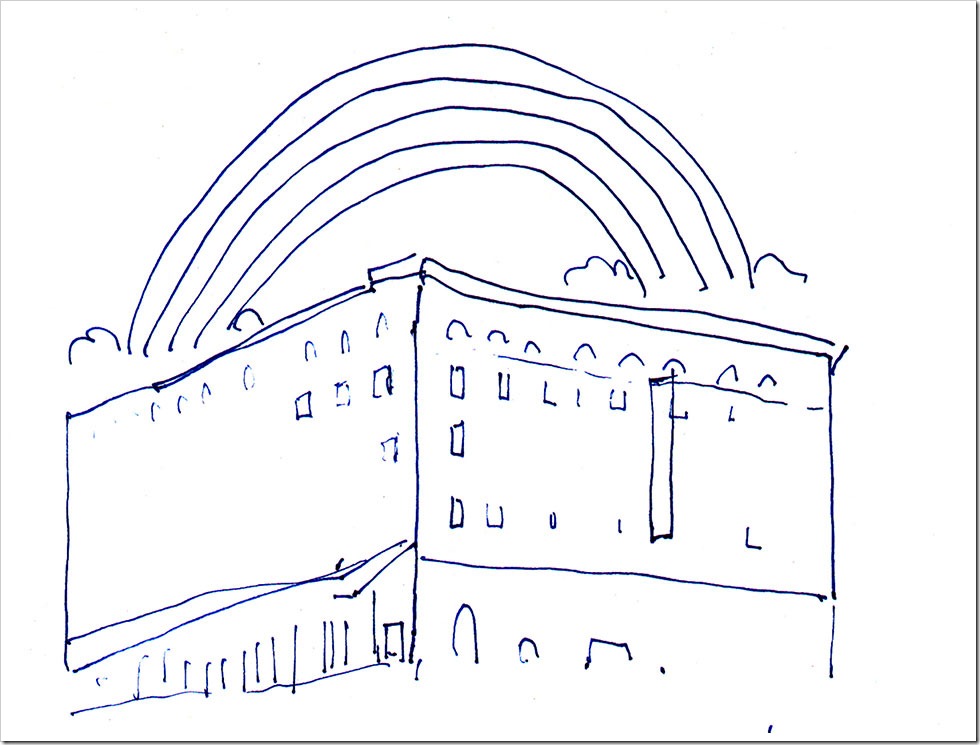 Image: Michael Jones McKean