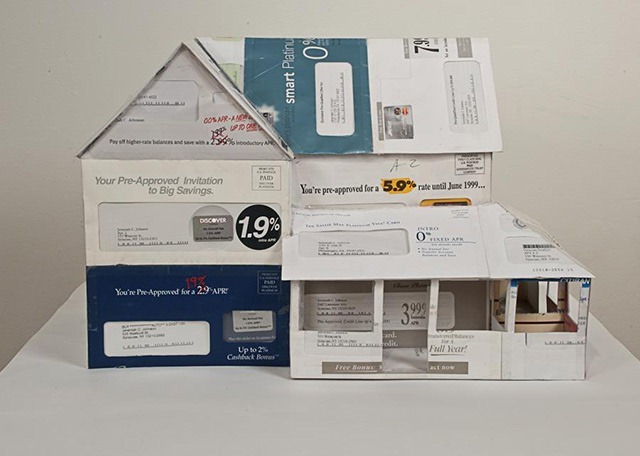 Pennsylvania-based artist, Jeremiah Johnson created these mini houses by cutting up and piecing together unopened credit card applications that were addressed to him. What makes this series more poignant than humorous is that fact that he modeled the houses on real ones that had been torn down around his hometown to make way for the booming fracking industry. The series was conceived and constructed during the debilitating housing crisis which affected many American lives.
Johnson was raised on a fruit and flower farm in the mountains of north central Pennsylvania. His work ethic, he reveals, was influenced by his simple upbringing. He also makes very large paintings that are inspired by the art of "Thomas Hirschhorn with a 70's/60's twist and pop icons mixed in."
Johnson received his BFA from Tyler School of Art of Temple University, before going on to get his MFA in print, paper and book arts from Syracuse University.  He currently teaches printmaking at Lycoming College, and arts and craft courses for the Pennsylvania College of Technology. He also works full time in his studio making art about culture, folklore, and survival.
Johnson's houses and paintings will go on show at his first solo exhibition, "Never Enough," which will be presented by the Converge Gallery from February 7, 2012 to February 14, 2012, at Kostabi World, 24th Street, New York.
Visit this link for more details.
Hit the jump to see more images, and some videos of the artist in action.