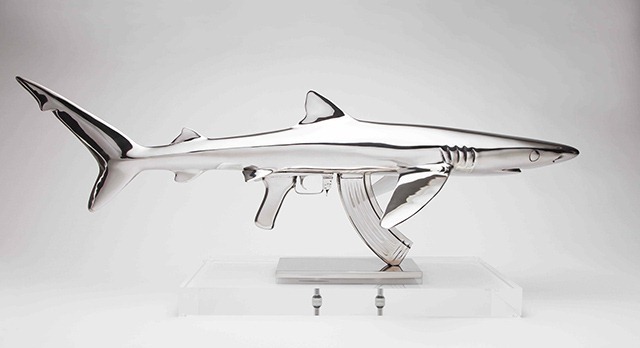 Christopher Schulz, Blue AK, 2013, marine grade stainless steel, 17 x 44 x 18 inches, $28,600
Christopher Schulz, White Tip Uzi, stainless steel, 24 x 13 x 7 inches, $8,800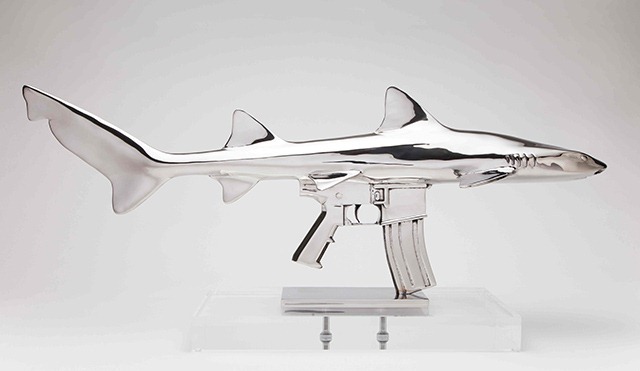 Christopher Schulz, Leopard AR, 2014, marine grade stainless steel, 16 x 36 x 11 inches, $13,600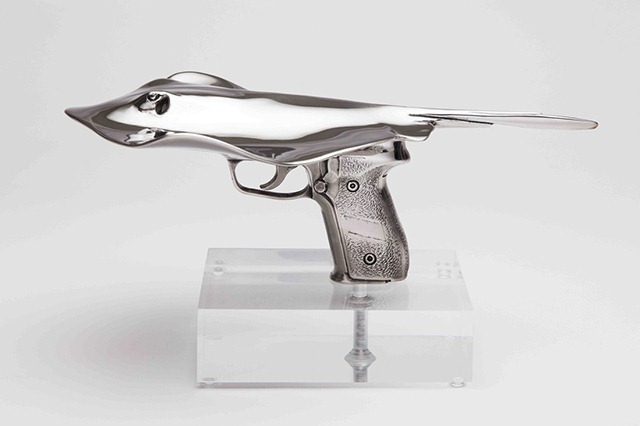 Christopher Schulz, Raygun, 2014, edition no: 1/27, marine grade stainless steel, 14 x 8 x 8 inches, $4,250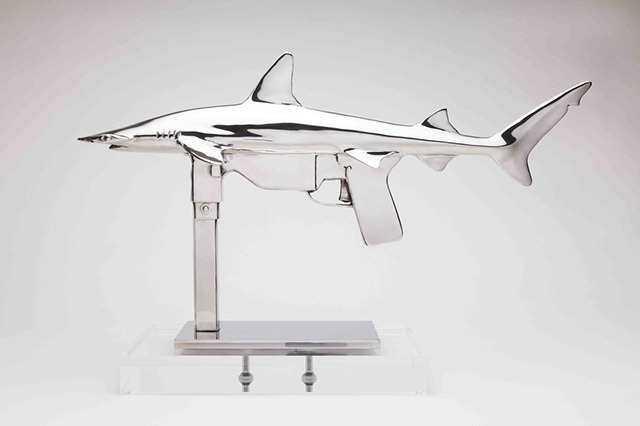 Christopher Schulz, Grease Gun, 2014, marine grade stainless steel, 24 x 16 x 8 inches, $8,400
With his surreal 'Sharkgun' sculptures, Los Angeles-based sculptor and painter Christopher Schulz draws parallels between the huge backlash against firearms and the irrational dread humans feel about sharks. The sleek sculptures, made using marine grade stainless steel, will be on exhibit at the George Billis Gallery, NYC, until February 21, 2015.
The artist, on his works:
As a culture, we have been sold on images of fear. When we see these iconic images they seem to instantly trigger a sense of unease in a viewer. Most of these subconscious emotions come from misinformation or a prescribed reaction. Growing up next to the ocean, sharks seemed to put these fears into me, and now like a large percentage of the world, guns seem to have the heaviest reactions. A reality is that neither one are worthy of such a label as "killer", but when the human element is added, unpredictability becomes threat.

'Sharkguns are hybrid manifestations of these iconic death dealers. The way in which these works are presented, the way the ideas have been distilled, brings almost a whimsical quality to these beasts, hopefully rendering them unthreatening. With this chosen medium, they become an attractor of curiosity, one that brings us closer to our fears by showing these items in an elegant, beautiful way.
While one might or might not share his views about firearms, the sculptures themselves are as stunning as their prices which can reach 5 figures.
You can visit the George Billis Gallery for more details.
[via JazJaz Submissions]