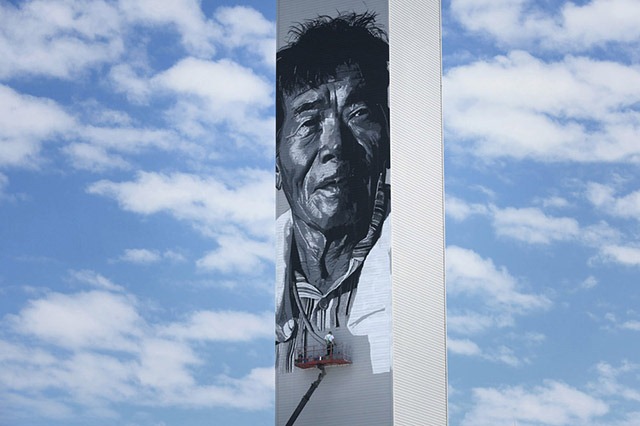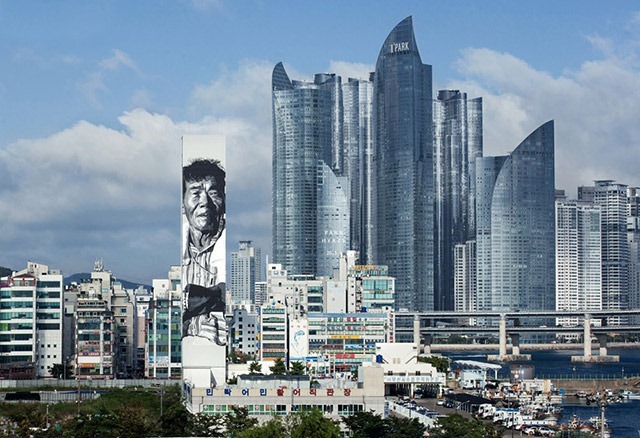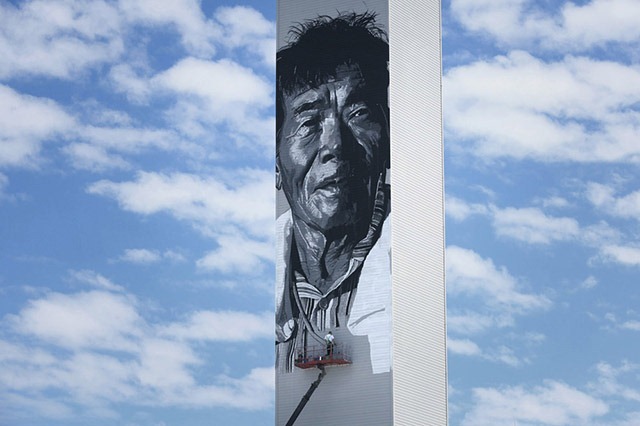 German artist Hendrik Beikirch is the creator of this huge mural on the Haeundae I'Park building in South Korea's largest city, Busan. The 70 meter (230 ft.) mural, said to be the tallest in Asia, is a monochromatic hand painted rendering of a local fisherman, and is representative of the stark contrast between the haves and have-nots in South Korea.
Though Beikirch's take on the fishing community may look overly sympathetic, he actually has a lot of admiration for these hardworking men and women.
The mural presents a local fisherman in his 60's, staring into an intangible space with his face marked with wrinkles, still wearing long plastic gloves – a sign that there are still men and women like him at this age working for a living. This dying profession entails six to seven days of work in a week, under difficult circumstances, while just receiving a mini- mum amount of financial support, just enough to buy certain needs.

However, despite the story behind the portrait, the painting conveys a positive message seen in the emotion shown by the fisherman. In addition, underneath it, Beikirch added a statement in Korean letters which roughly translate to "Where there is no struggle, there is no strength."
Beikirch's large monochromatic works, with their distinctive reduced color palettes, can be found all over Europe, Canada, the USA, Mexico, Chile, Australia, Taiwan, Hong Kong, Thailand, Russia, among other countries. His ongoing series, "Faces of Hope and Struggle" is inspired by the people whom he encounters on his travels.
Link. (Thanks, Martin!)
More images after the jump.