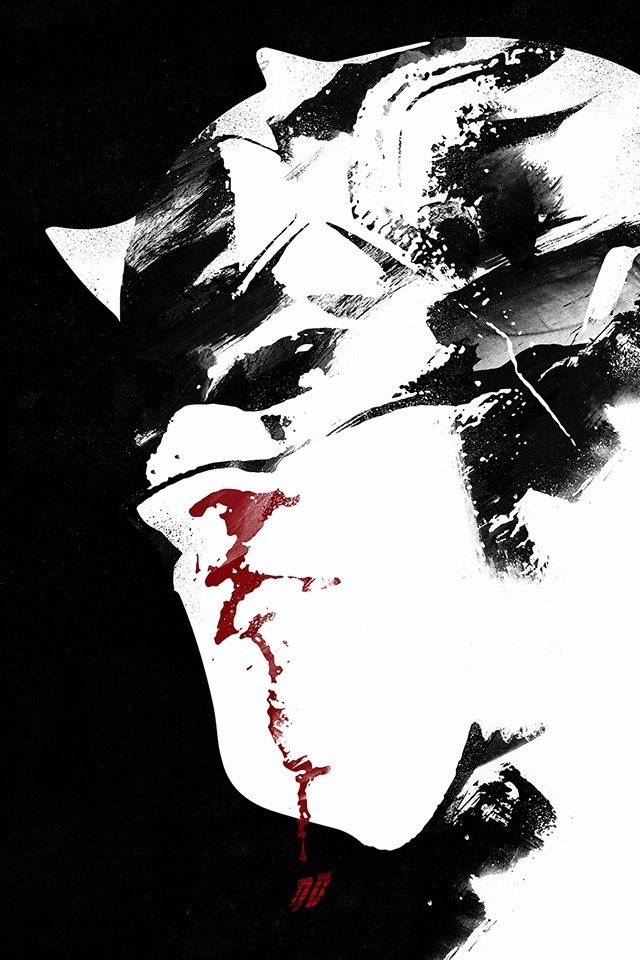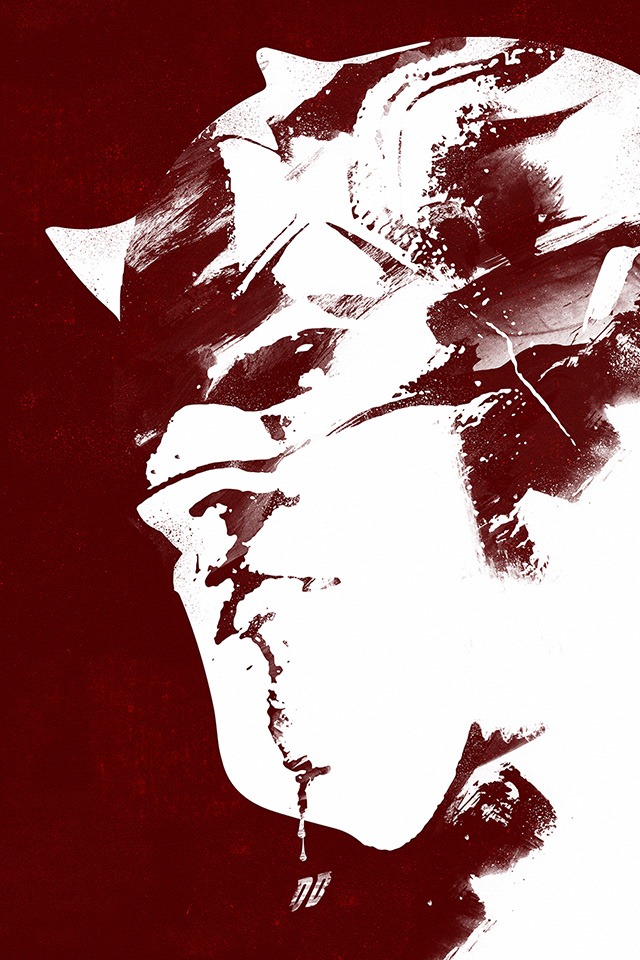 A terrific pair of posters based on the gritty new Netflix series, by illustrator duo 'I AM CRIME'. You can see more of their pop culture-themed artwork on their Tumblr and Instagram feed. Prints of select illustrations are available at shop at Society6.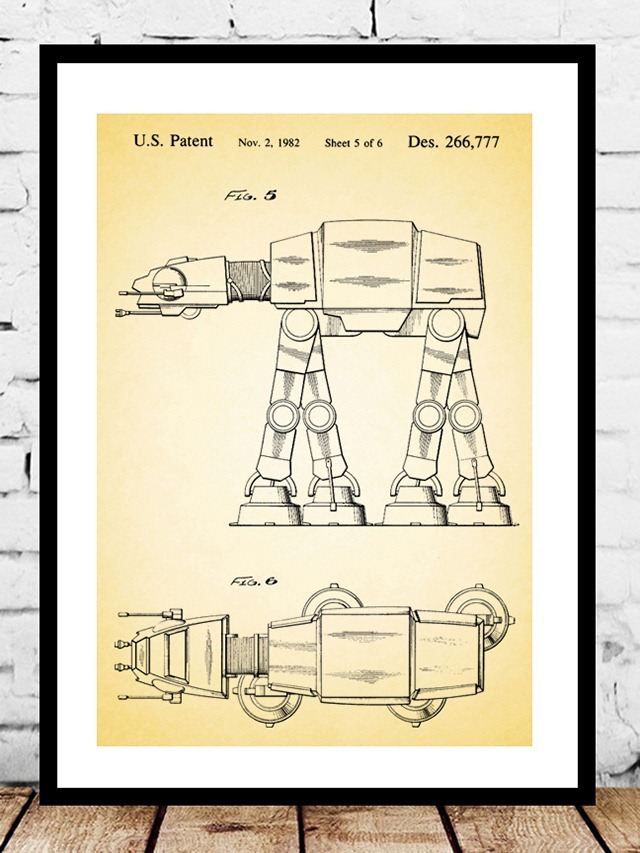 Imperial AT-AT Walker Toy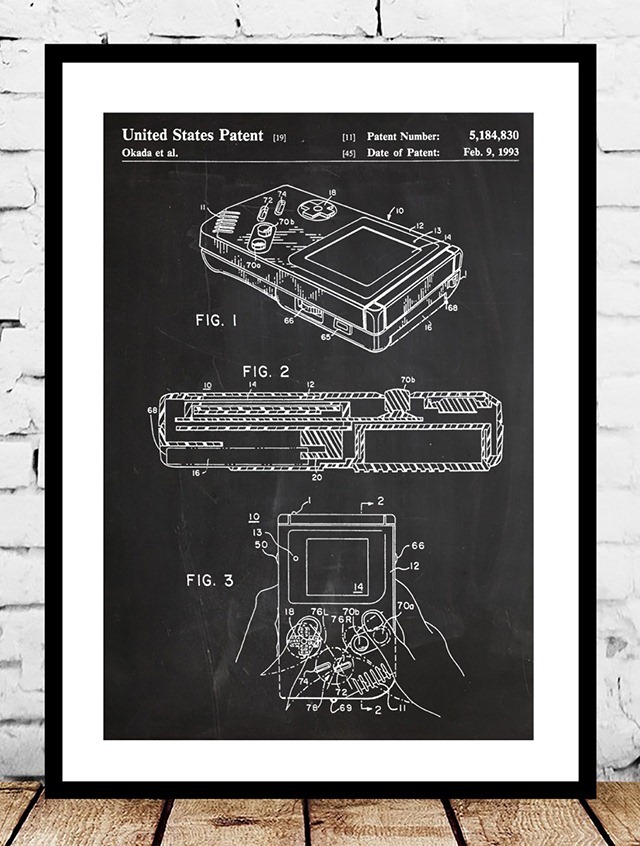 Nintendo Gameboy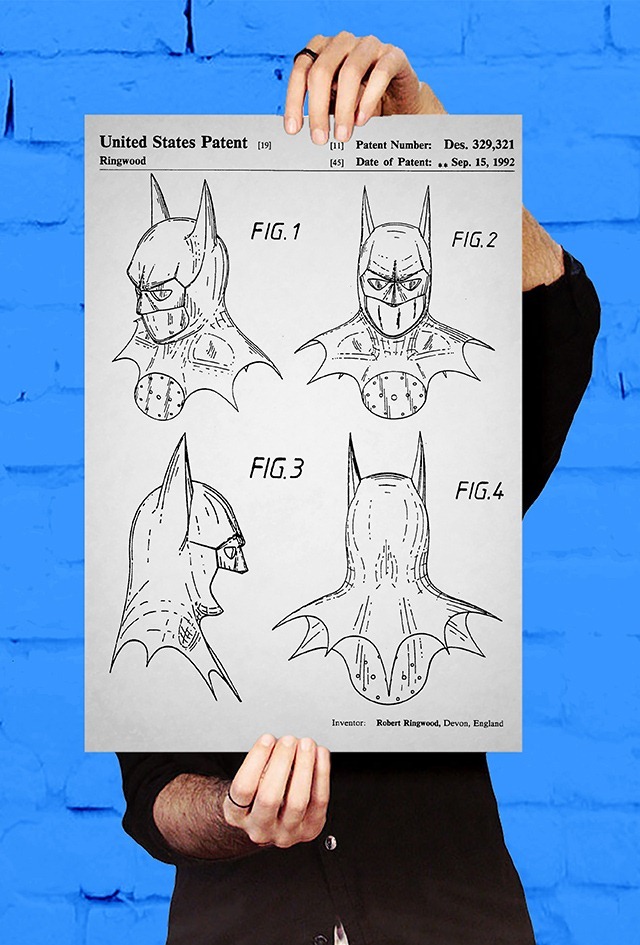 Batman's Cowl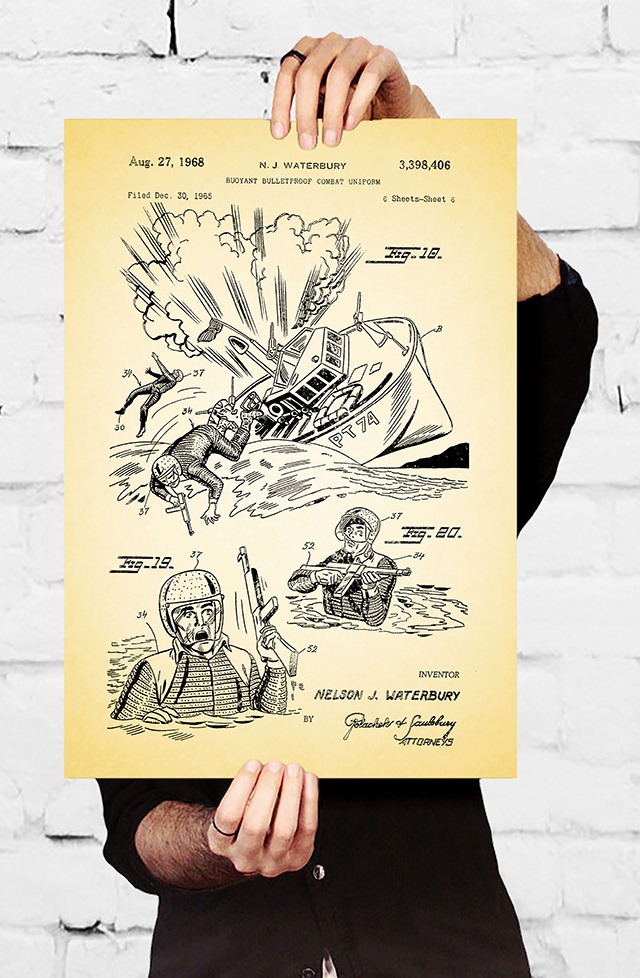 Buoyant Bulletproof Combat Uniform by N. J. Waterbury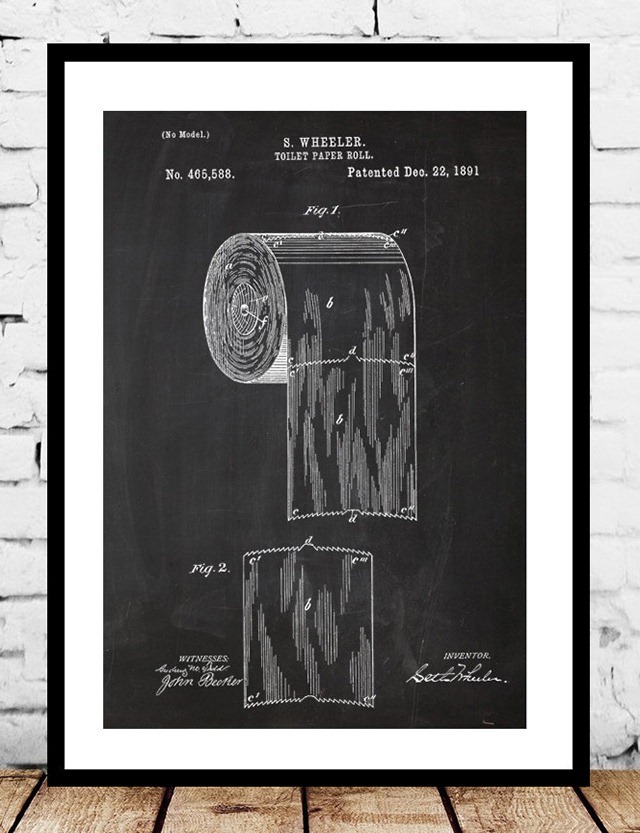 Toilet Paper Roll
Jason Stanley digitally cleans up and enhances vintage patents from over the past 200 years, and turns them into stunning prints which we would love to hang on our walls. The patents, which he chooses to work on, run the gamut from those for common household items to action figures based on iconic movie characters.
The artist says that "his goal is to bring these inventions (that we have all grown to love and benefited from) back into everyday life in the form of art." 
Jason Stanley is based in Bowling Green, Kentucky. You can buy over 300 prints in many color and size options at his Esty shop.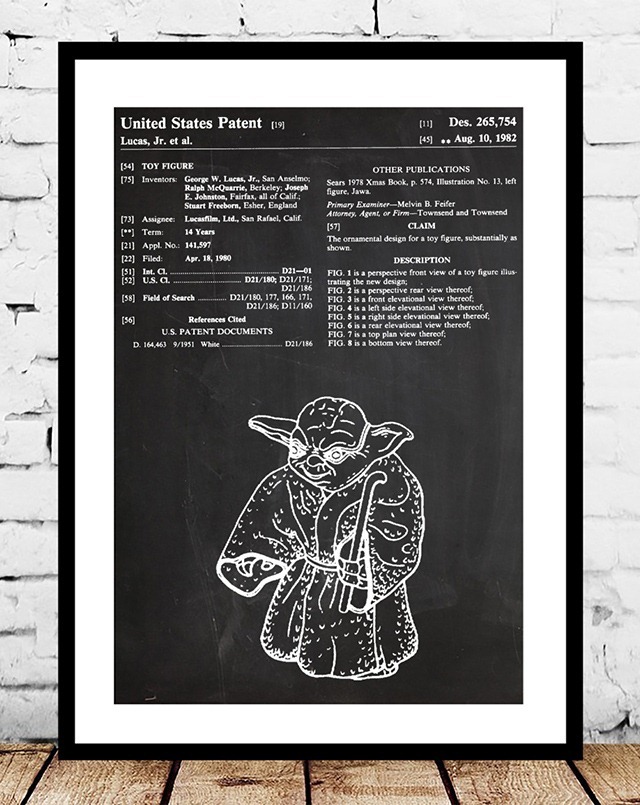 Yoda Action Figure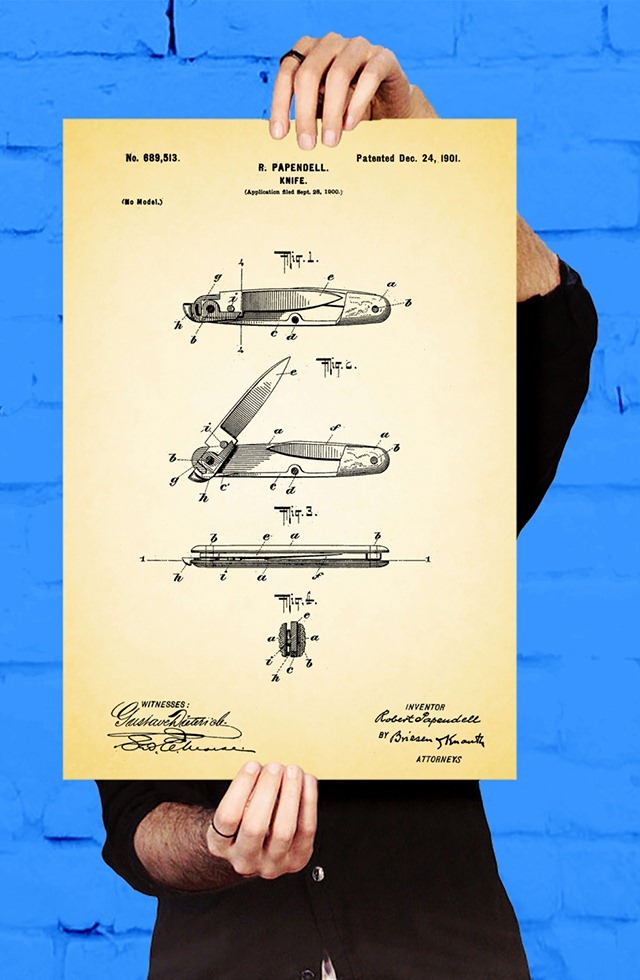 Pocketknife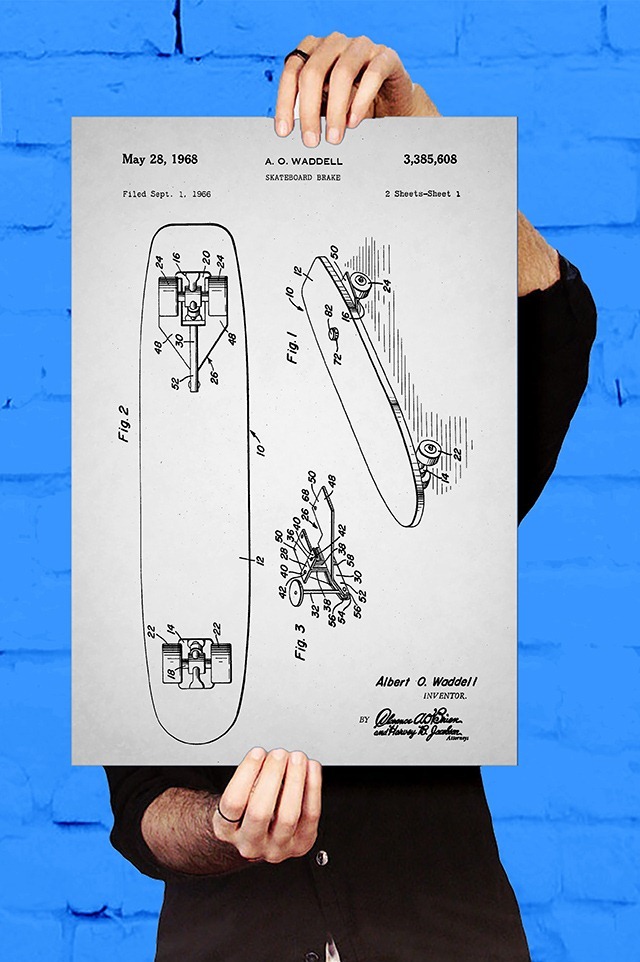 Skateboard Brake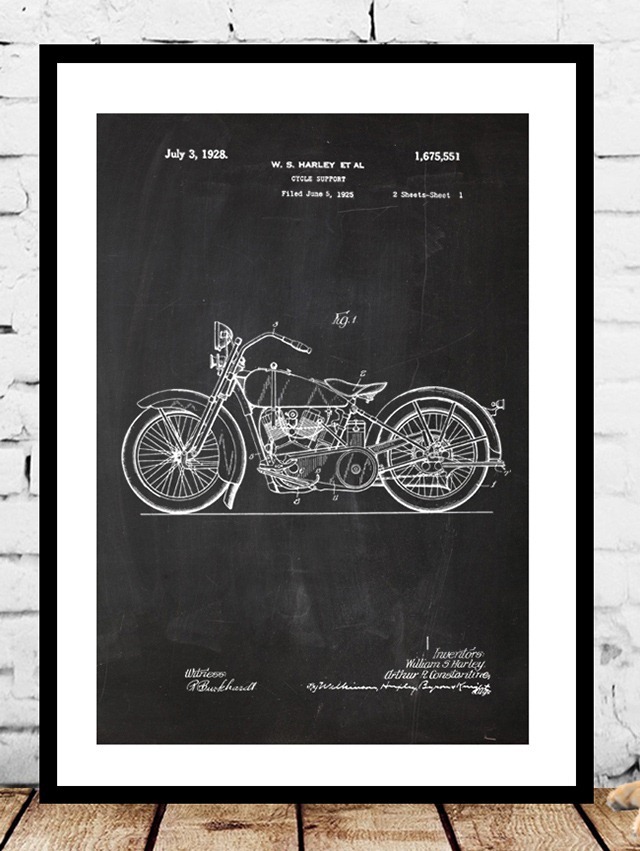 Harley Davidson Supports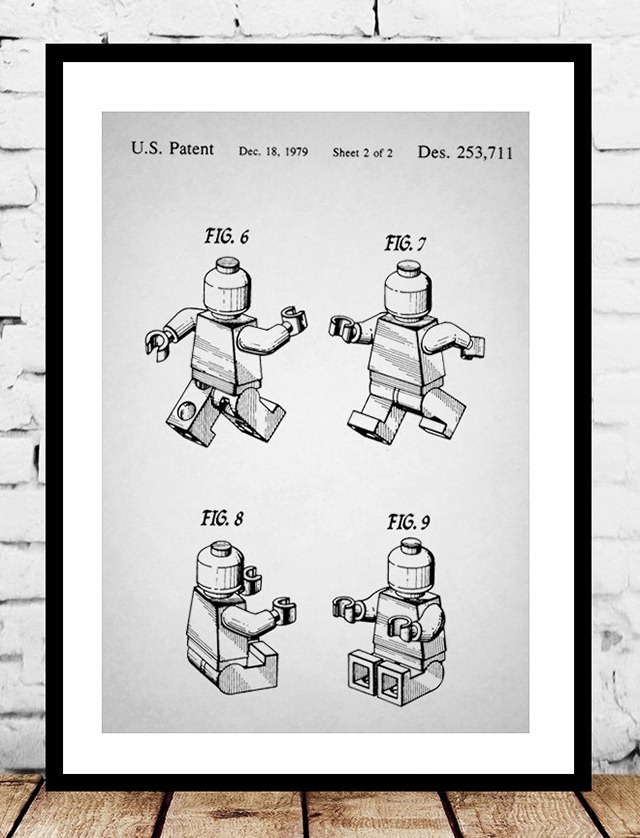 LEGO Man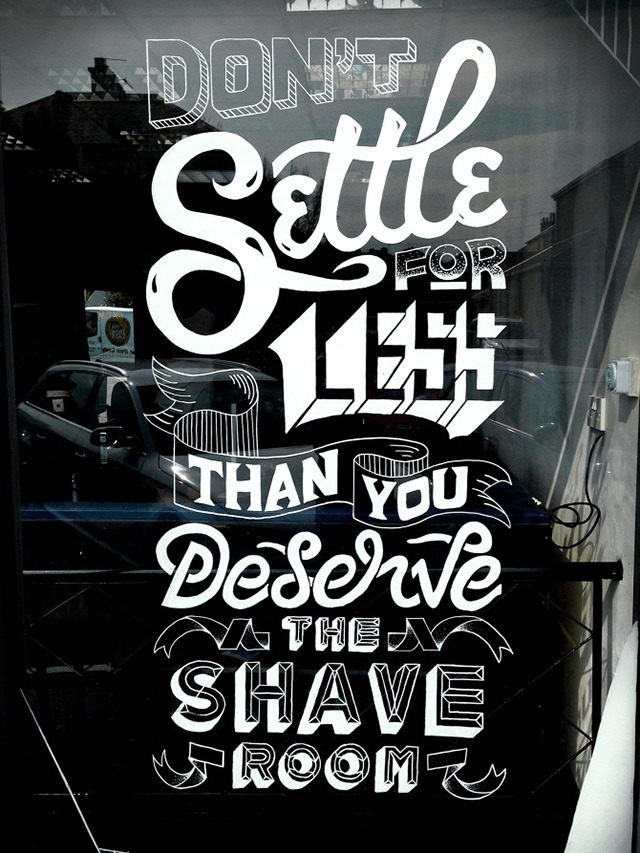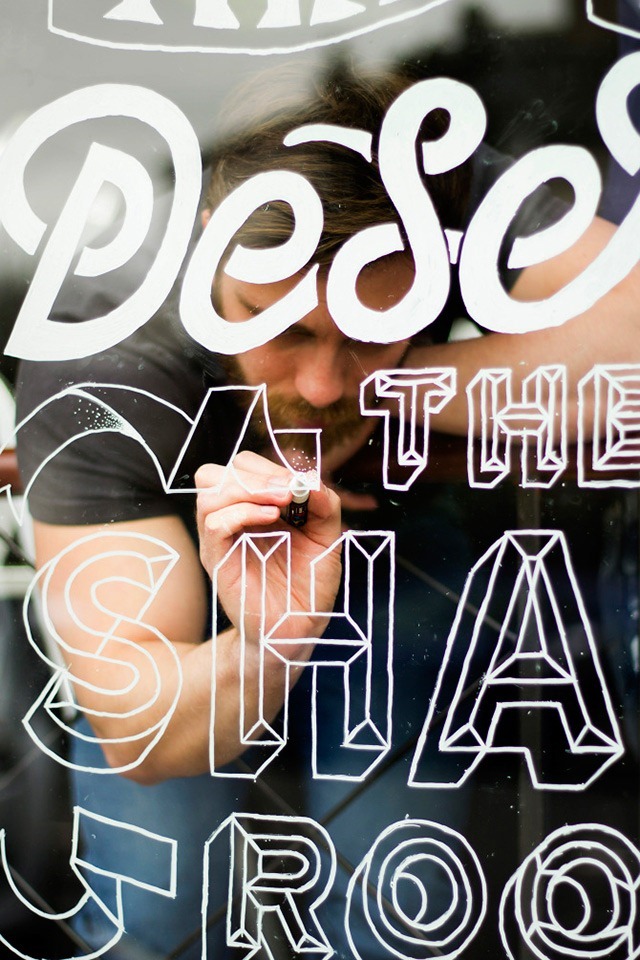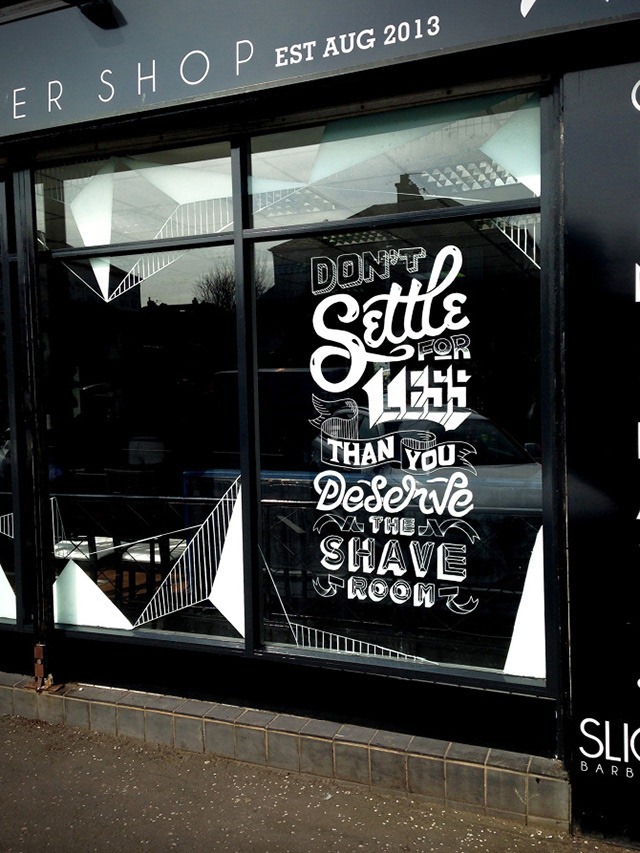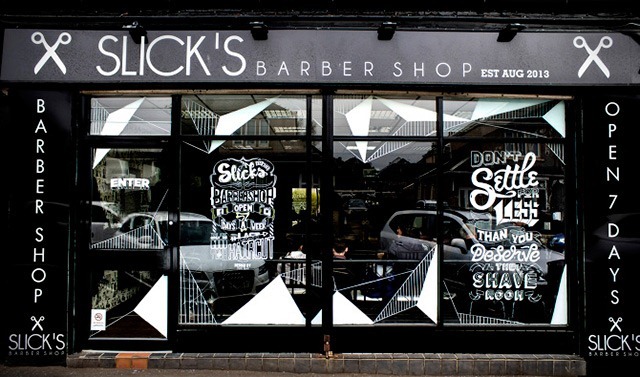 Here is some brilliant hand-drawn typography inspiration for you folks!
London-based designer Craig Black sent in images of the lettering work that he and his team made for Slick's Barbershop in Glasgow, United Kingdom. The mural follows the award-nominated window art (seen below), which Black created for the glass front of the establishment.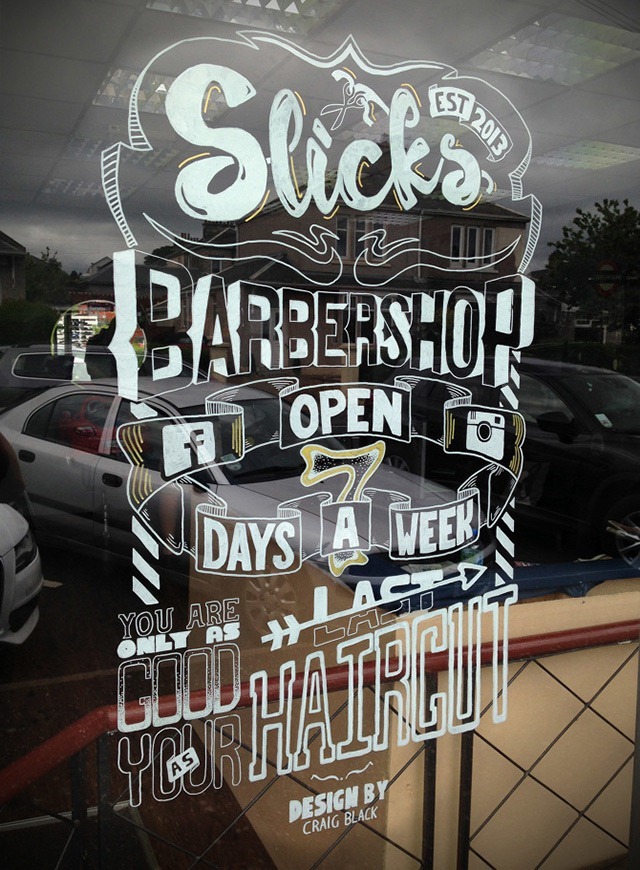 Black says that he has a "strong admiration for all letter-forms and typography hailing from Glasgow, Scotland." He graduated in 2013 with a degree in Design in Visual Communication at the University West of Scotland, and has been working for both major clients like the BBC as well as smaller independent companies. 
You can find more of his excellent work on his site and Behance.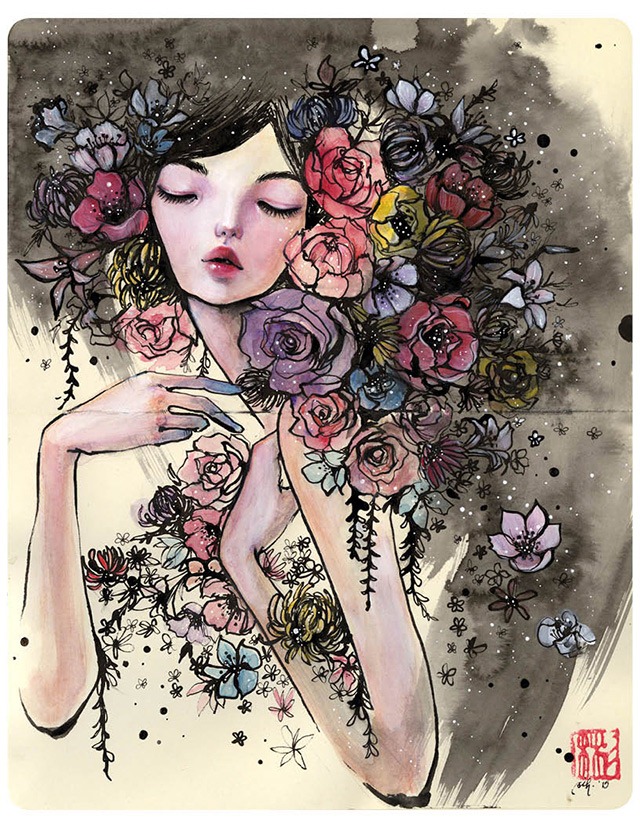 Stella Im Hultberg – "Only Love Can Break Your Heart"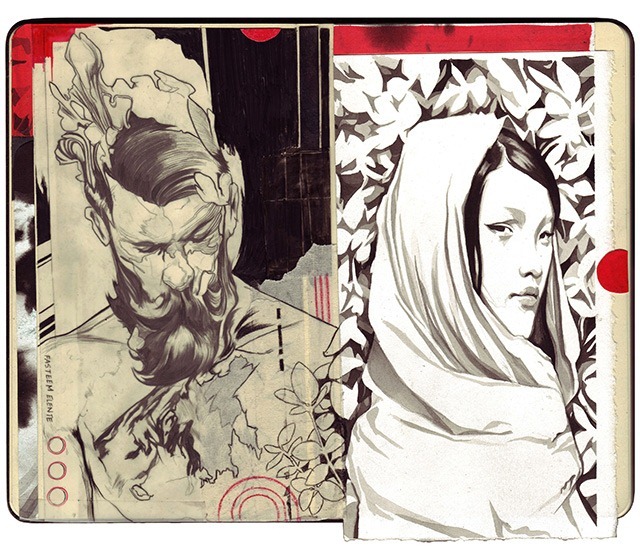 Nimit Malavia – "Sometimes Slow to Heed Advice"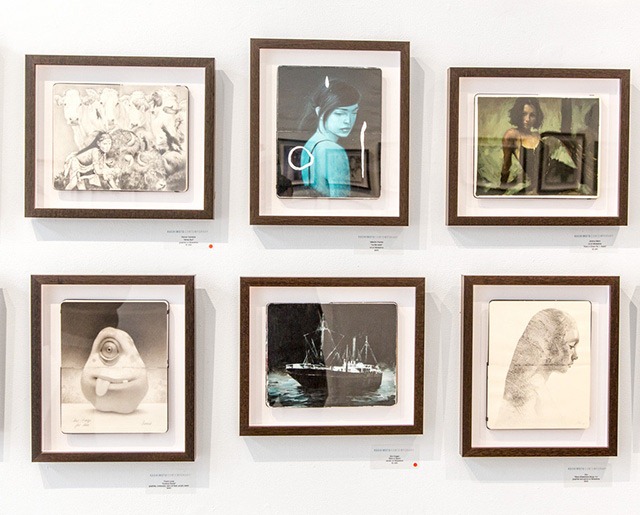 Currently on view at Hashimoto Contemporary in San Francisco, "Moleskine Project IV" is the 4th edition of the annual group show co-curated by artist Rod Luff and gallery director Ken Harman. The show features a terrific and eclectic selection of artwork created on blank Moleskine sketchbooks by 70 artists from around the world.
The show will be on view until Saturday, April 25, 2015. You can also buy the original paintings and illustrations at the gallery's online store.
Here are a few images of the artworks for your viewing pleasure.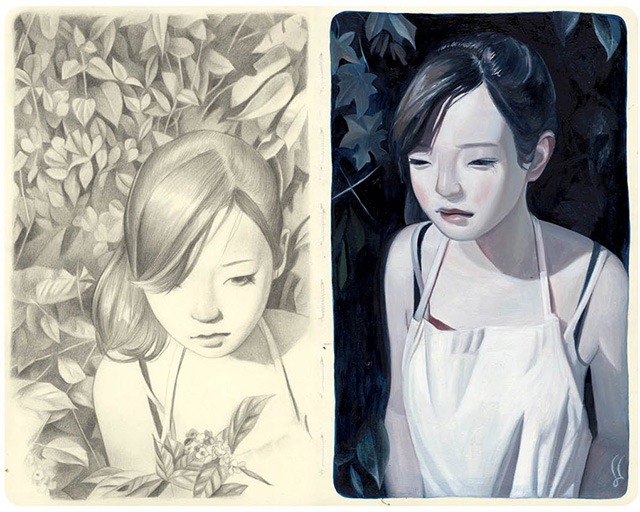 Joanne Nam – "Sisters"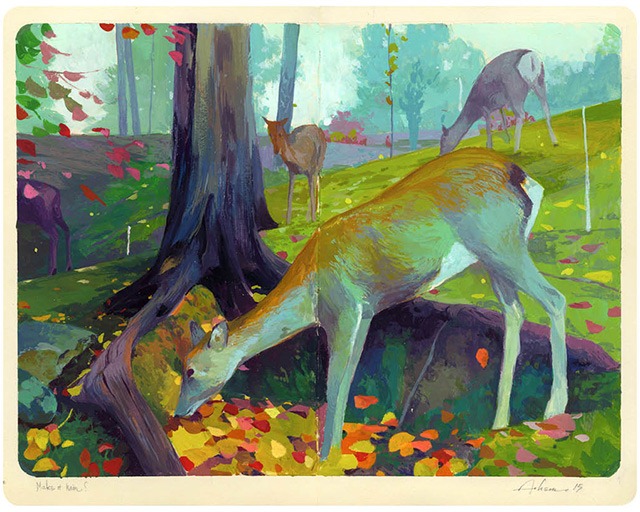 Andrew Hem – "Make It Rain"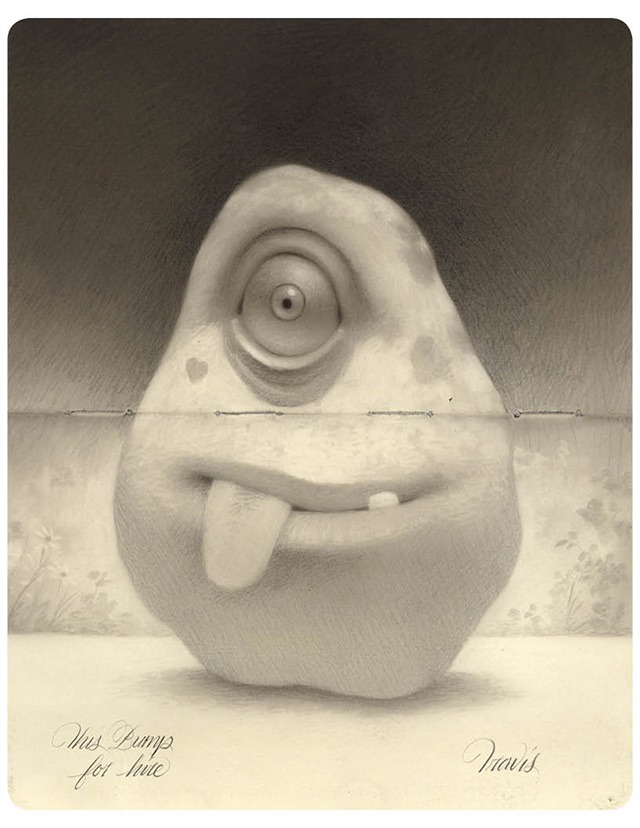 Travis Louie – "Curious Bump"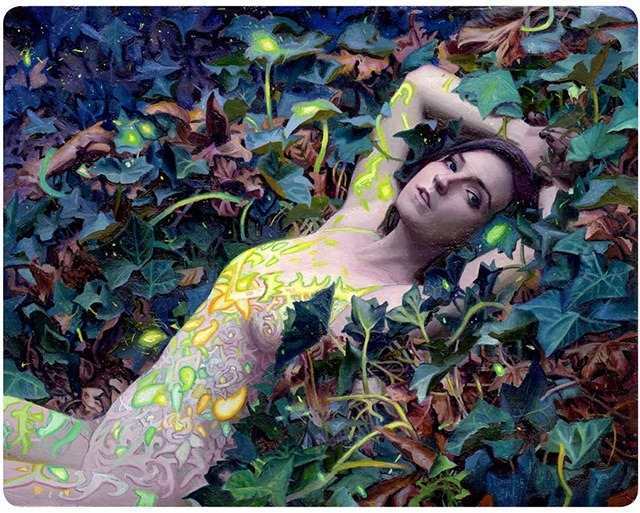 Rodrigo Luff – "Undergrowth"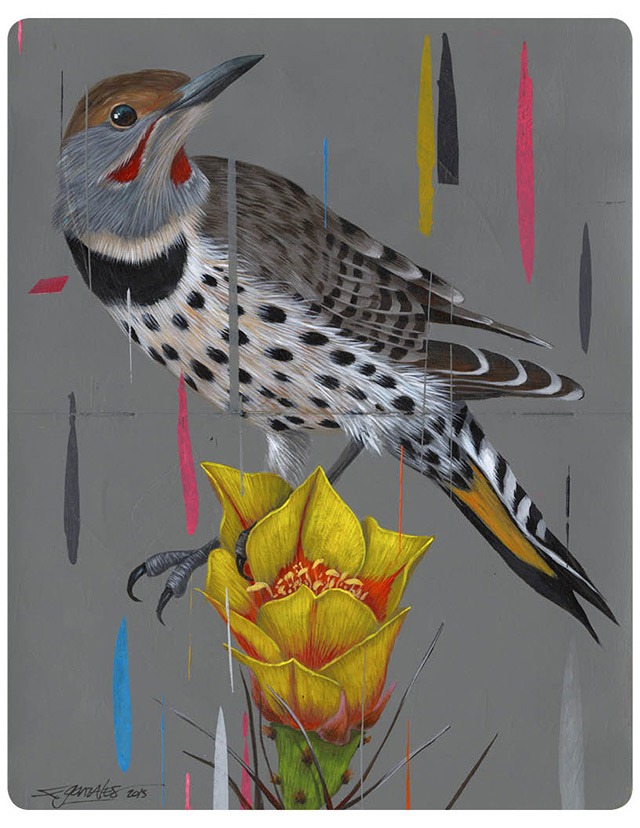 Frank Gonzales – "Northern Flicker and Opuntia Bloom"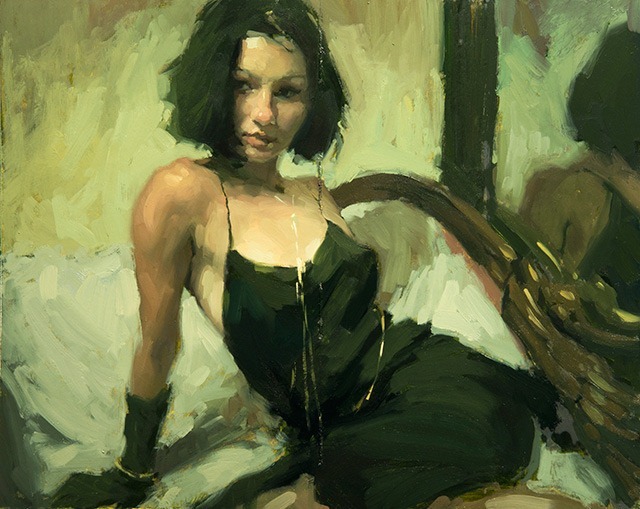 Jeremy Mann – "Note in Green No.1, Nadia"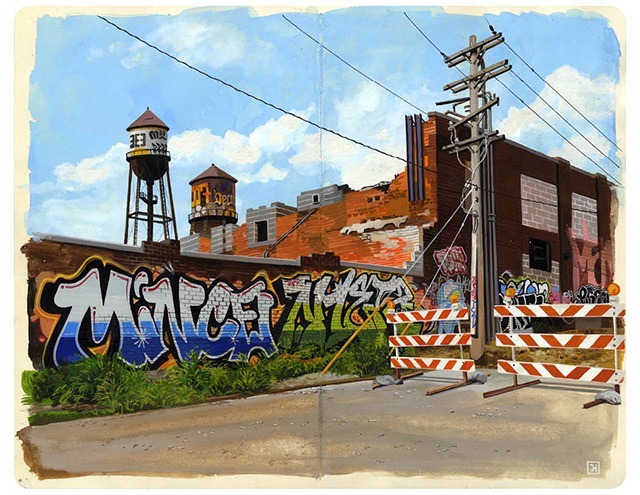 Jessica Hess – "Detroit I"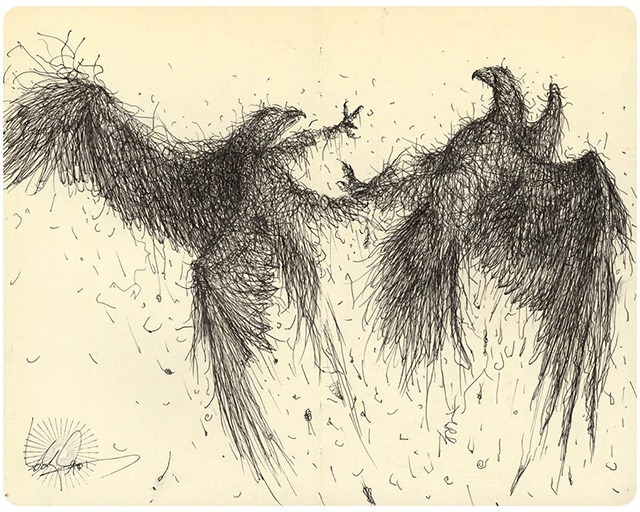 DALeast – "Defoliation U"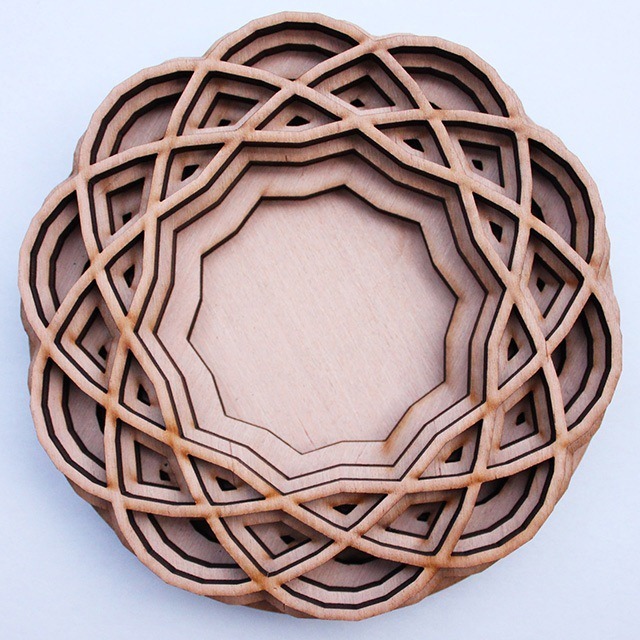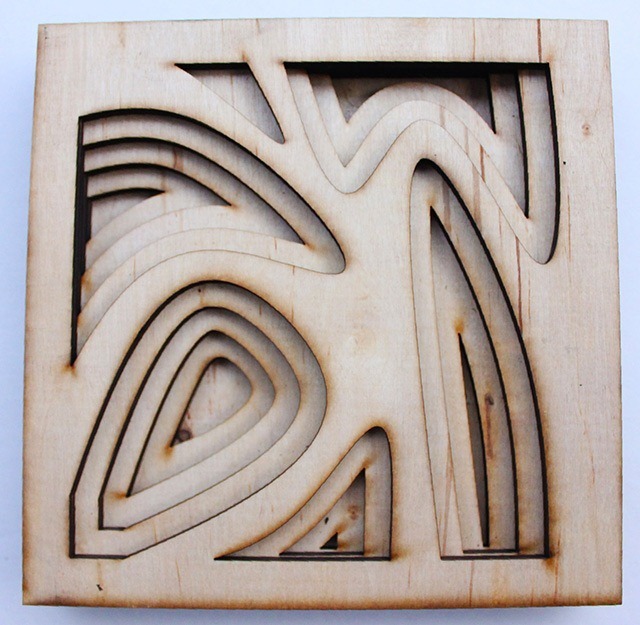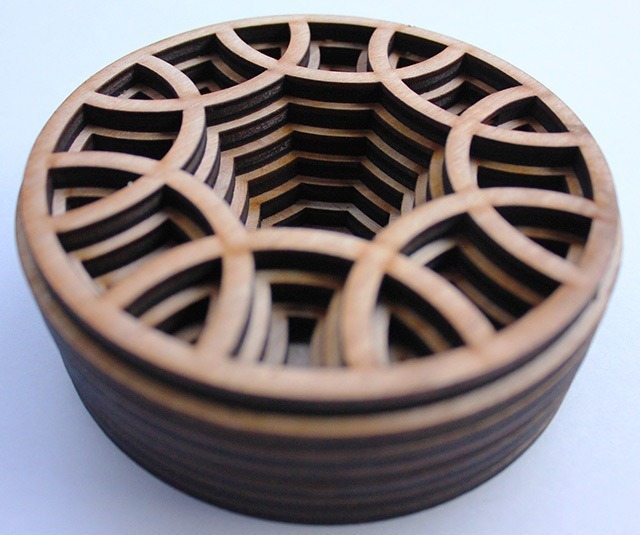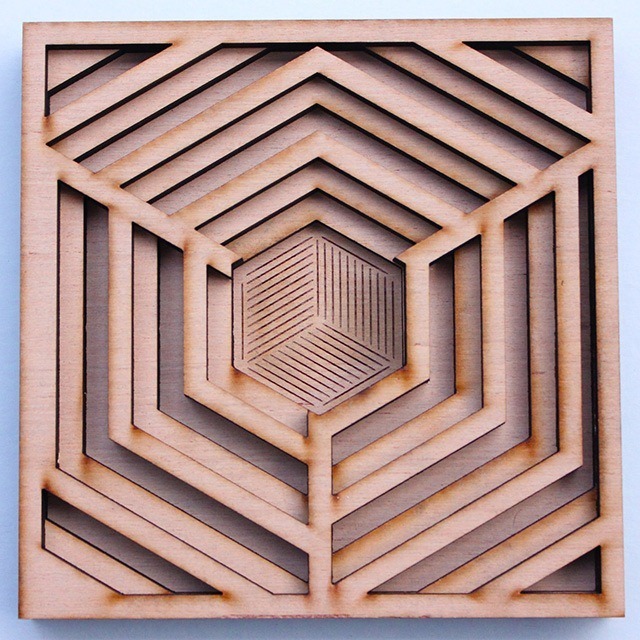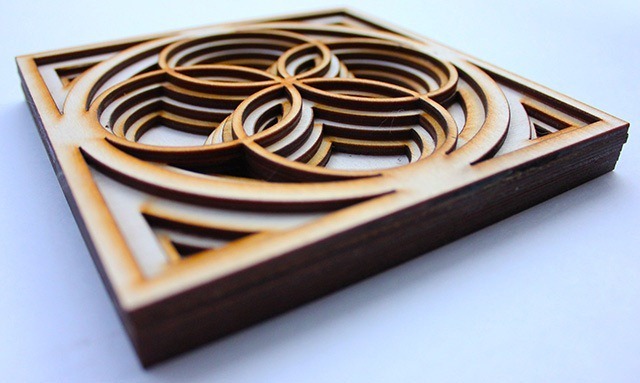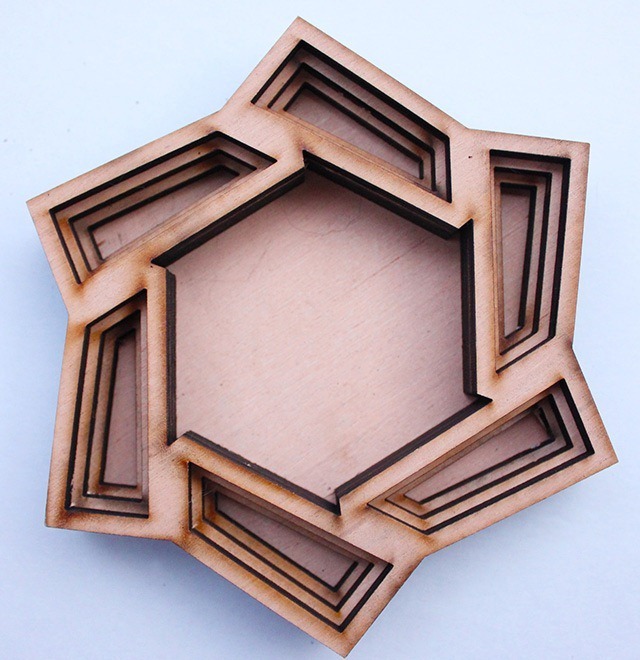 Ben James, a 3D generalist based in Louisville, KY, creates his elaborate laser cut wood designs using an unique layering method. Using Autocad to design the patterns, he creates a base design and uses an expanding/banding technique to create the layers. He then cuts each segment out of birch wood with a laser cutter, and then glues them together to create a single cohesive artwork.
James says that he has a background in graphic design (a 4 year computer science degree from Purdue University), but over the years he gained experience is using many different applications. You can buy his creations and also place custom orders over at his Etsy store.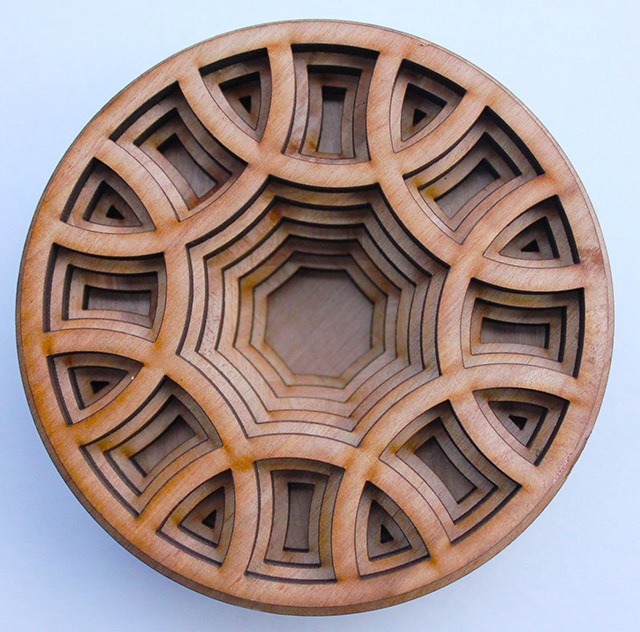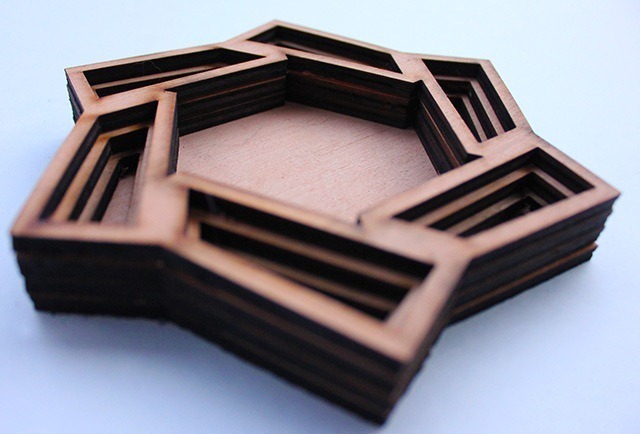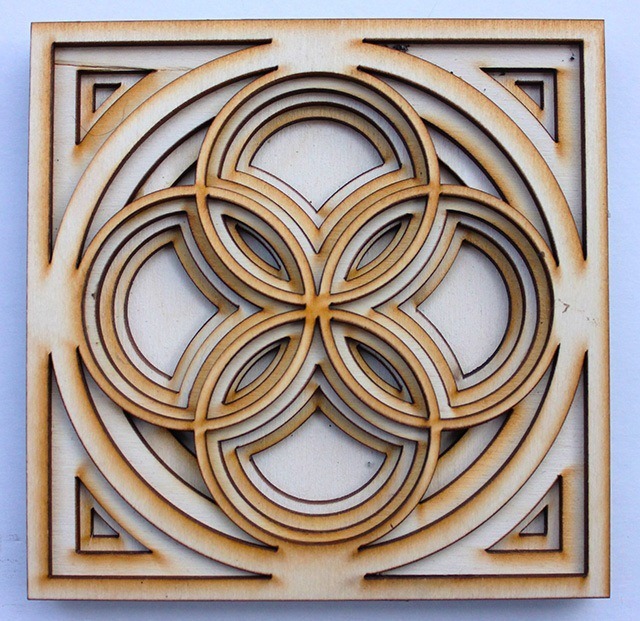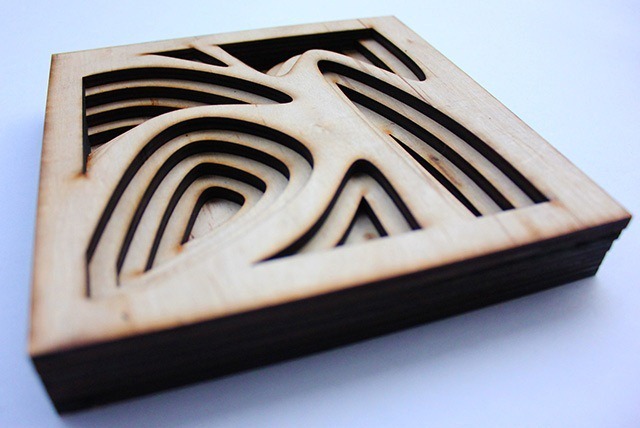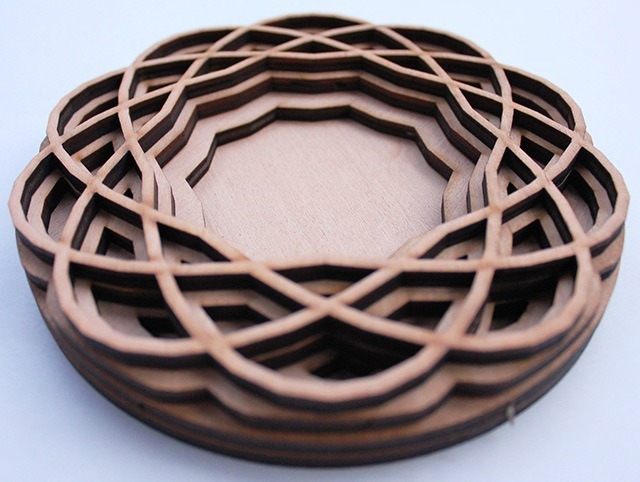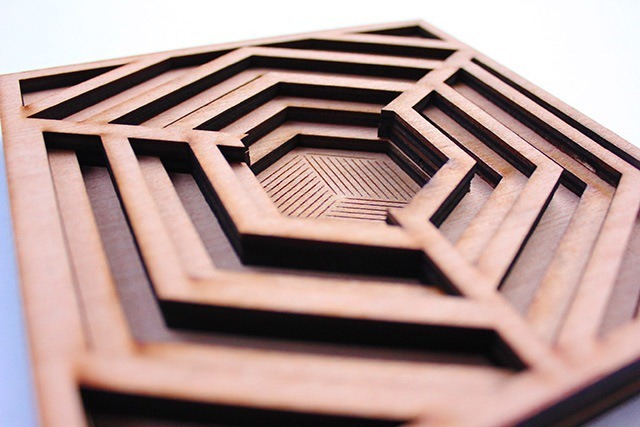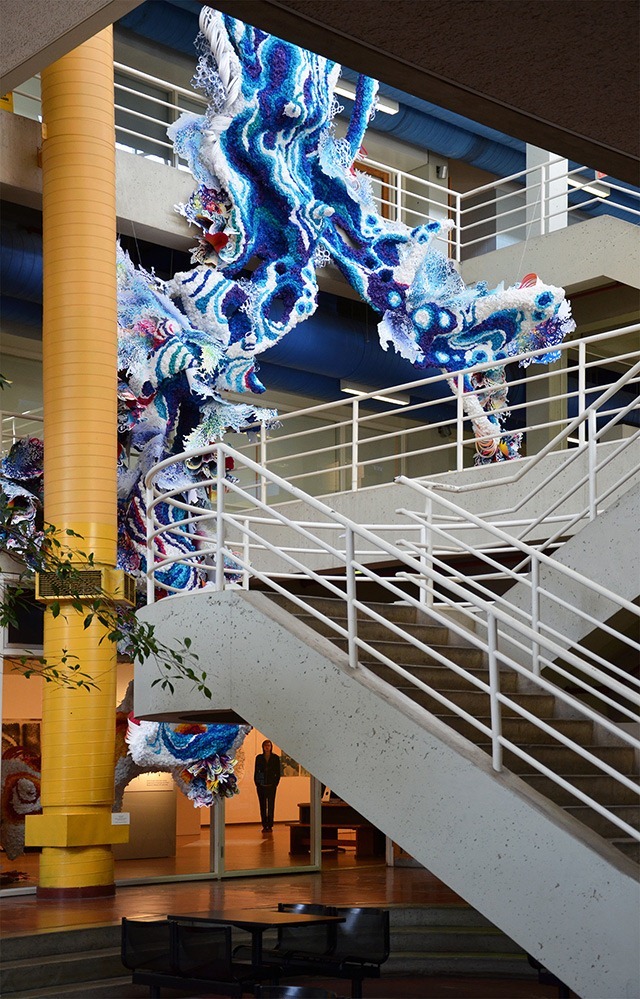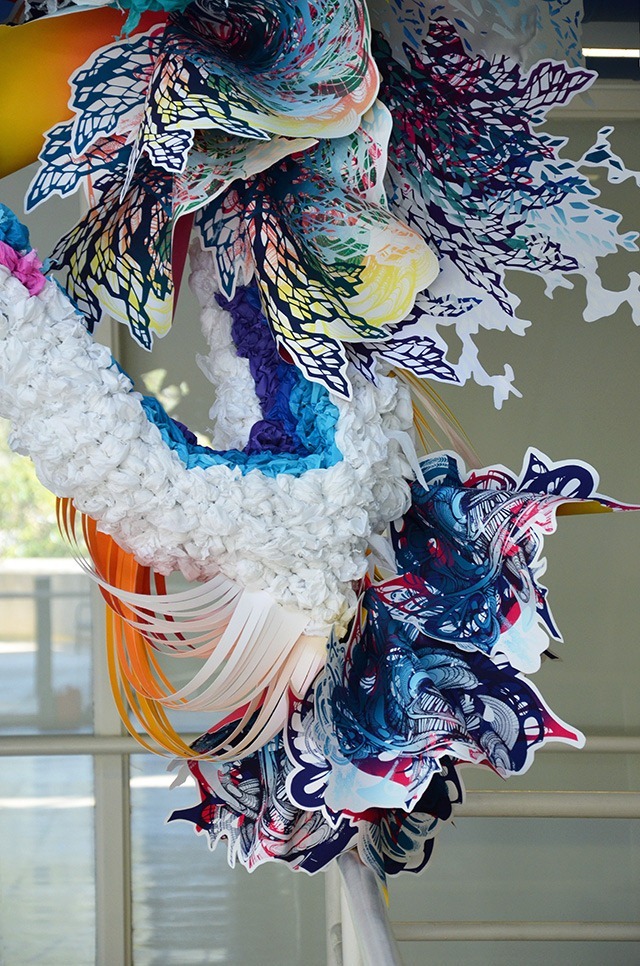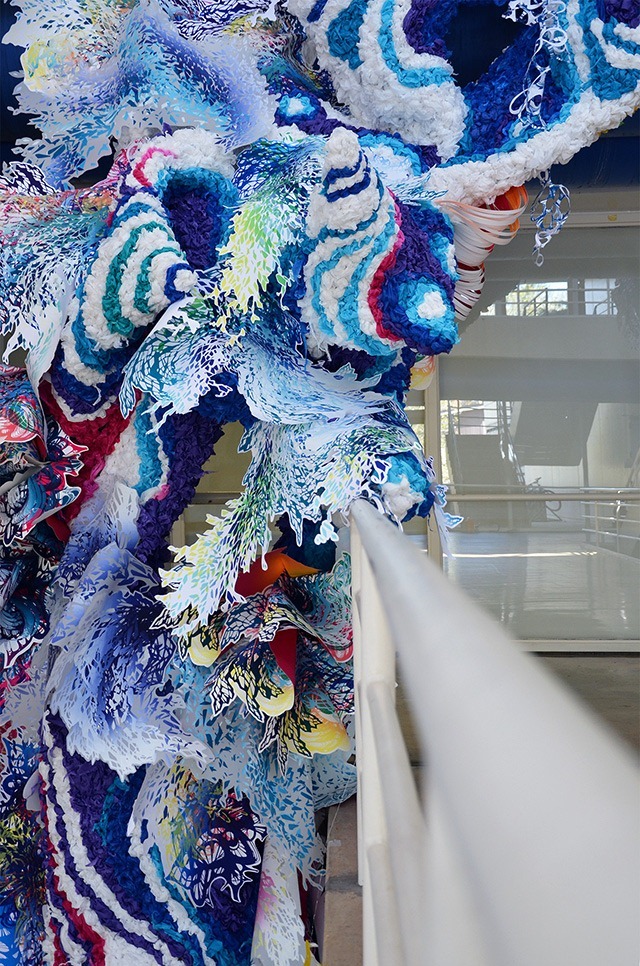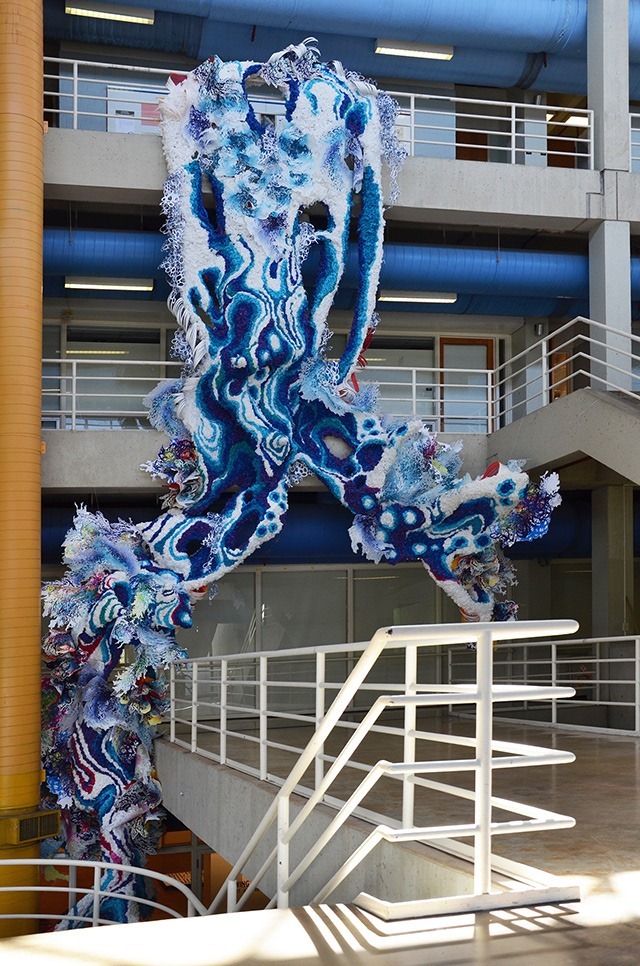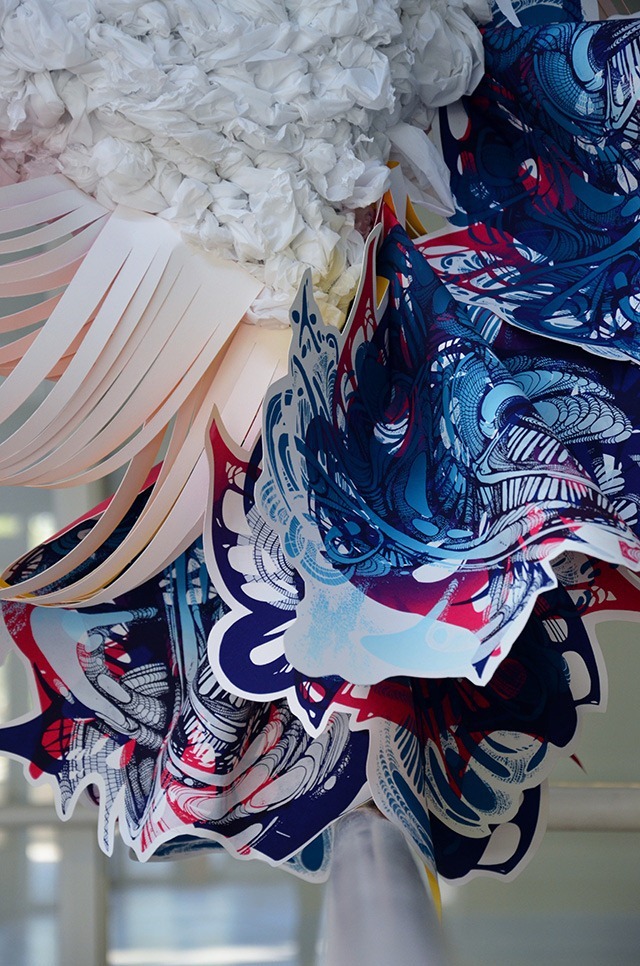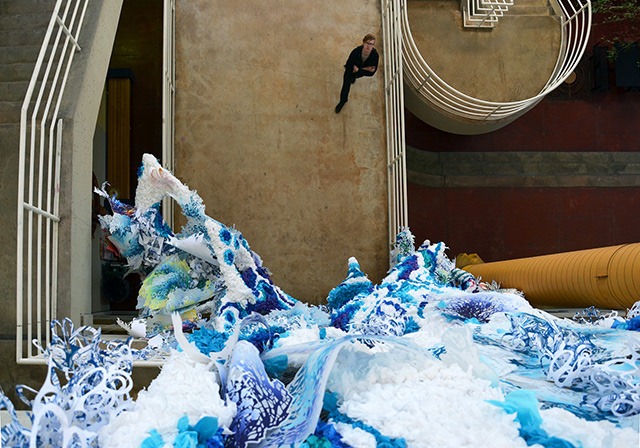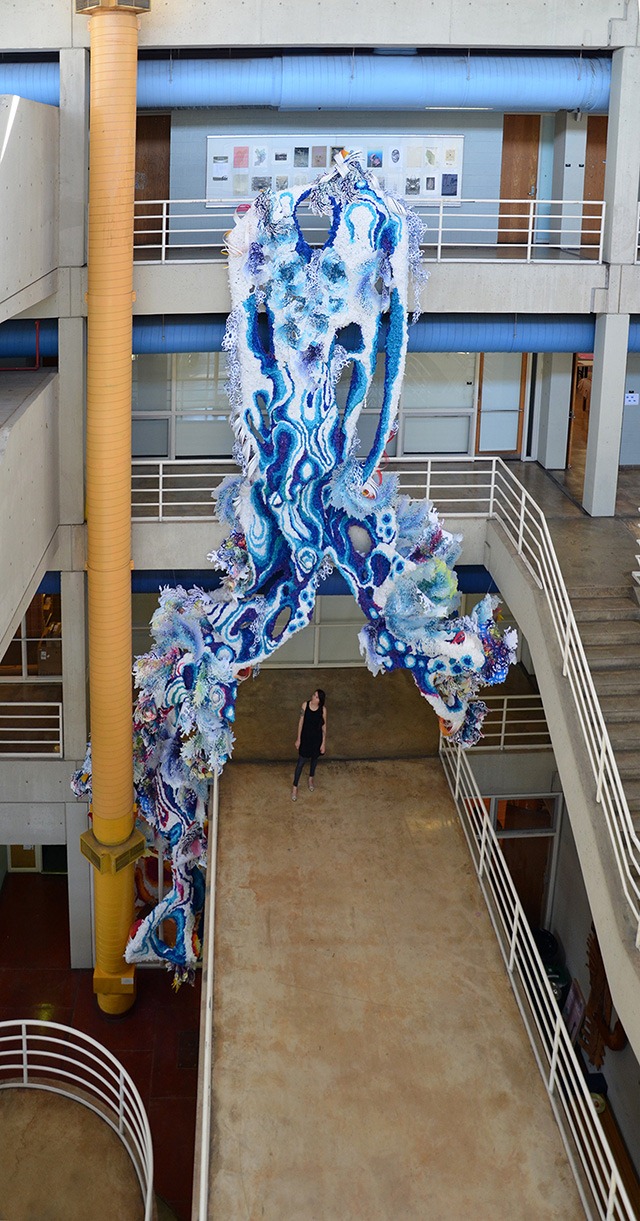 Cascading over four stories and through glass, "Fall" is a large scale art installation created by artist Crystal Wagner (previously) The 60 feet tall piece, which is currently on display at The University of Tennessee, Knoxville, is made from table cloth used in birthday parties, chicken wire and screen prints. Wagner describes her piece as "a hybrid between the synthetic manmade materials that surround us and the natural landscapes that populate the earth."
(via JazJaz Submissions)
Crochet-artist extraordinaire Olek visually transformed one of the 184 homeless shelters which dot the Indian capital city of New Delhi, to raise awareness about the lives of the desperate people who live in them. 
Covering the entire 40 feet long and 8 feet high structure with crocheted yarn was a labor of love for the artist and a team of local volunteers, who toiled for seven days to put together the entire project. The NYC-based artist's installation was part of the 'Rain Basera' project for St+Art Delhi 2015, a street art festival in New Delhi.
(All images by Pranav Mehta/St+ART Delhi 2015)
[via Laughing Squid & Hi-Fructose]
Portland, Oregon-based artist and illustrator Ryan Berkley's "Cinematic Fauna" series features five memorable critters from some of our favorite films and TV shows. Each 8" x 10" limited edition art print is priced at $20, and is limited to a run of only 50 each. All the prints come signed and numbered by the artist.
Link.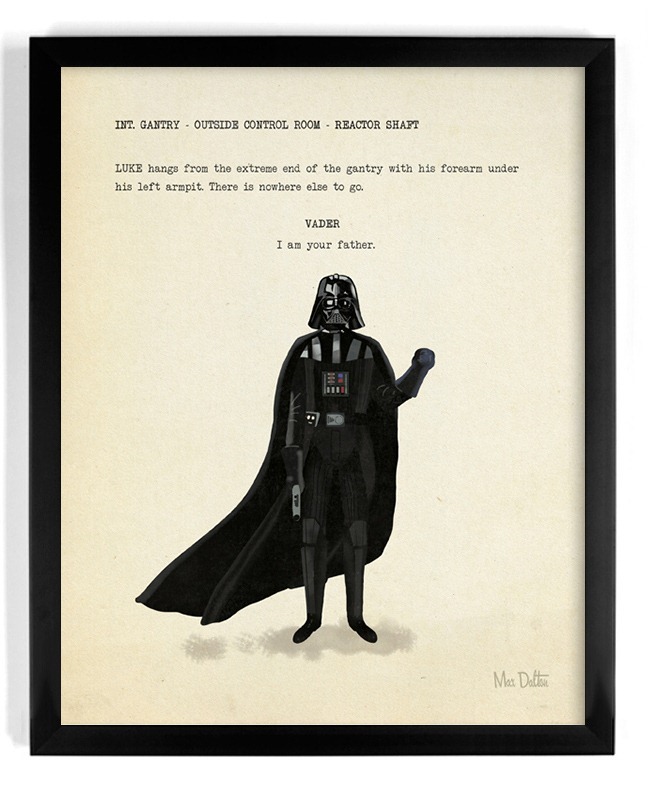 This artwork depicting one of the most iconic scenes from Star Wars is part of the "Greatest Moments in Film History," a brand new series of limited edition arts prints by artist Max Dalton.
The affordable, fine art giclee 8" x 10" prints are on sale in an open-edition format, which means that everyone who orders a print before the sale closing on Sunday night (March 22, 2015) is guaranteed a copy of it.
Link.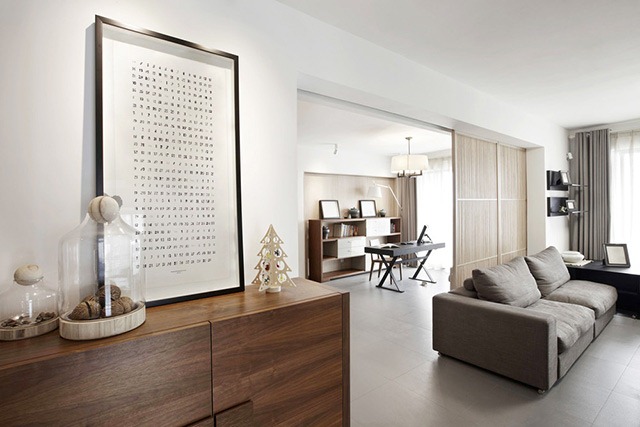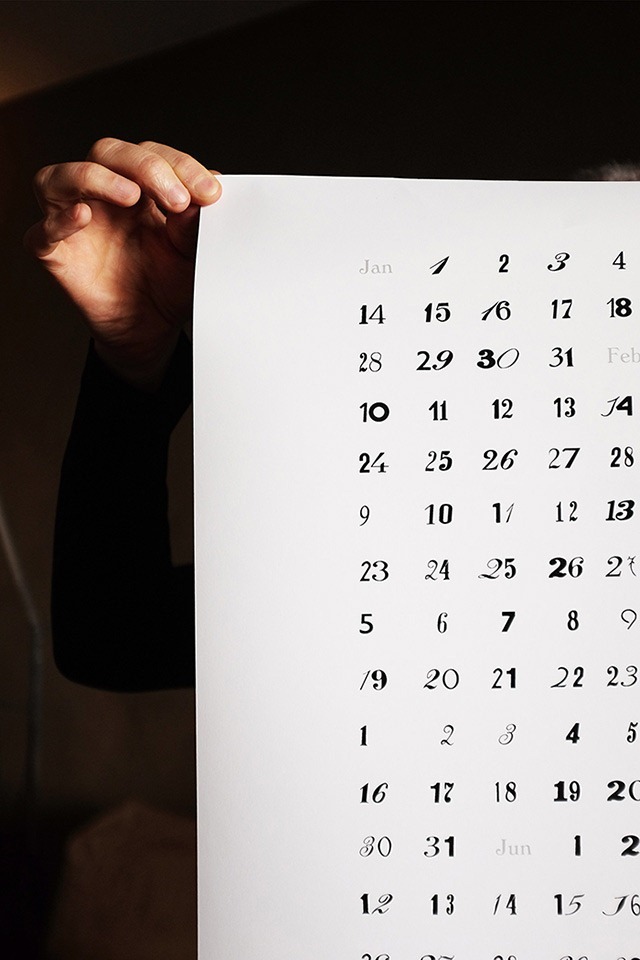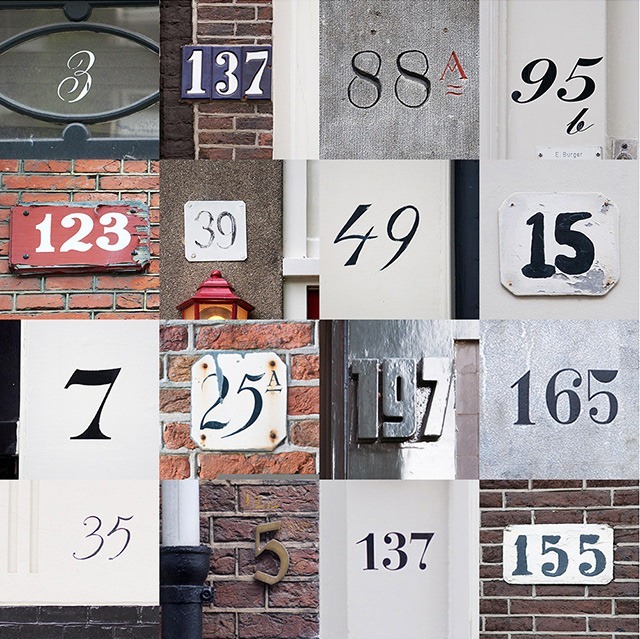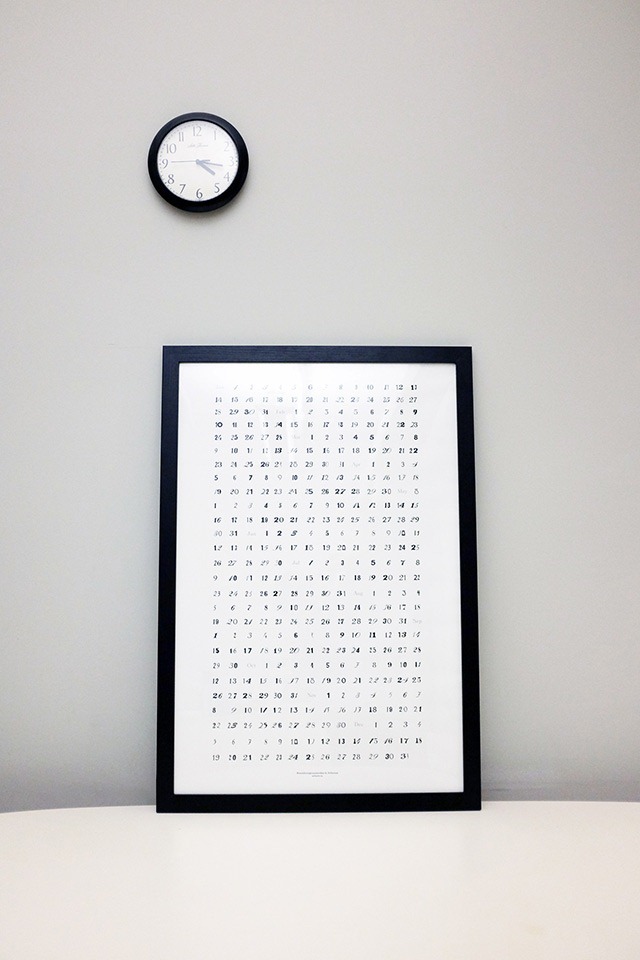 While traveling through Amsterdam, the editor of Arthurious, a New York-based design journal and studio, was fascinated by how obsessed the city's residents were with their door numbers. Mostly made by hand, these calligraphed numbers are often carved in stone or wood, or created using a variety of materials like metal, ceramics and glass.
Some of them looked high-brow, some sickly, some pensive; one of the digits begged for a bike with a cart of tulips in the front. By and large, they felt they're a second dimension to the city: quiet but as eloquent as people.
Soon, the folks at the studio were sharing photographs of the numerals on their Instagram account. After picking the best from hundreds of images, they digitized their selections into a typeset and used it to create a lovely 24" x 36" minimalist calendar poster made up of hundreds of different characters. The poster comes printed on high quality 192 gsm paper, and you can get it for $42 at their site.
(via JazJaz Submissions)