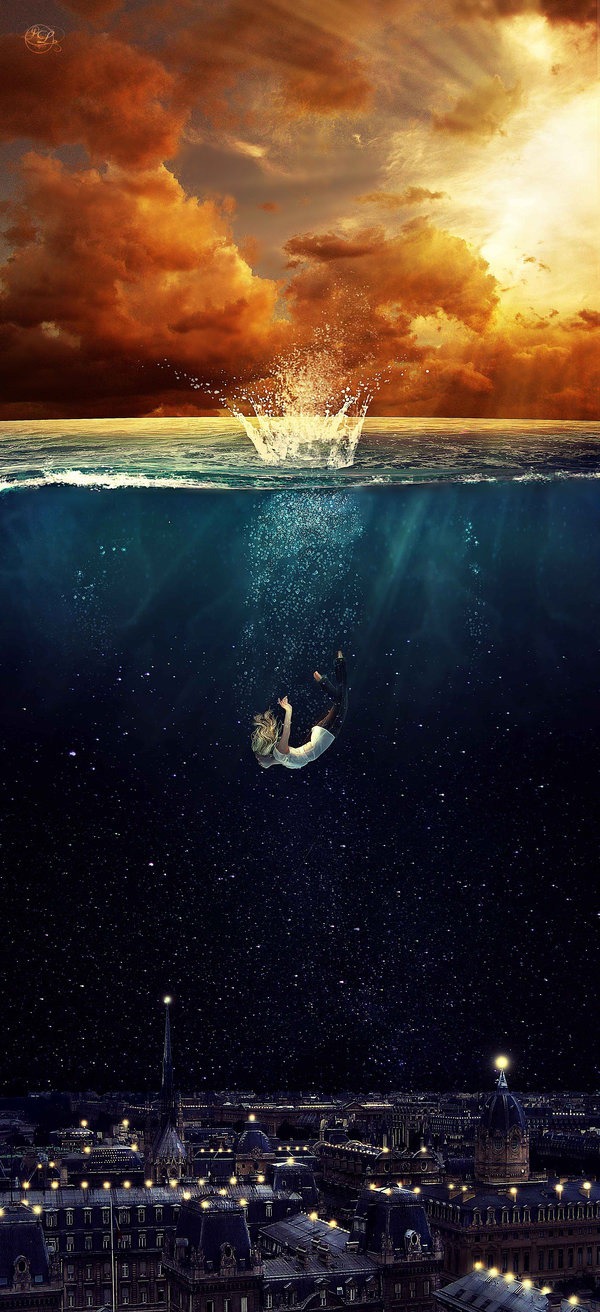 This is completely awe-inspiring. A photo-manipulated digital art piece by Deviantart user ParadisiacPicture. Limited edition canvas prints are available on Society6 until 01.01.2015.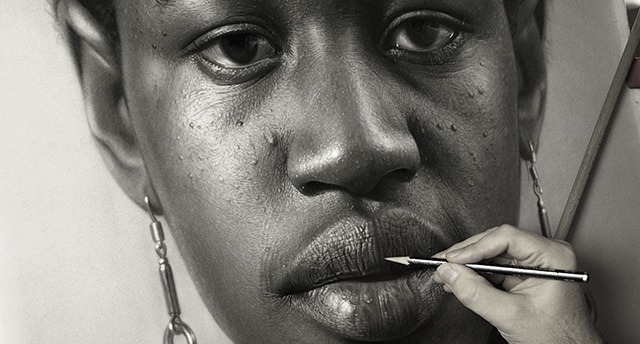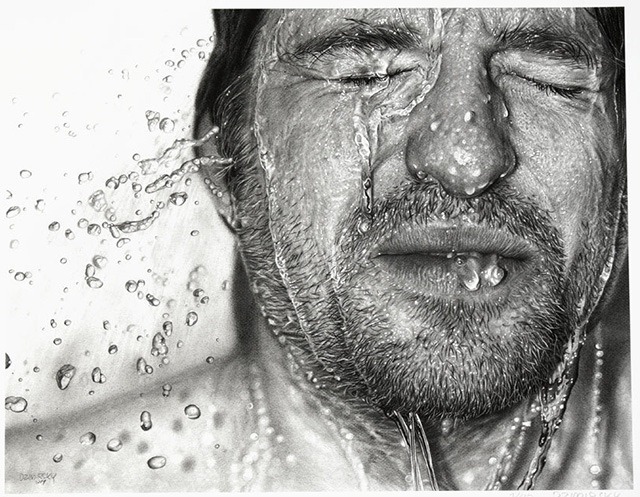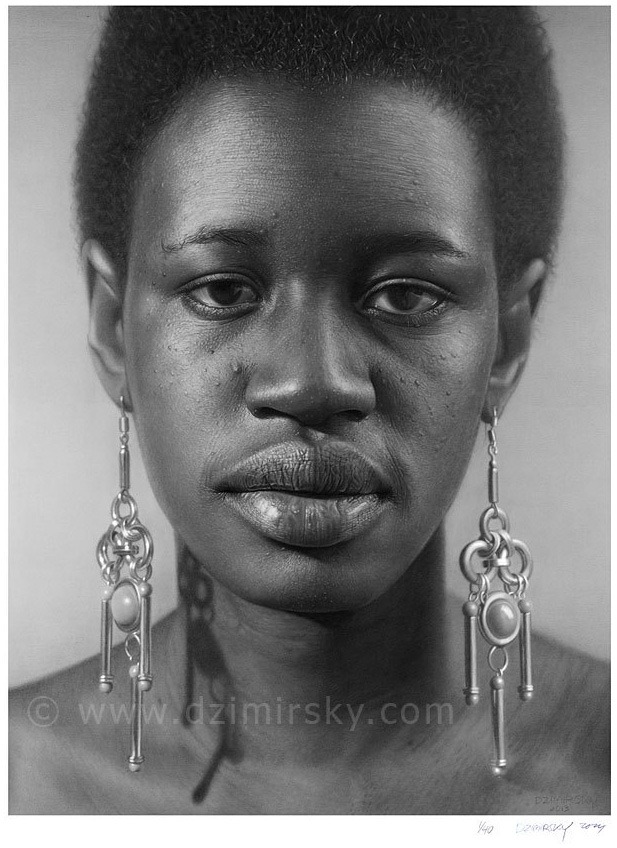 Dirk Dzimirsky (NSFW link) is a hyperrealist German artist par excellence.  His incredibly lifelike drawings and paintings explore the vulnerability of the human condition in stark and somber detail. Depending on the choice of medium (graphite pencils, acrylic paints or oil paints), Dzimirsky spends 100 to 150 hours to create his masterpieces.
The artist has now released limited edition fine art prints of two of his works. Titled "Mary" and "Drawn Face VI", the original drawings were created on paper using graphite pencils and white charcoal.
More about the prints:
The award winning pencil drawing "Mary" is now available as a fine art print. The format is ca. 17" x 23" (43 x 59 cm) with an edition of 40 and will cost $470.

"Drawn Face VI" from 2009, now one of his best known drawings is also available as a fine art print now. The format is ca. 19" x 15" (49 x 38cm) and it is limited to 40 and will cost $470.
Visit the artist's site (NSFW) to check out more of his art works.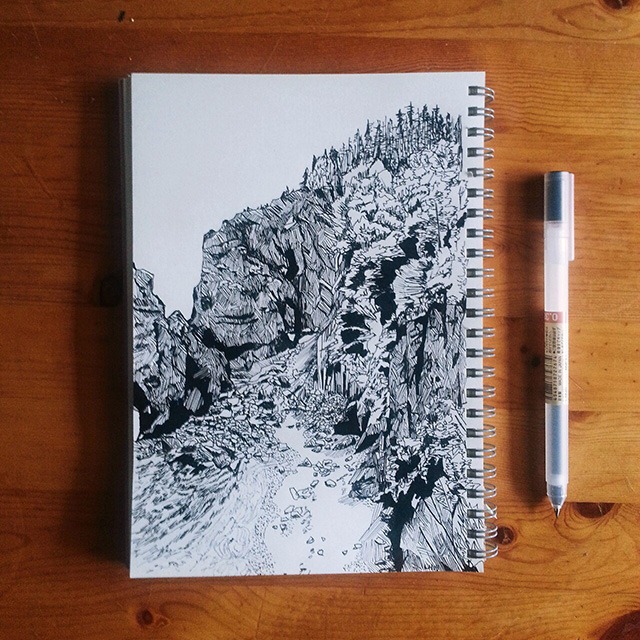 A pen and ink illustration of a Newfoundland landscape by Toronto-based illustrator laurelmyck. You can check out more of her lovely ink drawing landscapes on her site.
If you are an artist/photographer with a tumblr, please feel free to submit your works to the JazJaz tumblr.
In this video clip, Academy Award winning sound designer Ben Burtt shows us how he designed the now very memorable noise created  by the Millennium Falcon's hyperdrive failure in the original Star Wars trilogy.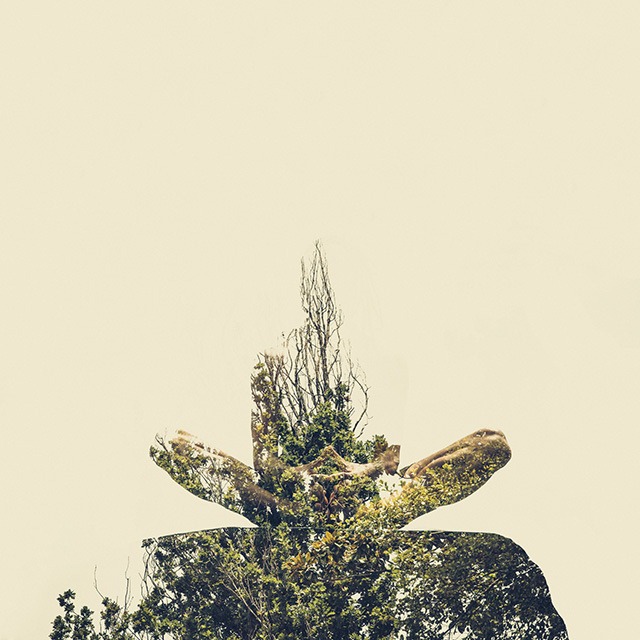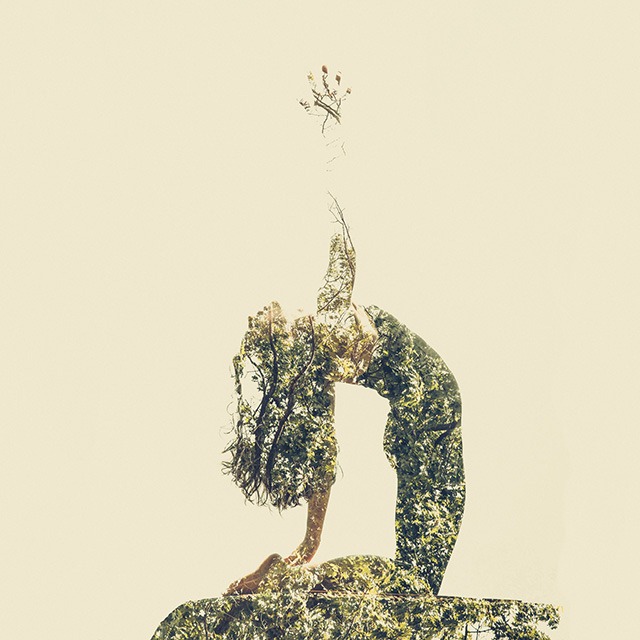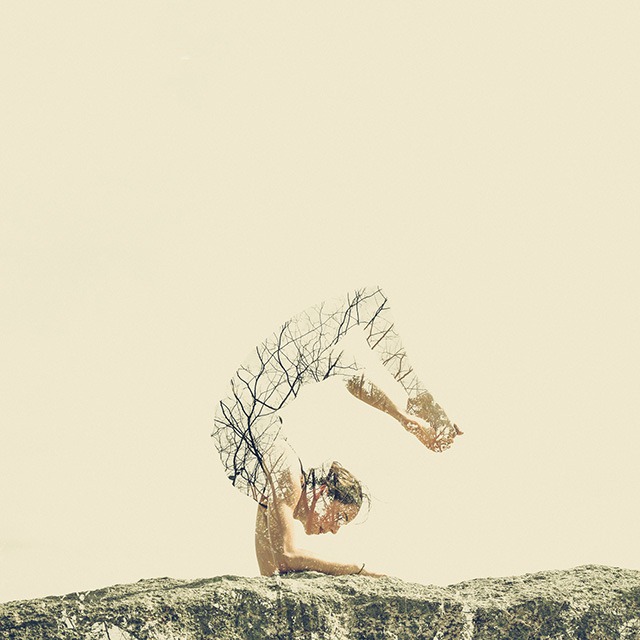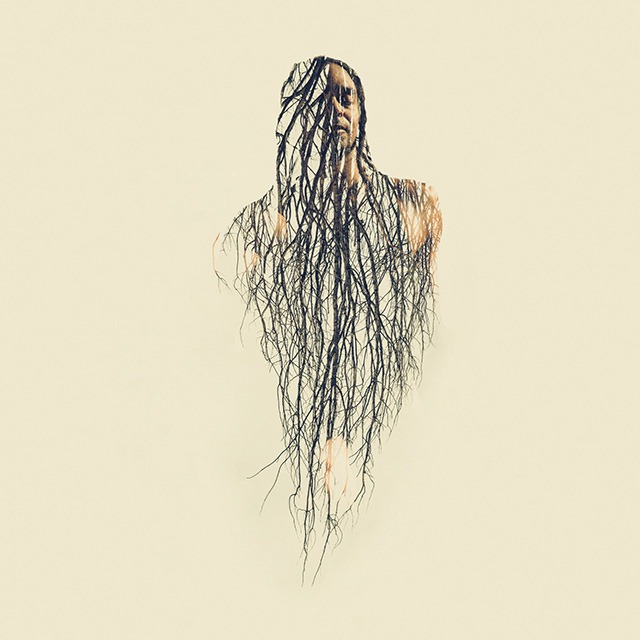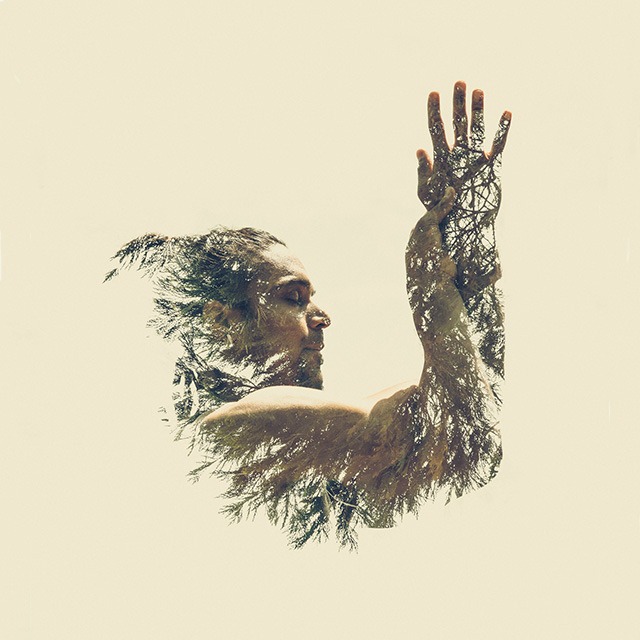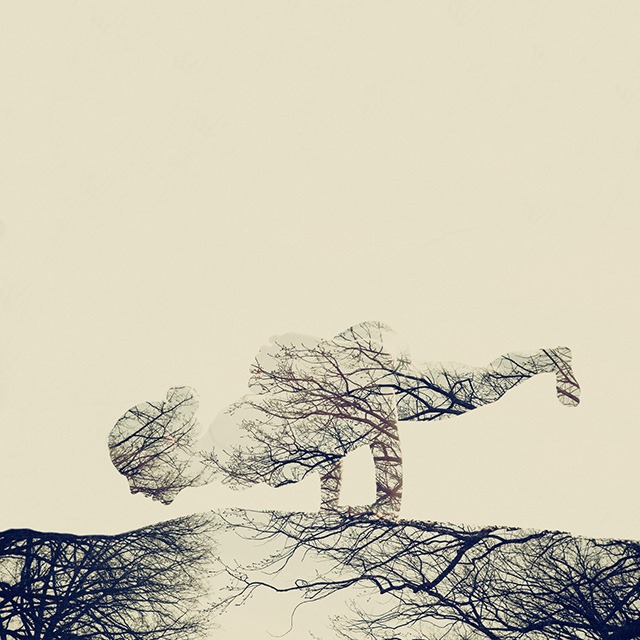 In his "Breathing Life" photo project, photographer and filmmaker Michael Synder masterfully blends human bodies in yogic postures with the intricate structures of plants and trees. The project explores how human and non-human life forms are united through the simple act of breathing air.
More about the project:
The images were shot in Washington D.C.'s Meridian Hill / Malcolm X Park with local yoga instructors Hawah Kasat and Helena Snyder.  The project was created in partnership with Washington Parks & People, One Common Unity and Interdependent Pictures, Washington D.C. based organizations with a unified mission to breathe life into urban green spaces and connect urban communities to the earth. 
Synder, who is based in Washington D.C, is the founder of a media production studio working with environmental and social-good organizations. The works of this award winning artist have been featured in numerous galleries, magazines, books, television and at film festivals around the world.
You can hit the jump to see more images.
Click here to continue reading 'Double Exposure Photo Project Combines Human Bodies in Yoga Postures With Plant Life Structures'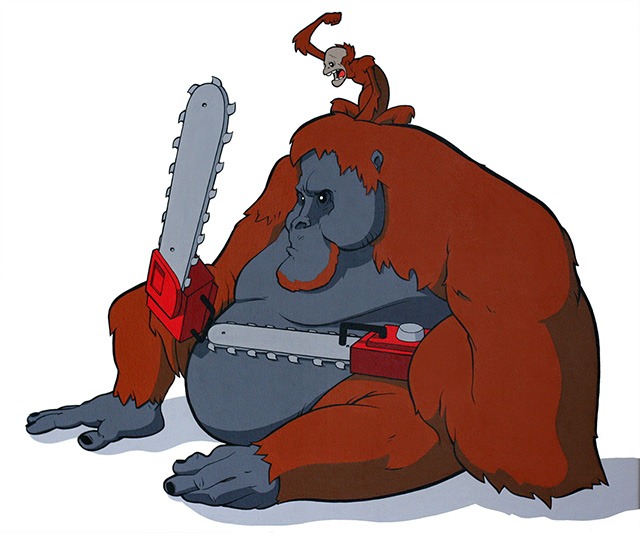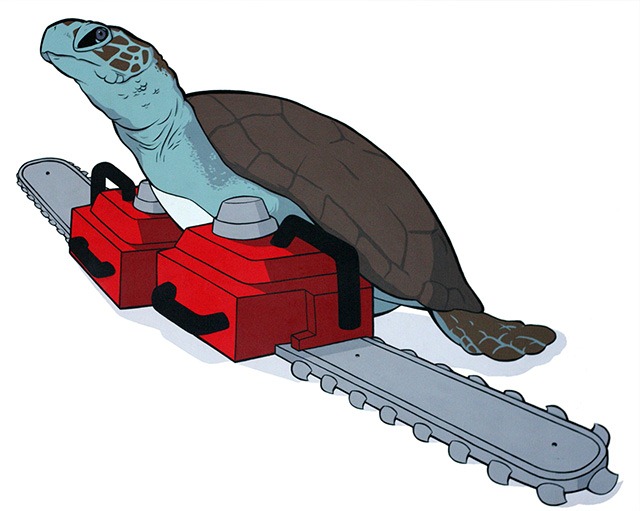 Eric Pause, a Canadian artist, created these cute, but somewhat bewildered-looking chainsaw animals for his new pop-art series "Can't Lose / Can't gain". All the paintings in the series were created using vinyl acrylic on canvas.
You can visit his site to check out more of his crazy paintings,  vinyl toys and illustrations.
Hit the jump to see more images from the series.
Click here to continue reading 'Eric Pause's Paintings of Animal-Chainsaw Hybrids'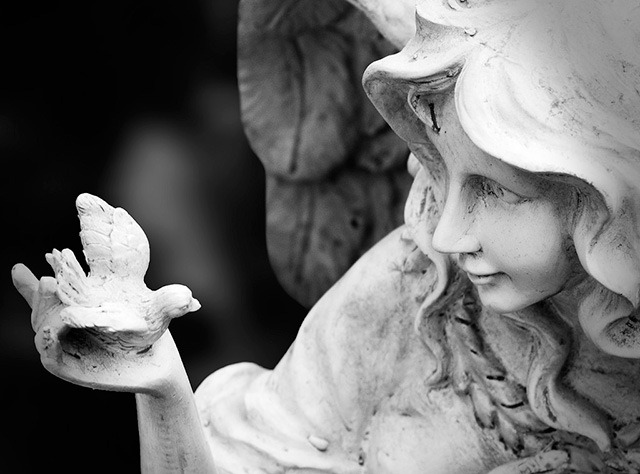 "A Bird," contributed to the JazJaz Flickr Pool by Flickr user Glen Hanhams.
More beautiful photographs taken in graveyards, here.
Lithuanian advertising agency, New! have been creating some terrific advertising campaigns  (previously here and here) for the Mint Vinetu bookstore which specializes in used books.
Their latest design work for the store is an innovative take on how answers to some of life's most intriguing questions can be found in the pages of a well written book.
Hit the jump to see more images from the campaign.
Click here to continue reading 'The Best Search Engine For Life's Major Questions'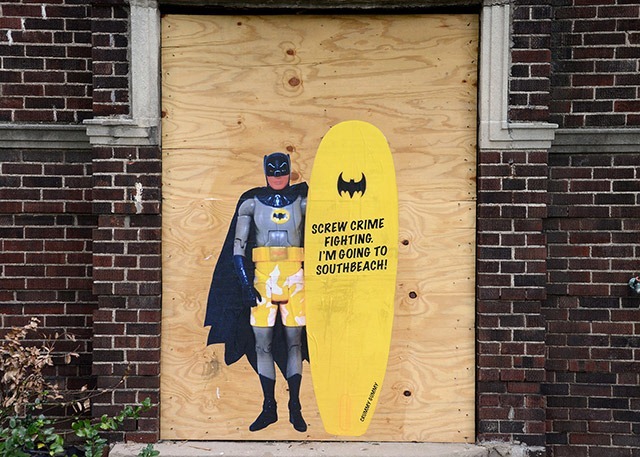 "Batman has retired" (Detroit)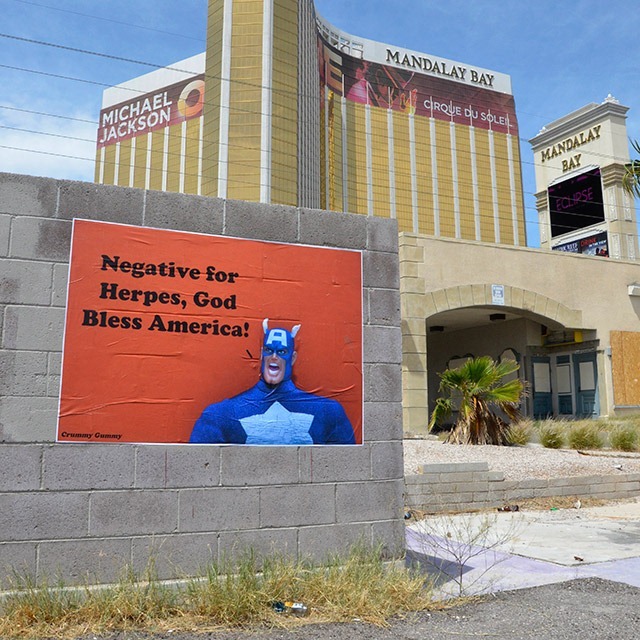 "Negative For Herpes" (Las Vegas)
These deliciously-satirical pieces of street art were created by Crummy Gummy, a photographer and street artist based in Orlando, Florida. The artist photographed some of his favorite toys and characters from his childhood, and blew them up into large posters which he then strategically placed in the streets of various cities in America.
You can visit his blog and/or follow him on instagram to see more of his works.
Click here to see more images from the series.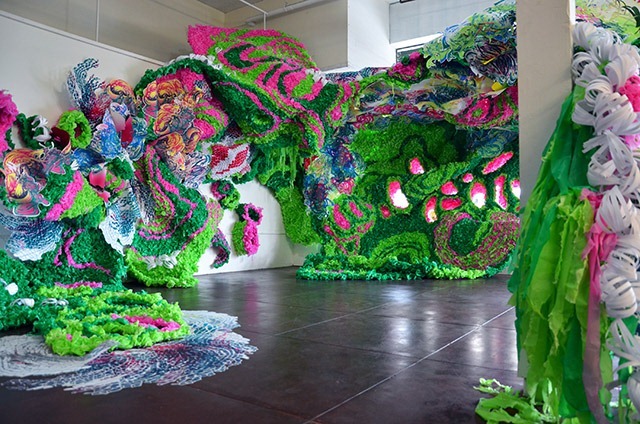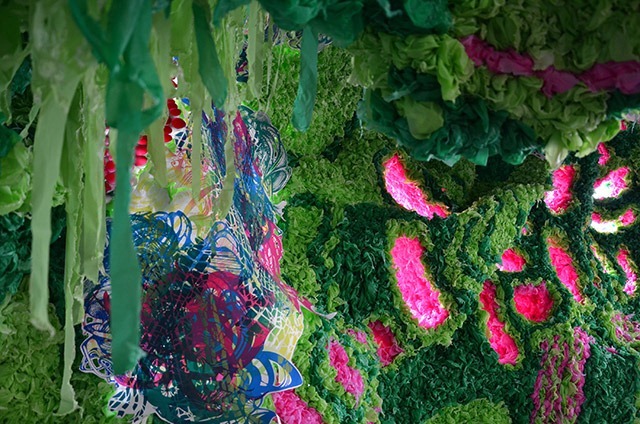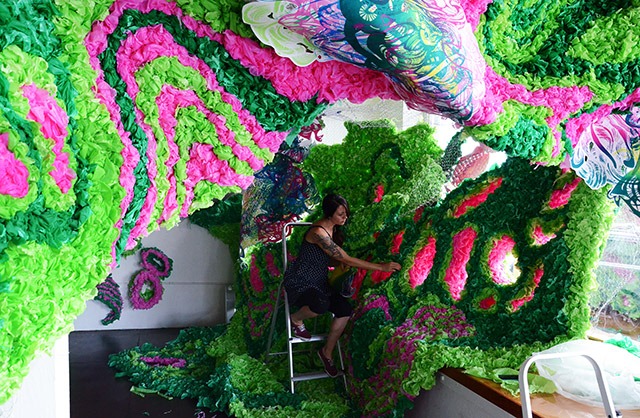 Artist Crystal Wagner's describes her latest art installation as a conduit or space between the artificial environment created by our everyday experiences with man-made materials and technology, and the exotic landscapes on the surface of planet earth.Wagner's gorgeous piece, currently on display at the Makery Gallery, Hilo Hawaii, has a lush organic quality, which makes it seem like a life form has taken root and is growing over the walls of the place.
The artist is well known for her use of paper and other office supplies to create her artworks, and this work is no different. Here, ordinary colored paper and birthday party table cloth are used to great effect to create this inter-dimensional wonderland.
You can check out more images after the jump.
Click here to continue reading 'Pseudoscape: A Large Scale Art Installation by Crystal Wagner'