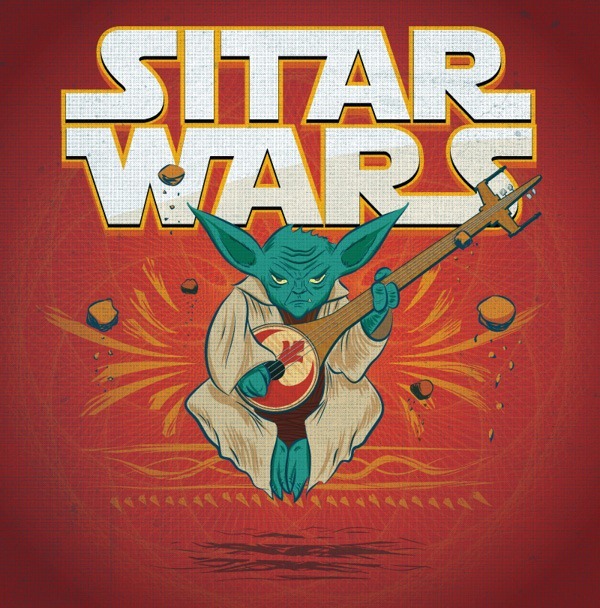 Milwaukee-based illustrator, Ryan Carter was asked to create a graphics campaign for a team participating in Rickshaw Run, a fundraiser for a charity called Frankwater, which aims to bring clean water to areas of the world that don't have access to it.
The team, which calls itself Sitar Wars, is planning to drive a rickshaw (a noisy 7 hp, three-wheeled bucket on wheels) on a 3,500 km (2,175 mile) journey from the southern tip of India to its northern tip. The team wanted illustrations of Star Wars characters playing sitars to adorn their rickshaw, and this was the first (and super-awesome) response to that request.
Ryan Carter grew up in a middle class background, and slogged in factories for a while, before getting a life-changing opportunity to work as a graphic arts intern at Horny Goat Brewing Co. He says that the internship soon blossomed into a "crazy role" creating a slew of artwork and marketing materials every day.
Link to Ryan Carter's site.
Hit the jump to see more detailed images of the illustration.
Continue reading 'Star Wars Characters Playing the Sitar'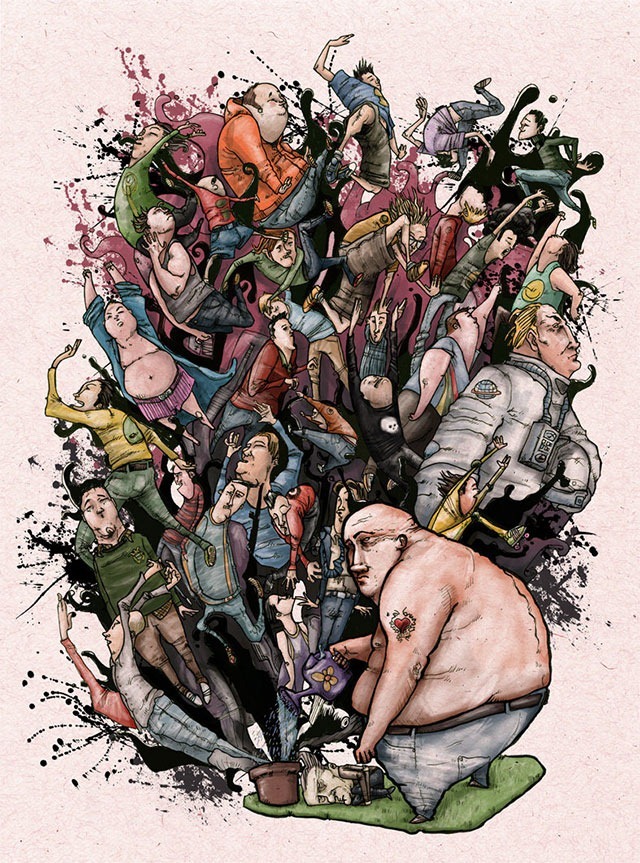 A terrific illustration by Jordi, an artist from Barcelona, Spain.
Snip from the description of the piece:
Mortimer seems to be an easy man, with his non expression face, his over sized body, his typical love tattoo… but inside him there's a deep universe where he can be whoever he wants! He no need to tell anybody his feelings, his worries or his hopes… he has an entire neighborhood inside him! This must sound a little sad, but he really seems happy growing his multiple personalities!
Prints of the illustration can be ordered at his Etsy store .
[via Lustik]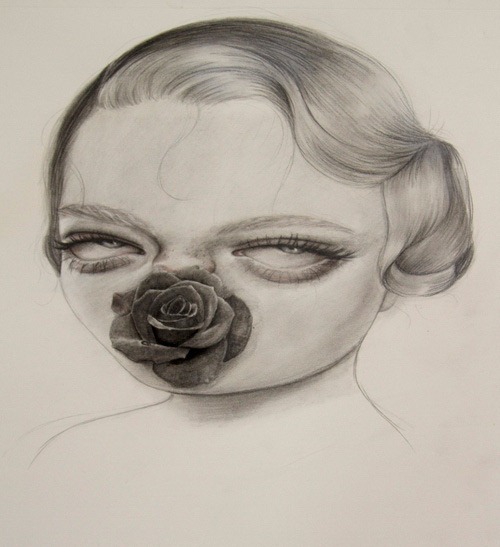 Check out some select illustrations from the portfolio of Danelly Liz, a self-taught artist based in Miami, Florida, who creates her surreal works using ink, graphite and charcoal, Danelly says that her youthful, sleepy-eyed figures exude a kind of dark, yet innocent allure, and draw the onlooker with their eyes.
Continue reading 'Surreal Sketches by Danelly Liz'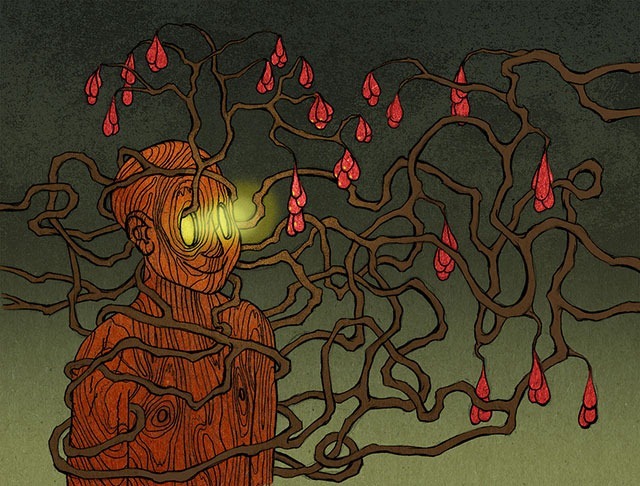 Click on the image to view large.
Wood Dork, contributed to the JazJaz Flickr Pool by Texasadam (aka Adam Whatley), an artist and illustrator from Austin, Texas.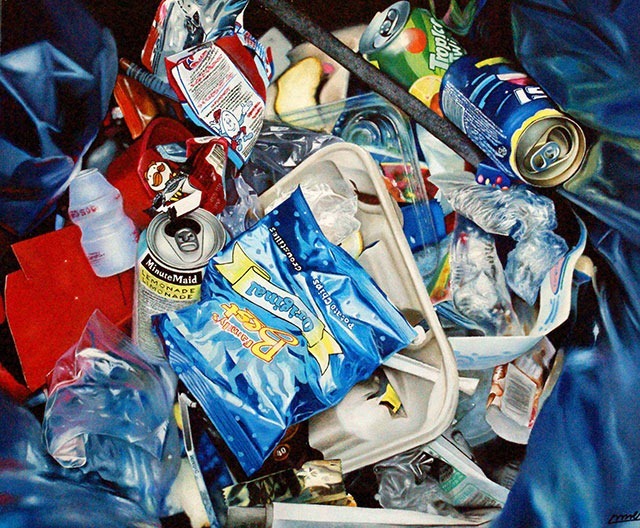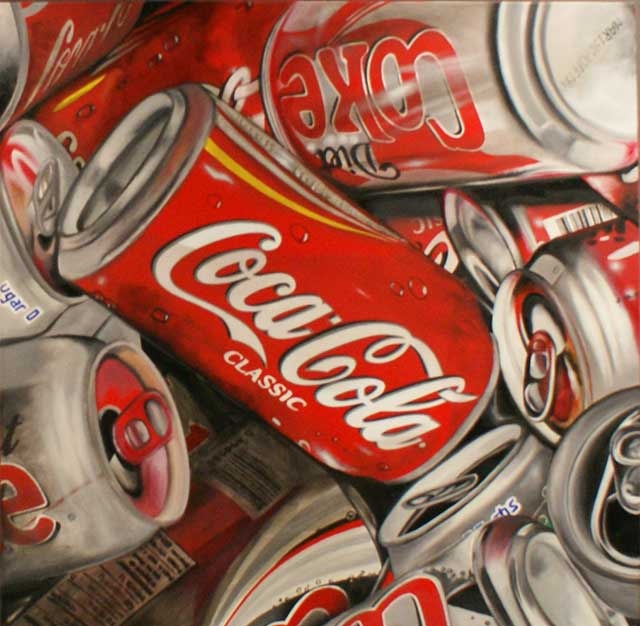 French figurative artist, Stephane Dillies's oil paintings may be about trash, but they are good enough to hang on your walls.  His paintings are based on photographs of trash bins found in different cities around the world. They are almost hyperealistic, and a beautiful statement on society's overwhelming appetite for consumption. Dillies uses his works to elevate ordinary trash to a completely different level.
Via his site:
His paintings are modern vanities. Stephane Dillies makes paintings of garbage of different countries as landscapes or still life. His compositions are made by fortuity by every consumers of those cities. They represent the massive consumption of the developed world. His paintings reminds us that development can't be without consequences, however his works can be seen as luxurious trophy of modernity. It's also a subtle game of lights, colours, and material. Finally, they can be seen as the real reflect of our lives; as a soda can, you're born, you live, you will die..
Dillies is a graduate of Fine Arts (MFA), and lives and works in Brussels. His works have been exhibited in numerous cities in France and Belgium.
Link to Stephane Dillies's site.
Check out some select images from his portfolio, after the jump.
Continue reading 'Stephane Dillies's Garbage Art'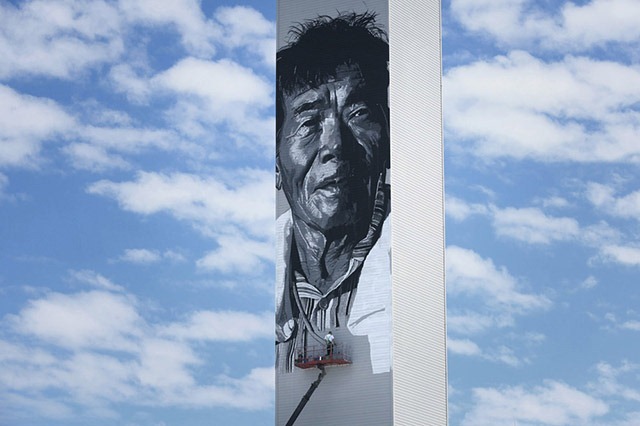 German artist Hendrik Beikirch is the creator of this huge mural on the Haeundae I'Park building in South Korea's largest city, Busan. The 70 meter (230 ft.) mural, said to be the tallest in Asia, is a monochromatic hand painted rendering of a local fisherman, and is representative of the stark contrast between the haves and have-nots in South Korea.
Though Beikirch's take on the fishing community may look overly sympathetic, he actually has a lot of admiration for these hardworking men and women.
The mural presents a local fisherman in his 60's, staring into an intangible space with his face marked with wrinkles, still wearing long plastic gloves – a sign that there are still men and women like him at this age working for a living. This dying profession entails six to seven days of work in a week, under difficult circumstances, while just receiving a mini- mum amount of financial support, just enough to buy certain needs.

However, despite the story behind the portrait, the painting conveys a positive message seen in the emotion shown by the fisherman. In addition, underneath it, Beikirch added a statement in Korean letters which roughly translate to "Where there is no struggle, there is no strength."
Beikirch's large monochromatic works, with their distinctive reduced color palettes, can be found all over Europe, Canada, the USA, Mexico, Chile, Australia, Taiwan, Hong Kong, Thailand, Russia, among other countries. His ongoing series, "Faces of Hope and Struggle" is inspired by the people whom he encounters on his travels.
Link. (Thanks, Martin!)
More images after the jump.
Continue reading 'Asia's Tallest Mural by Hendrik Beikirch'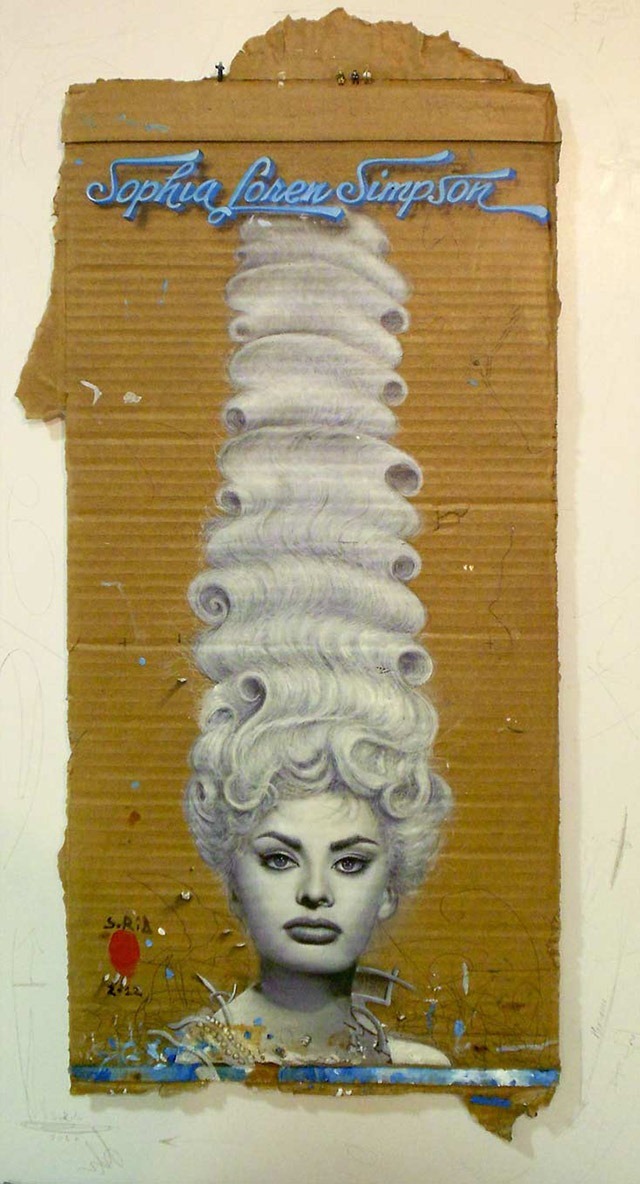 Sophia Loren Simpson,  25" x 12", 2012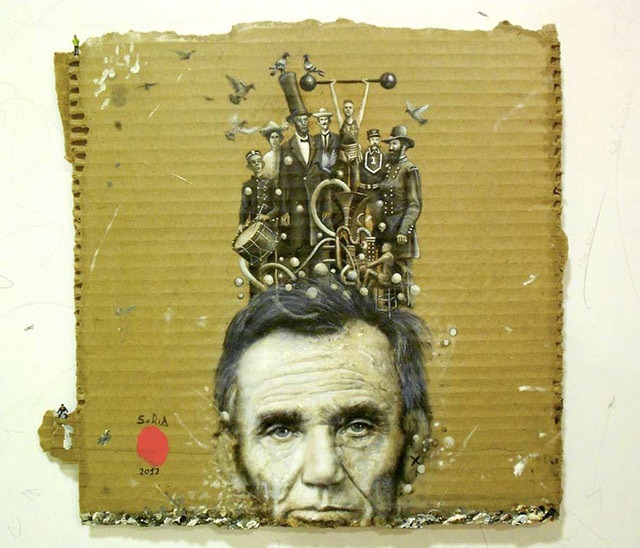 Abraham Lincoln, 12" x 12",  2012
Two new surreal paintings by Mario Soria, a genuinely talented artist from Barcelona, Spain. Mario, whose works have been regularly featured on JazJaz, taught himself to paint by studying the works of artists like Velazquez, Rembrandt and Leonardo Da Vinci.
Hit the jump to see more images of the paintings.
Continue reading 'Sophia Loren Simpson and Abraham Lincoln'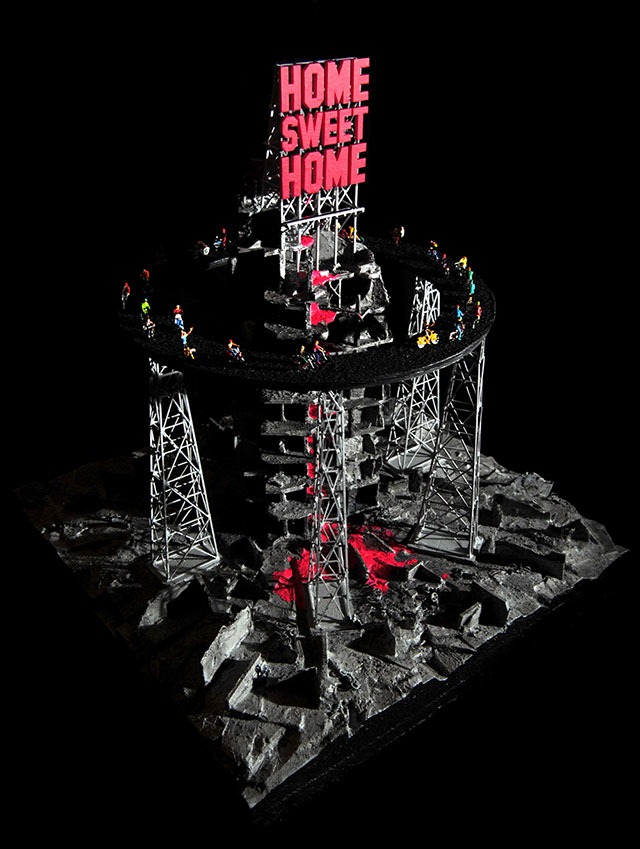 Mixed media diorama sculpture 50cm X 50cm X 65cm (h.)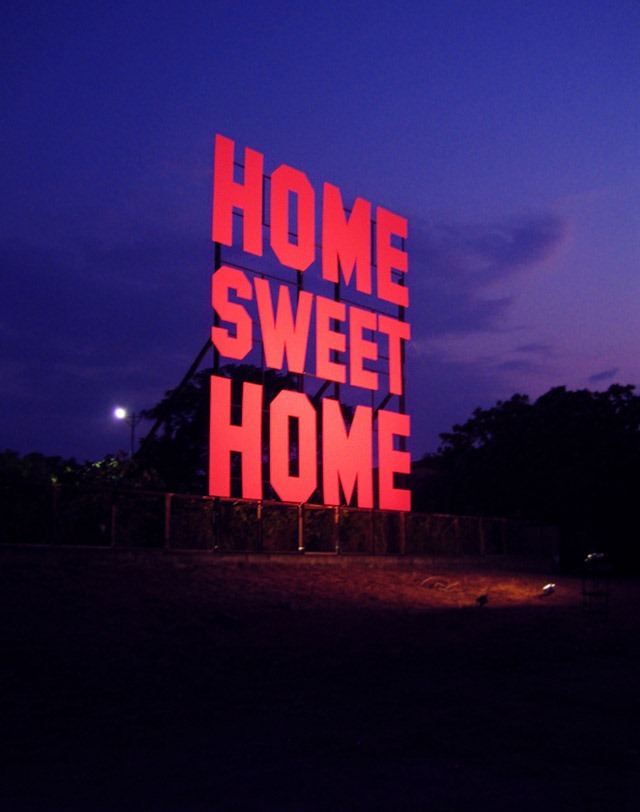 Life-size sign comprised of a steel and timber structure, plywood, acrylic color and spotlights with dimensions 655cm X 600cm X 770cm (h).
Greek visual artist Polychroniadis's (previously here and here) latest work is a two part piece; one is a mixed media diorama sculpture, and the other is a huge life-size sign made out of steel and wood. The piece was exhibited as part of a section named 'Stopover' at 'Action Field Kodra', an annual contemporary art show that takes place in the derelict site of the Kodra ex-military barracks in the city of Thessaloniki, Greece.
The exhibition was themed around the ideas of homeland, with references to the history of Thessaloniki.
Via the description of the piece:
The sculpture attemts to reconcile imagery from war-zone bombed residential buildings (e.g. Syria, Lybia, Lebanon), with early 20th century Modernist Utopias and a sense of carelessness or defiance of lurking danger.

The title comes from a hit song, written in 1823 by Henry Bishop and John Howard Payne. Being part of American popular culture for more than 150 years, it has been heavily used as a title for books, films etc. It has become an almost iconic slogan, also embedded in numerous doormats around the globe.
Link to Polychroniadis's site.
Hit the jump to see more images.
Continue reading 'Home Sweet Home: A Satirical Diorama Sculpture by Greek Artist Polychroniadis'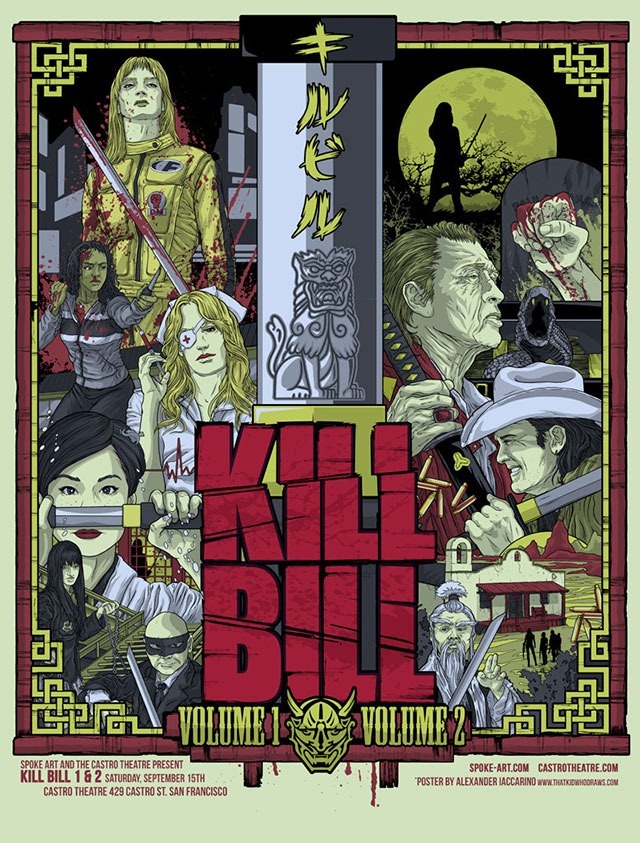 Check out Alexander Iaccarino's awe-inspiring posters for Kill Bill Vol. 1 & 2, commissioned by the historic Castro Theatre in San Fransciso for their screening of the movie series.
18" x 24" giclee prints of the posters are available at Spoke Art's online store. The limited edition prints will come signed and numbered by the artist.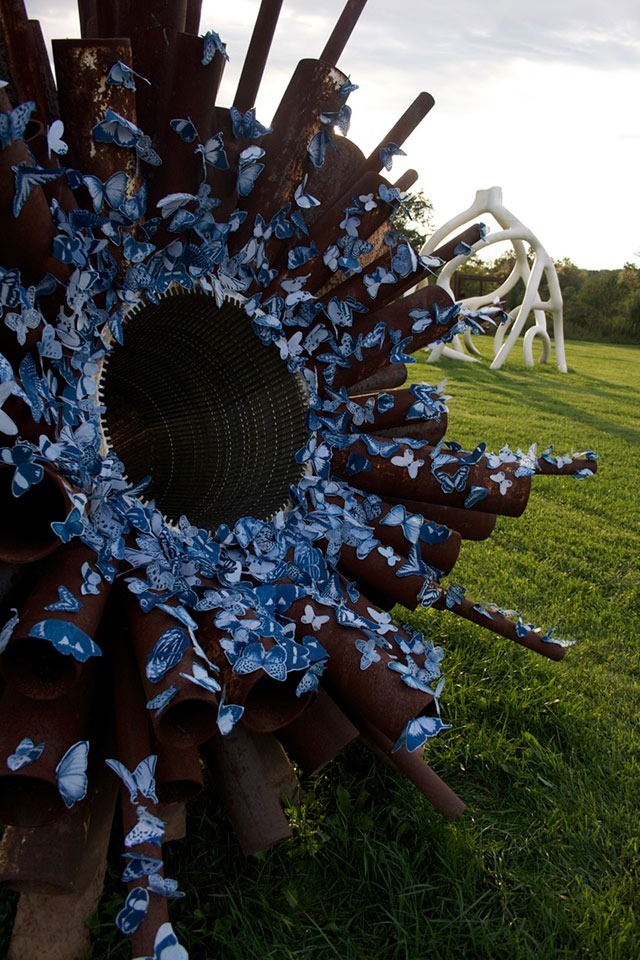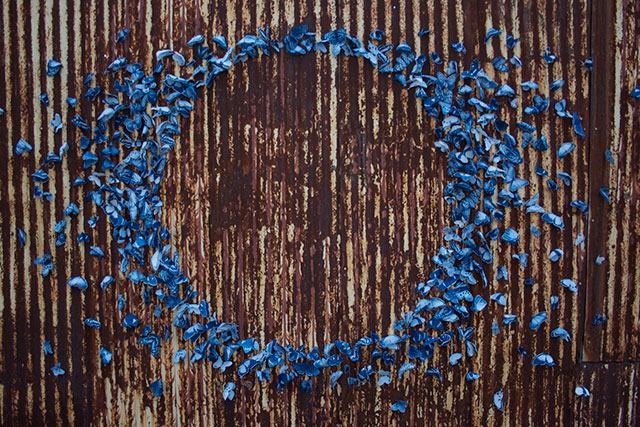 Artist Tasha Lewis has spent the last month traveling around the US to install her ephemeral butterfly swarms onto metal objects in public urban spaces. Her lovely butterflies seemingly liven up the drab locations, just as their real life counterparts do.
Each of her 400 butterflies were made by printing double sided cyanotypes on cotton fabric. After cutting the images, she stiffened them with glue, before hand sewing a small but powerful magnet on the bodies of the butterflies. As she uses magnets, there is no harm done to the objects which she has chosen to attach her sculptures to. Tasha says that this is very important, as for many of her installs, she does "pan-temporal collaborations with artists who create sculptures for public spaces." She also adds that she hopes her installations will turn into public performances and events, while the swarm grows even more bigger in size.
Tasha is currently based in Indianapolis, Indiana. You can visit her Tumblr where she features an ever growing photo collection of the sculptures.
Hit the jump to see more images.
Continue reading 'Tasha Lewis's Butterfly Swarm Sculptures'