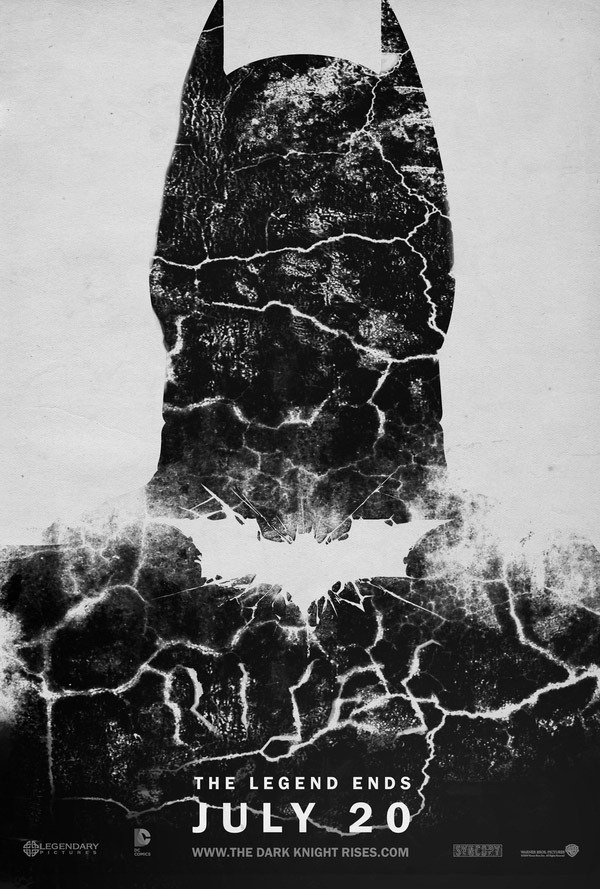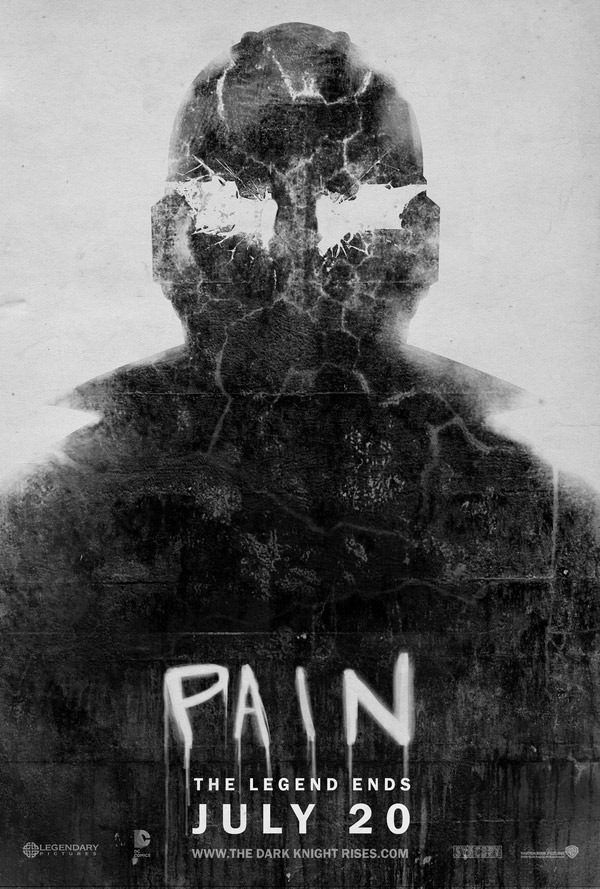 Two terrific posters for "The Dark Knight Rises," redolent of the grim and dark nature of the movie trilogy. The posters were designed by Aaron Randall, an artist based in Princeton, New Jersey, in the USA.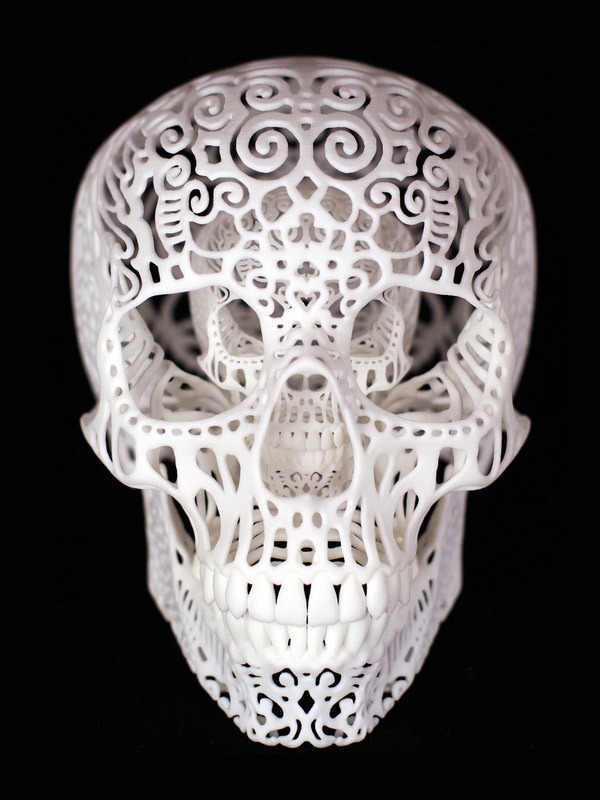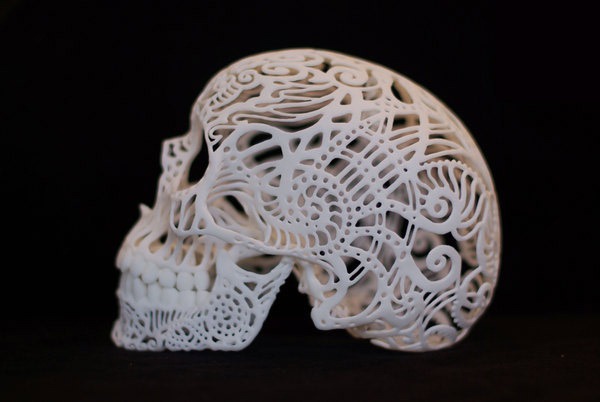 Chicago-based artist Joshua Harker's awe-inspiring and intricately designed pieces are digitally sculpted, and then printed on Polyamide nylon using 3D printers. Harker's offer to make these skulls ended up being the #3 most funded sculpture project on Kickstarter. The skulls, which come in various sizes, are available for sale on his site.
Hit the jump to see more images.
Continue reading 'Joshua Harker's Stunning Filigreed Skulls'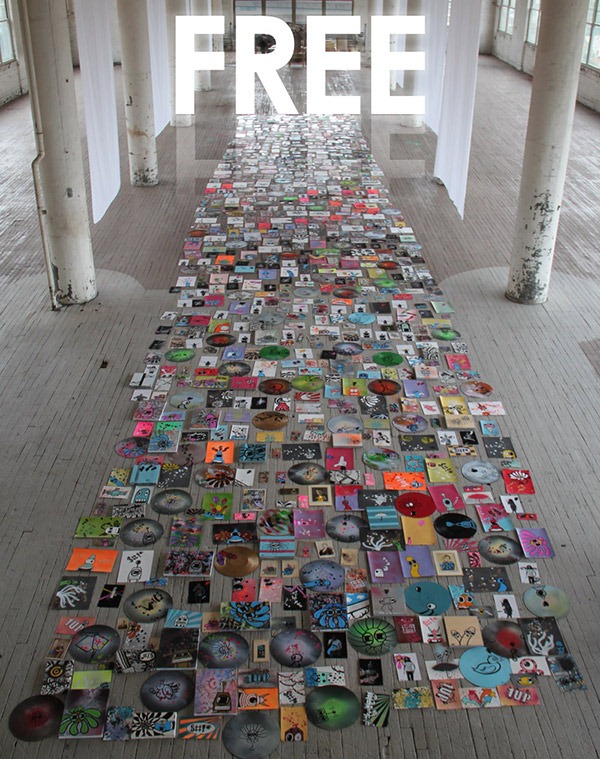 Contemporary artist Ted Mikulski (previously) will be giving away over 1,000 pieces of his original artwork on the streets of Manhattan, starting from August 1, 2012. Ted will approach random people and offer his lovely artworks for free. The pieces are of different sizes, and are created on varied mediums like canvas, wood, vinyl, plastic, and paper.
The intention of Ted's project is introduce the beauty of visual art to people who may not have any contact with the world of art before. There will also be a fun hide and seek element to the project, where people will be able to track the artist's location via Twitter (@TedMikulski), and try to get their hands on a piece of great art.
Ted Mikulski is full-time artist based in Connecticut, and his gallery work has a colorful and distinctive cartoonish aspect. Following the completion of the project, his breakout solo NYC exhibition will open on August 11th at the Dorian Grey Gallery.
Visit his site for more details.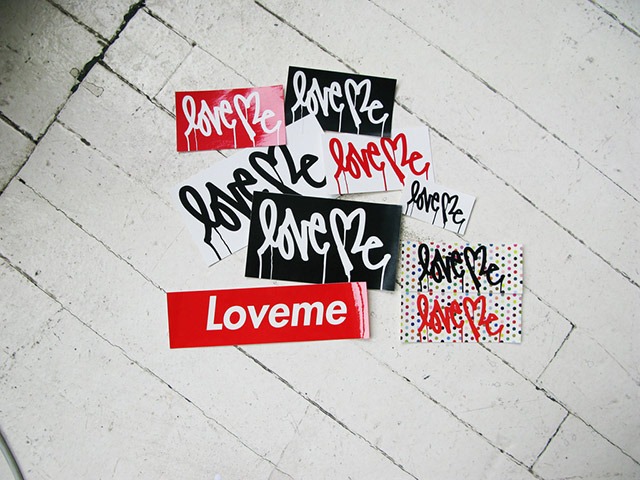 Kenmare Sticker Pack
Artist and photographer Curtis Kulig infamous "Love Me" tag can be seen stickered and spray painted all around New York city. Kulig has now launched his new online shop, which will feature a poster set, a signature tote bag, and his much coveted stickers.
Hit the jump to see more images .
Continue reading '"Love Me" Artist Curtis Kulig Opens New Online Shop'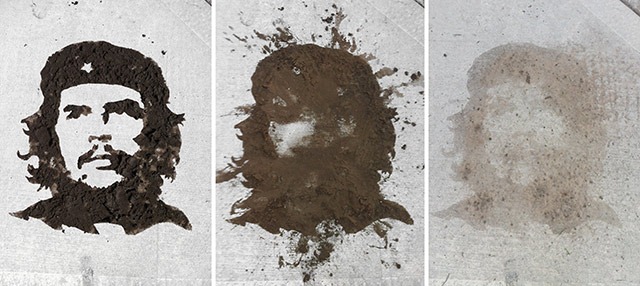 Che may have been a socialist revolutionary, but his iconic photograph has become a much commercialized pop culture fixture. Artist Phil Hansen wanted to make the image into something even more replicable, but gritty. Hansen put together this short video to show how he created a Che stencil, and used nothing more than his feet dipped in a bucket of mud to make the final image.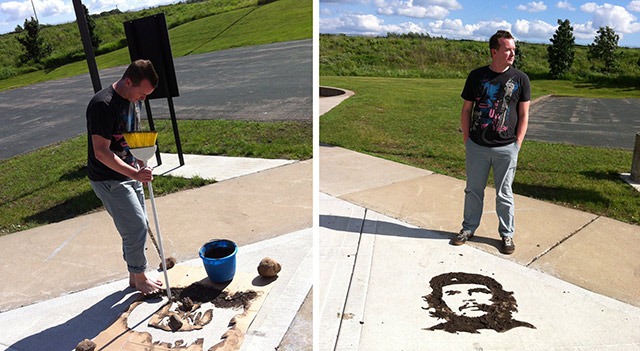 Hansen says that once the stencil is made, the image takes only 5-10 minutes to be imprinted on a sidewalk.
The ephemeral nature of this work is quite the juxtaposition to the image of Che. There is certainly a lot to be said about how the perception of Che is viewed in different cultures. Making the picture with mud opens discussions from any perspective.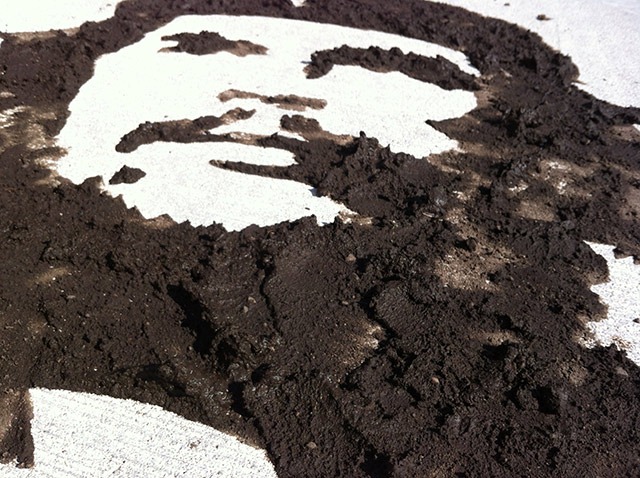 This project is part of PITW, Hansen's initiative to inspire creativity in people by showing them how to make cool stuff using a variety of processes and materials.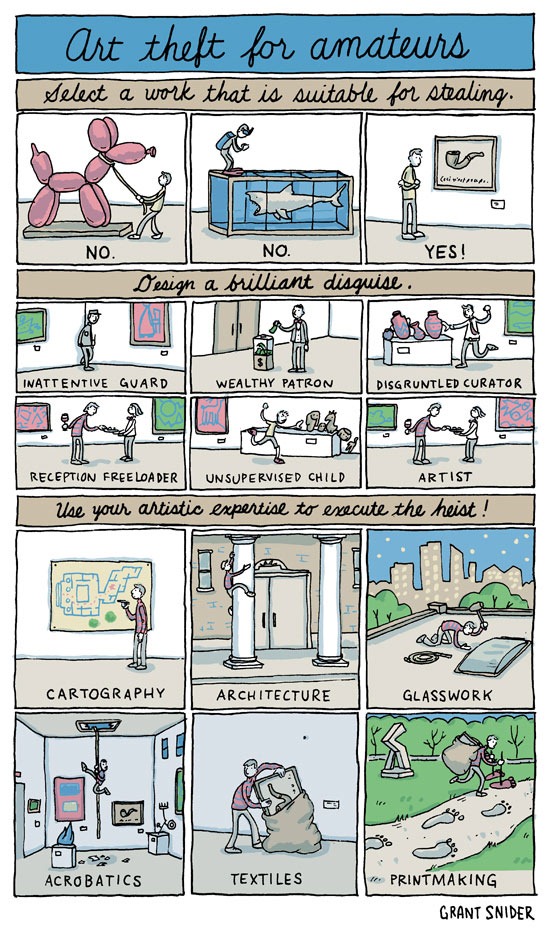 Cartoonist Grant Snider shows you how to pull off an art heist.
[via Laughing Squid]
Artist ROBBBB's beautiful works caught my eye partly due to their whimsical and playful nature, and partly due the locations he has selected to paint them in around Beijing. The artist, who considers French street artist Blek le Rat as one of his main influences, has left his art open to interpretation by the viewer.
Personally speaking, I never attempted to tie artworks down with any definitive meanings, maybe ten people look at my works and will have ten kinds of different ideas,"The benevolent see benevolence and the wise see wisdom", so, my purpose is achieved, because you thought process is equal to the communication with my artworks, so the works itself will be more meaningful.
You can check out a few select artworks from his portfolio, after the jump.
Continue reading 'Street Art by Chinese Artist ROBBBB'
Psychos, undead lovers, and killer dolls, oh my!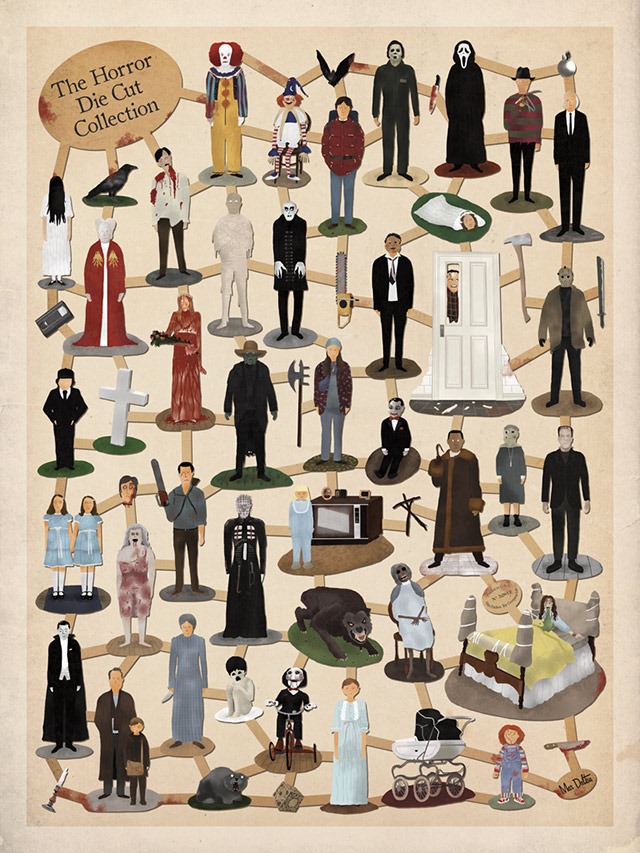 Max Dalton's "The Horror Die Cut Collection" art print features all of his favorite horror film antagonists in a retro cool die cut action figure format. The 18" x 24" hand numbered giclee prints will be released on Spoke Art, on June 29, 2012, 3 pm PST.
The prints have been limited to an edition of only 250, and are priced at $50 apiece.
Hit the jump to see more closeup shots of the print.
Continue reading '"The Horror Die Cut Collection" – Art Print by Max Dalton'
These dark and surreal illustrations were created by Cédric De Smedt, a 19 year old student artist based in Brussels, Belgium. Working under the nom de plume, Chute De Strings (or CDS), Cédric is also the creator and writer of a musical/artistic blog [slightly NSFW].
Cédric says,
Drawing as well as writing, I'm evolving into a very dark and bitter universe, where emptiness is almost oppressive and where time seems to have stopped. Each of my pieces tells a story, certainly disconcerting but always including a certain form of truth. I like playing with the onlooker in the meanings of my work. Death, love, God or even madness are the main themes of my illustrations. Even if those themes are quite frequent, I will always try to surprise the one looking at my works while offering new perceptions on these.
You can check out more of his artworks on Flickr [NSFW].
Hit the jump to see some select illustrations from his portfolio.
Continue reading 'Cédric De Smedt's Surreal Illustrations'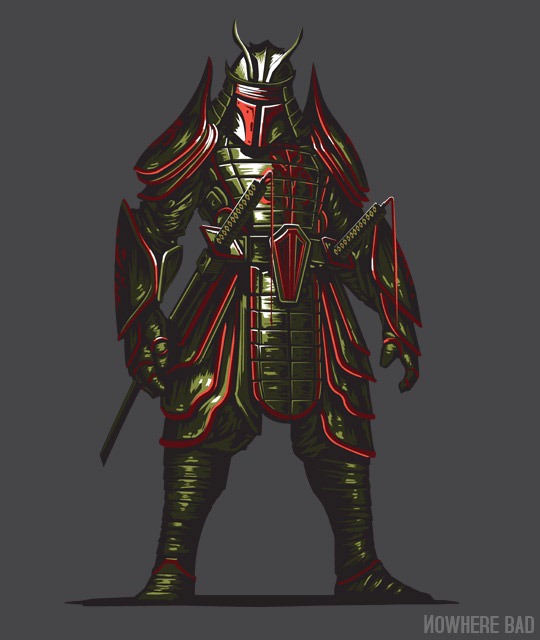 Artist Clinton Felker's awesome reimagining of the infamous Star Wars bounty hunter, is now available as a T-shirt at Nowhere Bad.